Whenever he was available for Denmark, the best goalie in the country always represented.
World championships, Olympic qualifiers, World Cups? If the pride of Herning was able, he was willing. Even if the extra games left him fatigued or injured come October.
So, it was both surprising and telling that Frederik Andersen — coming off his best playoff performance in goal since becoming a Toronto Maple Leaf three years ago — balked at the idea of bearing the Scandinavian cross for this month's IIHF world championships, knowing his absence could harm his nation's bid at a respectable showing.
"I don't think so," Andersen said last week, in his usual Whisper 2000 volume, when asked if he'd be heading to Slovakia.
"I think it would be smart to rest up with the groin and make sure that's taken care of 100 per cent for next year."
It's not insignificant that the groin injury that sidelined Andersen for eight games around Christmas time is nagging enough that he would bring it up in tax season. Nor is it insignificant that his day job as the Maple Leafs' last line of defence is taking priority.
Andersen will celebrate his 30th birthday before the puck drops on 2019-20, the second-last season on the five-year, $25-million pact he signed with then-GM Lou Lamoriello, the one that ensured a half-decade of dependability from the best goaltender to patrol Toronto's crease since Ed Belfour.
And yet: zero playoff series wins.
"He's our No. 1 player," observed new guy Jake Muzzin, needing all of a few in town to realize all the defensive mistakes Andersen could gloss.
The club's best defenceman, Morgan Rielly, considered the idea that Andersen — who ranked third in wins (36) and second in saves (1,796) in 2018-19 but came short of a Vezina nomination — is underrated.
"Maybe from you [media] guys. But for us, he's one of the most important people that we've got. I don't think it goes unnoticed. He's a voice for our team and he's a big part of what we're doing," Rielly said. "I don't think he's underrated or underappreciated."
The fans who sell out Scotiabank Arena year after year aren't as imaginative with their chants as the ones on Long Island or in Winnipeg. They have three standards, and only one caters to an individual player.
"Go! Leafs! Go!"
"Ref! You! Suck!"
And "Fred-DY! Fred-DY! Fred-DY!" — which often accompanies a standing ovation and rings out nearly nightly after one of the great Dane's stellar stops.
Steady Freddy. Peek at the save percentages of Andersen's past four seasons — .919, .918, .918, .917 — and it's a marvel how bankable the crimson-haired netminder has been at a position where performances fluctuate wildly.
"It's just how steady he's been, being our backbone," Auston Matthews said. "He's crucial."
Lost in Andersen's "mixed" (his word) Game 7 performance at TD Garden, where he gave up two stoppable goals to Bruins fourth-liners — the goalie says he lost balance and couldn't seal the left post on Joakim Nordstrom's opener and that Sean Kuraly "kinda tricked me a bit" by shooting around a defender on the third — is that he was integral to stealing two road games and played well enough to give his skaters a chance in each of the Game 2, 4 and 6 losses.
"Every time you come up short, you're not satisfied. Every time you don't win the Cup, you're disappointed. I think especially we felt like we had a really good shot at it this year," Andersen said. "It's a tough to swallow, and it'll take some time to get over it. It sucks.
"With the way it is, any team can win. It just shows you how small things can make a difference in a team's season."
Even with eight teams remaining, Andersen's post-season save percentage (.922) still puts him fifth among all playoff starters today. As he embarks on vacation, we wouldn't blame him if he sang our favourite Silkk the Shocker song, "It Ain't My Fault."
But the buckling pressure Andersen has worked so hard at spinning into positive excitement won't relent.
When asked about his starter heading into these playoffs, coach Mike Babcock said, "You want to play well at this time of year — that's how we're all measured. So, play well."
Then, once Game 7 shattered into so many familiar pieces, Freddy got fingered.
"Did their fourth line get two goals? Didn't they get the first and the third goal? They threw them at the net, they went in," said Babcock, pulling up the bus and slamming the pedal.
"I thought we played well, I thought we were organized, I thought we played fast, I thought we had lots of zone time and play. In the end, it ended up in our net."
Toronto's celebrated forwards only solved an on-point Tuukka Rask once that night, mind you, and the old Leafs draft pick outplayed his counterpart once again in a winner-take-all.
Andersen allowed a just-OK three goals on 30 shots and watched his Game 7 record worsen.
They can't break through until, suddenly, they do.
Sergei Bobrovsky — forever a regular-season wizard whose powers failed him from April onward — is proving it right now in Columbus. Washington's Braden Holtby enjoyed his reputation-busting run last spring.
"I don't really care about comparisons," Andersen said. "I just want to focus on what's next."
Leafs fans might have wondered if Bruce Cassidy was trolling them in his Game 7 press conference when, unprompted, the Bruins coach brought up how fresh Rask felt this post-season after starting a reduced-load 45 games during the regular season.
Andersen, meanwhile, started 60 games (minimum) for the third consecutive year, putting him in a shrinking class of workhorses. Of all the surviving goalies, only Bobrovsky and San Jose's Martin Jones saw as much ice time as Andersen.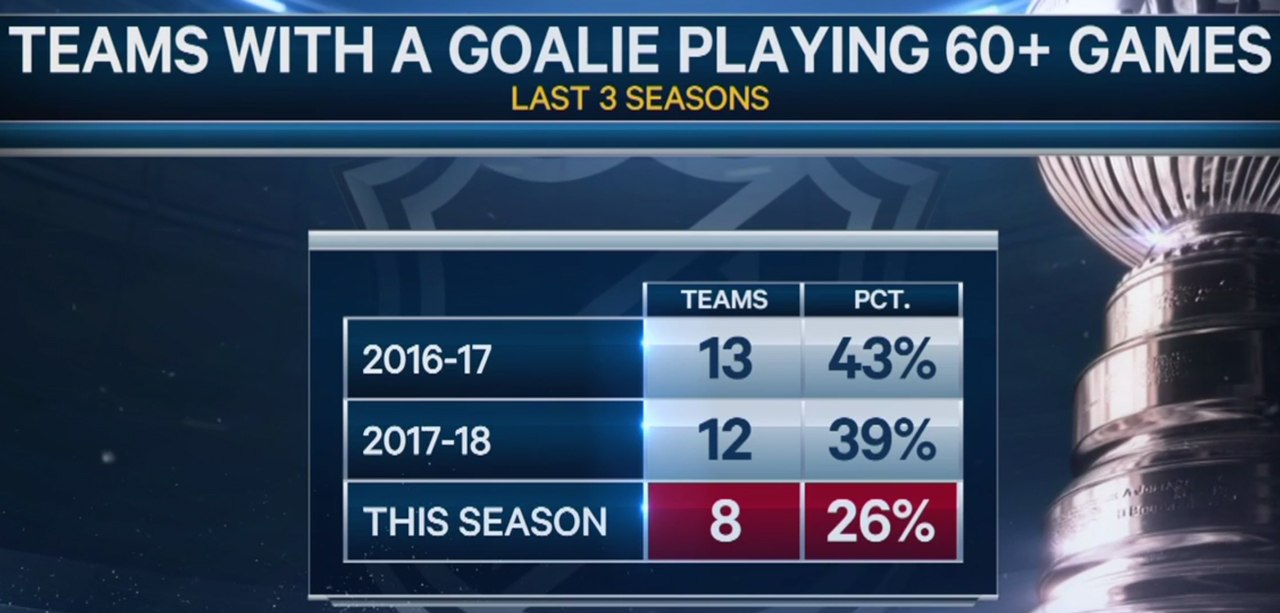 "Getting the injury with the groin gave me opportunities for extra rest, where I was forced to almost. I thought that was good. At the end, I felt rested. I felt great," Andersen said. (Imagine that: being grateful to get hurt so you get a break.)
"I felt good in the playoffs as well, playing some pretty good hockey. I worked my way out of a little slump before. And in the playoffs, me and Stevie [Briere, goaltending coach] did a great job of focusing on each individual game and trying to build, trying to be a calm presence."
Skipping the worlds, Andersen is already thinking of the core-strengthening and agility-enhancing conditioning sessions he'll throw himself into with California-based personal trainer Scott Prohaska. He describes his own performance this year as "pretty good" but a few pucks away from something special.
"It's a tough pill to swallow," Andersen said. "I try to take steps every year and every summer and try to get better. That's what I'm trying to do."
During Andersen's early days in Toronto, when he was coming off a 2016 William Jennings Trophy victory with partner John Gibson in Anaheim, we asked him to describe the difference between playing behind the No. 1–ranked Ducks defence and penalty kill and the Leafs' more flawed blue line.
At the time, he chose not to answer, letting his silence speak volumes.
Before Andersen departed for the summer of 2019, however, he was encouraged by the play in front of him. The structure is coming. The skaters have shown, albeit intermittently, they can play from the inside out and select the right times to pressure. It was most evident in Game 5's uncharacteristically stingy 2-1 win.
"We've taken some good steps in the right direction. We've just got to continue that," Andersen said.
"Especially late in the year, we started playing really good defensive hockey and more patient hockey than I've ever seen, which is really the way it's supposed to go."
Freddy's Friends
Since his arrival in 2016, Frederik Andersen's Toronto teammates have consistently referred to him as a brick wall, the backbone, the club's MVP. As the No. 1 goalie cleaned out his locker last week, he offered his thoughts on a few of them.
On Jake Gardiner: "He had a lot of stuff directed towards him which is just completely unfair. He's an incredible puck-mover and a great skater. He's a player I've loved playing with for a couple years now, and whatever happens with him, I hope I get to play with him next year. Definitely [he deserves more respect]. I think people are really quick to judge on stats and stuff like that. Whatever some media members pick up, it's unfortunate some people start running with that stuff. It's a strain."
On Mitchell Marner: "It's incredible to see [his growth]. Especially at end of season, I noticed how vocal he is now. He's really grown up. It's fun to see a guy like him, the way he approaches every day, he's always coming in with a smile. I think for a young player he's a pretty good leader and more comfortable being a voice in the room."
On Morgan Rielly: "Like Mitch, a very big leader, a very vocal guy in the room. I know Naz touched on that with the Norris. He definitely deserved to be one of the three [finalists]. He's a guy that I get along with well and love playing with."
[relatedlinks]