Garret Sparks calls it the hardest shot he's ever seen.
David Pastrnak sniping a split-second slapper high from the left circle off a snap tape-to-tape pass from Patrice Bergeron, one of five smartly executed goals the Boston Bruins elite breezed by the Toronto Maple Leafs backup goalie Saturday in primetime.
"He knocked himself silly one-timing it," says Sparks, whose save percentage fell to .879, and whose brain is still trying to wrap itself around the next level of offence.
"A lot of it was the passing — how crisp it was, how guys had that patience and vision. You think you're there, and they pass it right by you. You give them nothing, and then they pass it.
"We did our scouting. We know how they score. But they're good."
Despite being overwhelmed by Boston, Sparks says he relished the playoff-like atmosphere surrounding what was just his third scattered start of the season and described the loss as "an enjoyable night, even if it didn't go entirely my way."
Some look at a backup goalie's loss on the bitter half of a tough back-to-back against a legit championship contender and shrug. Can't win 'em all.
Others — and they've been vocal — are jumping to the conclusion that Sparks isn't cut for this.
Consider only the limited workload given to the typical No. 2 goalie, and you might be tempted to write the entire role off as inconsequential. But less than five weeks into 2018-19, prime examples of the importance of the understudy are abound.
In St. Louis, Jake Allen is doing Jake Allen things.
After backstopping Pittsburgh to two Cups in his first two years and making the all-world Marc-Andre Fleury look redundant, Matt Murray's numbers are so ordinary that Casey DeSmith (.942 save percentage) is eating into his ice time.
Calgary's No. 1, Mike Smith, is fighting the puck like they're locked in an octagon, and — oh, hey, look — David Rittich just registered his first NHL shutout.
No one wants to say a bad word about Montreal's Carey Price. Also: No one wants Price gobbling up $10.5 million of their salary cap space for the next eight years.
Boston's Tuukka Rask has left the team indefinitely for undisclosed personal reasons, but public reasons (.901 save percentage, 4-4 record) have opened a window for backup Jaroslav Halak (an NHL-best .941 among goalies with at least 10 appearances) to steal his job.
Toronto's case is different.
Its main guy has been spectacular when he's not solid. Yet with all due respect to Rob Base ad DJ E-Z Rock, it takes two to make a thing go right in the modern Stanley Cup playoffs.
Washington won its first Cup and Pittsburgh won its last Cup with different starters than they began the tournament with. Would Chicago have survived Round 1, let alone lifted the thing, in 2015 had Scott Darling not turned in one of the most remarkable pinch-hitting stretches?
Not according to Corey Crawford, who made a point of telling Darling how integral he was as the champagne stung their eyes.
It's no secret Babcock's trust for the backup gig rested with Curtis McElhinney, lost to Carolina on waivers at the end of training camp. (If Carolina, which is currently carrying three goalies, places McElhinney back on waivers at any point, Toronto would not get first dibs but, if claimed, would be able to slip him down to the Marlies without worry.)
As long as Frederik Andersen is healthy and the Leafs' place in the final standings is insecure, Sparks understands he'll be restricted to the tired half of back-to-backs.
"That's his job, right? He knows what his job is, and this is his opportunity, so his opportunity is to make good on his opportunity," Babcock said prior to puck drop at TD Garden.
"When you first come from the American league, no matter how good you think you are, or you are, the puck just goes in. When you are watching a guy, you're just going, 'Holy, what's going on?' But as time goes on, you get used to the shooters, and now you're starting to get your confidence back, and ideally that will show tonight. We need to play well in front of him, but he needs to do his job."
The Leafs outshot their opponents but got trounced 5-1.
Minutes after Saturday's beatdown in Beantown, Babcock was presented an opportunity of his own, to throw cold shade in Sparks' direction the way he's done to backups in the past (see: the swift demise of Jhonas Enroth as an NHLer, 2016).
Instead, the coach — a man who sees winning as everything and a tall goalie who's still 2-1 — took it easy on his assessment of Sparks' 60 minutes.
"Well, I mean, I don't know. I haven't looked at the tape, so I can't really tell you there," Babcock said. "The bottom line is, you win together and lose together."
The tape will show a goaltender with 251 fewer games of top-level experience than Andersen looking like it. His rebound control isn't as sharp, his positioning isn't as calm, he doesn't handle dump-ins or make outlet passes with as much poise.
But to expect Sparks to step in after 25 days of clipboards and bubble gum and equal the performance of an early Vezina candidate, however, would be foolish.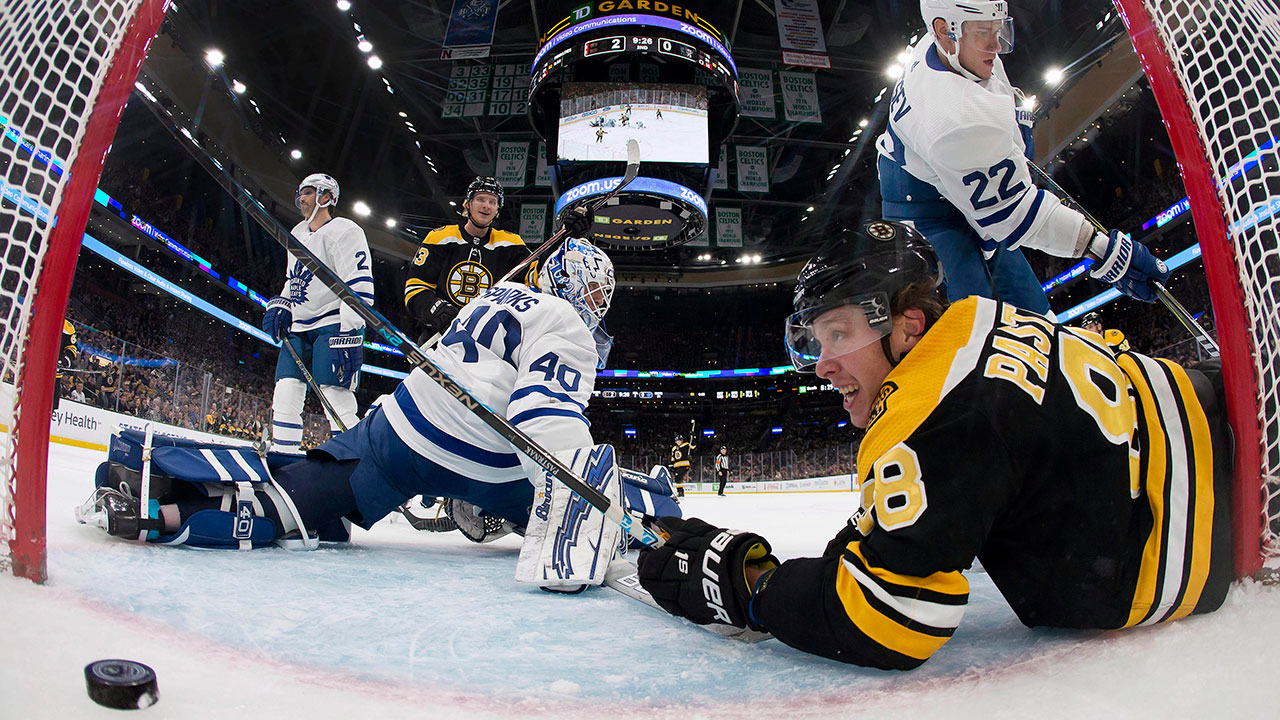 Andersen's masking of the Leafs' flaws — the too-frequent icings, the costly giveaways, the imbalance of D-zone draws — has cranked an unrealistic benchmark for how much a team should lean on its goaltender for success.
Since he arrived in Toronto in 2016, no goalie has faced more pucks (4,696) or made more saves (4,316) than Steady Freddy.
"I've been very happy with what I've been doing," Sparks says. "It's a new challenge sitting long times between starts. It's almost like you really forget that feeling of being in the net. You try to say that practice is your game, but you just can't recreate game play.
"It's a daily process to get closer and closer to where I want to be. I don't think anybody hits their peak in November. It's just work. It's an opportunity to work harder."
In media, social and otherwise, many armchair GMs are questioning Sparks's play. No one questions the devotion.
"He's been working hard, staying on the ice after practice, being the last guy out of the rink, really putting in the preparation and the work ethic in order for him to be great," Nazem Kadri says. "He's got great athleticism, moves laterally side to side, and obviously he's got that size [six-foot-two, 200 pounds]. So, he's got all the components."
Zach Hyman is familiar with Sparks since their Marlies days and fondly recalls their being called up together in March of '16.
"He's really developed over those last two years," Hyman says. "He just brings it every day, and he's got a positive attitude."
Now in his eighth year with the organization, but first as a full-time NHLer, Sparks is comfortable in the Leafs room. He feels like he's grown up alongside chunks of the core. He recalls standing behind Jake Gardiner at their first rookie tournament way back in 2011. He takes joy in playing epic sessions of the rebound game post-practice with one of the sport's most dangerous collections of shooters.
Sparks's habit of being last to leave the organization's practice facility is something he picked up last season, the one that ended with trophies and confetti, so he's sticking with it.
"And I enjoy being at the rink," Sparks says. "I got nothing else better going on in my life."
Not yet, but this will all come to a head.
Can Sparks become Andrei Vasilevskiy or Juuse Saros — the heir apparent? Can he adapt, the way McElhinney did, to the role of perma-backup? Or will he turn out to be a guy who worked his butt off and thrived in the AHL? Enroth's numbers in the KHL these days are decent.
The next chapter is this discovery period could unfold as early as Friday, as the Leafs face Anaheim in the second half of a back-to-back.
"Yeah, it's another great opportunity," beams Sparks, still adjusting to his sporadic schedule. "You're not used to it. But you can use it as a challenge. You can use it to make you better — and that's what I intend to do."
Even after dozens of doffed hats rained around his crease and a deafening Boston crowd roared their approval of his undoing, Sparks remained optimistic.
"You play in challenging buildings in every league. You play in Estero, Fla., in the ECHL — it's not a cakewalk. You play in Utica in the AHL — it's not a cakewalk. I've let in five goals in a lot of those buildings," the backup explains.
"You think your career is over for a second, and then you just get back to work."