When I write these trade trees, I look for a few things. I look for how long the trade tree is, I look at the impact the players involved had, and I try to look at why a trade happens.
The "why" is key for context. I've written about bad trades the Leafs have made, but if you look at why they made them, you see that there was some logic to it and it just didn't work out. C'est dommage. It happens.
This is what makes the Steen trade so frustrating for me. I don't get it at all.
Let me jog your memory.
It's the beginning of the 2008-09 season. The Leafs had a great stretch of consistent playoff contention, regularly made the second round, and had two conference final appearances in 1999 and 2002.
The 2004-05 season is lost to the lockout. When hockey resumes, there's a salary cap.
The Leafs miss the playoffs by one point in 2005-06. Shoot! All right, don't panic.
The Leafs miss the playoffs by one point in 2006-07. Darn! Well key free agent signing Michael Peca got injured and we still almost made it. Keep cool.
Then in 2007-08 the Leafs finish 12th in the Eastern Conference and 11 points out of the playoffs.
Uh oh. We might suck.
John Ferguson Jr. is fired in January 2008 and Cliff Fletcher takes over as Leafs GM in the interim. In the tale of the tragedy that has been the last decade in Leaf Land, most fans seem to forget that ever happened. John Ferguson Jr., Brian Burke, and even Dave Nonis all get heat but many skip over the fact that Cliff Fletcher was the Leafs' GM (again) for 10 months in 2008.
Fletcher sold veterans for draft picks at the 2008 trade deadline. He traded up in the draft to get Luke Schenn at fifth overall. He acquired Mikhail Grabovski. He managed to ship Bryan McCabe's contract to Florida. He signed Jeff Finger. Then in his final move as Leafs GM, Fletcher traded forward Alexander Steen and defender Carlo Colaiacovo to the St. Louis Blues for Lee Stempniak.
First thing's first.
Cliff Fletcher made this trade on Nov. 24, 2008. Brian Burke became Leafs GM on Nov. 29, 2008.
Supposedly Fletcher had been talking to St. Louis about Stempniak for a month. You can read about it in this little Sportsnet.ca time capsule. Regardless of that – where's the fire? That trade couldn't wait five days?
All three of Steen, Stempniak, and Colaiacovo were in their mid-20s so this wasn't a case of buying or selling prospects. This was a classic case of selling low and buying high.
Steen had 45 points as a rookie, 35 as a sophomore, and 42 is his third year. Not mind-blowing but certainly not bad. Then the Leafs, and Cliff Fletcher, hired Ron Wilson in June 2008 and things didn't go so well with Steen. His ice time dropped by about two and a half minutes from the year before and Steen began 2008-09 with just four points in 20 games with a 6.5 shooting percentage.
Wilson also didn't gel with Colaiacovo. My favourite story was Wilson openly calling out Colaiacovo's conditioning, while he was playing through a broken foot from a blocked shot. Colaiacovo had one assist in 10 games with the Leafs in 2008-09.
Stempniak meanwhile had 13 points in 14 games with St. Louis to start 2008-09. That's hot, especially considering his 27 goals and 52 points in 2006-07 dropped to 13 goals and 38 points the season before the trade.
Stempniak was hot. Steen and Colaiacovo were a combination of cold, injured, and barely used. We have 20/20 hindsight now in 2017 but even back in 2008, there were several red flags surrounding this move.
"Surely the Leafs saved a bunch of cap space!" Nope. They saved about $600,000. That's something but hardly a cap dump.
What did the Blues get?
It's often called "the Steen trade" but don't let the Leafs off the hook for Colaiacovo. After recovering from his banged-up foot, Colaiacovo put up 29 points in 63 games with the Blues the very season he was traded. He scored 32 points in 67 games the following year and 26 points in 65 games the year after that. Yes, consistent health was still an issue but that kind of offensive production from the backend isn't nothing. So what if he didn't win the Norris? St. Louis got 284 games out of Colaiacovo. That's very good.
As for Steen, what can you even say? In 540 games with the Blues, Steen has 157 goals, 233 assists, and 390 points. Steen has received Selke votes in six of the last seven seasons, including the past three consecutively. He consistently bags 50-60 points and in the neighbourhood of 20-plus goals. He's basically what the Leafs thought Stempniak could be except Steen is a centre.
Still wanna trade William Nylander? Sorry, that's a bit off-topic.
The Leafs traded Stempniak though, right? This is the part of the trade tree where we learn about the bounty of riches the Leafs acquired, right?
Nope.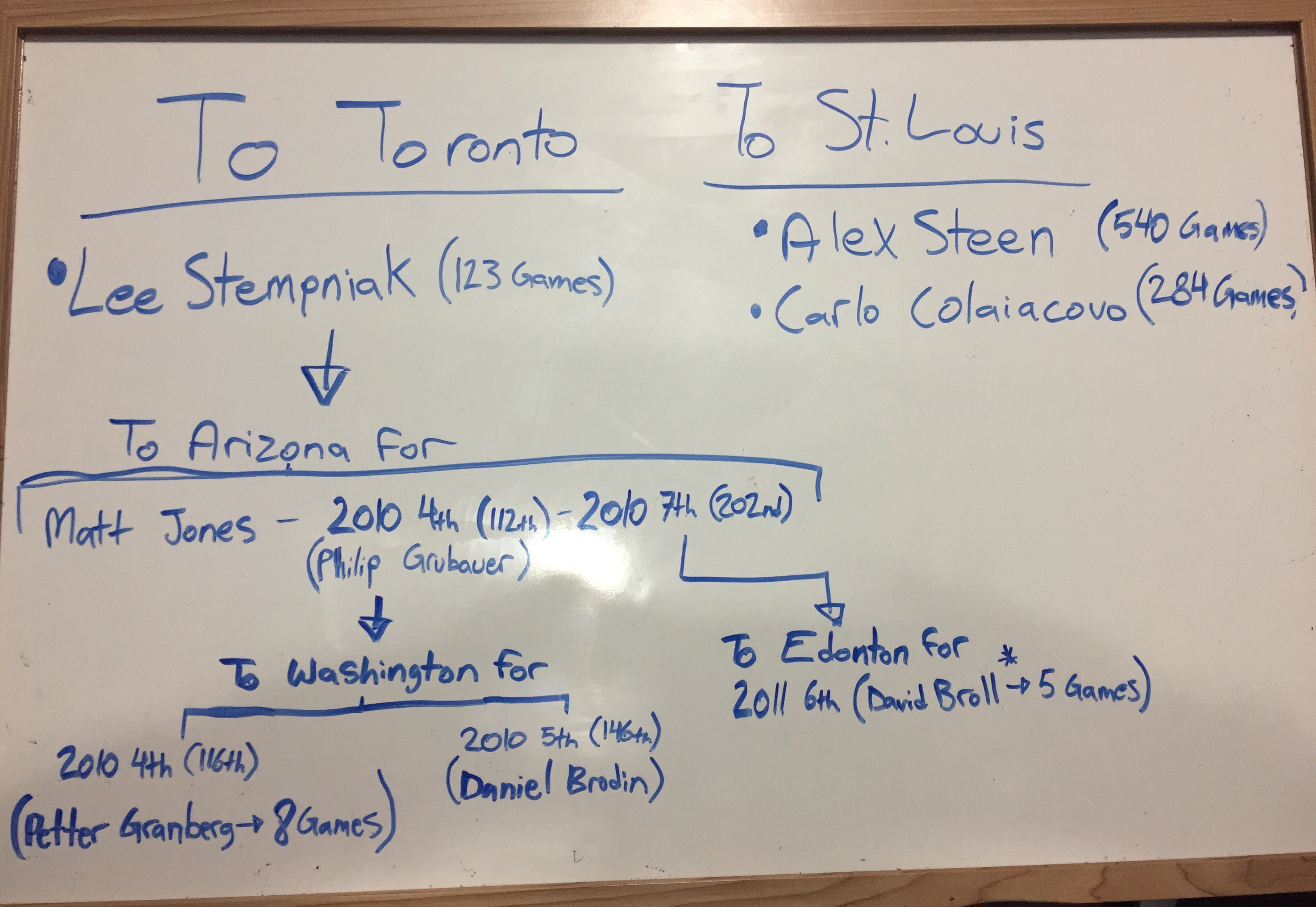 We sort of went over this in the Sergei Berezin trade tree (which you should definitely read). In the context of the Steen trade though, it's particularly depressing.
After 31 points in 61 Leafs games in 2008-09 and another 30 points in 62 games in 2009-10, and the key asterisk that the Leafs were really bad, the Leafs decided to part ways with Stempniak to help their rebuild (lol) along.
The Leafs dealt Stempniak to the Coyotes for Matt Jones, a 2010 fourth-rounder, and a 2010 seventh-rounder. Matt Jones never played in the Leafs organization at any level, by the way.
So a fourth and a seventh, basically. I'm sure that will offset trading two firsts and a second!
The Leafs dealt the fourth to Washington for a later fourth and a fifth-rounder. The Leafs got Petter Granberg, who they later lost on waivers to Nashville, and Daniel Brodin, who has never left Europe. The Capitals on the other hand got their current backup goalie Philipp Grubauer, who has a career save percentage of .924 and is riding a career-high .931 this season. Just… so fun.
The Leafs managed to turn the seventh into a sixth and drafted David Broll, who played just five games. You'll notice an asterisk next to Broll on the marker board. That's because the Leafs eventually traded him but it was for nothing. Literally. Actually it was less than nothing because the Leafs threw in Carter Ashton, too.
To recap, Toronto grew impatient with Steen and Colaiacovo so they traded them for Stempniak. He was all right but not as good as they thought, plus the team stunk, so he was traded for a fourth and a seventh. The seventh became a sixth who was traded for nothing and the fourth was traded for another fourth then played eight NHL games before getting claimed off waivers.
To quote The Simpsons' Chief Wiggum: "No, no dig up, stupid!
To rub salt in the wound, Stempniak played 18 games in 2009-10 after joining the Coyotes, and in those games he had an absurd 14 goals and 18 points. How do you not feel like the hockey gods are laughing at you at that point?
If you combine Stempniak's tenure as a Leaf (123 games) with Petter Granberg's (eight games) and David Broll's (five games), you get 136 games, That still isn't even half of the 284 games Colaiacovo played with the Blues. Oh, plus there's Steen.
Look, Steen isn't a superstar. He only has one 30-goal season. His career high in points is 64. He's just a dependable, two-way, top-six centre… which is incredibly hard to find.
Today the Leafs have a one-two punch of Auston Matthews and Nazem Kadri up the middle and Tyler Bozak is aging like a fine wine. That'll make you forget about losing Steen a bit. Look at Kadri though, who just began a six-year deal with the Leafs, as a great example on not giving up on a young centre who you've already started developing yourself.
To me, the is one of my favourite trade trees because it's just such a great view of what not to do from top to bottom. Don't buy high. Don't sell low. Don't trade young guys just because the coach you just signed isn't a huge fan of them after less than two dozen games. Why was this deal made five days before another GM was gonna come on board? The list goes on and on.
The only thing worse than this trade is the reaction video I made for it in 2008.