This is not the order in which things were supposed to unfold.
A highly touted NCAA standout goaltender is the focus of a multi-team bidding war in his senior year. He hopscotches over American Hockey League development and makes his professional debut in the NHL — on an opening night wrought with emotions, no less — only to never sniff big-league ice again.
Written off by the same Ottawa Senators who aggressively pursued him in college and blessed with another shot to make it, Matt O'Connor is doing everything in his power to not be another cup-of-coffee casualty in the NHL's long line of one-hit wonders.
"I'm just contracted to play home openers," says O'Connor. He's joking but only half.
The Senator-turned-Predator folds his lanky 6-foot-5, 200-pound frame on a rinkside exercise bench to chat with a reporter after an on-ice workout followed by a massage treatment.
"It was obviously a big tease, and it was almost like a backward development path—coming out of college, having that strong year, having a good training camp, getting that debut…"
Canadian Tire Centre, Oct. 11, 2015: A teary-eyed Senators owner Eugene Melnyk waves to Ottawa's faithful fans in his first public appearance since receiving a liver transplant that saved his life. Then, for the first time in 48 years, two goaltenders make their NHL debuts as opposing starters.
Ottawa's O'Connor versus Montreal's Mike Condon, a rookie duel now steeped in retrospective prophecy.
O'Connor stops 31 pucks, 12 more than Condon, but loses 3-1 that night, his only taste. Tomas Plekanec beats the Boston University kid off the skate blade with a quick bad-angle puck from the corner, then again five-hole on a breakaway. The third goal is a seeing-eyed slot tip that skirts through five bodies.
Today, at St. Michael's College School Arena in Toronto, where he's been sharpening his pads against NHL shooters the past two summers, O'Connor says then Sens goalie coach, Rick Wamsley, since replaced by Pierre Groulx, was pleased with his performance in that game. So was head coach Dave Cameron. He got axed, too.
"Then I took some steps backward and I was kinda written off," O'Connor summarizes.
Five months after O'Connor's peek-a-boo with the bigs, Melnyk would characterize Cameron's decision to tap him over No. 1 man Craig Anderson in the opener as "stupidity," using O'Connor's lone game as a launching pad to rip into his team's disappointing 2015-16 performance.
"I go back to the very first game. You put in the second goalie. What was that about? On opening night? And the guy gets clobbered," Melnyk said. "It's not fair to him, not fair to the fans."
A native of icy Sault Ste. Marie, Ont., O'Connor was never drafted into the Ontario Hockey League let alone the National one. His individual stats block reads like an alphabet soup of leagues. OJHL, USHL, HE, NHL, AHL, ECHL — the latter is how far he'd tumbled in Ottawa's books. So it was a shock to no one when O'Connor went unqualified by the Senators as a restricted free agent this summer.
"It's not so much that something went wrong in Ottawa. I think it's a long dream to be an NHL goalie, and patience is something I've learned," explains O'Connor. He says he's grateful for what he did learn from the organization. "It hurt me when I went down to [AHL] Binghamton after my debut. I struggled a bit there."
O'Connor posted a 24-38-4 record with an .895 save percentage over two seasons in Binghamton, and when the Sens were urgently forced to fill their crease in 2016-17 they decided to look outside the organization. They traded for Mike Condon, a decision impossible to dispute.
"I didn't get a chance to show my skills with Condon playing a lot," says O'Connor, striving for a control-the-controllables mind state. "You want to be the best goalie in the American Hockey League before you're an NHL goalie. That's what I'm trying to do."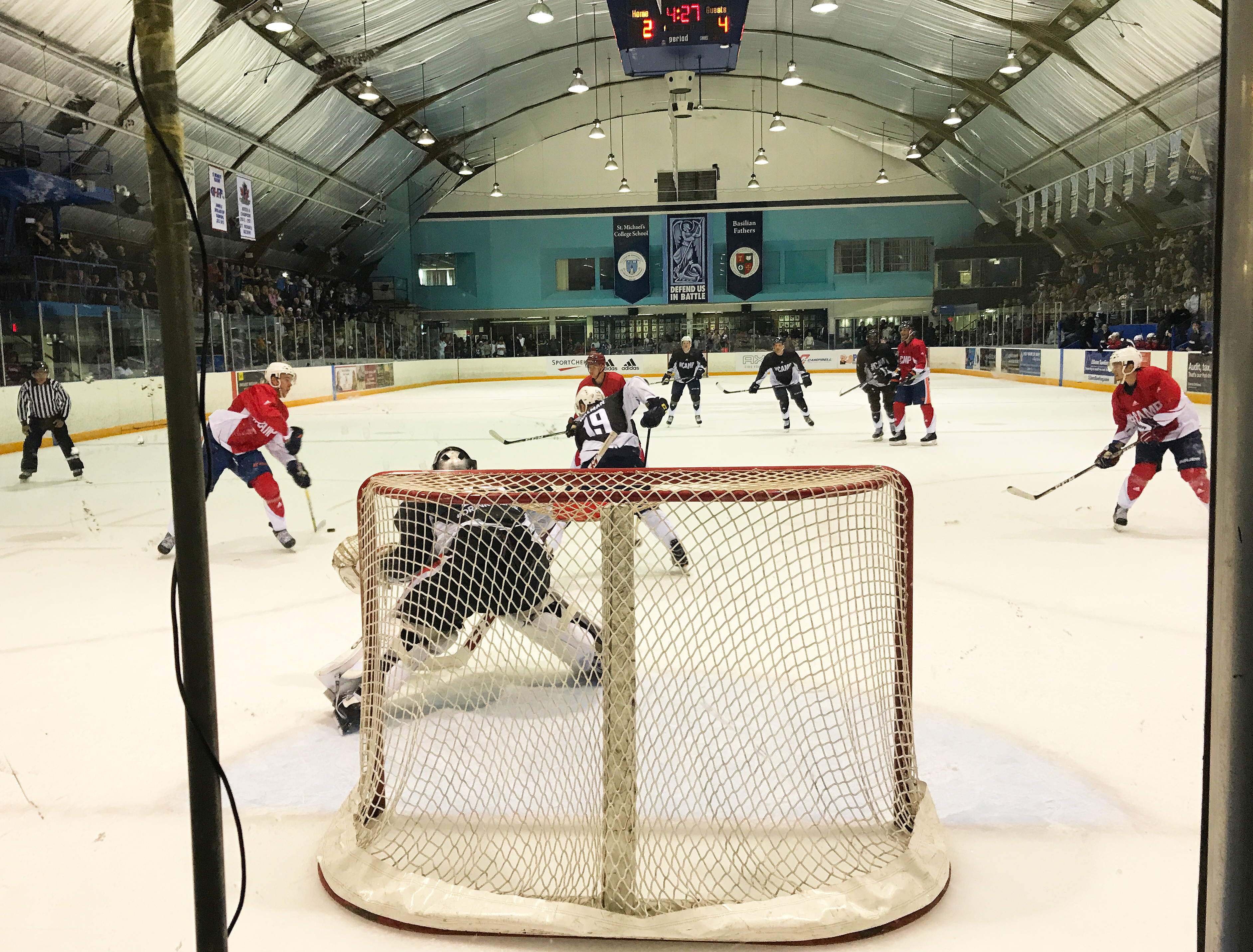 Nashville is hockey's City of Second Chances.
From stars (P.K. Subban, Ryan Johansen) to gambles (Mike Ribeiro, Cody Hodgson), GM David Poile is seldom afraid to take a chance on turning an opponent's castoff into a useful addition.
O'Connor brings up the resilient Scott Darling, whose breakout 2013-14 pro campaign with Milwaukee, the Preds' AHL affiliate, paved the way to a backup role in Chicago and, ultimately, a chance to be the starter in Carolina. Nashville's three-time Vezina finalist, Pekka Rinne, was developed the right way, with three seasons in Milwaukee before making the leap.
So when O'Connor met as a free agent with Predators goalie coaches Ben Vanderklok and Dave Rook, their development plan for him felt right immediately. The 25-year-old inked a one-year, two-way, $650,000 contract and hit the gym.
"It was really refreshing. The decision was pretty much a no-brainer," O'Connor says. "They give their goalies opportunity, and there's no promises going in. That's what you want as an athlete. You want a fair shot. That's all I can ask for at this point.
"I fought my way back, but I'm really glad I'm in another place that believes in me."
"Now it's time to make it happen. Enough is enough."
Nashville sees potential in O'Connor, but the Predators also singed Anders Lindback, 29. Both will have to hop over 22-year-old Juuse Saros if they are to see any NHL action behind Rinne.
O'Connor feels "blessed" to even have that shot, however long it may be. He's boiling his focus down to each shot, trying to improve his consistency in meaningless games, knowing that garbage goals show up on the stat line. ("You can't afford any six-goal games no matter what situation you're in," he says.) He's practising the "head over puck" tracking technique that helped lead Devan Dubnyk back from obscurity, trying to stand more compact and improving his lateral movement.
"It's a very east-west, pass-first league, the American League. It's all about protecting the net and not chasing the puck," O'Connor says. "You don't want to get out of position even marginally, or you're done. Just being smart, efficient, and really smart in all my positioning and skating."
During a pre-training camp scrimmage, O'Connor stuffs both Connor McDavid (left, photo above) and Tyler Seguin on breakaways, his improved technique flashes in old equipment of black, red and gold.
"It's time for a new chapter and some new colours," O'Connor says.
"I've earned another year of development, and now it's time to make it happen. Enough is enough."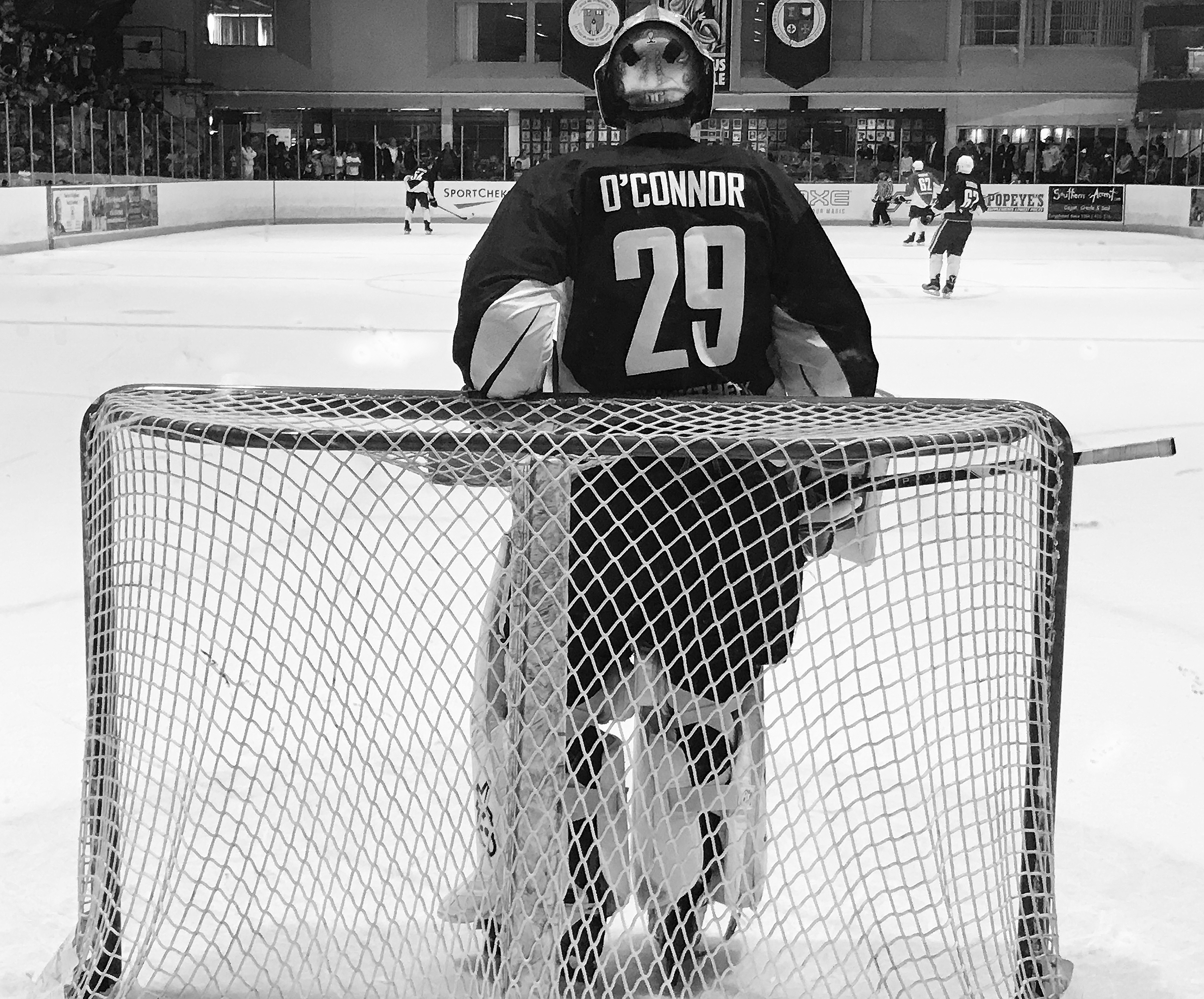 (Fox photos)