Boasting a top-heavy lineup for years, the Dallas Stars have consistently looked better on paper than they finished in the standings. After missing the playoffs in each of the past two seasons, it seemed like they were spinning their wheels with a core in its prime, but on the edge of aging out.
Missing the playoffs last season after signing Alex Radulov was especially disappointing, but this year they're one game away from making the Western Conference final for the first time since 2007-08 when Marty Turco was the backbone behind a group that still included Mike Modano, Sergei Zubov (who should be in the Hockey Hall of Fame), and Jere Lehtinen.
It's been a long time for the Stars, and while they have a new coaching staff this season not as much changed as you would expect. The Stars remain a very strong defensive team just like they were under Ken Hitchcock, and they were outplayed in the more general performance metrics in the regular season, relying more on controlling quality shots.
The biggest change the Stars have seen this year has been the emergence of Miro Heiskanen. From the second shift Heiskanen took in the NHL, it was clear he was going to be something special.
The skill Heiskanen displayed on that shift was one thing, but having the confidence to attempt the end-to-end rush, complete a pass to the slot, then circle back to the point only to pinch in again for a scoring chance — all within a few seconds — is amazing.
Heiskanen's 33-point regular season may not have been eye-popping from an offensive perspective, though it is the eighth-highest point total by a teenaged rookie defenceman over the past 20 seasons. But it's not the point production that makes Heiskanen so impressive. It's his impact on quality shots in both directions at 5-on-5.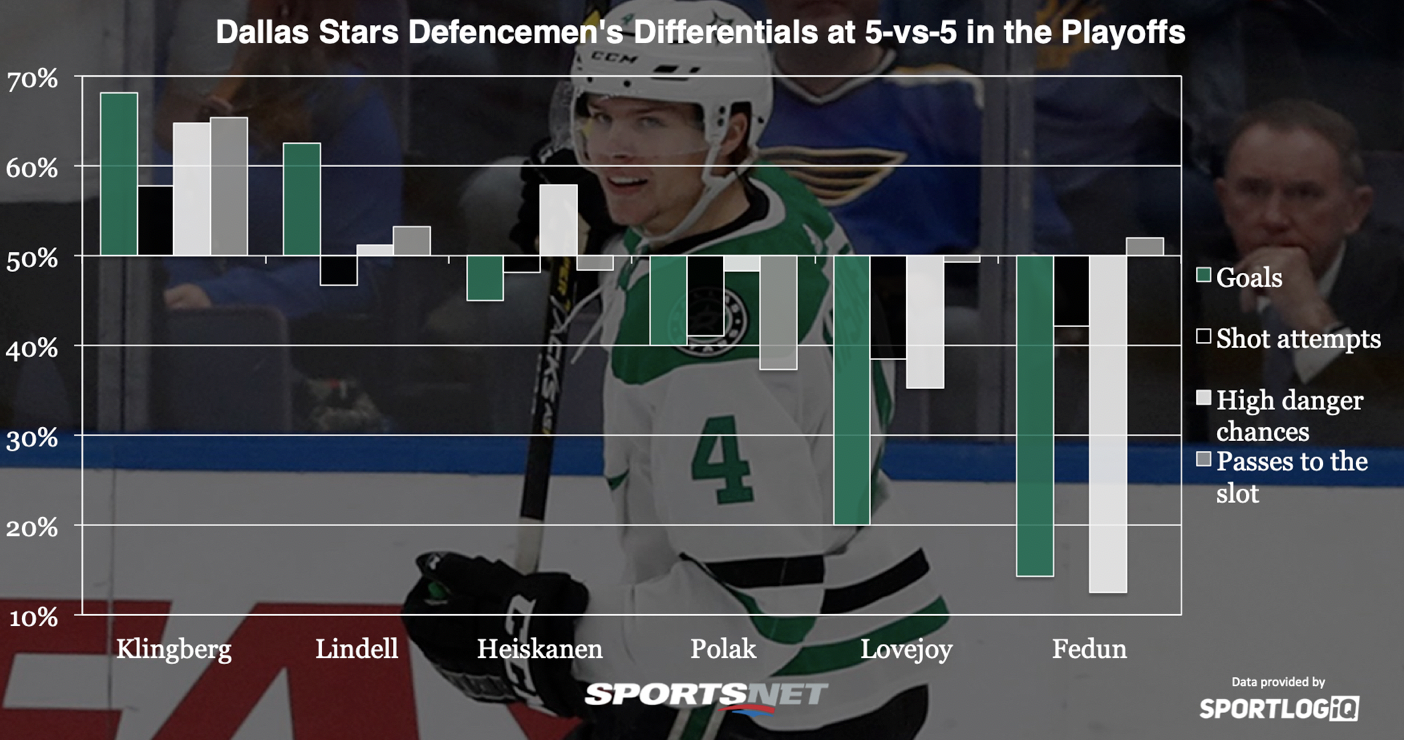 At a glance, this might not look too impressive for Heiskanen, but we need to break down how players impact each other a little bit to contextualize what we're seeing.
First off, John Klingberg is a Norris candidate and franchise defenceman in the prime of his career. His impact on the Stars is astonishingly strong and he is a player opponents should fear playing against night in and night out. Along with Esa Lindell he forms the Stars' top defence pairing, and when they're on the ice together Dallas pretty heavily outplays their opponents in every area.
The problem for the Stars last season was that when those two weren't on the ice things didn't go so well. That's true this season as well, except when it comes to Heiskanen.
The Stars essentially run three high-quality defencemen and a bunch of replacement-level players, but Heiskanen is so good that he's able to insulate Roman Polak or Ben Lovejoy enough that Klingberg and Lindell aren't stuck always playing against top competition.
Looking at Polak's on-ice numbers, keep in mind that his differentials include time spent with Heiskanen, so you can see very clearly that when none of Dallas' top-three defencemen are on the ice, things get really dire.
While Klingberg gets to spend most of his ice time alongside Lindell, Heiskanen is having to constantly pair with players who are getting torn asunder whenever they're not attached to his hip. He's keeping his partners around even despite a lower than expected PDO according to Corsica.Hockey, and the fact they have to play tougher competition with Heiskanen than they do without him.
Despite carrying around objectively poor partners, Heiskanen boasts the second-best high danger scoring chance differential on the Stars defence at nearly 58 per cent.
The comparison to Klingberg might seem lofty based on the raw differentials, but the context matters, and if we take a look at some individual statistics Heiskanen looks strong once again.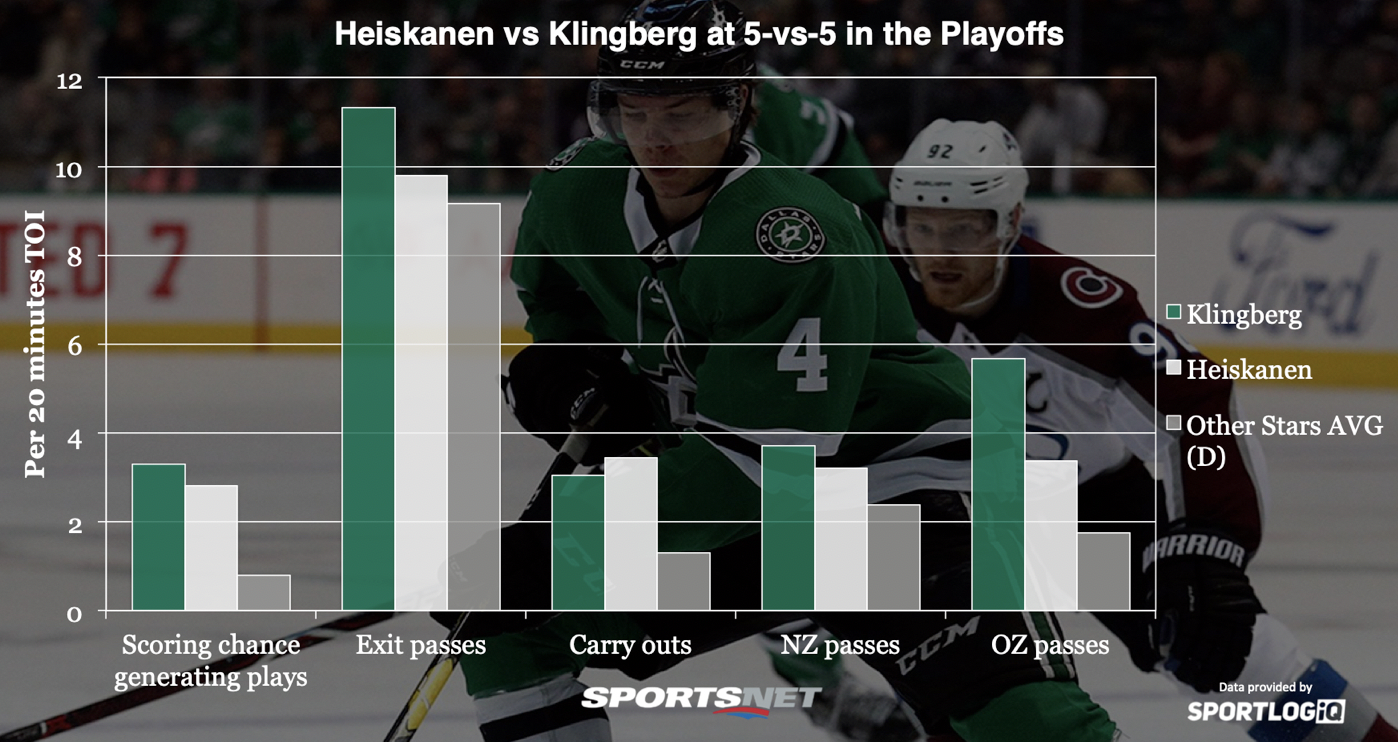 Comparing Heiskanen directly with Klingberg, while showing what the rest of the Stars' defencemen accomplish, it's incredible that this kid is only 19.
Klingberg comes out on top in most areas, and it appears that Heiskanen struggles a bit in terms of connecting on exit passes out of the defensive zone. He has the worst success rate on outlet passes on the team at just 54.1 per cent, and also passes to his defensive partner less often than anyone else on the team. That makes sense considering who Heiskanen is playing with and the extra forechecking pressure placed on him because his partner is not a good option is far more likely the cause of his low pass success rate than any poor play on his part.
Heiskanen's main solution to the lack of breakout support he gets is to just skate the puck out himself, and most of the time that works perfectly.
Within one game of the conference final as Ben Bishop holds things together as he has all season, the Stars remain an extremely top heavy team and will need to be address that going forward. However, Heiskanen's presence has singlehandedly made that far less of an issue.
He's the main reason the Stars have gone from out of the playoffs to knocking on the door of the final four.