"I watch him too much and I think too much about him…. I wish I could help myself." –Buffalo Sabres GM Tim Murray on Connor McDavid
It is a night that will swiftly and drastically alter the NHL landscape, the lives of young men, the moods of older men, and the expectations and hopes of 14 hockey clubs and their respective fan bases.
It is the night the winner of the Connor McDavid Sweepstakes will finally be revealed. It is the, um, gosh darn NHL Draft Lottery, and it is appointment television everywhere from favourite Buffalo to long-shot Boston.
WHAT IS THE DRAFT LOTTERY? A weighted system implemented and utilized to determine the order of selection in the first round of the 2015 NHL Draft, which takes place June 26-27 in Sunrise, Florida.
WHEN DOES IT HAPPEN? Saturday, April 18, 7:30 p.m. ET.
WHERE WILL THE LOTTERY BE HELD? At the Hockey Central studio inside CBC headquarters in downtown Toronto. The lottery will be run off-air and the results televised shorty thereafter.
WHERE CAN I WATCH IT? Immediately prior to puck drop for Game 2 of the Penguins-Rangers opening-round series on CBC, starting at 7:30 p.m. ET.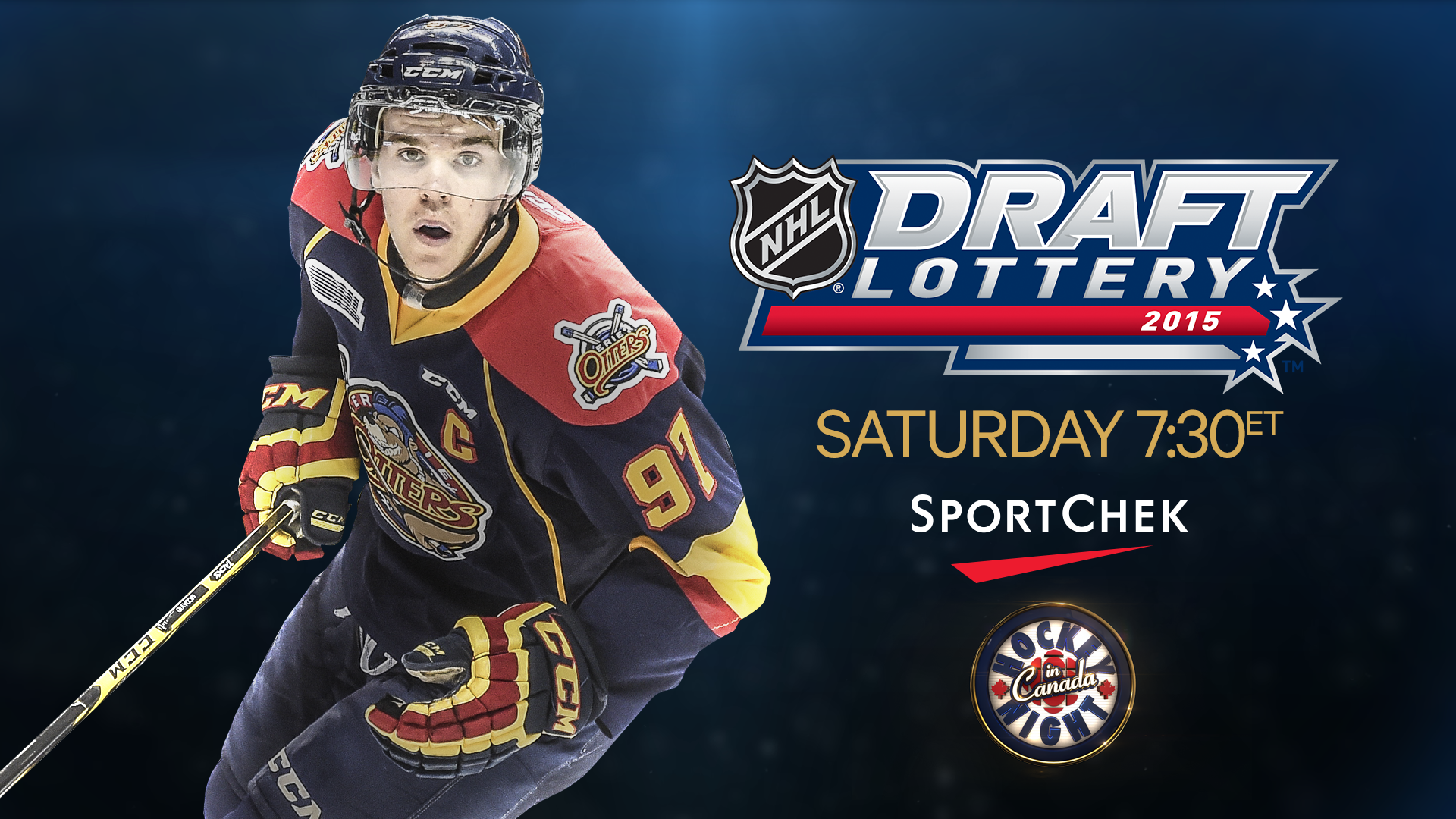 WHO CAN WIN THE LOTTERY? Any one of the 14 clubs who failed to qualify for the 2015 Stanley Cup Playoffs, or the clubs that have acquired the first-round drafting positions of those non-playoff teams. (But in 2015, all of the teams that traded their first-round pick did qualify for the post-season, thus avoiding what could potentially be some serious regret/embarrassment.)
HOW HAVE THE ODDS CHANGED? The changes to the draft lottery format, which were announced by the NHL back in August, directly effect the odds of winning the first overall selection.
The 10 highest-finishing non-playoff teams now receive better lottery odds than they had in the past. The four lowest-finishing teams — Buffalo, Arizona, Edmonton, Toronto — receive worse odds than they would have in previous years.
OK, SO WHAT ARE THE ODDS OF MY TEAM WINNING THE NO. 1 PICK? Here is a handy list.
1. Buffalo Sabres – 20.0%
2. Arizona Coyotes – 13.5%
3. Edmonton Oilers – 11.5%
4. Toronto Maple Leafs – 9.5%
5. Carolina Hurricanes – 8.5%
6. New Jersey Devils – 7.5%
7. Philadelphia Flyers – 6.5%
8. Columbus Blue Jackets – 6.0%
9. San Jose Sharks – 5.0%
10. Colorado Avalanche – 3.5%
11. Florida Panthers – 3.0%
12. Dallas Stars – 2.5%
13. Los Angeles Kings – 2.0%
14. Boston Bruins – 1.0%
ARE THERE ACTUALLY BALLS, LIKE IN LOTTO 649? Yes, but the balls don't have team logos on them. It's more complicated and involves a bit of math.
Fourteen balls, numbered 1 to 14, are placed in a lottery machine. The machine randomly selects four balls. The resulting four-number series (without regard to selection order) is matched against a chart that shows all possible combinations and the teams to which each is assigned.
One combination (11, 12, 13, 14) has been designated as a "re-draw," allowing for the division of exactly 1,000 combinations proportionately.
All number combinations were assigned to teams at random by Bortz & Company.
The chart of assigned combinations was revealed Friday. You can look at the complete list here.
IS THERE A VIDEO THAT EXPLAINS THIS TO ME? Yes. Please check it out:

HOW DO I KNOW IT'S NOT RIGGED? The number-drawing process is supervised by accounting firm Ernst & Young.
The drawing of numbers from the lottery machine will be filmed and released publicly on Sportsnet.ca and NHL.com after the results are announced.
WHY IS THE LOTTERY SO HYPED THIS YEAR? Because Connor McDavid, the consensus No. 1 prospect, is widely considered a generational talent and does stuff like this on a regular basis.
Plus, 2015 brings a deep crop of prospects. Jack Eichel, Dylan Strome, Noah Hanifin and Lawson Crouse are just a handful of the teenage stars coveted by the NHL teams. Here is the full list of Central Scouting's final draft rankings of this year's prospects.
WHERE WILL MCDAVID BE? On site. The No. 1-ranked prospect will be in Toronto and speak to the media after the results are announced. Joining McDavid in Toronto for the anticipated night will be projected top-five picks Hanifin and Strome.
SOUNDS FUN. IS THERE A HOME VERSION OF THE LOTTERY? Why, yes. There is a simulator right here.