With the NHL Draft going down on Friday, we asked five former players — Paul Coffey, Denis Savard, Bryan Berard, Brian Trottier and Dennis Maruk — to recall their own draft night.
Over the '70s, '80s and '90s, the business and marketing aspects of the grand invitation to the big league have changed drastically, but some of the feelings involved haven't changed a bit.
Denis Savard, Chicago Blackhawks, 3rd overall, 1980

"It's a dream come true. Growing up as a young boy, you play to have fun. That's what I was told by my dad: 'Go out and have fun, Son.' We didn't even think about NHL. Until my last two years of junior, when my dad said, 'We'll see what happens, but you're on the right track. Continue to have fun.'
"Get to The Show. Montreal had the first pick [and plenty of Habs fans hoped they'd take Savard]. Growing up there, that would be a special place to play—and I had the opportunity to play there anyway later in my career. But I look at the path, and the stars were aligned the right way for me in my career.
"Wherever they go, [the 2016 draft picks] need to continue to do what they did in the junior ranks, be it in Canada, Europe or the United States. You need to do what got you there. It's important for any organization that makes a top pick to surround them with good people. Chicago is great proof of that with Kane, Seabrook, Toews, Crawford, Keith, Hossa. You see how young guys succeed when surrounded by a great group of guys."
---
READ MORE: That time Jamal Mayers saved a child's life at the NHL Draft
---
Paul Coffey, Edmonton Oilers, 6th overall, 1980

"I got drafted in 1980 at the Montreal Forum [the first time an NHL arena hosted the draft]. You didn't take your mom and dad with you. I remember taking the train down to Montreal with Steve Ludzik and bunch of other buddies, Patty Graham. We got drafted and that's it. I don't think I even called home. There wasn't cellphones back then. Took the train home and that was it. There wasn't the hoopla there is now. But it's exciting today, and that's how it should be."
"You just didn't know [where'd you'd go], but it was exciting to get drafted. There's no advice. You just showed up and did your best. By the time you get drafted, the work's already done. Doesn't matter what [the prospects] do in the next few days, they can't change where they're gonna go.
"There's a lot of great players. The only thing guaranteed is who's going No. 1. That Matthews kid is a very good player and Toronto will probably pick him. I saw him put on a pretty good clinic at the world championships."
Dennis Maruk, California Golden Seals, 21st overall, 1975
"I thought I was going to be drafted when I was 18, but they told me I was too small. I wasn't OK with that. I did play exhibition games against the Capitals in London and scored. I said, 'Jeez, if I can play against them…' but I never got drafted, so I played my final OHL year and won the Red Tilson Award for most valuable player. I had 140-some points, so I figured I was still going to be a first-round pick.
"I went first pick, second round. When I went to camp, [the Seals] said I was too small, we're not going to offer you a contract. They sent me to the minors. At the camp's first exhibition game, we played the L.A. Kings and Marcel Dionne. I scored two goals and an assist. First star of the game. Right away they said, 'Don't go the minors. Come sign a contract.' So I always had to prove. Always. My whole career was that way. I wasn't a tall guy [5-foot-8], but I had great credentials in junior. If you look at the list of Red Tilson winners, they all played in the NHL. I was still told I was too small.
"Hockey today is for anybody. Doesn't matter how big or small you are. You have to be good and have finesse. It's totally changed. It's tic-tac-toe. Not a lot of hitting. A lot of guys today couldn't play in our time."
"I don't think I even called home." — Paul Coffey, on the thrill of getting drafted top six
Bryan Trottier, New York Islanders, 22nd overall, 1974
"Second round. Underage. It was the year of the secret silent draft because the WHA was stealing all the young kids. The NHL had a secret draft. No hoopla. Everything was done by telephone. I got the call from the New York Islanders. I went two weeks ahead of the NHL Draft to the WHA to the Cincinnati Stingers [18th overall]. They called and offered a contract: $15,000 (per year) for 10 years. Oh, God, yeah, that was big money then."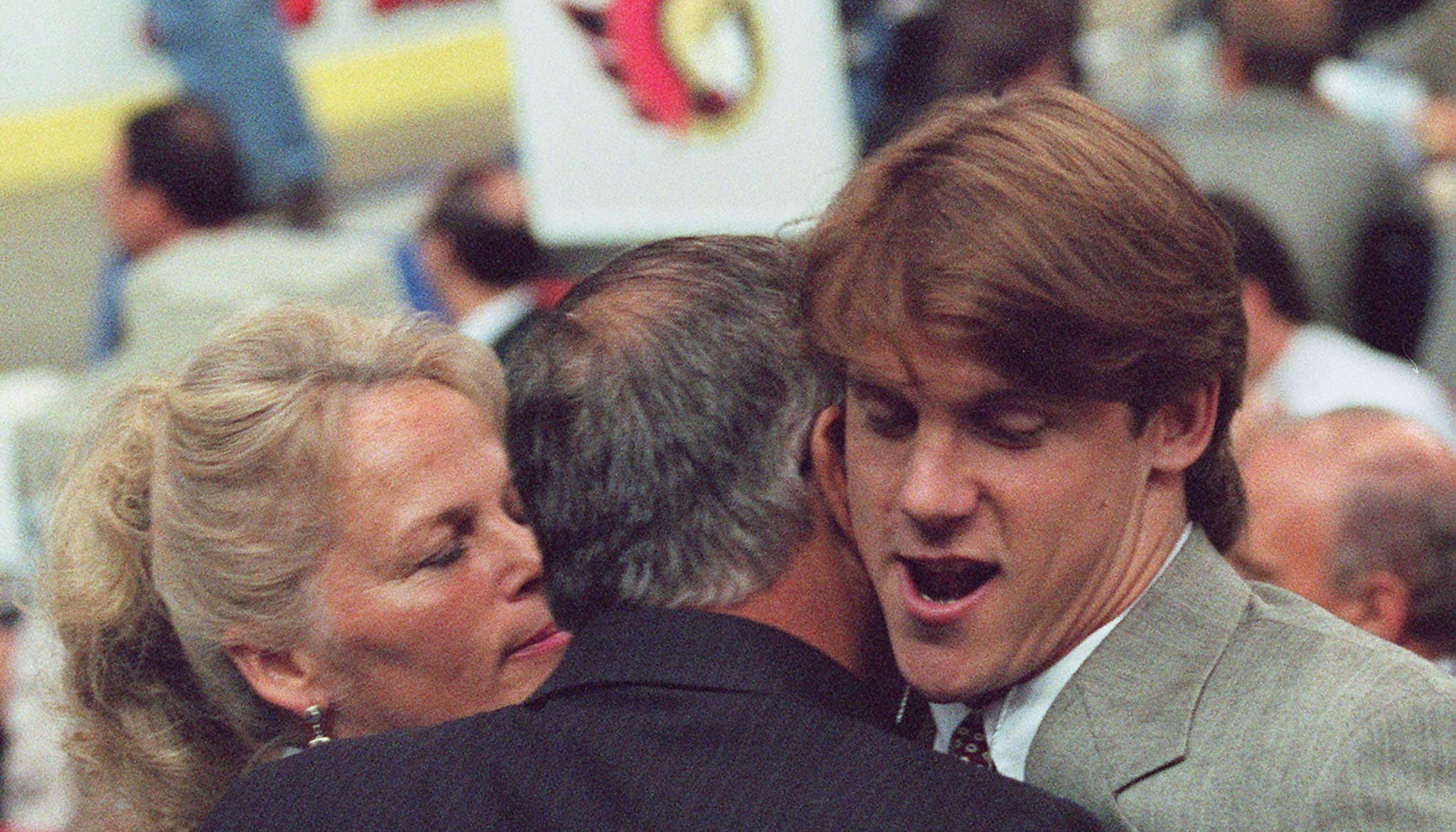 Bryan Berard, Ottawa Senators, 1st overall, 1995
"It's something you dream of as a young kid. Going into it, you don't know if you're going No. 1 — it was really between me and [Wade] Redden. [Note: Berard refused to report to Otttawa, and the Senators traded him and Martin Straka to the New York Islanders for Redden and Damien Rhodes.] The whole experience—doing interviews, having your family with you—is just something you dream of as a kid. So it's an exciting time.
"It wasn't nerve wracking. To go No. 1 overall, especially as an American, was very special. That competitive edge makes you want No. 1 as well, but it really is just about being drafted. I was the third American to go first overall. Brian Lawton went first [in 1983] and Mike Modano went first in 1988. Redden had a great career and was a great player as well.
"I did it right. I enjoyed draft day. All my family was there. I took it all in and had fun. I think there's more pressure now to go first overall or go first round. Teams can put pressure on, but quickly you learn that, yes, it's a business as well, but you have to have fun.
"The media and social media make it definitely bigger now. But as a hockey player, it's a big deal for yourself [in any era]. It's blown up now, and that's great for hockey. It's great for Toronto to have the first pick, great for the city. Any Canadian city you play in—especially Toronto and Montreal—is like playing for the Yankees in New York.
"Toronto is the mecca for hockey in Canada, so there is added pressure. I knew that when I got traded here [in 1999]. I wouldn't say I ignored the press, but… you make yourself available for interviews but there's no reason to read the newspaper every day. Treat it like a job. Show up to work. My advice is, you can only control how you're playing. That's my advice for any player who comes to Toronto."