With the opening of free agency there was no shortage of player movement and money being thrown around this past weekend.
Let's take a closer look at some of the most notable names that changed places, and what we can expect from them in their new uniforms.
Blues finally push their chips in
This weekend signalled a momentous change of course for the St. Louis Blues organization. After rather surprisingly positioning themselves as sellers at each of the past two trade deadlines, offloading impending free agents Kevin Shattenkirk and Paul Stastny in consecutive years despite sitting firmly in playoff contention, they seem to finally be pushing the chips into the middle of the table and betting on this core.
Uncharacteristic for what's typically been a rather conservative, financially conscious franchise under Doug Armstrong, they dove head-first into the free agent market on July 1. If giving David Perron $16 million and Tyler Bozak $15 million wasn't evidence enough of the change in philosophy, turning some of the draft capital they've been collecting into Ryan O'Reilly via trade certainly was.
[snippet id=3317857]
On the surface it may seem like they paid a hefty price, but it actually comes across as a perfectly reasonable gamble on their part. O'Reilly is no John Tavares, but the Blues secured themselves the best centre considered to be available while also:
a) Not really taking on any extra money. Vladimir Sobotka and Patrik Berglund are set to make a combined $7.35 million over the next two seasons, which is essentially a wash stacked up against O'Reilly's price tag. While the $7.5 million cap hit O'Reilly carries through 2022-23 isn't anything to sneeze at, it's worth noting he's only actually owed $6 million in each of those remaining seasons. Since O'Reilly will only be 32 years old when his contract expires, it stands to reason he should maintain most of his utility through the duration of the deal.
b) Not really parting with any of their premium young assets. The Sabres did relatively well for themselves considering they'd backed themselves into a corner by being adamant about moving on from the player before his signing bonus was due. If they really were as eager to move on from O'Reilly as it was made out to be (presumably because of the difference in timelines between the player and the rebuilding franchise), there were undoubtedly worse outcomes for them than the high volume of additional lottery tickets they procured.
The issue is that out of all the assets Buffalo acquired, none of them represent anything close to a sure thing. Tage Thompson was the 26th overall pick in 2016 and is an interesting prospect, but he was deemed an expendable alternative to fellow prospects such as Robert Thomas, Jordan Kyrou, and Klim Kostin for a reason. The draft picks themselves are nice to have, but the Blues figure to be a playoff team, meaning those picks will likely land in the back half of each round. While everyone is infatuated by the hope and tantalizing unknown a draft pick provides, the reality is these presumably late picks are just as likely to turn into fodder as they are to become something of use.
If a drafting team is incredibly lucky, every once in a while they'll turn one of those selections into a player half as good as O'Reilly is right now. While he's never really been a player to compile huge counting stats, the subtle value O'Reilly provides is substantial. That point production was largely suppressed by his usage, with the Sabres heavily relying on him to eat the majority of the defensive responsibilities by starting his shifts in his own zone against the other team's best.
Corsica does a good job sussing out individual deployment that's extremely slanted in either direction with its 'Zone Start Ratio' metric. The higher the number the greater the percentage is of offensive zone starts for a player. Out of 579 qualified skaters last season (playing a minimum of 500 minutes at five-on-five), only 58 of them started more frequently in the defensive zone than O'Reilly:
| Rank | Player | Zone Start Ratio |
| --- | --- | --- |
| 1 | Henrik Sedin | 0.73 |
| 2 | Daniel Sedin | 0.72 |
| 3 | Mikhail Sergachev | 0.7 |
| 4 | Jake DeBrusk | 0.7 |
| 5 | Vlad Tarasenko | 0.69 |
| 6 | David Krejci | 0.68 |
| 7 | Adrian Kempe | 0.68 |
| 8 | Kyle Turris | 0.66 |
| 9 | Jaden Schwartz | 0.66 |
| 10 | Torey Krug | 0.65 |
| 11 | Evgeni Malkin | 0.65 |
| 12 | Kevin Shattenkirk | 0.65 |
| 13 | Pierre-Luc Dubois | 0.65 |
| 14 | Jeff Skinner | 0.64 |
| 15 | Kevin Fiala | 0.64 |
| 521 | Ryan O'Reilly | 0.41 |
What's remarkable about O'Reilly is that despite the manner in which he was used, he was only whistled for one penalty all season. That's been a recurring trend throughout his career — he's established himself as arguably the most disciplined player in the league.
Interestingly enough, two of the players with the cushiest usage on that list above were Vlad Tarasenko and Jaden Schwartz, both of whom O'Reilly could conceivably play with. While his playmaking would theoretically be a nice fit next to a sniper like Tarasenko, it's more likely the Blues start the season by trying to rekindle the success Brayden Schenn had on that line last season, leaving O'Reilly to do what he does best on more of a checking line alongside Alex Steen and David Perron.
Regardless of how the specifics shake out on the depth chart, O'Reilly should fit in seamlessly on a Blues roster that suddenly packs a respectable punch to it up front. While nothing is guaranteed for them in a brutally competitive Central Division, at the very least they've now given themselves a fighting chance without completely mortgaging the future.
Scoring wingers are a hot commodity
The unrestricted free agent market is a double-edged sword for general managers. While the idea of being able to go out and improve your team by adding players to your roster without having to give up anything other than cap space is tantalizing, it doesn't come without eventual consequences.
That's largely because the entire contract system as currently constituted is all backwards. Through the combination of team-friendly entry-level deals and a restricted free agent system that seemingly never results in offer sheets, most players get squeezed because of a lack of negotiating power, ultimately getting underpaid for contributions through their most productive seasons.
[relatedlinks]
By the time they're free to hit the open market for the first time in their late-20s, they finally have the leverage to command the type of dollar figures they should've been making for years. The irony is by that point they're likely already in, or about to enter, a different and less productive stage of their career.
That's a delicate balance prospective buyers have to try and reconcile, and what makes shopping on July 1 such a tricky task. The Flyers and Flames presumably went through that very calculus themselves last weekend, ultimately determining the present day value of adding top-flight goal scorers to their current lineups was worth the potential accompanying hangover down the road.
The fit for James van Riemsdyk in his return to Philadelphia is an interesting one.
He's something of a one-dimensional player, but fortunately for him and the Flyers that dimension happens to be a rather important one. He's scored 136 goals in 365 games over the past five seasons combined, which is good for roughly 30 over the course of a full season.
In today's landscape that's an impressive total, putting him 19th, sandwiched between Sean Monahan and Patrice Bergeron. He doesn't contribute much outside the confines of the offensive zone, but once he's in there van Riemsdyk is an absolute shot-generating, goal-scoring machine.
During his last two wildly productive seasons in Toronto, part of JVR's success could be attributed to Mike Babcock. The coach massaged his usage by dialing back van Rismedyk's overall workload and feeding him a healthy serving of offensively oriented deployment. For JVR to replicate that type of success the Flyers will need to similarly pick their spots with him to accentuate his strengths, which they appear well-positioned to do.
Not only do the Flyers have a hole on the left wing on their second line and a desperate need for an additional source of secondary scoring, they also have the perfect running-mate in Jakub Voracek to help complement van Riemsdyk's skill set.
Very few players in this league possess Voracek's ability to carry the puck so effectively, single-handedly transitioning from defence to offence through the neutral zone in the blink of an eye. When he gets into the offensive zone, Voracek thrives as a playmaker, which should theoretically mesh with van Riemsdyk's prolific finishing ability around the net: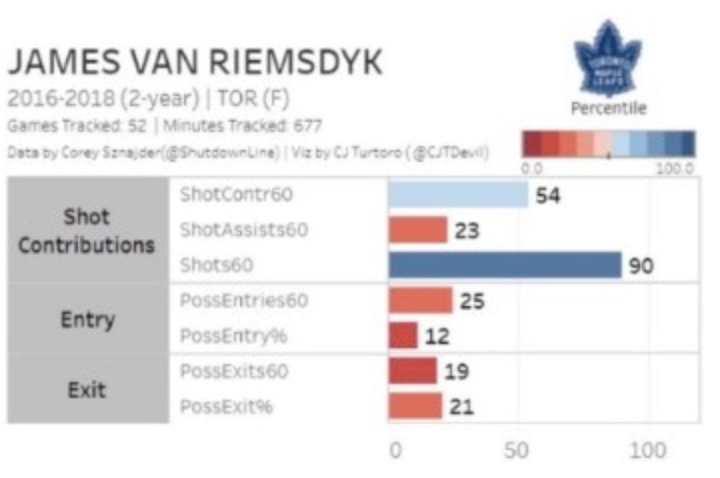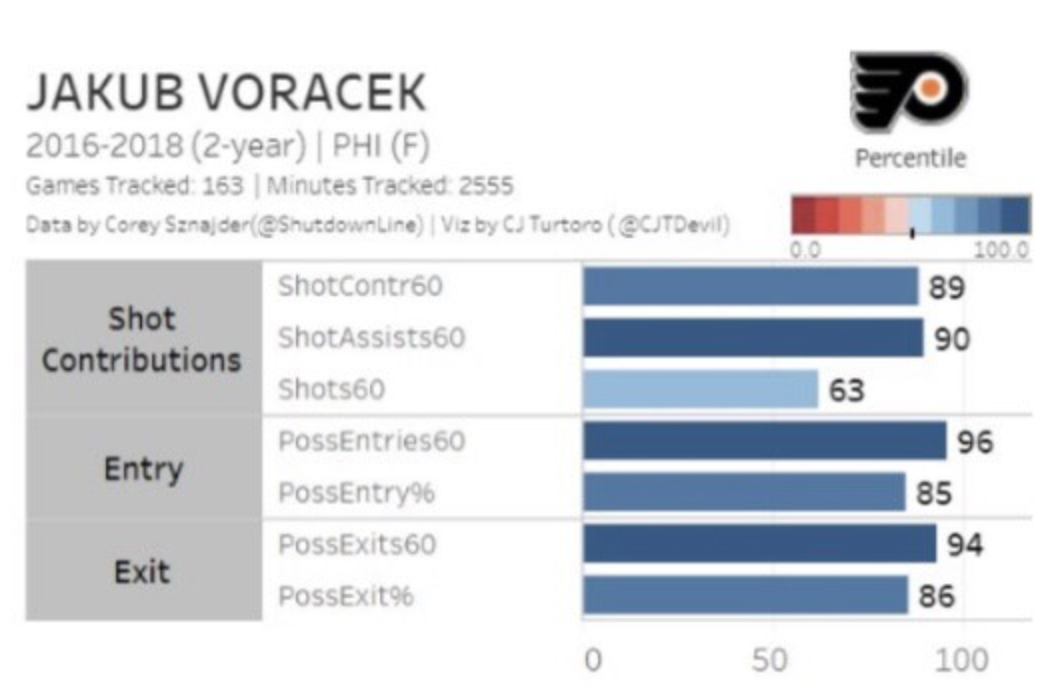 For the Flames, James Neal presents an equally important solution to a major need they've had for some time now. While it'd seem like he'd be a natural fit on their top line alongside Gaudreau and Monahan, he might actually move the needle even more on the second line next to Matthew Tkachuk and Mikael Backlund.
Tkachuk and Backlund have been possession-driving juggernauts for the Flames during their time together, routinely dominating the shot counter for two years. The issue last season was that despite controlling 58.1 per cent of the shot attempts, 56.8 per cent of the shots on goal, and 58.3 per cent of the high-danger looks, the team still got outscored when they were on the ice because they were abysmal at turning all of those opportunities into goals.
That was largely due to the third member of the affectionately titled '3M' line, Michael Frolik. While Frolik has plenty to contribute as a player, finishing ability is most certainly not one of them – he's a 7.8 per cent shooter for his career, scoring just 27 times on 376 shots on goal (7.2 per cent) combined over the past two seasons. While Neal is an imperfect player, he's never struggled to score. Over his career he's now converted 12.1 per cent of his ~2200 career shots into goals, never dipping below 10.4 per cent in any given season.
It's fair to shudder at the thought of what Neal's age 34 and 35 seasons could look like when Calgary will still be on the hook for $5.75 million, but for the time being he's the exact type of player the Flames needed last year when their encouraging underlying numbers didn't translate into results because they didn't have the right personnel to turn all of those shots they were getting into goals. Adding Neal changes the equation.
How John Tavares fits on his new team
There's undoubtedly plenty of factors to consider when it comes to climbing into John Tavares' headspace and trying to better understand what ultimately drove his decision to leave the Islanders and join the Maple Leafs.
Purely from an on-ice perspective though, it's awfully difficult to quibble with the spot he wound up in. Toronto gives him the best opportunity to not only legitimately compete from day one, but also to sustain it all the way through the duration of the deal.
It's no accident Tavares referenced this in his introductory press conference on Sunday afternoon, noting how well run the organization is from top to bottom and how the success of their AHL affiliate bodes well for the future. Blessed with the collection of young talent Toronto has, they'll inevitably be forced into making some tough financial decisions down the road, but the way they've been operating lately inspires plenty of confidence they'll be able to navigate it effectively.
By adding a player of Tavares' calibre, the Leafs boast an unfathomably dominant 1-2-3 punch down the middle of the ice. Presuming Kadri's line continues to soak up the predominant share of defensive responsibilities, that figures to leave one of either Tavares or Matthews with cake matchups against tertiary opposition.
We'll see how Babcock decides to divvy up his weapons on the wing, but it's one of those situations that's going to be hard to get wrong – what's clear is that regardless of the combinations he settles on they'll have an advantage somewhere.
For Tavares, part of the appeal is that he'll now get to play alongside players who can match his talent level and keep up with what he wants to do on the ice. After years of making suboptimal linemates look and perform better than they otherwise would have, Tavares finally gets the luxury of not having to do it all.
Look at the list of players with whom he's shared the ice for at least 200 five-on-five minutes since 2009. With all due respect to everyone listed, it's fair to suggest that whichever of Mitch Marner or William Nylander winds up landing on Tavares' right wing will immediately become the most talented running mate he's gotten to regularly play with in his NHL career:
| Teammate | 5-on-5 Time Together |
| --- | --- |
| Matt Moulson | 3564.4 |
| Kyle Okposo | 3176.68 |
| Josh Bailey | 3017.28 |
| Anders Lee | 2891.72 |
| PA Parenteau | 1585.5 |
| Ryan Strome | 673.35 |
| Brock Nelson | 612.1 |
| Thomas Vanek | 607.45 |
| Brad Boyes | 560.4 |
| Nikolay Kulemin | 521.53 |
| Blake Comeau | 464.79 |
| Michael Grabner | 315.81 |
| Mikhail Grabovski | 258.51 |
| Cal Clutterbuck | 255.4 |
| Matt Martin | 240.39 |
| Andrew Ladd | 231.74 |
One of the benefits of having great players is they can make those around them better, but at some point there's a limit to what you can reasonably ask of and expect from even the very best.
If you're looking for places to point fingers after Tavares' departure from the Islanders, the fact the organization was either unwilling or unable to get him some help for the better part of a decade is a good place to start.