Let's be honest: The battle for the final playoff spot in the Eastern Conference is only about two teams.
We're giving the New York Islanders (85 points) and Boston Bruins (86 points) the benefit of the doubt here, and we're done entertaining the post-season push of the New Jersey Devils (77 points) and Carolina Hurricanes (76).
So let's break down the airtight battle being waged between the Detroit Red Wings and Philadelphia Flyers, two storied squads guided by rookie head coaches. One expected to be here, the other should be giddy to be here. Only one will survive past April 10.
According to the math wizards at Sports Club Stats, Philly has a 64.3 per cent chance of making the post-season. Detroit has a 50.6 per cent chance. It's a tossup.
But we'll examine some other factors before making our prediction.
---
READ MORE Wild or Avalanche: Who claims the West's final playoff spot?
---
Who's hotter?
The Flyers, easy. Despite Tuesday's last-minute collapse to Columbus, Philly is on a tear of late, earning points in 11 of its last 13. Most promising is the club's ability to bounce back after a loss. The Flyers have responded to their last five L's with a W, outscoring the opposition 24-7 in those contests.
Detroit has won just four games this month. Their six losses in March have all come in regulation, one of those at the hands of Philly.
Edge: Philadelphia
Who has the easier schedule?
The Red Wings have more home games remaining on their slate, which sounds promising until you realize that means nothing. Detroit has 18 wins at home and on the road. The Red Wings and Flyers each have four games against certain lottery teams, and each have three back-to-backs left.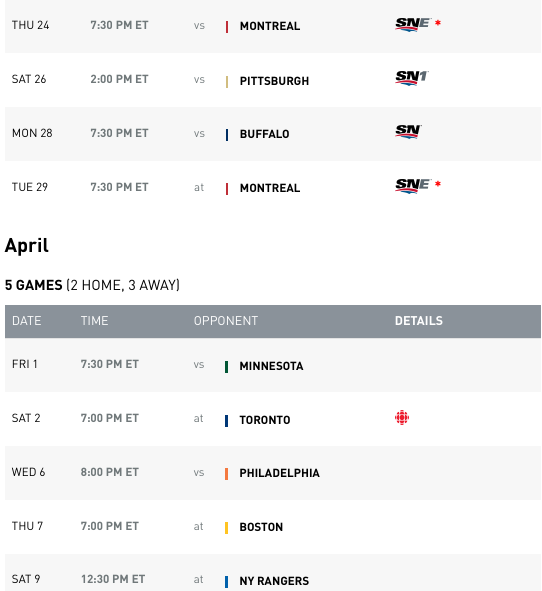 The best thing about Philadelphia's schedule — fives games each at home and away — is that it contains 10 games, one more than the Wings. That Philly ends its season with back-to-back-to-back back-to-backs (not a typo, that's three back-to-backs) is not ideal, to say the least. The Flyers draw more than their share of clubs fighting for position (the Avalanche, Red Wings, Islanders and Penguins twice). Easier games come against Arizona, Winnipeg, Ottawa and Toronto, Canada's best last-place team.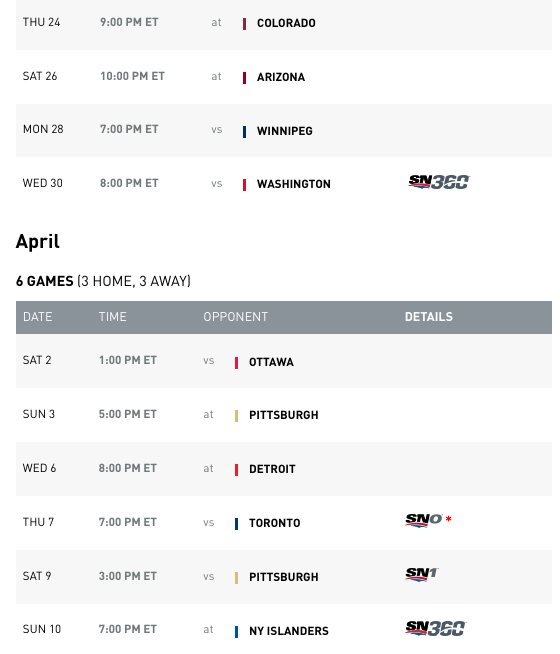 Slight edge: Philadelphia
Who's healthier?
Philadelphia's save percentage leader Michal Neuvirth (.925) tore the meniscus in his left knee and will miss the rest of the regular season, putting the onus on Steve Mason (.916 save percentage) to save the day. Defenceman Michael Del Zotto's season ended in February, when he broke his wrist.
Detroit goalie Petr Mrazek, who was ill over the weekend, was healthy enough to replace Jimmy Howard in Tuesday's loss to the Lightning. And senior defenceman Niklas Kronwall (right knee) recently returned to the lineup.
Edge: Detroit
Who sits prettier in the standings?
The Red Wings have lost control of their own destiny, as the Flyers pulled even Tuesday. Both teams have 83 points. The Wings, however, still hold an advantage over the charging Flyers with their one-win lead in ROW, the first tiebreaker. But the Flyers have a game in hand, meaning the playoff spot is technically theirs to lose.
Slight edge: Philadelphia
Who's better on paper?
Tough call.
The Flyers flex a more potent offence, a marginally better defence, and hold a slightly better goal differential than the Red Wings.
Philly has the more efficient power play; Detroit's penalty kill is superior.
Both teams are awful at the shootout and have identical shooting percentages and above-average possession metrics. Detroit matches its opponents shot-for-shot. Philly trails a bit in that category, but the Flyers' goaltenders have combined for a better save percentage.
The teams' PDO shows that Philly (1.003) has been a touch luckier than Detroit (.997) this season, something that theoretically evens out with more games played.
Slight edge: Detroit
Who's feeling more pressure?
Detroit's incredible 24-season run of making the postseason is in jeopardy. The pressure to extend such a streak, possibly the last of that length thanks to the salary cap, is huge. Leaders Henrik Zetterberg and Pavel Datsyuk don't want the streak to end on their watch.
"They have made the playoffs 24 straight seasons for a reason. They are four lines deep. There is no room out there. They play well defensively. They are hard games to play," Tampa Bay Lightning coach Jon Cooper told the Detroit Free Press.
Philly is playing with house money. Their hottest goalie got hurt. GM Ron Hextall didn't think this was his year, so he exercised patience during the trade frenzy. And new bench boss Dave Hakstol will score some Jack Adams votes if Philly squeaks in.
Playing spoiler is much more fun than painfully ending a historic era.
Edge: Philadelphia
The verdict
Helluva run, Hockeytown, but now it's coming to an end. Statistically, the Red Wings' chance of extending their playoff streak to 25 seasons is still above 50 per cent, but after much deliberation, we're giving the Flyers the nod here.
Momentum is a real thing. For all of its flaws, Philly has simply shown more fight down the stretch, and Jeff Blashill's recent flip-flopping between Mrazek and Howard indicates a lack of confidence in goal. Detroit's failing to score a goal at home versus an awful Leafs team last week and its thumping by Tampa Tuesday were particularly concerning.
This race will come down to the NHL's final weekend, but the Flyers will sneak in to earn a first-round date with Washington.