With the NHL season halfway done, Sportsnet's three NHL analytics writers each make a case for a player they believe has had the most positive influence on his team's games.
THE CASE FOR: PATRICE BERGERON
Patrice Bergeron is the most influential player in the NHL this year. He is known as the undisputed king of Corsi, a possession beast who drives play more consistently than anyone else. That, combined with his more basic statistics like faceoff wins and offensive production, has led to him winning three of the past four Selke Trophies, and you could argue he deserved the fourth one.
However, this season Bergeron has had to change his game a little bit, stretching his biggest strengths even further in order to keep a much weaker Boston Bruins team competitive.
With the trade of Dougie Hamilton to the Calgary Flames last summer, Johnny Boychuk to the Islanders the year before, and no replacements coming in, the Bruins are in a position of extreme weakness on the back end. Throw in the fact Zdeno Chara is now 38 years old, turning 39 in March, and you wonder how the Bruins' defence has survived at all. The answer to that is Patrice Bergeron.
When Bergeron is on the ice, he's playing the centre position, but more than anyone else in the NHL he functions as a two-position player. He plays like a centre, but also as a third defenceman. Let me show you what I mean: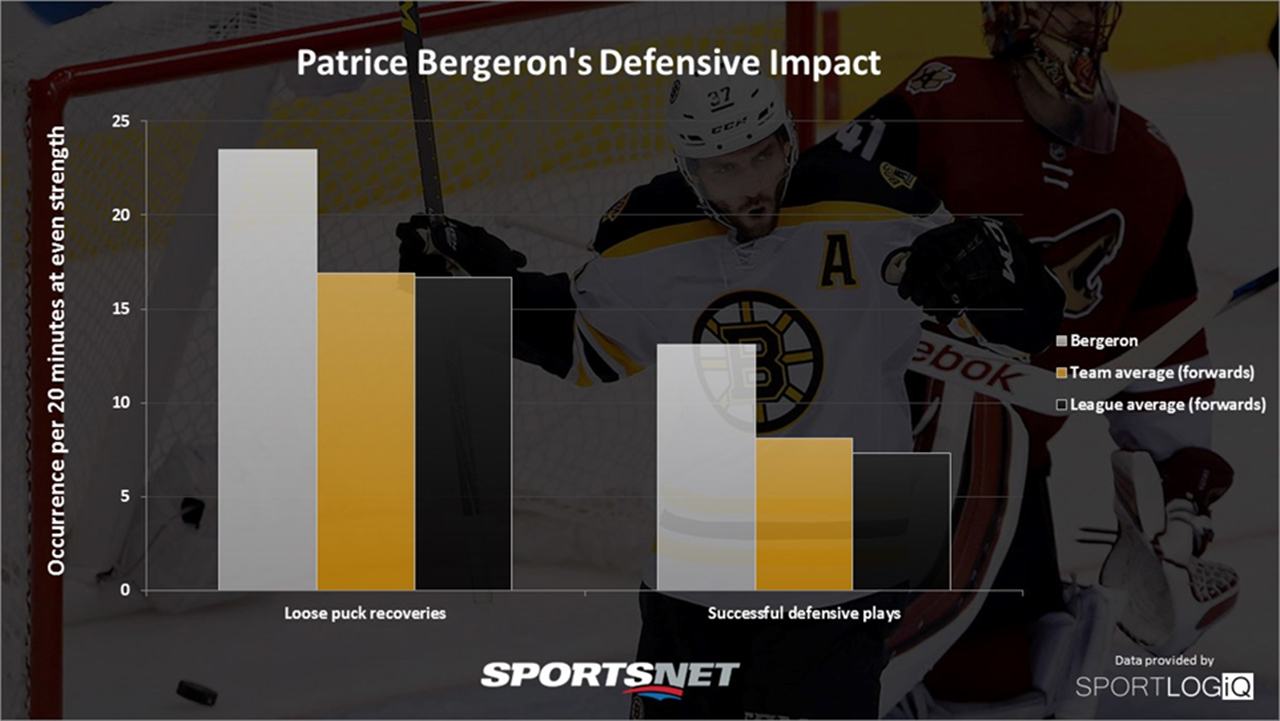 Typically in the NHL, defencemen have significantly more loose puck recoveries than forwards. The reason for this is fairly simple; most loose puck recoveries that teams win are in their own zone and defencemen are more involved in the defensive zone, especially on plays like dump ins. Yet Bergeron leads the Bruins in loose puck recoveries – and not just among forwards.
Keep in mind that Bergeron is also unlikely to be retrieving many dump ins at even strength, the defence is still handling that, so he's just winning an insane number of puck battles all over the ice. No forward in the league wins loose pucks at as high a rate as Bergeron.
The precursor to a loose puck recovery that didn't come from a player voluntarily giving the puck away is a successful defensive play. These could be pass or shot blocks, stick checks, or body checks – ways to remove the puck from the opponent.
Like loose puck recoveries, defencemen take part in significantly more of these events than forwards, but Bergeron leads the entire NHL in successful defensive plays per 20 minutes. Again, not just among forwards: he leads everyone in the league.
Bergeron is the NHL's single greatest defensive weapon.
This extra focus on his defensive play has hurt his offensive production, as he currently has his lowest even strength points per minute rate since before 2007, but a significant portion of that is luck. Scoring on just five per cent of his even strength shots so far this season, Bergeron is converting on less than half his average over his past four full seasons (10.1 per cent).
Part of this may be by design though, as Bergeron isn't necessarily creating offence himself, because most of his energy at even strength is focused on creating opportunities for his teammates to create offence by getting the puck away from opponents.
Not to mention, Bergeron has been able to make an offensive difference on the power play, a time when his energies aren't nearly as focused on defence. This has allowed him to produce an excellent 38 points in 41 games played overall. Now imagine if he had a bit of shooting luck at even strength. – Andrew Berkshire
THE CASE FOR: ERIK KARLSSON
Erik Karlsson is the most influential player in the NHL. He doesn't score the most goals. It isn't his job to stop the puck when it's shot at his team's net. But he plays more minutes than any other skater in the NHL (1229:46 in total, 28:35 per game), and he's expected to do more with that ice time than any other skater in the game.
First, let us get the offensive discussion out of the way. Karlsson produces more points than any other defender in the NHL with 45 points in 43 games. He actually ranks fourth in scoring across the whole league, behind only Patrick Kane, Jamie Benn and Tyler Seguin. His prolific production leads the Ottawa Senators by a ridiculous nine-point margin, and would rank first in scoring on 28 teams. His 36 assists rank second in the NHL behind Kane, and 20 of them are primary assists, again ranking second in the NHL. In terms of generating scoring chances, he again leads all defenders, producing 5.4 for every 20 minutes he plays. NHL average for defenders is 2.8 scoring chance plays per 20.
So everyone knows Karlsson provides offense – but he isn't just a point-producing, minute-munching offensive dynamo. Karlsson is also an elite possession-driving defender. He consistently ranks near the top in a number of possession-driving metrics and tilts the game in Ottawa's favour whenever he is on the ice.
He ranks third amongst NHL defenders in terms of his overall rate of 22.6 possession-driving plays per 20 minutes. NHL average for a defender is 16.7 per 20 minutes. SportLogIQ defines possession-driving plays as any of the following:
• Outlet Passes (8.9 per 20 mins)
• Stretch Passes (2.1 per 20 mins)
• Neutral Zone North-South Passes (2 per 20 mins)
• Neutral Zone East-West Passses (0.8 per 20 mins)
• Controlled Carry Outs (4 per 20 mins – sixth amongst NHL D)
• Carrying the puck across the red line (2.5 per 20 mins)
• Controlled Offensive Zone Entries (2.3 per 20 mins – 3rd amongst NHL D)
When you factor in Karlsson's massive ice time this becomes more impressive. When we look more closely at defensive play we also find that he ranks ninth overall amongst NHL defenders with 26.5 loose puck recoveries per 20 minutes of ice time.
What may shock observers the most is that he ranks ninth amongst all NHL defenders in terms of his suppression of on-ice shot attempts – with his opponents producing 4.74 fewer attempts per 60 than expected in his on-ice situations. His peers by this defensive measure of shot suppression are well-regarded defensive names like Mattias Ekholm, Niklas Hjalmarsson, Mark Giordano, Brian Campbell, Adam Larsson and Aaron Ekblad.
Karlsson is getting the job done to a ridiculous degree at both ends of the ice. When he isn't on the ice at 5v5, Ottawa has fired 934 shot attempts at the opposition's net, but has had 1,210 fired at theirs. They have 43.6 per cent of the shot attempts in such a situation. With Karlsson on the ice, they have fired 864 attempts and allowed 807, giving them 51.7 per cent of the shot attempts. Ottawa improves their proportion of shot attempts by 8.1 per cent when Karlsson is on the ice and that isn't a coincidence. He is the most influential skater in the NHL. – Steve Burtch
THE CASE FOR: BRADEN HOLTBY
Braden Holtby has had strong seasons for the Washington Capitals before, but even by his standards this year is special. He's the most influential player through the first half because he combines a high level of skill with incredible stamina like no other goaltender in the first half of 2015-16.
Holtby has started 34 games this season, more than all but four other goaltenders. This isn't new for him. Last season he started all but 10 of Washington's contests and his 73 games played ranked first in the NHL. He's the kind of workhorse who makes investment in a backup goaltender almost unnecessary, and his appetite for minutes allows him to have the maximum impact on his team.
That stamina would be irrelevant if it was not combined with extreme talent, but in Holtby's case it is. His .932 save percentage is both a career high and the best of any No. 1 goalie in the game. And it's not just a byproduct of playing for a Barry Trotz-coached team.
Thanks to SportlogIQ's tracking, we know how well the average NHL goaltender fares on shots from both dangerous areas and from further out. Even an average starter is going to stop the vast majority of shots from the outside, but inside the scoring chance area shooters enjoy much more success:
(League average save percentage breakdown by region)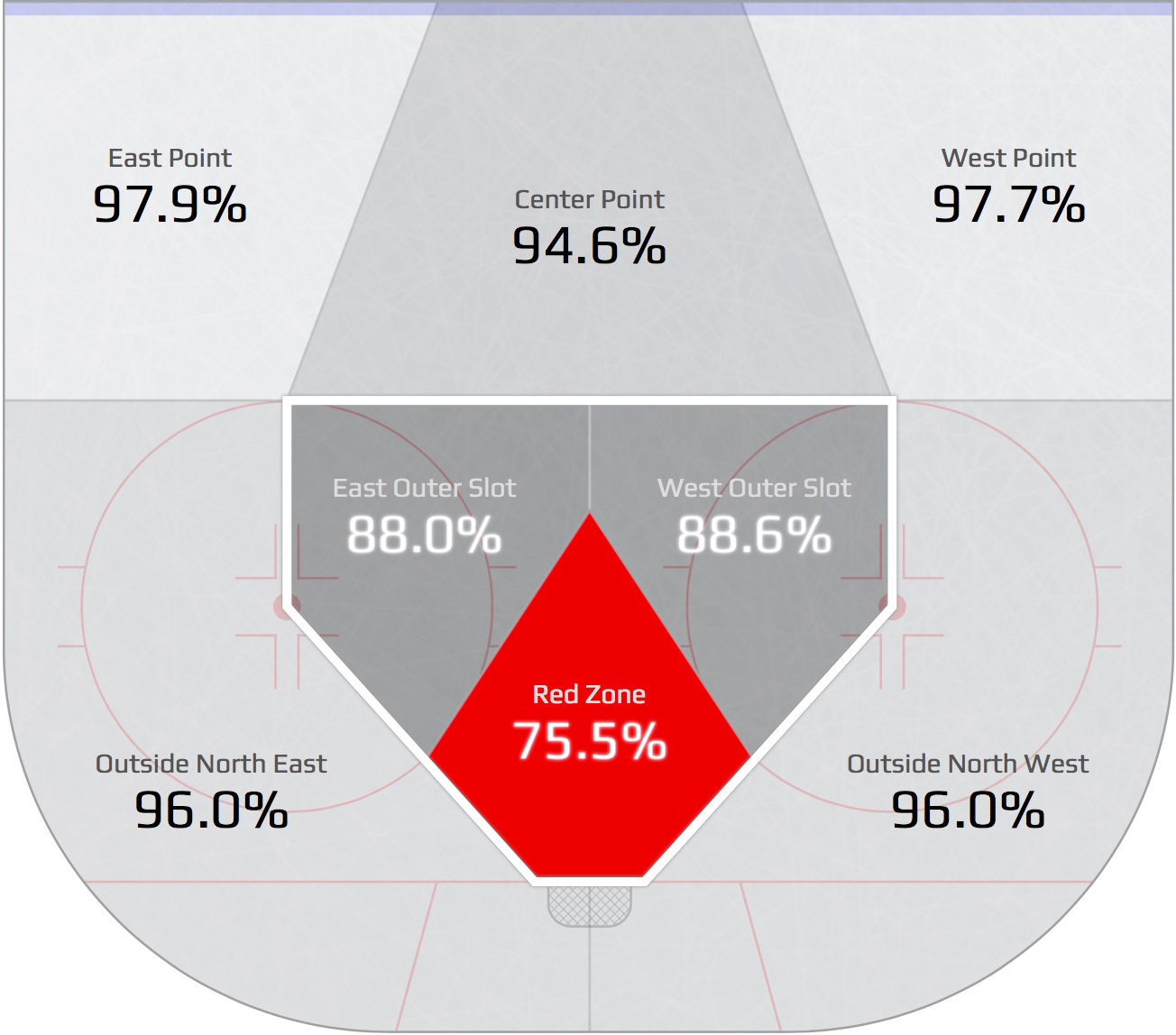 Or at least, in normal circumstances they do. Against Holtby, that success changes. Not only is the Caps' starter excellent at handling routine shots, but NHL shooters have their work cut out for them even when firing from the most dangerous possible location:
(Holtby's save percentage breakdown by region)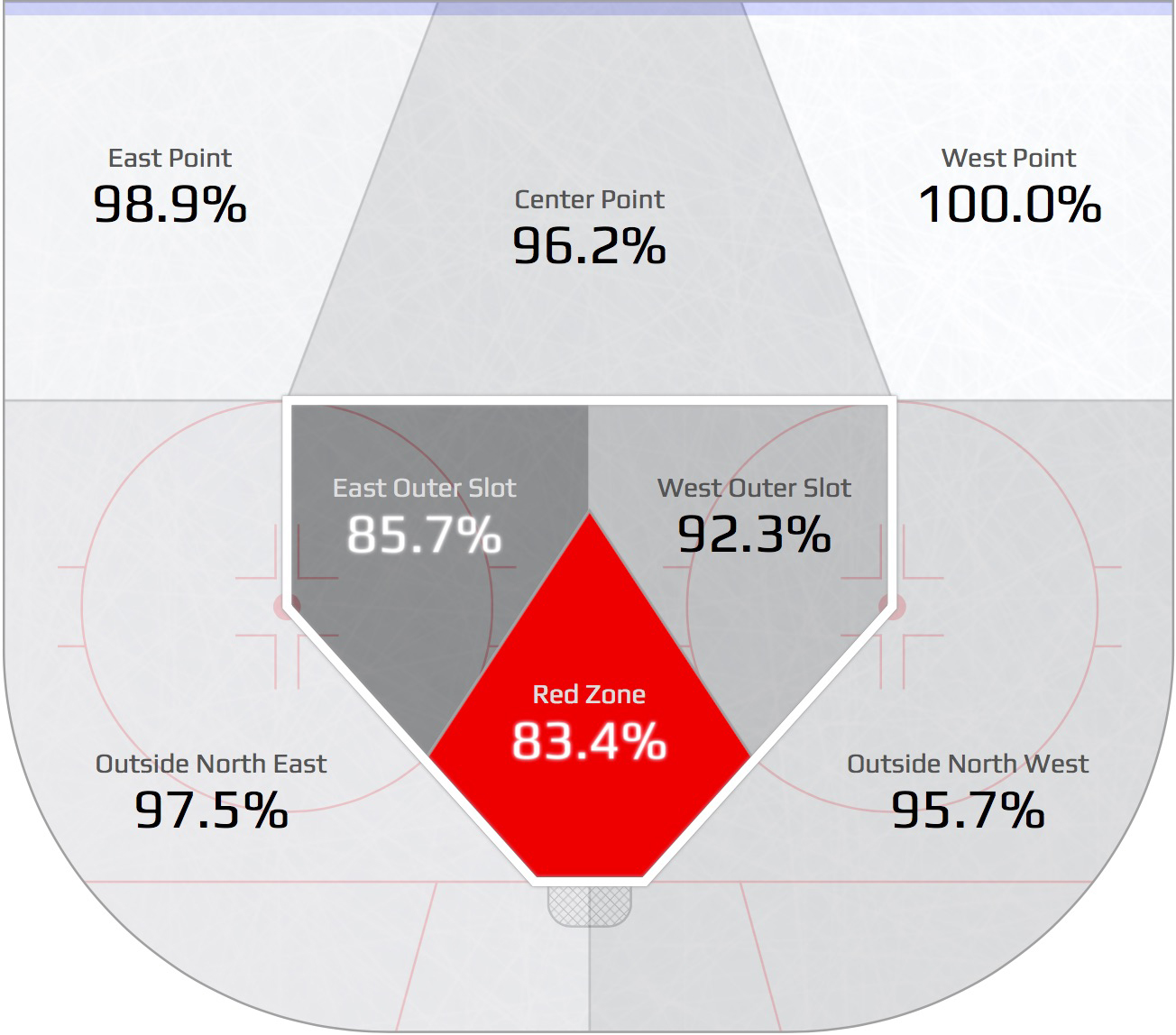 Holtby's save percentage on shots from the slot is the highest in the league and nearly eight percentage points beyond the average. That's the primary driver of his success this season, but it's not the only one. He also beats the league average on shots from four of the five distinct outside locations recorded by SportlogIQ, and on balance he's also better than the league average on shots originating from the outer slot.
Compared to the NHL's median starting goalie, Holtby's 16-point advantage in overall save percentage is roughly equivalent to 15 extra goals stopped. If this continues that's 30 goals over the course of an entire season. – Jonathan Willis