The NHL playoff push is our regular look at the post-season picture as the battle to make the Stanley Cup Playoffs intensifies.
EASTERN CONFERENCE
If the season ended today…
(M1) vs.
(WC2)
(A1) vs.
(WC1)
(M2) vs.
(M3)
(A2) vs.
(A3)
---
How the Stanley Cup Playoffs format works
---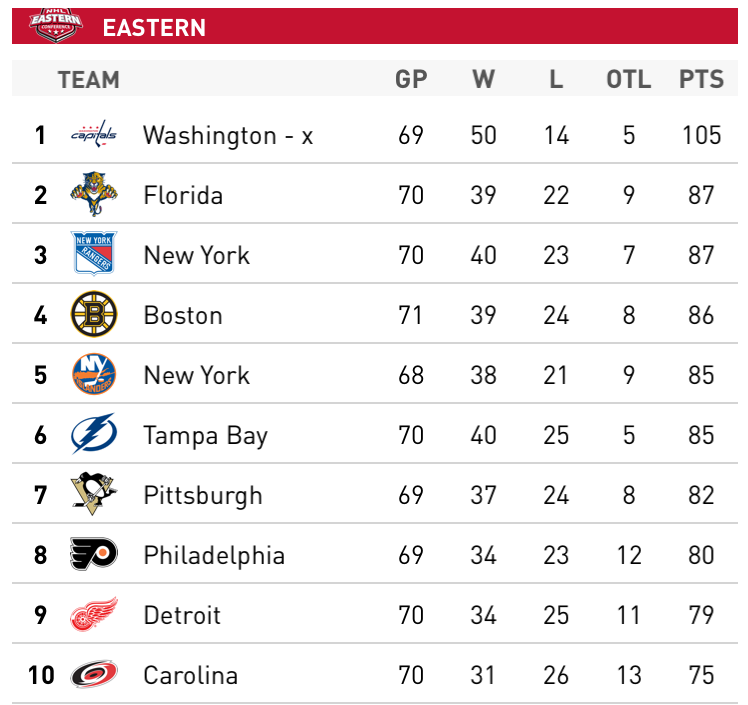 Series we'd love to see: Philadelphia Flyers vs. Washington Capitals: The last time these two teams met up was in 2008, and that series went to seven games. The consensus seems to be that this is the Capitals' year, but… could the unlikely Flyers play spoiler?
What'd I miss? Check out last night's scoreboard and find out what we learned around the league last night.
Quote of the night: "He's a big boy. He's a bit of a psycho, but he's a good guy so I guess I might be kind of lucky I didn't have to go down, but I would have if my teammates needed it." – Montreal Canadiens goalie Ben Scrivens talks to Sportsnet's David Amber about Buffalo Sabres netminder Robin Lehner. The two faced off in a tense stare down after things got rough between the clubs. (Nope, no goalie fight. But it was close.)
Thursday's game to watch: Detroit Red Wings vs. Columbus Blue Jackets: The Philadelphia Flyers leapfrogged the Red Wings to jump into the playoffs with a win over the Chicago Blackhawks Wednesday night. The Red Wings will need to reclaim their place or risk missing the playoffs for the first time in 25 seasons. (That would end the league's longest playoff appearance streak.)
WESTERN CONFERENCE
If the season ended today…
(C1) vs.
(WC2)
(P1) vs.
(WC1)
(C2) vs.
(C3)
(P2) vs.
(P3)
Series we'd love to see: Chicago Blackhawks vs. St. Louis Blues: Every time these rivals have faced off this season, it's been a pretty close game. They've matched up four times this season, winning two games apiece, with two going to overtime. We sure would like to see seven more.
Thursday's game to watch: New York Rangers vs. Los Angeles Kings: We just can't take our eyes off the Kings right now. Fresh off two blowout wins over the Blackhawks and Stars, the Kings could be stopped by the King of New York in a rematch of the 2014 Stanley Cup Final. (And possibly a preview of the 2016 edition?)
The rest of Thursday's schedule: