As we get set to wrap up the 2018 portion of the 2018-19 NHL season, the playoff picture seems to be clarifying little by little each night. However, with most teams having about 47 games left on the schedule, there's lots of time for roaring comebacks and huge falls from grace.
Calamity can strike most teams at any time, just look at the 2015-16 Montreal Canadiens, who at this point in that season were sporting the fifth-best record in the league at 20-12-3 with 43 points. Without Carey Price, they went 18-26-3 the rest of the season, the third-worst record in the league over that time.
Injuries can't really be predicted, but we can look at teams' performances, and make educated guesses based on past history of the league on which teams should be on the rise in the New Year, and which ones should tail off.
Let's get into it.
The Sabres and Ducks are solidly in third place in their respective divisions, while the Canucks just outside the final wildcard spot in the West. All three teams are currently significantly higher in the standings than their play would warrant, especially the Ducks, who are getting just under 39 per cent of the high danger scoring chances at 5-vs-5.
Luckily for them, John Gibson has been heroic in goal, and they've managed to have a fortunate goal distribution, winning tight games while losing big when they let in a few goals, allowing them to win more than they've lost despite a -12 goal differential, the same as Arizona.
Posting a negative goal differential while your goaltender is giving you a .926 save percentage when the league average right now is a hair over .907 says a lot, and despite the Ducks getting better as they get healthier, I wouldn't be surprised at all if this team took a serious nosedive in the second half.
The Sabres have been a streaky team this season, and their hot start might be enough to keep them in the playoff picture, but this is still a team that gets woefully out-chanced at even strength.
The positive for Buffalo is that unlike Anaheim and Vancouver, they've kept up with their opponents in terms of shot attempts, or at least they almost have, getting about 49 per cent of them. That may not sound like a lot, but it's a big improvement for Buffalo compared to the last few years.
The duo of Jeff Skinner and Jack Eichel have been magic together, but there's a lot of noise in their production so far. Can the Sabres keep winning if they cool off? I'm doubtful.
Finally we have the Canucks, who are way beyond expectations this season with rookie sensation Elias Pettersson leading the way. There's lots of promise in the talent the Canucks are displaying, but they're still being outplayed heavily on most nights. I think we're still a year or two away from the Canucks being a real playoff team.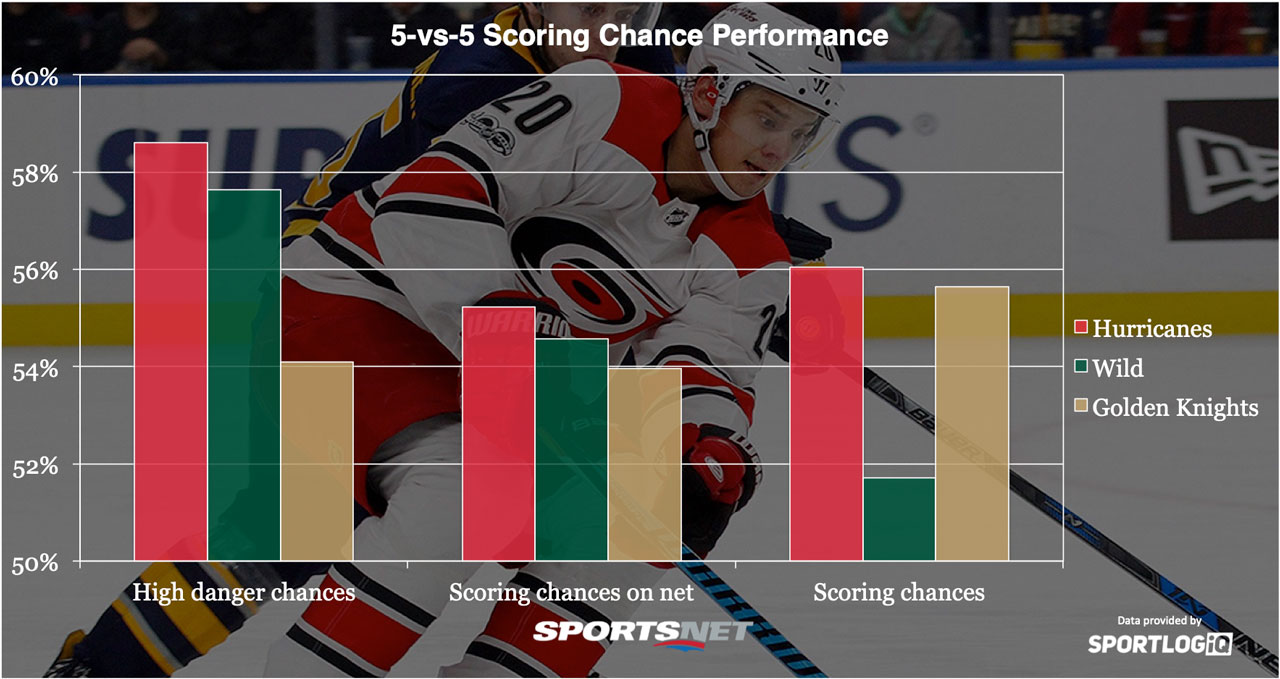 Look, Carolina, I know you're going to make me a liar, you do this every year. Why can't you win games? No matter what way we break it down, the Hurricanes are a dominant even strength team, perhaps even the NHL's best at 5-vs-5. Their shot volume is exceptional, the scoring chance volume is exceptional, the shots are coming from the right places, and the shots involve more than enough pre-shot movement.
On the defensive side, you're just as strong, limiting chances against, cutting down passes into the slot… Why is it that this keeps happening every year? Sure, there was the run of bad goaltending for years and years, but now at least Curtis McElhinney is giving you something to work with. Ride that hot streak into the sunset dear friends.
Jeff Marek and Elliotte Friedman talk to a lot of people around the hockey world, and then they tell listeners all about what they've heard and what they think about it.
The rumours of the Hurricanes being interested in Vladimir Tarasenko are extremely interesting. A superstar scorer could propel them into finally getting the finish they deserve.
The Hurricanes always look like they're going to get better luck down the line, but I just don't trust them anymore.
Minnesota is a really interesting team, because ever since they hired Bruce Boudreau they've been pretty handily outshot on attempts and on goal, but they are remarkably good at controlling dangerous chances.
The higher volume the statistic goes, usually the worse the Wild look, and you expect the lower volume stats like high danger chances to regress towards the higher volume ones like shot attempts, but Boudreau has been doing this his entire career.
The Wild are the one team in the West that's currently out of the playoff picture that I expect to squeeze in.
Then we come to the Vegas Golden Knights, who by all measures are actually performing even better than last season, but they haven't been as fortunate, especially in goal.
Marc-Andre Fleury was an absolute force last season, and has just a league average save percentage this season, while facing easier shots against than most goalies do. Fleury's career has been wildly inconsistent from the start, so how he plays down the stretch is anyone's guess, but I expect the Golden Knights, who are one of the NHL's best shot and scoring chance controlling teams, to move up the standings, maybe even get home ice advantage.