John Gibson has one of the best save percentages in the NHL, but when you consider the degree of difficulty and the sheer number of shots he's faced this season he is far and away the primary reason why Anaheim is still in the playoff picture. In fact, not only would he be a Vezina finalist at this point, he should be considered a favourite for the Hart Trophy.
Plus, much has been made of the lack of penalties being drawn by Connor McDavid compared to some other top stars — but how does that look when you consider the amount of time he has the puck for relative to other top players?
That and more is explored in this week's column.
SPOTLIGHT PERFORMANCE
The Anaheim Ducks have been much, much better lately than they were in the first month or so of the season, when they were getting fewer than 40 per cent of the shot attempts at 5-on-5. That's a very low bar — only the era-defining bad 2014-15 Buffalo Sabres finished a season with a lower share of shots.
Fast-forward to now and they're only the third-worst possession team in the NHL with a score-adjusted Corsi of 45.43 per cent, according to Corsica. That's by no means good, but it's almost 10 per cent better than what they were at in October, so it's progress.
Despite being outplayed at an unreasonable level for a good portion of the season, the Ducks remain firmly in the playoff picture, placing third in the Pacific Division at the moment. A big reason why they've been able to do that is the play of John Gibson. He's followed up two seasons of being a strong platoon goaltender with a Vezina finalist-worthy season last year (although he didn't get it) and an even more impressive start in 2018-19.
Gibson's .926 save percentage ranks third among goaltenders who have played 20 or more games, and fifth among goalies with 15 or more. His .932 even strength save percentage ranks fourth and eighth, respectively.
Gibson's numbers were essentially the same last season, but I was a little skeptical of him because Randy Carlyle's teams tend to give up very few quality chances and instead get bombarded by shots from the perimeter. This is why we've seen goaltenders such as James Reimer and Jonathan Bernier put up fantastic numbers on teams he's coached.
This year, though, the Ducks have been porous on defence, and Gibson has been better than ever.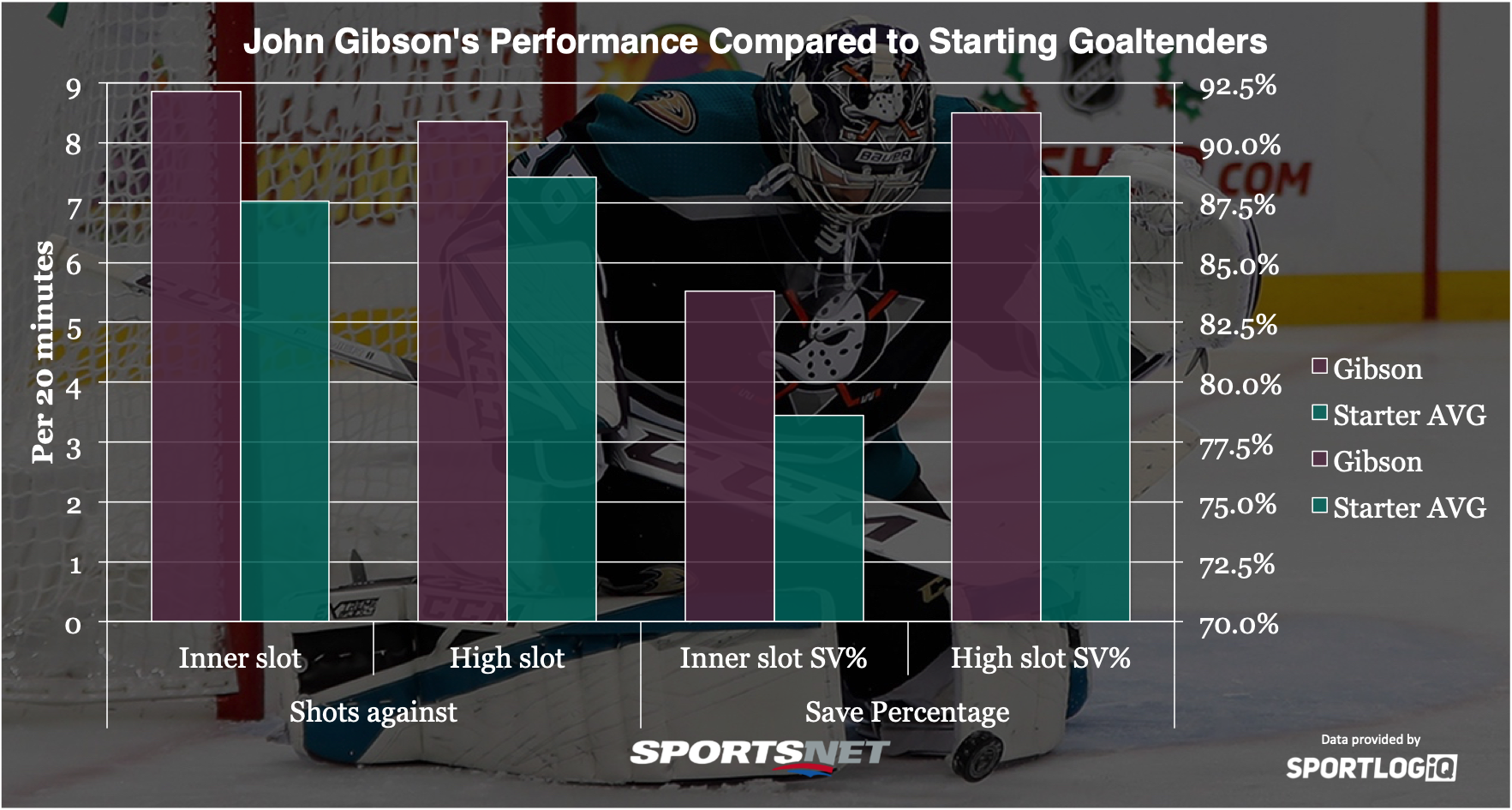 After years of the team in front of him limiting shots against, Gibson has been facing an onslaught this season. He's seen the fifth-most high danger chances of any starting goalie and the eighth-most high slot chances. The Ducks also allow the fourth-most pre-shot movement in the league, which forces Gibson to move dynamically and make saves while in transition between his posts.
Despite all that, the only goaltender who has outperformed Gibson has been Pekka Rinne. The Predators have been struggling defensively with their injuries, but not at the same level as the Ducks. While Anaheim struggled, Gibson truly singlehandedly kept them in the hunt. Not just a Vezina candidate, he is an early Hart Trophy favourite.
Senior Writer Ryan Dixon and NHL Editor Rory Boylen always give it 110%, but never rely on clichés when it comes to podcasting. Instead, they use a mix of facts, fun and a varied group of hockey voices to cover Canada's most beloved game.
THE QUESTION
This week Steve Dangle was inspired by Ken Hitchcock's anger at referees after watching Connor McDavid continually get manhandled, hooked, and held with barely a call to be had. So Steve asks…
"Does Connor McDavid actually draw fewer penalties than other players pro-rated for how often he has the puck?"
I love this question because it's not easy to answer, and probably makes a bit more sense than simply looking at penalties drawn per 60 minutes. Unfortunately, that data as we want it displayed doesn't exist paired together, so I had to compile it, limiting to 5-on-5, using penalties drawn and overall puck possession time.
Because of that, I couldn't do the whole league. So we'll look at the other top-20 puck possession forwards in the NHL to see how McDavid fairs.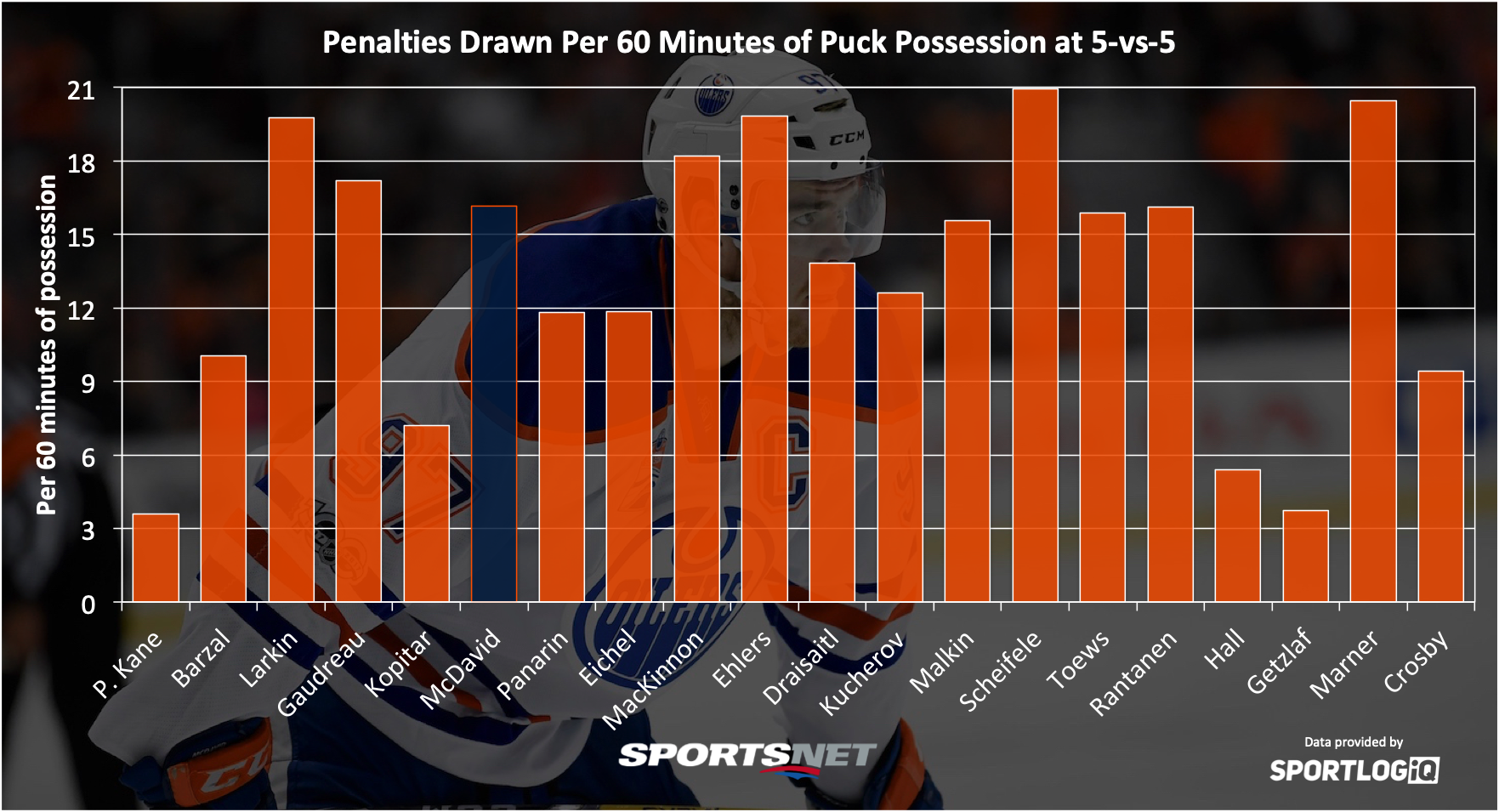 Ordered by total time of puck possession, McDavid ranks eighth among the top 20 puck-carrying forwards in total penalties drawn per 60 minutes of possession time with over 16 this season.
That doesn't make him look particularly targeted for non-calls by the referees, but I do think it's safe to assume McDavid suffers more infractions against per minute than anyone else in the league, simply because it's one of the only ways to defend him.
With that said, if McDavid should justifiably lead the league in penalties drawn per minute he has the puck, then he's still only being hurt a little bit by the relative lack of action on the part of officials. And while it's easy to cue up a compilation of missed calls on McDavid to post on youtube, you could do that with almost anyone.
If any players should be complaining about officiating, the top of the list is Patrick Kane and Taylor Hall who rarely, if ever, draw calls despite playing with the puck a ton and doing it with speed.
Ryan Getzlaf also rarely gets calls, but considering he's a bit slower on his skates, that could be a reason why.
McDavid surely gets the short end of the stick by referees sometimes, often egregiously, but not more often than other star caliber players.
BUY OR SELL
• There's been lots of talk about Carey Price's struggles this season, justifiably, however he's been facing a crazy level of shot quality. On average, 37 per cent of a team's shots on goal come from the slot, but 49.1 per cent of the shots Price faces come from the slot.
• I don't usually do two points on one player, but it's also worth noting that the Bell Centre is undercounting shots against this season. Price has made 30 more saves so far than his NHL official stats show. Doesn't make a huge difference, but something to note when looking at his save percentage.
• In a goalie-heavy column, can we talk about Pekka Rinne? From 2012-2017, ages 30-34, Rinne looked mostly done as a high impact goaltender. Last season he was the best goalie in the NHL and this year he leads the league in inner slot and high slot save percentage, at even strength and in all situations. He's a good argument for not giving up on goalies who struggle for a year or two.
• I've been a big proponent of the Maple Leafs not needing an upgrade on defence, but I'm starting to wonder if Mike Babcock needs another blueliner he trusts defensively. Morgan Rielly has been brilliant this year, but no pairing in the NHL has given up more high danger chances per minute than Rielly and Ron Hainsey, and I think a big reason why is the level of competition they play against.