Early in the 2014 off-season, with young goaltender Braden Holtby poised to become a full-time starter in the fall, then Capitals acting interim GM Don Fishman called Holtby's agent, Allan Walsh.
Fishman told Walsh he had a team interested in trading for the rights to his impending unrestricted free agent client, goaltender Jaroslav Halak.
"Are you determined to go to July 1, or are you open to talking to a team?" Fishman asked the agent.
"We're always open to talking," Walsh replied.
Only then did Fishman tell Walsh that the tire-kicking club was the New York Islanders. Halak's rights were sold for a fourth-round pick, and three weeks later the Isles had a No. 1 goalie — well in advance of the free agent mayhem.
Both teams won. So why don't we see more of these trades?
Although not quite as rare as the Sasquatch, Halley's Comet or the unicorn that is the NHL offer sheet, trading for an impending free agent's rights only comes along once in a blue moon.
But before diving into the pros and cons of trading for a big ticket's rights, let's look at some notable trades over the past several years involving the trading of negotiation rights.
History can tell us much about what and what not to expect over the next few weeks.
June 27, 2009: The Florida Panthers trade the rights of all-star defenceman Jay Bouwmeester to the Calgary Flames for their own impending UFA defenceman, Jordan Leopold, and a 2009 third-round draft pick (Josh Birkholz). This gives Calgary four days to negotiate with Bouwmeester. Hours before the player is to turn UFA, the sides agree on a five-year, $33-million contract. Leopold doesn't sign with Florida until July 2, after becoming a free agent.
June 13, 2010: The Phoenix Coyotes trade the rights of forward prospect Jared Staal to the Carolina Hurricanes for a fifth-round pick in the upcoming draft. Staal (yes relation) plays just two NHL games. He eventually tumbles out of the AHL and scores 24 points in the ECHL in 2015-16.
June 19 and 25, 2010: Realizing they won't be able to re-sign defenceman Dan Hamhuis, the Nashville Predators ship his rights and a 2011 conditional pick to the Philadelphia Flyers on June 19 for Ryan Parent. Also unable to sign Hamhuis, the Flyers smartly transfer his rights to the Pittsburgh Penguins for a 2011 third-round pick. Hamhuis won't join the Pens either and signs a $27-million deal with the Vancouver Canucks on July 1 as a UFA.
June 1, 2011: Faced with losing stubborn 2009 first-rounder Tim Erixon back to the draft, the Flames deal the D-man and a fifth-round pick to the New York Rangers for winger Roman Horak and two second-round draft picks.
June 29, 2011: The Montreal Canadiens acquire a conditional seventh-round pick in 2012 from the Columbus Blue Jackets in return for defenceman James Wisniewski, a mid-season rental certain to walk in free agency. Wisniewski signs a big six-year deal with Columbus on July 1, and the Habs' pick gets upgraded to a fifth.
June 28-29, 2011: The New York Islanders obtain the rights to impending UFA Christian Ehrhoff from the Vancouver Canucks for a 2012 fourth-round pick. Realizing he can't sign the star defenceman despite offering him a number "well north" of the Canucks' final offer, Isles GM Garth Snow ships him to the Buffalo Sabres one day later for, yep, a 2012 fourth-round pick. The Sabres secure Ehrhoff for 10 years and $40 million but buy him out just three seasons later.
July 1, 2011: The Washington Capitals trade the rights to RFA goaltender Semyon Varlamov to the Colorado Avalanche for a first-round pick in the 2012 and second-round selection in either 2012 or 2013. Varlamov is still the Avs' No. 1 goalie.
June 10, 2012: The San Jose Sharks acquire UFA defenceman Brad Stuart's negotiating rights from the Detroit Red Wings in exchange for depth forward Andrew Murray and a conditional seventh-round pick. Stuart inked a three-year deal with San Jose eight days later.
June 7, 2013: Impending UFA Sergei Gonchar's rights are dealt from the Ottawa Senators to the Dallas Stars for a conditional sixth-round pick. A two-year, $10-million contract with Dallas is inked the very next day.
— NEW UFA NEGOTIATING WINDOW INTRODUCED UNDER REVISED CBA —
May 1, 2014: The New York Islanders secure the negotiating rights to goalie Jaroslav Halak from the Washington Capitals for a fourth-round pick — a trade between teams that failed to make the playoffs. By month's end, Halak is locked up by New York for four years.
June 5, 2014: The Sharks trade the rights to coveted impending UFA Dan Boyle to the Islanders for a conditional fifth-round pick in the 2015. As with Ehrhoff four years earlier, the Isles can't come to terms with the defenceman. Unable to flip his rights, Boyle becomes a free agent July 1 and signs a two-year contract with the New York Rangers.
June 25, 2015: Knowing they won't meet his price, the Boston Bruins trade forward Carl Soderberg to Colorado for a sixth-round pick in 2016. The very next day, Soderberg commits to the Avs for five years.
June 27, 2015: The Dallas Stars acquire the rights to pending UFA goaltender Antti Niemi from San Jose for a seventh-rounder and promptly sign him two days later for three years and $13.5 million.
—
You'll notice the price of a pending free agent's rights on the trade market dropped a couple years ago under the new collective bargaining agreement. Halak went for a fourth-rounder in 2014, but that's the biggest haul, and likely because the deal was struck in May. The other expiring pieces were seemingly given away for a late-round NHL long shot.
Still, it's something. And something is a better sell to your fan base than letting a free agent walk for free.
"Draft picks are gold," Walsh says. "So if you're going to start giving away sixth-round picks or seventh-round picks, you only have a couple of those to give away, and those are valuable too."
If, say, Steve Yzerman realizes in advance of June 25 that he won't be able to retain Steven Stamkos — and if he doesn't have a clear indication by then, is he not doing his job properly? — why wouldn't he try to shop his rights at the draft and salvage something in return?
Prior to 2014, this line of thought made more sense. But now that a UFA negotiating window opens up days in advance of free agency (this year it begins on June 25), interested teams can form an ordered UFA wish list and kick tires for free. If a deal with desired UFA No. 1 can't be reached within the window, the team can methodically make offers to UFA No. 2 or 3 without fear of them already committing to the competition — a very real threat under the old free agency rules.
"I've had teams offer five years, $20 million, and 10 minutes later say, 'OK, six years, $28 million' in the old days. Panic, desperation, a little bit of paranoia. These guys would be falling all over each other, one team outbidding another," recalls Walsh, who believes the interview window favours teams over players.
The relative restraint most GMs showed in the summer of 2015 would support that theory.
"Now, there is no panic. There is no desperation," Walsh says. "Teams are going into July 1 with their deals in hand. The players are pretty much signed by the end of the interview period, and July 1 is pretty much a formality now as opposed to a frenzy. And the word frenzy is a great description of what used to happen on July 1."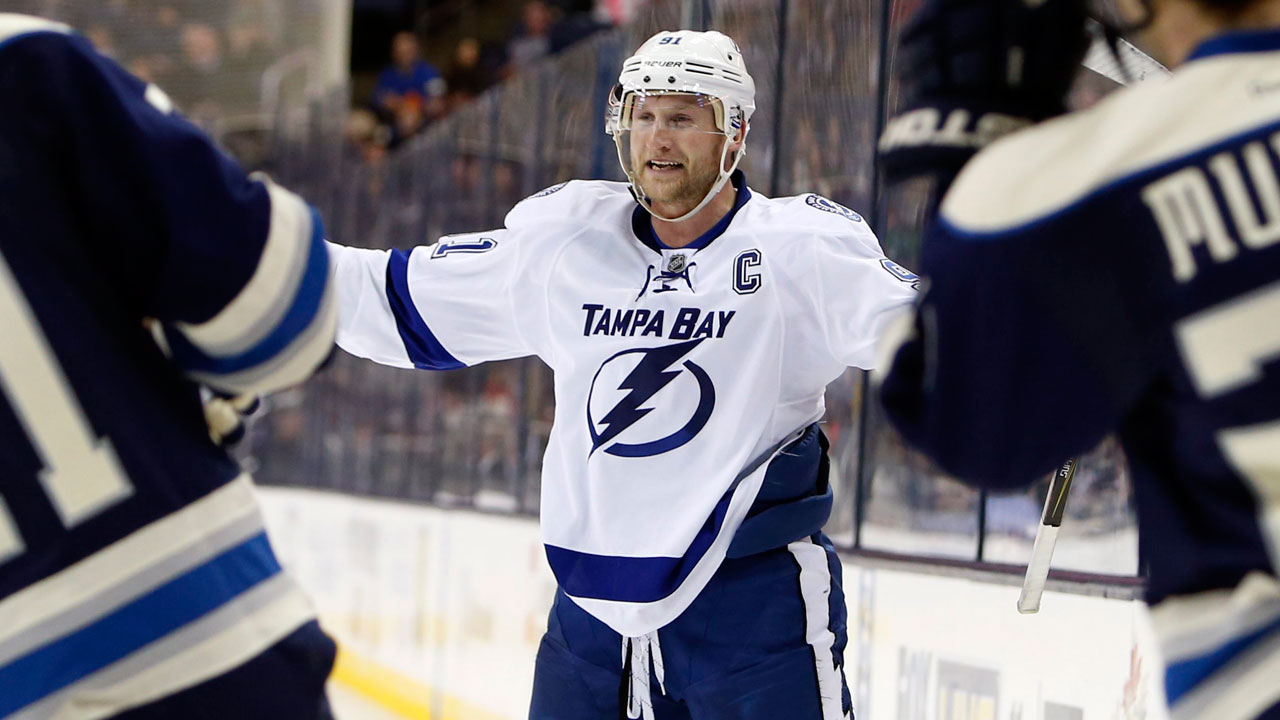 That so many of the desirable UFAs in today's game hold trade protection poses another major hurdle.
The player could waive it as a goodwill gesture to give his former franchise a parting gift, but only at the risk of weakening the future of his potential new team.
"You could attempt to get to a player the week of the draft or a couple days before the window opens," Walsh says, "but if that player has a no-trade or a no-move, it's a stumbling block."
For a marquee UFA like Stamkos, only the team that holds his rights at the most recent trade deadline can re-sign him to an eight-year contract, so the temptation of an extra year is a non-factor in acquiring negotiating rights. (An aside: Tampa can only offer Stamkos eight years up until June 30. If he tests the market and opts to stick with the Lightning on July 1 or later, the maximum term he can get is seven years, same with any other club.)
Still, there are advantages to the rights trade, even though poor Garth Snow has been snake-bitten by them. The cost is low, and the early-bird GM can get a jump on his free agency plans.
Last spring the Avalanche knew they wanted a centre (Soderberg) and the Stars knew they wanted a goalie (Niemi). Both teams aggressively sought out their targets and locked them up in advance of July 1. This secured the Avs and Stars exclusive bargaining time and let them avoid the bidding wars and uncertainty and Plan B scrambles that comes with free agency's manic game of musical chairs and can leave a GM with nothing, disappointing ownership and the fan base.
Talking to a competing team while under contract is tampering, of course, but often the rights-acquiring team has some intel or hunch that the impending free agent is at least open to signing with them before they acquire him.
Perhaps more interesting are the rights trades that never happen.
There have been instances both prior to and after the introduction of the interview window that a verbal agreement has been made between two teams. It goes like this: We'll give you 24 or 48 hours to woo Player X. If he agrees to sign with you, then we'll trade you him for Y. If no agreement is reached, there is no deal on paper and no one will ever know we granted you permission to talk to our player.