"I thought I was a hockey player, not a barber." —Nazem Kadri
TORONTO – The day before the night Nazem Kadri ripped out a chunk of one of the top two most famous beards in hockey, Joe Thornton was asked if noted razor enthusiast Lou Lamoriello had ever seen his chin pelt up close.
"I think he liked mine, to be honest with you," said Thornton, who had run into the Toronto Maple Leafs general manager.
"It's kind of special."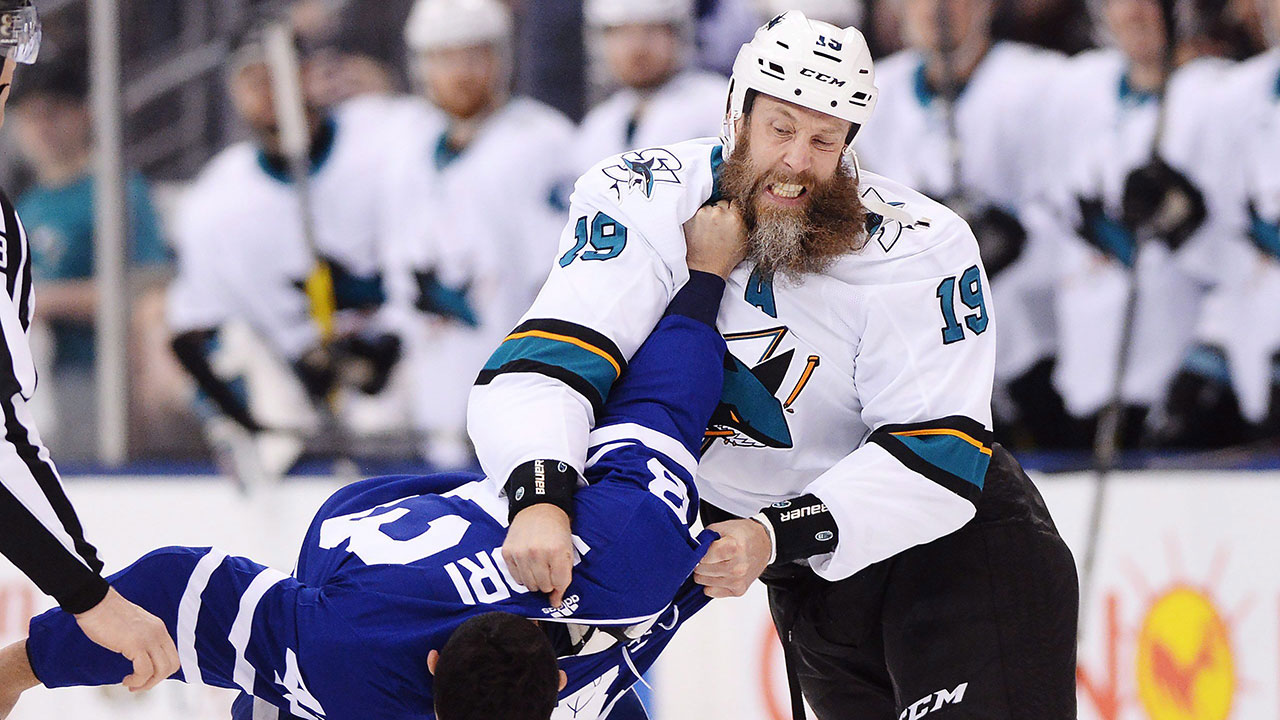 A knotty fistful of Thornton's specialness — the conspicuous facial feature that makes the future Hall of Famer resemble a cross between hobo Last Jedi Luke Skywalker and hipster hockey pirate king — lay glinting under the Air Canada Centre's neutral-zone lights Thursday night.
Just two seconds of the game clock had ticked away, and we already had ourselves a scene, likely viral in more ways than one.
"That was messy," San Jose Sharks coach Pete DeBoer chuckled.
"I've seen a lot of things over 25 years of coaching. I've never seen a clump of beard on the ice before."
Call it a tone-setter of the highest order. After both men stick-jostled and got booted from the opening faceoff, Kadri said the 38-year-old invited him to drop the gloves and throw down immediately.
"He initiated. I felt he came across with the slash to begin and gave me another shot, I just gave him one back. We just started talking going to the wing position and, I mean, he insisted on going," Kadri said.
"There's no decision. There's no backing away."
Thornton possesses some of the softest hands in the game's history, yet over the years, he's knuckled them up to chuck at Ryan Getzlaf, Jamie Benn, Jonathan Toews, and this year, tough guy Tom Wilson.
Sharks captain Joe Pavelski says he wasn't surprised by the scrap but admits the hairball was the talk of the bench.
DeBoer shrugged. "He's a warrior," the coach said. "Actions speak louder than words."
Brendan Dillon was impressed. "I think he's missing a patch," the defenceman said. "He's a guy with 1,500 points and can still play the game physically like that. He's a guy who set the tone right off the bat and still comes out and plays a great hockey game for us."
Auston Matthews, who would score the game's opening goal and again in the shootout, said Kadri's fight fired up the victorious Leafs.
"He isn't afraid of anybody," Matthews said. "He's a strong guy. We don't call him the Moose for nothing. He knows what he's doing out there."
Except he didn't, not entirely.
As Kadri gripped Thornton's collar with his left hand to throw his right, he accidentally grasped a mittful of Jumbo fur, and cranked the role of agitator up to 11. So as the official tore the combatants apart, a clump of Thornton's beard tumbled out of Kadri's left hand as if he'd just cleaned out the lint trap.
"He's a big boy," Kadri said. "I couldn't reach all the way across his shoulder and felt like I just grabbed him in the middle of his jersey and just came down with a handful of hair."
Shark-turned-Leaf Patrick Marleau spotted the torn tuft on the ice. "I was like, 'I'm not going to touch it,'" Marleau said.
Linesman Scott Driscoll did touch it, and delivered the special to the San Jose bench lest the situation get any hairier. Backup goalie Aaron Dell caught it in his trapper, and the disgusting clump was photographed for the world's enjoyment.
Legendary Leafs enforcer Colton Orr logged onto Twitter: "I'm gonna give the win to Kadri in this fight for taking off half of Jumbo Joe's beard lol."
Kadri would go on to score, busting the worst scoring slump of his career, and the Maple Leafs would win 3-2 in a shootout, but the night will go down in infamy for its sudden hair loss and male pattern badness.
As Thornton walked out of the rink with his chin held high, if a little lighter, he paused to chat with ol' pal Marleau and pointed to the piece Kadri yanked.
All smiles.
Thornton's missing patch was stuffed in a Ziploc bag and labelled, "For the boys!"
275 Likes, 18 Comments – Randy Hahn (@sharkvoice) on Instagram: "The @sanjosesharks training staff preserved Joe Thornton's beard hair. Hall of Fame or evidence for…"