We may never find out which 18-year-old phenom the Toronto Maple Leafs really want to select fourth overall at the 2015 NHL Draft.
By most estimates, the Leafs will chose whichever one of Dylan Strome or Noah Hanifin the Arizona Coyotes don't select — and, either way, you can bet they'll say it was their plan all along.
With Connor McDavid a forgone conclusion in Edmonton — looks like they're already rolling out the red carpet and making breakfast — and NCAA stud Jack Eichel shuffling off to Buffalo (the Sabres already signed his linemate!), the real 2015 NHL Draft won't start until the third pick.
And the Coyotes aren't tipping their hand.
"I've been out [scouting] a lot over the last month and there's half a dozen guys that could be candidates for that [No. 3 draft] position," GM Don Maloney told the Glendale Star.
"I don't think it's locked in stone, that third position, which gives us flexibility because there are one or two of those that we like more than the other. So, maybe if we get what we want, maybe we trade down a slot or two. So, we have to look at those options, but there's some good players that can help us. Maybe not next year, but not that long thereafter."
---
STANLEY CUP PLAYOFFS: | Broadcast Schedule
Rogers NHL GameCentre LIVE | Stanley Cup Playoffs Fantasy Hockey
New Sportsnet app: iTunes | Google Play
---
Says Hanifin: "If it's the Coyotes, it would be an unbelievable honour."
Says Strome: "To be selected by any team is going to be a tremendous honour."
So. Does Maloney want to deploy a top defence tandem of Oliver Ekman-Larsson and Hanifin in two or three years, his time frame on the Arizona rebuild?
Or does the GM look at his anemic, 29th-ranked offence, gaze into the future and salivate over the idea of pairing Max Domi with Strome?
---
Gotta See It: Coyotes GM Don Maloney talks NHL Draft

---
No one in Hanifin's family played hockey.
Yet the moment the three-year-old's feet touched Massachusetts ice, he knew the game was for him.
"My dad took me to an outdoor rink, and the second I got on ice I loved it," says Hanifin, whose father, Bob, also brought him to a ton of Bruins games.
"Going to Bruins games held my passion for hockey and kinda motivated me. Seeing how people watched the game really pushed me: I want to play in the NHL one day. It's kinda where it all started from."
---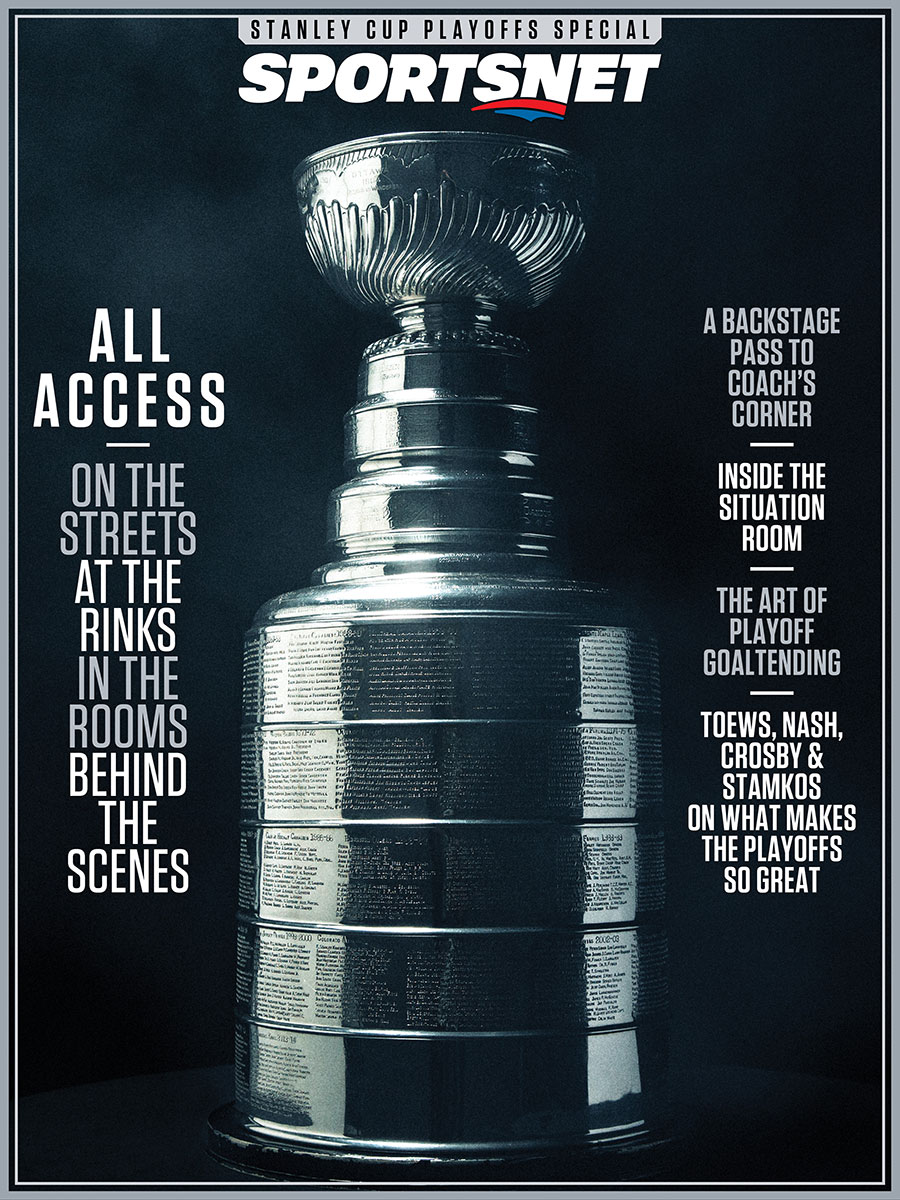 Sportsnet Magazine: An all-access pass to the Stanley Cup Playoffs, including a behind-the-scenes look at Coach's Corner and exclusive camera angles in Montreal. Download it right now on your iOS or Android device, free to Sportsnet ONE subscribers.
---
Of course, Hanifin would prefer to be drafted by Boston — but the Bruins pick 14th.
Originally a forward, Hanifin was nudged back to the blueline at age eight by his coach and "my biggest role model in hockey," Neil Shea.
Shea, an NHL scout with the Colorado Avalanche, guided Hanifin through much of his minor hockey years in Boston.
"I fell in love with the position. I was always kinda that offensive guy. Even though I was on defence, I'd try to rush the puck and stuff. I played both, but I was a bit better at defence," explains Hanifin, who tries to model his game after Drew Doughty's.
"The style I play, you have to take risks," he says. "You have to be a risk-taker. And some coaches won't allow that, but thankfully all the coaches I've had have allowed me to take risks."
Ironically, selecting Hanifin would be a low-risk decision for Arizona or Toronto. Defencemen play more minutes and occupy a more important position on the ice. Hanifin graduated high school early and joined Boston College as a 17-year-old, scoring 23 points in 37 games as the second youngest player in school history.
The potential of a Hanifin-Rielly or Hanifin-Ekman-Larsson pair is invigorating.
"Obviously Toronto is in the rebuilding stage right now. So if I were to ever be selected by them, it would be an honour to play with guys like Morgan Rielly," Hanifin says.
"Whatever happens on draft day, I'm going to be excited. I know Toronto is, like, the biggest city probably in the world for hockey. And Arizona… it's pretty warm and nice out there. So we'll see what happens."
Everyone in Dylan Strome's family plays hockey.
His older brother, Ryan, is a New York Islander. His younger brother, Matt, is a star winger with the Toronto Marlboros. The Stromes have already started earning comparisons to the Sutters.
Dylan says his favourite team growing up was the Maple Leafs, and of course he'd prefer to join former Erie Otters teammate Connor Brown in the Toronto system. But he won't say it. Instead he says whatever team picks him on June 26 will be his favourite.
"I'd call it exciting," Strome says of the possibility of being the guy Toronto's draft shot-caller Mark Hunter selects. "At the end of the day, one general manger that likes you is going to pick you. I'm just looking forward to making that team happy."
Toronto is on the hunt for that buzz-word intangible — character! — and Strome not only beat out fellow 2015 prospect Mitchell Marner (another Leafs fan) for the Ontario Hockey League scoring title (129 points), he captured the William Hanley Trophy, awarded to the league's most sportsmanlike player.
The knock on Strome (if there is one) is that his stats in Erie have been padded by playing alongside McDavid, yet the friends centre separate lines and only linked up on the power play.
With McDavid in the lineup, Strome averaged two points per game this season. Without McDavid? A respectable 1.67 points per game.
While Marner is gaining traction to go No. 4 in some, uh, corners, we see Toronto's pick coming down to Hanifin or Strome.
Your move, Arizona.
---