When asked if he'd like to be drafted by the Toronto Maple Leafs, London Knights star Mitch Marner doesn't sugarcoat his answer.
"That would be a dream come true for me personally," Marner told Dean Blundell & Co. on Sportsnet 590 The Fan Monday.
---
LISTEN: Mitch Marner talks draft, Leafs and scouting combine
---
The Thornhill, Ont., native grew up cheering for the Maple Leafs and said it would be nice to play a part in turning around a franchise that has missed the post-season nine of the last 10 years.
"I've lived there my whole life," Marner said. "You want to be a guy that helps the city out and you want to take that team into the playoffs, so I've thought about it a couple times. But anything can happen on draft day so you have to keep your mind open."
---
STANLEY CUP PLAYOFFS: | Broadcast Schedule
Rogers GameCentre LIVE | Stanley Cup Playoffs Fantasy Hockey
New Sportsnet app: iTunes | Google Play
---
The 17-year-old is a lock to be taken in the top 10 at the upcoming 2015 NHL Draft, with some projecting him as a top-five selection. The Maple Leafs hold the No. 4 pick and while many believe Toronto will end up taking Dylan Strome of the Erie Otters or Boston College defenceman Noah Hanifin, there's a realistic chance Marner's dream draft scenario could come true.
"It's hard not to be nervous," Marner said of the draft. "I don't even think you can guess it. So many random things can happen."
---
FEATURE: Knights' Marner Proves Doubters Wrong
---
According to Damien Cox's mock draft, Marner will fall to No. 6 and go to the New Jersey Devils, however Don Cherry thinks the Leafs should take Marner at four if Strome goes third to Arizona Coyotes.
While some have reservations about his diminutive 164-pound frame, there's no denying his skill set. Marner is supremely gifted in the offensive zone, but it doesn't stop him from excelling on the defensive side of the game as well. In 63 games with the Knights, he had 44 goals, 82 assists and finished second in Ontario Hockey League scoring behind Strome. He also added 16 points in seven playoff games.
Besides the fact he grew up in the Greater Toronto Area, Marner has a connection to the Maple Leafs. Mark Hunter, the team's director of player personnel, was the one who drafted Marner to the Knights with the final pick in the first round of the 2013 OHL draft.
Also, Marner happens to be an excellent possession player, which we all know is something assistant GM Kyle Dubas is fond of.
---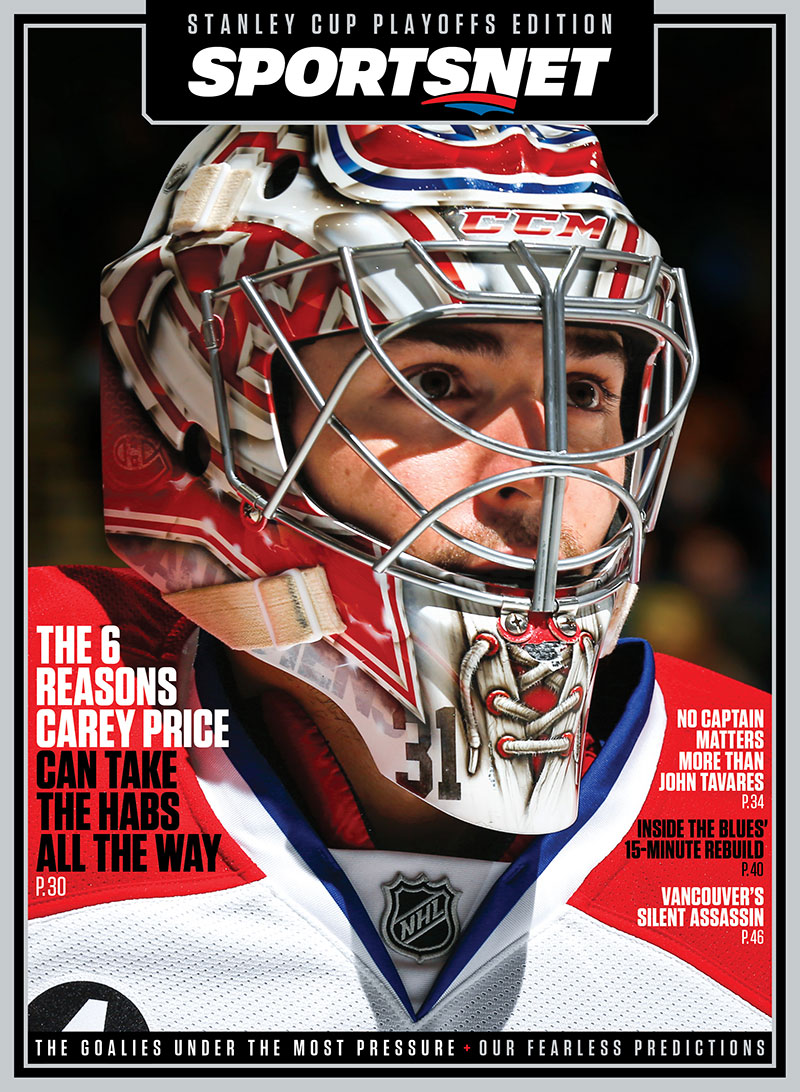 Sportsnet Magazine Stanley Cup Playoffs
Edition: The six reasons why Carey Price can take the Montreal Canadiens all the way. Download it right now on your iOS or Android device, free to Sportsnet ONE subscribers.
---
Marner and his Knights were recently eliminated from the OHL playoffs by the Otters in a series that saw him suffer an injury on a hit from Mason Marchment, who was suspended.
"The doctors have looked at me, and I'm cleared and ready to start training for the combine," Marner said.
The 2015 NHL Scouting Combine takes place June 1-6 in Buffalo, three weeks prior to the draft, which takes place June 26-27 in Sunrise, Fla.