Monday night against the Arizona Coyotes, Milan Lucic finally, mercifully, broke his 29-game goal drought with a ripper of a slap shot from the top of the left circle near the boards, outside the slot.
Driving in off the rush after accepting a nice East-West pass through the neutral zone neutral zone by Leon Draisaitl, Lucic didn't even look at the net before he shot, just put his head down and let it rip.
It was Lucic's first goal since Dec. 23 against the Montreal Canadiens, and his first even-strength goal since Dec. 16 against the Minnesota Wild. It wasn't a high percentage shot by any means, but it was a break that Lucic needed.
The problem for Lucic, though, is that despite busting that goal drought, the scrutiny of his play and contract is only just beginning. With his contract paying him $6 million per season for five more years after this one, Lucic is the third-highest paid player on the Oilers and has the third-longest term. With that comes expectations, and his first two seasons in Edmonton haven't met those expectations.
Last season, Lucic's struggles at even strength were hidden by a career year on the power play with 25 points, way more than his previous high of 14 and career average of 10 per 82 games.
At 5-vs-5, it was Lucic's lowest year of production per 60 minutes since he was a rookie, and his lowest ever in terms of primary points. This season his point production has recovered slightly, but is still the second lowest since his rookie season, though his primary point production of 0.86 per 60 is the lowest of his career, even worse than last year.
At 29 years old, Lucic is no longer in his prime and is likely to decline significantly, but the question for the Oilers is whether that decline will be as rapid as it looks, or if there's more to the last two years that have made Lucic look worse than he is.
To find out, we can compare Lucic to his past self.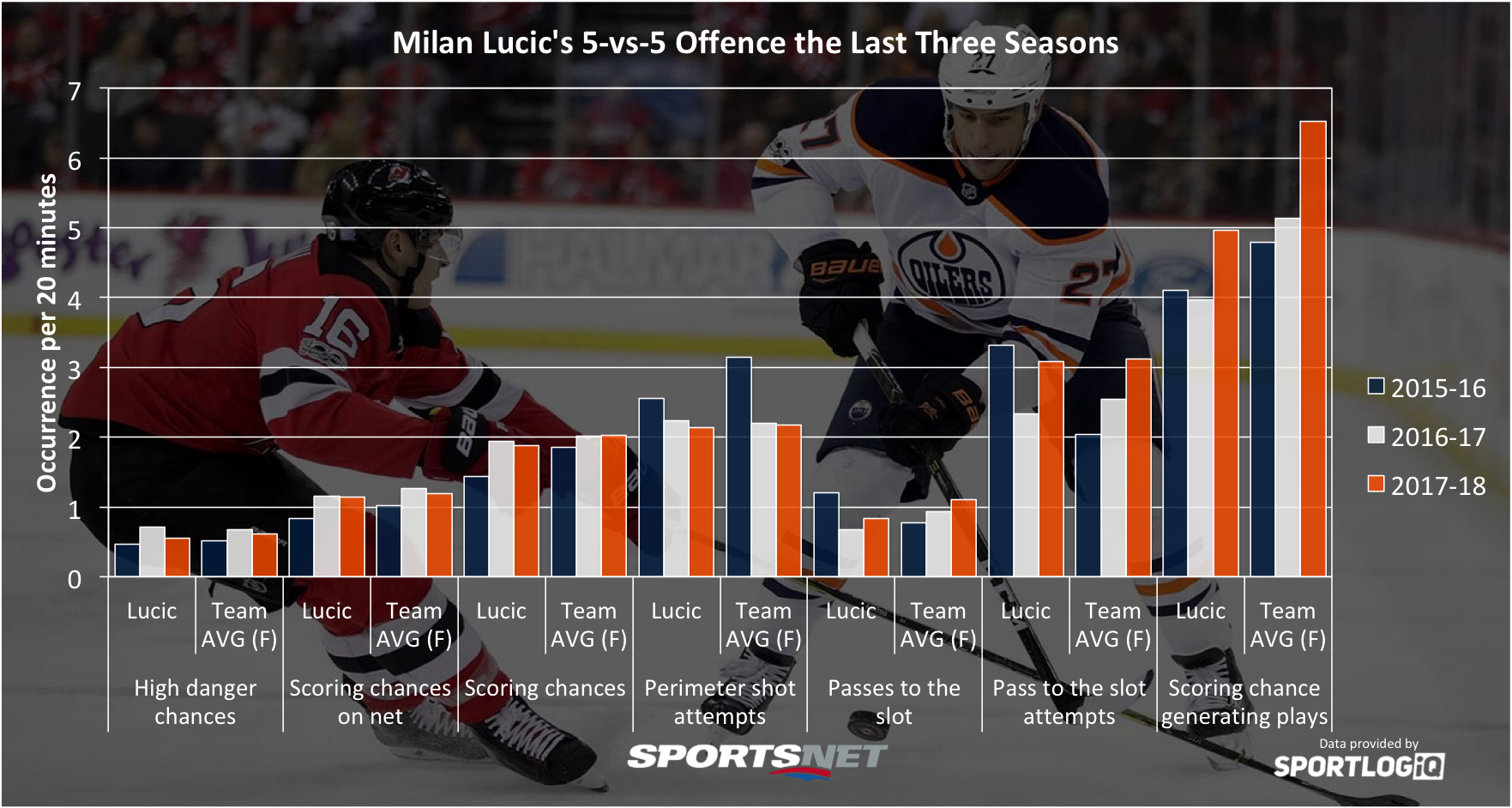 When you look at the last three seasons for Lucic, which includes his season with the Los Angeles Kings where he put up 41 5-vs-5 points, and his second-best season in primary points per 60 with 1.73, it's less than clear that he's on a linear decline.
There are a few things that are apparent when you look closely at Lucic's offensive tendencies. The first is he's not much of a scoring chance producer.
Lucic is a below-average scoring chance producer at 5-vs-5, and a relatively low volume shooter for a scoring winger. The biggest changes for his shooting going from the Kings to the Oilers was a huge drop in shots from the perimeter, which is a function of his team, as you can see the Oilers shoot far less often from the outside than the 2015-16 Kings did.
His first season in Edmonton, Lucic attempted to get his shots off from much closer to the net, actually producing more high danger chances than team average, but as a result Lucic's strength at 5-vs-5 turned into a weakness.
Despite his reputation as a hulking power forward, Lucic is a far more effective playmaker than he is a scorer, and before coming to Edmonton was very adept at finding teammates in the slot. Changing his tendencies last season cut his completed slot passes in half, and his attempted slot passes by 30 per cent.
Livestream every single game of the 2018 Stanley Cup Playoffs—blackout free—plus the Toronto Blue Jays, key Raptors & NBA Playoffs matchups and the 100th Mastercard Memorial Cup, all in one subscription.
Lucic has recovered his passing game a bit this season, though he remains below league average in that category, and his involvement in scoring chances created relative to his teammates has been in a consistent decline, going from 0.69 fewer chances created per 20 minutes in 2015-16, to 1.17 fewer in 2016-17, to 1.55 fewer this season.
The biggest problem for the Oilers going forward with Lucic is that no matter how slow his decline is from here, their third-highest paid player is a third-line player at 5-vs-5 offensively and, for the second time in his career, a negative possession player.
Some of this could probably be mitigated by getting Lucic to play to his strengths, allowing him to dominate along the boards and be a playmaker on his line, so not playing with McDavid, but ultimately his contract looked bad in Years 1 and 2, it's unlikely to get much better in Years 3 to 7.