LEDUC, Alta. — The Edmonton Oilers moved to solidify their defence over the long term Sunday, signing blueliner Oscar Klefbom to a seven-year contract extension.
The deal, which begins after 2015-16, is worth a reported $4 million a season for the 22-year-old from Karlstad, Sweden.
"This is what you dream for. You want to write this kind of a deal when you're a small kid," Klefbom told reporters after practice at the Leduc Recreation Centre.
"It's a lot of numbers, and a lot of money and a lot of years. I'm only positive to this.
"This is where I want to be right now. I think we have a really good team going on."
Klefbom, a first-round draft pick of the Oilers in 2011, has played just 77 games over the last two seasons in the NHL.
He said in his first season he focused more on a defensive game.
"When you first step into the league you want to play an easy game, a safe game. Maybe that first year I took a step back," said Klefbom.
"I would like to see myself as a strong two-way defender who can follow up some rushes and be an offensive threat as well."
Klefbom started last season in the minors but eventually moved up to the Oilers and finished strong. He scored two goals to go with 18 assists in 60 games. He was second among Oiler defencemen in ice time (21:59 per game).
He stands 6-foot-three, 215 pounds and is described as a strong, mobile, puck-mover, slick on his skates but with work to do on reading and making plays in his own end.
Oilers general manager Peter Chiarelli agreed 77 games is a small-sample size for a deal that will keep Klefbom an Oiler until he's almost 30.
But Chiarelli, who came to the Oilers this spring, said from what he has seen and from what his advisers have told him, Klefbom is low risk, high reward.
"He's a big strong kid. He skates well. He moves the puck well. He defends well," said Chiarelli.
"There's a lot to like about him on both sides of the puck," said Chiarelli.
"He's a top-four (defenceman) and he's going to be a top-two D at some point."
Klefbom played well when paired with Justin Schultz for a quarter of last season. The two played together in scrimmages this weekend at the Oilers training camp.
He is part of a revamped Oilers blue line corps, which is considered the key ongoing weakness of a team that has missed the playoffs for nine consecutive seasons.
Free agent signee Andrej Sekera and Mark Fayne are expected to be the first-pairing. They have skated together in camp. Newcomers Eric Gryba and Griffin Reinhart have also seen action in camp together.
Chiarelli was looking to add size to the defence with acquisitions like Gryba, but he said the six-foot-four 225 lb. former Ottawa Senator can deliver more than muscle.
"His mentality is defending first. I think we needed that in our D-corps. He's big. He closes well. He's strong," said Chiarelli.
"I felt we needed some size, but he could also make a play once in a while. He can push the puck up fairly well and he clears out the front of the net."
NOTES: Centre Ryan Nugent-Hopkins was back on the ice Sunday, a day after taking a puck to the cheek in an errant pass from goaltender Cam Talbot. Nugent-Hopkins was sporting a welt but said there is no tooth or jaw damage.
September 20, 2015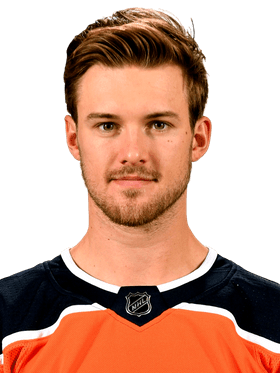 ---
SIGNED BY
Edmonton Oilers
CONTRACT TYPE
Contract Extension
SALARY CAP HIT
$4.167 million