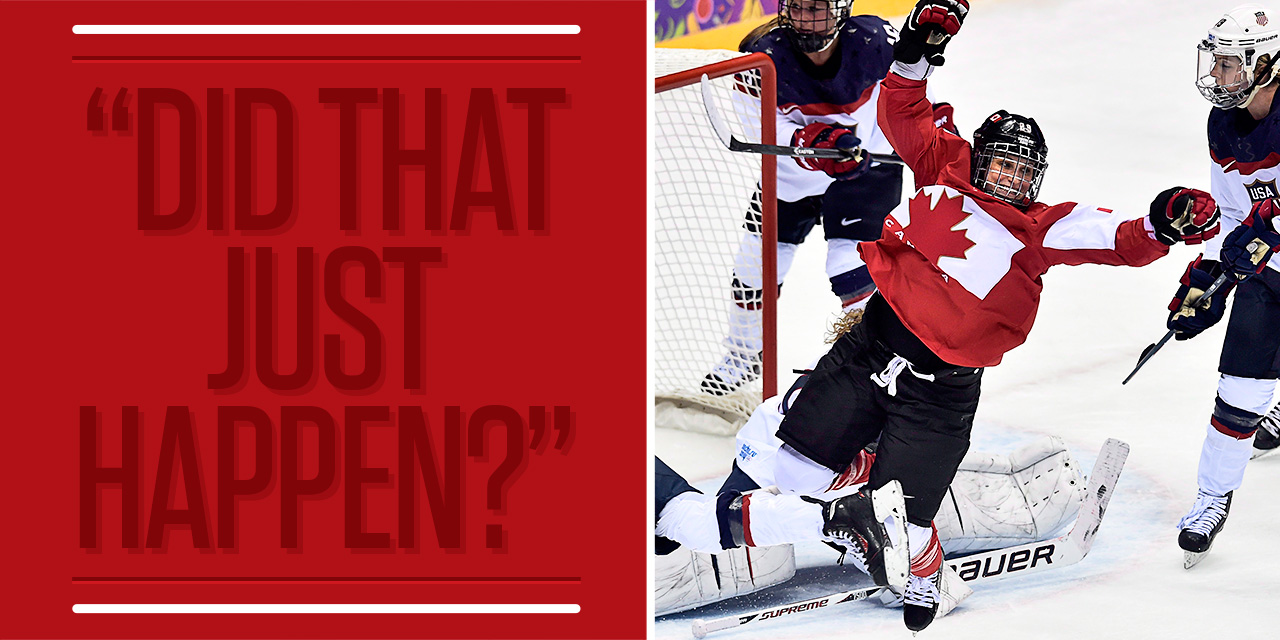 It was one of the most exciting hockey games ever—the Canadian women's win over the U.S. for Olympic gold in Sochi. Two years later, Lucas Meyer revisits the stunning victory with an oral history.
FEB. 20, 2014: After months of injuries, roster changes, and brawls between the two teams, the anticipation was over. Canada would face the United States once again in the final of the Olympic Games women's hockey tournament. The Americans had won four of their six exhibition games before the Olympics, but Canada would win the preliminary round game 3–2. The Canadians were going for a fourth straight gold, following a campaign which many of them called the toughest of their professional lives.
Natalie Spooner, Canada forward
I was so nervous just stepping on the ice. I just tried to think, it's just another hockey game, it's just another hockey game, like I've played so many hockey games in my life. But I still was in stitches.
Laura Fortino, Canada defenceman
You look around and you're like, wow, I can't believe it, this is my dream come true.
Marie-Philip Poulin, Canada forward
We worked six months for that game and we knew we had to be ready, we knew it wasn't going to be easy.
Shannon Szabados, Canada goaltender
I play better under pressure, so I kind of take the time to analyze the situation and what's on the line, think back to Vancouver, how I handled it there, or any other big game I played in, kind of just feed off of that and prepare mentally for the game. And then as a team, we were at the point where we had gone through so much, that a simple hockey game was miniscule.
USA STRIKES FIRST: It wasn't until almost 12 minutes into the second period that the first goal was scored. Jocelyne Lamoureux intercepted a clearing attempt up the left side of the ice. The puck was knocked away, but it went right to the trailing U.S. captain, Meghan Duggan, who snapped a wrist shot from the dot of the faceoff circle over Szabados's left shoulder.
Szabados
Our defence was trying to move their forward that was in front of the net and it kind of backfired and ended up being a double screen on me, so I couldn't see through either of them. I could kind of tell when she was going to release it and went down and hoped it would hit me. It was a pretty nice shot.
Despite just five shots on goal and committing all three penalties in the period, the U.S. held the 1–0 lead going into the third.
Brianne Jenner, Canada forward
Before that third period, we were so calm. We just had a few veterans speak up and say a few things. We talked about our boot camps and how much work we put in and how we pushed our bodies past limits that we thought we had.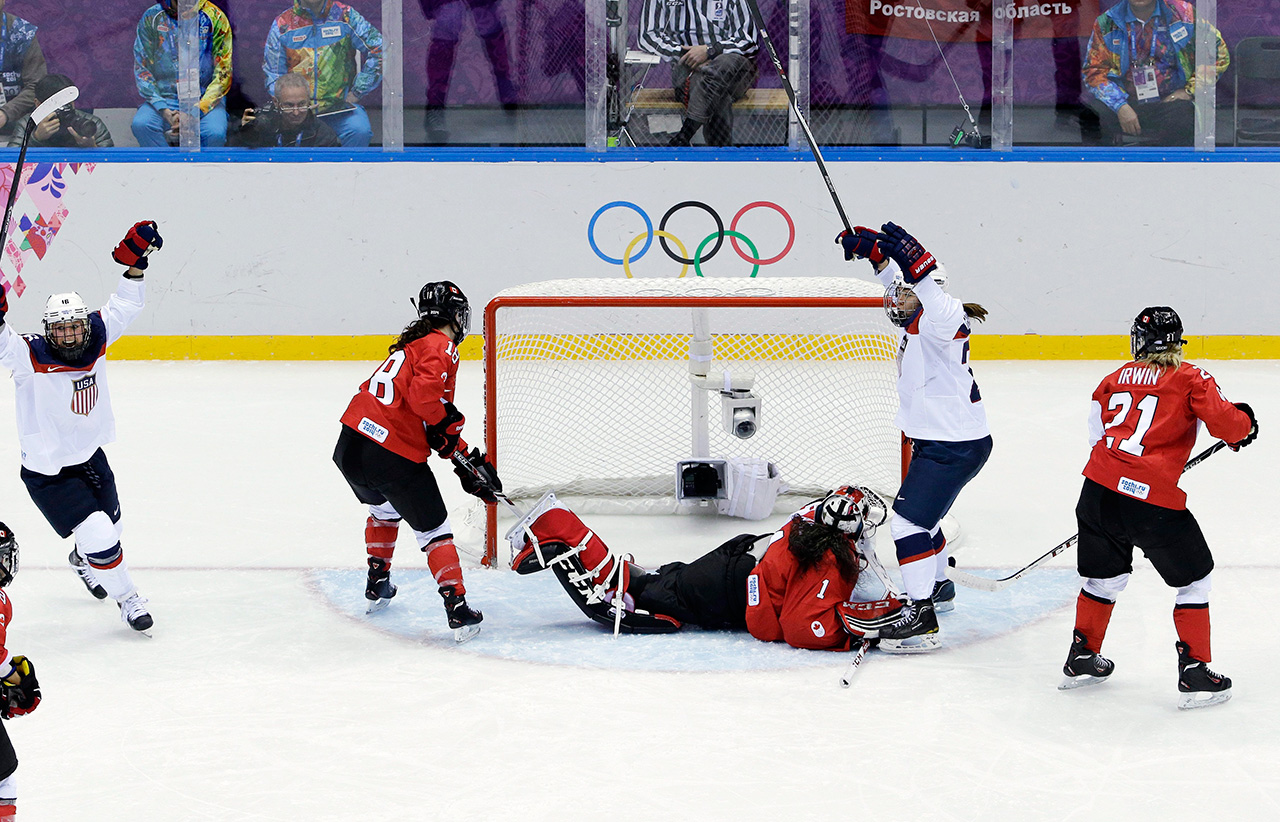 THIRD-PERIOD FRENZY: Canada did not begin well in what what turned out to be one of the craziest periods in hockey history, committing a penalty just seven seconds in. With seven seconds left in that power play, Canada lost track of Alex Carpenter who came in front of Szabados from behind. Hilary Knight sent a perfect pass between Fortino's legs and right onto Carpenter's stick, who buried it for a 2–0 lead.
Szabados
They had it on the wall and I remember them moving it around and I was pointing to our weak-side player that there was a girl back-door… [Carpenter] put it right on off the post and in.
Kelli Stack, USA forward
We were feeling confident, but at the same time I think we knew that we still had a long way to go in the game.
Szabados
You get, I don't want to say a little more nervous, but maybe a little more urgent, that OK, now we're down two. For me personally, that's the time where it's, OK, no more can go in.
JENNER'S BOUNCE: Meaghan Mikkelson, who was playing with a broken hand, received a pass from Jocelyne Larocque in her own end with 3:35 left and saw Jenner skating over the blue line. She bounced the puck off the boards to Jenner who picked it up just past centre ice with forwards Haley Irwin nearby and Rebecca Johnston on the opposite side. Jenner split between two Americans, and took a snap shot which bounced off the leg of the U.S.'s Kacey Bellamy and past U.S. goalie Jessie Vetter, a shot which would've sailed wide otherwise.
Jenner
If it was a tie game or maybe we were up by one, I might've just dumped that puck in and changed, but I thought why not just try and gain the middle of the ice and see if I can put it on net, and sure enough, I lucked out.
Rebecca Johnston, Canada forward
It actually looked on the replay that I was hitting it in, but I definitely didn't. I kind of had a perfect view of the puck going in the net and I remember right when that happened, it was OK, we can do this.
Jenner
I remember Mick saying 'I was going to give a pass to you directly, but I didn't have that power on my stick, so I had to bounce it off the boards.' I thought that was kind of a funny story, but it worked out.
THE POST: With 1:35 remaining in the period, the Americans sent the puck down for an icing call. Canada head coach, Kevin Dineen, pulled Szabados, and Irwin took the faceoff against Lamoureux to Vetter's right. The puck ended up in the corner with Johnston getting to it first. But as the linesman was skating backwards, she bumped Canada's Catherine Ward as the puck was coming toward her, and Stack was there to send the puck down the ice to the empty Canadian net.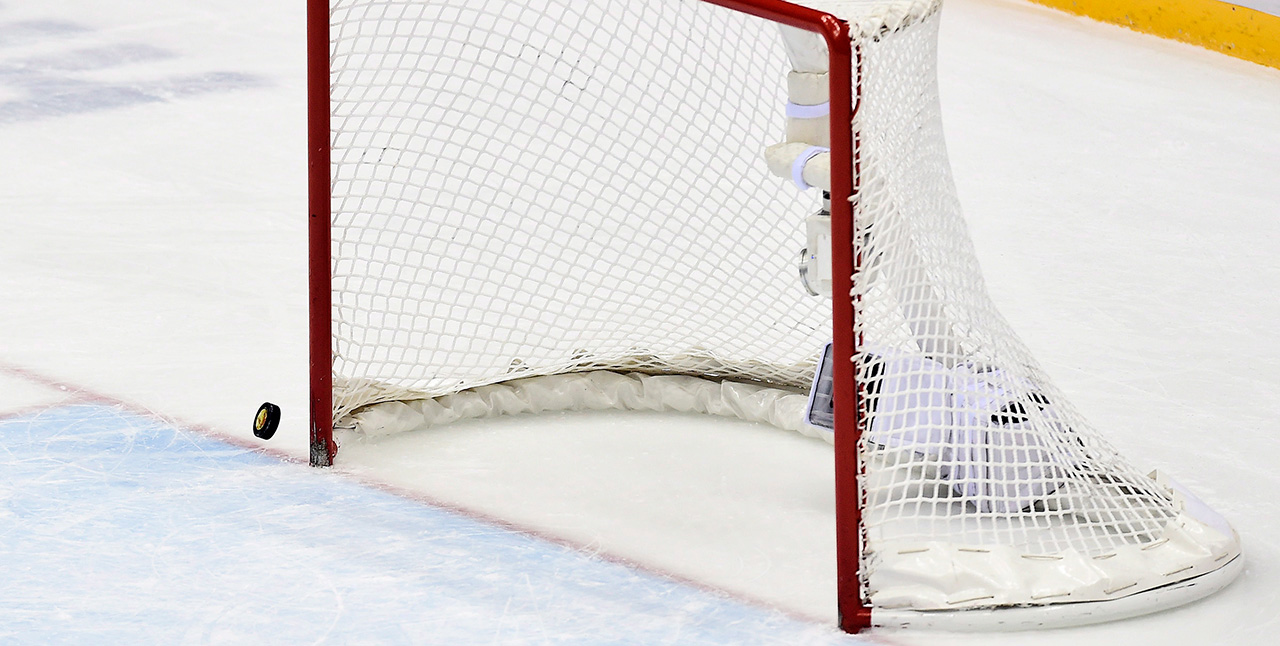 Stack
I wasn't aiming at all, I just tried to hit it as hard as I could to hit the zone, and then it just so happened that it was going toward the net.
Katey Stone, USA head coach
If the puck goes in, the game is won in my opinion.
Johnston
I had a perfect view… my heart stopped because I definitely thought that was going in.
Spooner
I was on the bench and I thought it was going in. I don't know, my heart was dropping as it was going down.
Kevin Dineen, Canada head coach
I was looking at that going, oh boy. And then as the puck came down, you could see it curl, it was really 50-50.
Fortino
I remember turning over to Lauriane Rougeau, she was my partner. I was like, I can't watch. I was saying this out loud, I can't watch. So I was actually looking up and down, to the ground, to the ice and down and back, my heart was racing.
Poulin
I don't think you want to know what was going on through my mind… I was behind the puck looking at it and I was like no, there's no way it's going to go like this, no way it's going to finish just like that.
In dramatic fashion, the puck hit the post and came to a rest in the crease, where Meghan Agosta would pick it up, turn and send a pass to Jenner. Her shot would go off a skate and out of play with 1:14 left.
Stack
I'm like, well that's fine, we're still up by a goal, it's not the end of the world, it's not make or break. We don't need that goal, it would've been great to get it, but at the same time, I wasn't trying to score.
Poulin
Wow, did that just happen? I remember we got the whistle and the time out. I just couldn't believe that happened, we were so mad that it could end at the Olympics just like that.
Fortino
I turned to [Rougeau] and I'll never forget it, I said 'we are going to win this game.'
Stone
If you've been around hockey long enough, you think, uh oh, something's going on here. And I felt that way.
The time out allowed both teams to catch their breath and prepare for another faceoff.
Poulin
I remember [Dineen said], 'Pou you're going to stand in front of the net.' I kind of wanted to go help, to get into the corner, but he goes, 'no, you stay in front of the net.'
Dineen
Marie-Philip, that's not her job to be right in front, but being in the middle of the ice… any kind of candy coming around, she's going to be in a quality scoring place.
POULIN MAKES IT EVEN: Stack would win the draw and dump it into the corner to Vetter's left side, but it was then quickly sent into the opposite corner. Poulin rushed to keep it in and Johnston would join her with the puck eventually making its way to Hayley Wickenheiser in front of the net. But her chip shot went wide and to the boards. Ward was the next player to keep it in and get it to Irwin, who saw Johnston going to the corner.
Johnston
By the time I got the puck, [Wickenheiser] jumped down to behind the net and Pou was kind of coming in. I just kind of knew she was around that area and I didn't really have time to look exactly where I was throwing it, so I just threw it somewhere in front of the net, hoping that Pou was somewhere around there.
Johnston's pass bounced off the bottom post and right onto Poulin's stick, and a quick wrist shot tied the game at two with just 54 seconds left. Canada and its fans erupted with joy, while American fans were shocked.
Poulin
I couldn't believe that we just tied. Seeing all the girls coming to me into the boards, that proud moment, it was unbelievable. Being able to get to the bench—and I got Szaby on the way to the bench—and being so pumped, it was quite the moment.
Johnston
I get goosebumps thinking about it right now. It was an amazing feeling, I know we hadn't won the game at that point yet, but it was like, holy crap, we just did that, we just tied this game. I think for us, there was no way we were going to lose.
Szabados
I think that was the most excited I've ever been for a goal. I was jumping up and down on the bench alongside everyone. Then we knew, we have a chance now, even if we take it into overtime, we have that chance.
Stone
As a coach, you go to what's next. We're right back where we started, 0–0 ballgame, let's go get the first one. We spent a lot of time practising four-on-four, we had highly skilled, very talented players. We had a lot of confidence.
Stack
It was just a crazy mix of emotions, obviously you want to keep your head up as best as possible, but I think in the back of everyone's mind, we were like, how did that just happen?
Spooner
We just kind of talked about probably the last 10 minutes of the third period when we were really starting to pick it up and had the U.S. on their heels. We just kind of said, we have to go out there and keep playing like that.
Jenner
There was a huge buzz in the dressing room and we were just talking about what we had to do in overtime. Just making sure that we had three [players] high and we were playing smart, but keeping the pedal to the metal.
Poulin
The thing that really struck me was how the girls never changed. The girls that would sing always sing, the girls that talk, talk, and it was just like a relaxed excitement moment as a team.
OVERTIME: Despite Canada's momentum, it was the U.S. that had the early chances, with Szabados making three big saves in the first minute of overtime. The last included Amanda Kessel sending a pass from behind the net across the crease to a streaking Bellamy, and Szabados had to make a sprawling stop.
Stone
Poulin is a terrific, clutch player and she certainly buried the pucks when she needed to, but that game could've been out of hand if it hadn't been for Shannon.
Just over six minutes into overtime, Ward cross-checked Anne Schleper. But seven seconds into the power play, Szabados made a glove save on a shot from the point and right after, Lamoureux was called for a controversial slash after tapping Szabados's pad. During the three-on-three, Knight found Schleper right in front, but she couldn't handle the pass. Wickenheiser picked it up for a breakaway with Knight trying to catch up. She clipped Wickenheiser's right skate, sending her down to the ice. Although it appeared to be tripping, the call was cross-checking and Canada was given a four-on-three.
Dineen
The feeling was that she was still bearing down on her and although Wick had a breakaway, that there was still going to be a chance for her to get a play on net, that it wasn't a clear-cut breakaway.
Hayley Wickenheiser, Canada forward
Really it should be a penalty shot, I had no chance to make a play in what happened. Anyway, I went over to the ref and thought it should be a penalty shot and she waved it off. I asked her why and right away she said it's going to be a four-on-three and I said perfect, even better.
POULIN FOR THE WIN: After the officials explained the Knight penalty to both benches, Dineen called out his four, forgetting Ward was in the penalty box.
Poulin
It was me, Wardo, Wick and Johnny. So I'm like, Wardo is not there, you got to pick another D. So he said, alright Fortino, you're in.
Fortino
I was like wow, as a rookie going out there, it's a big moment in the game. Power play, four-on-three, and I was like, alright, this is kind of my time to shine and prove that I can get the job done. I was honoured to know that Kevin had that confidence in me.
The U.S. cleared the puck, but Canada got it back in quickly. Wick set up in front of Vetter with Poulin on the left, Johnston on the right and Fortino manning the point.
Fortino
I had an entire rink, I had Wick beside me, everyone yelling to shoot. I think it was just at that moment, I wanted to make the right play and the right play was to pass to Marie.
Poulin
Johnny and Fortino made unbelievable passes back and forth, and Fortino made just the right play with that fake shot to me. Again, [I was] lucky enough to be in the right moment, at the right place.
With Vetter screened, Fortino— who led all skaters in ice time—faked a slapshot and sent it back to Poulin who buried her second for the 3–2 victory, giving Canada its fourth straight and most improbable gold medal.
Poulin
That was one of the best teams I've been a part of, the people we had were unbelievable. Being able to say that we did it, we came back from behind and never gave up was unbelievable, and being able to see the girls coming on the ice, and it was just a relief. I just couldn't believe that that happened.
Jenner
My only thought was how do I get on the ice as quick as possible and just the flood of relief, it's crazy. Ten seconds after that huddle, I think we were all just like oh my God, we did it.
Wickenheiser
What went through my mind was pretty instantly, thank God it's over and that we had won.
Johnston
Everyone was obviously so excited, but at that moment, it was just a sigh of relief, I can't believe that just happened. [We were] almost in shock a little bit that we were able to pull that off.
Fortino
I get goosebumps thinking of it and reliving that moment. It's so hard to put into words, but it was just pure excitement and maybe a sense of relief a little bit.
Szabados
[Backup goaltender Geneviève] Lacasse makes it on the ice before me because she must've been right beside the bench. She had no equipment on and I was going like full speed and jumped into the pile and I thought for sure I was going to give her a concussion or something, but at that point, you don't even care, you want to be in there and celebrating and I remember just jumping up and down.
Ron MacLean, CBC Sports host
I just remember that feeling of oh my God, I've just seen one of the greatest, probably five hockey games, I'll ever see in my life.
Stack
I kind of just remember sitting there on the bench like, I couldn't comprehend what just happened. I've never seen such a downfall of a team in sports, I've never been a part of it.
POST-GAME: As is Olympic tradition, the Americans stayed on the ice for the medals and anthem. Following the ceremony, both teams left the ice, but their evening wasn't close to finished. Unlike other tournaments, players and coaches immediately passed through an area for media interviews.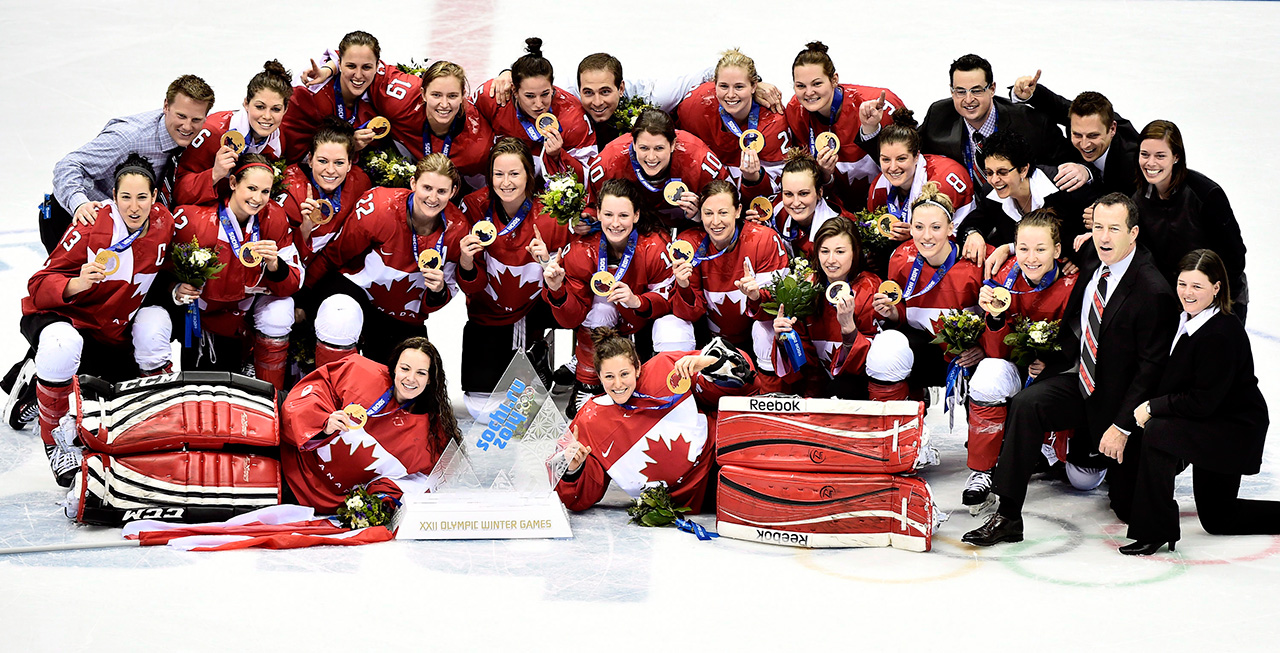 Richard Deitsch, Sports Illustrated reporter
I don't think I've seen a group of athletes who were more devastated about a defeat, but yet handled the press graciously and answered all the questions.
The two locker rooms were complete opposites.
Stack
It was silence and it was tears. A lot of hugging. We're girls, we cry, we're emotional, but I think even guys in that situation might shed a tear or two. It was just trying to take in that last moment that we would have together as a team, because after that, everyone kind of goes their separate ways.
Stone
Obviously a lot of sadness, disappointment and frustration, but at the end of the day, I'm so proud of our players. They did everything they were asked. They put themselves in a position to win a gold medal, which is exactly what we were trying to do and I thought our kids played great and as I mentioned at the beginning, they deserved a better fate. But that's hockey.
Wickenheiser
I just remember sitting in my stall and looking around, watching the girls celebrate and the different staff that had come and gone in the room, sharing stories. I was honestly pretty tired physically and emotionally.
Johnston
We're all super excited and celebrating, but I just kind of sat there. I was talking to Gillian [Apps] who was sitting beside me and just like, I can't believe we did that.
Fortino
Nobody would have ever thought of that or even imagined that a game would go like that. So I think we just really wanted to sit around and take it in because we were a bit in a state of shock, like, what just happened?
Stack
We basically went right to our families who were waiting outside for us. I think at that point, it was close to one in the morning, and when we're walking to go see our families, of course we walk through all the Canadian families celebrating, so that was hard.
The U.S. would get some revenge in the 2015 World Championship, beating Canada in the final 7–5 and again at the Four Nations Cup, winning that championship ironically also in overtime 3–2. But they'll have to wait another two years to try to reach their ultimate goal of reclaiming the glory they had in Nagano.
Stack
What sticks out the most is that we knew all along that we were the better team and that we played that way that game. But the last five minutes, we didn't execute. It's hard to swallow when you were the better team all game long and then you break down with five minutes to go and lose it.
Szabados
People saw the four or five games that we played in Sochi on TV, but there was a lot more to it that season. I think we were at the point where we were playing for each other and nothing else really mattered. We had gone through so much that year that being down 2–0 was miniscule to us compared to everything we had done and gone through.
Poulin
Unbelievable.
—–
For more on the women's gold medal game from Sochi, click here to read Lucas Meyer's extended version.
Photo credits: Petr David Josek/AP; David J. Phillip/AP