When I broke down which teams improved the most around the NHL's trade deadline, I noted that the Winnipeg Jets were already one of the best playmaking teams in the NHL and were adding yet another strong one to the mix in Paul Stastny.
The Jets' ability to pass the puck into the slot at 5-on-5 trailed only the Tampa Bay Lightning this season, and logically adding another high-end playmaker like Stastny would make them even better.
However, Stastny has changed his game a little bit at even strength, and this is where he's stood out from the pack against the Nashville Predators.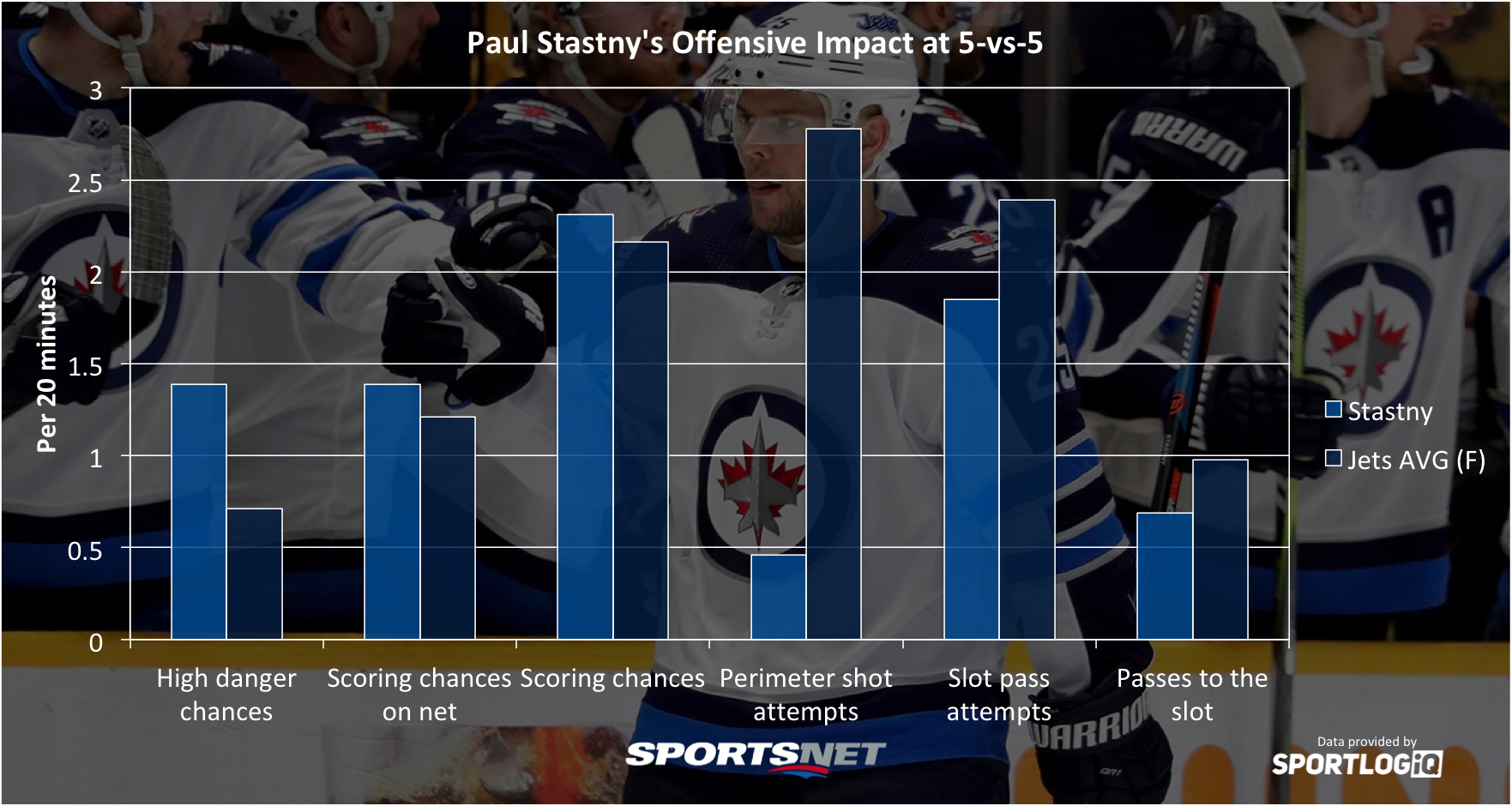 Too much of a good thing doesn't sound bad, but it can be. With Winnipeg's premier slot presences, Kyle Connor and Mark Scheifele, both on the top line with setup man Blake Wheeler, the Jets didn't really need an extra playmaker on their second line, where Nikolaj Ehlers fills that role.
Ideally it wouldn't be a bad thing for Patrik Laine to set up in the slot, but he likes to drift high and get lost in coverage, relying on his generational shot to beat goalies from a distance. That leaves the grunt work down low to Stastny, and he hasn't disappointed.
[snippet id=3918715]
Only Connor has produced more high danger scoring chances against the Predators than Stastny at 5-on-5, and Stastny has been a slot area presence the entire series, battling for loose pucks down low. He's recovered the second-most pucks after the Jets take a shot, and the second-most rebounds, both behind only Connor.
While Stastny is on the ice, the Jets have enjoyed a 56.3 per cent share of the high danger chances at 5-vs-5, largely due to his slot area presence. This makes him look like the perfect deadline day add.
However, things look even better when you examine his work on the power play.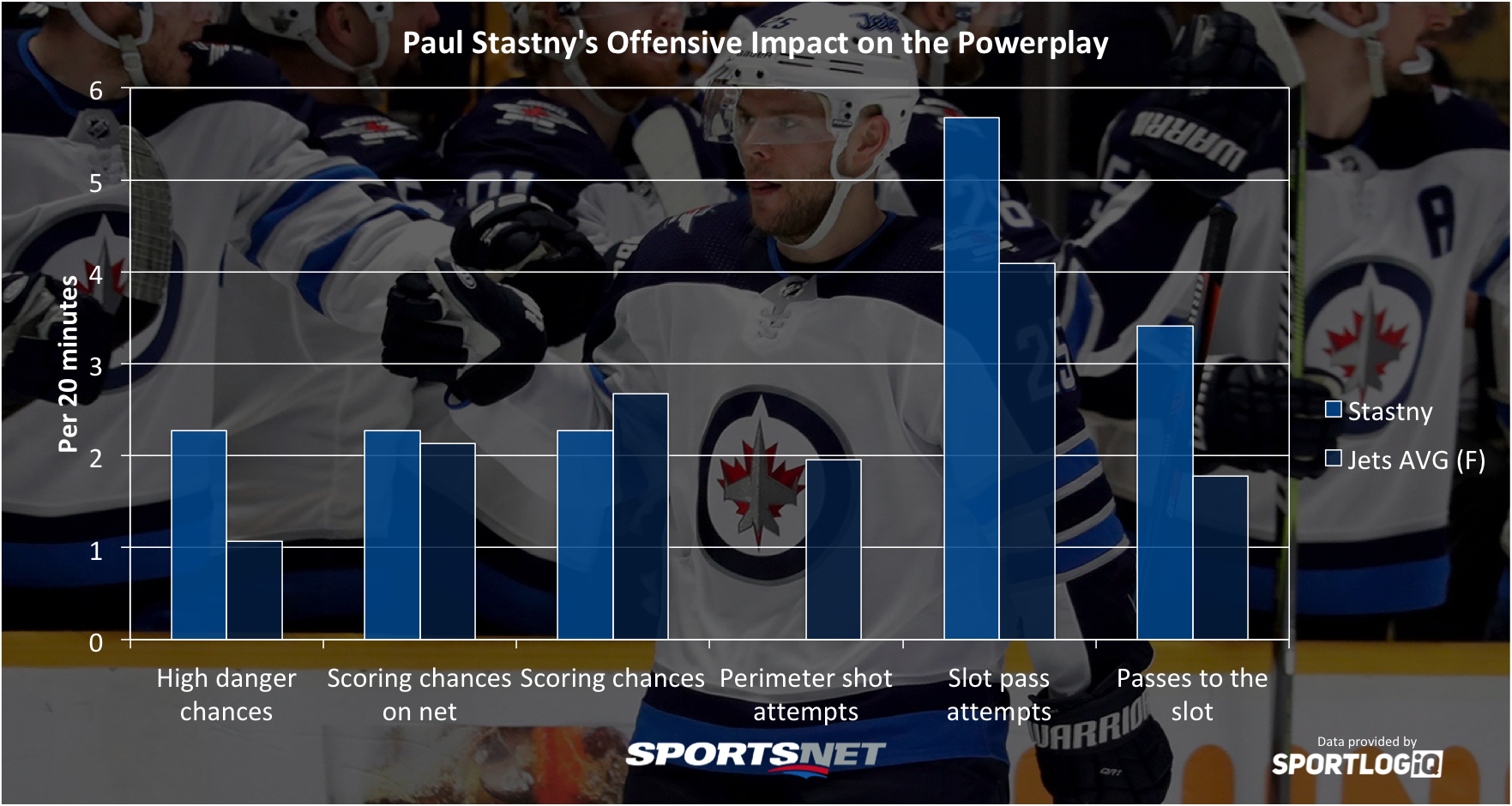 With the man advantage, Stastny remains in the inner slot area right near the net, but instead of playing with Ehlers and Laine where he has less of a slot option, he has Laine up top, with Scheifele in the high slot. With this setup, Stastny remains second on the Jets in high danger scoring chances on the power play, and in fact all his power play scoring chances have been both high danger and on net, but he also has the ability to hit Scheifele in the high slot if his shot isn't ideal, which capitalizes on his Stastny's playmaking ability.
Because of those options, Stastny actually leads the Jets in successful slot passes on the power play, so he's getting primo shots while also being the premier playmaker on a power play that before Game 6 was ruthlessly efficient against the Predators.
The Jets have long-term deals for Jacob Trouba, Connor Hellebuyck, and Josh Morrissey to think about this summer, with Wheeler an unrestricted free agent next summer, and Laine and Connor also restricted free agents in 2019. Because of this, it seems almost impossible they would retain Stastny, but he has been an excellent fit.
The good news for Stastny, aside from fitting in on a team that still has a chance to win a Stanley Cup this season, is that he's shown versatility in an offensive role that could make him seem like a better fit for a wider range of teams come July 1. At 32 years old this will likely be his last big money contract, and he's making the most of his opportunity to show he can be worth it.
[relatedlinks]