Pekka Rinne's performance in Nashville's playoff run last spring was perhaps a precursor, even if he struggled in the final against Pittsburgh, but I think it's fair to say his dominance this season is one of the only stories that rivals the Vegas Golden Knights as the NHL's biggest surprise of 2017-18.
Leading into 2017-18, Rinne had faced among the easiest shots in the NHL over the past three seasons, with Nashville boasting a defensive structure only the Bruins and Kings could rival.
Despite that, Rinne ranked 23rd of 35 goaltenders with 100-plus games played from 2014-2017 in save percentage, and 16th in even strength save percentage. Those numbers, along with the low quality of shots he's faced, were a big reason why when I ranked NHL goaltenders over the summer, Rinne came in at an unimpressive 28th.
This year, however, Rinne at 35 years old seems to be under the impression it's 2010-11 again — he has far and away been the MVP of the Nashville Predators.
Among starting goaltenders, Rinne leads the league in even strength save percentage by nine points at .941, and leads all starters in overall save percentage by five points at .929. He's done this despite the Predators' defensive game actually getting weaker this season.
To quantify this, we can look at what Rinne faces in an average game this season compared to what he faced last season.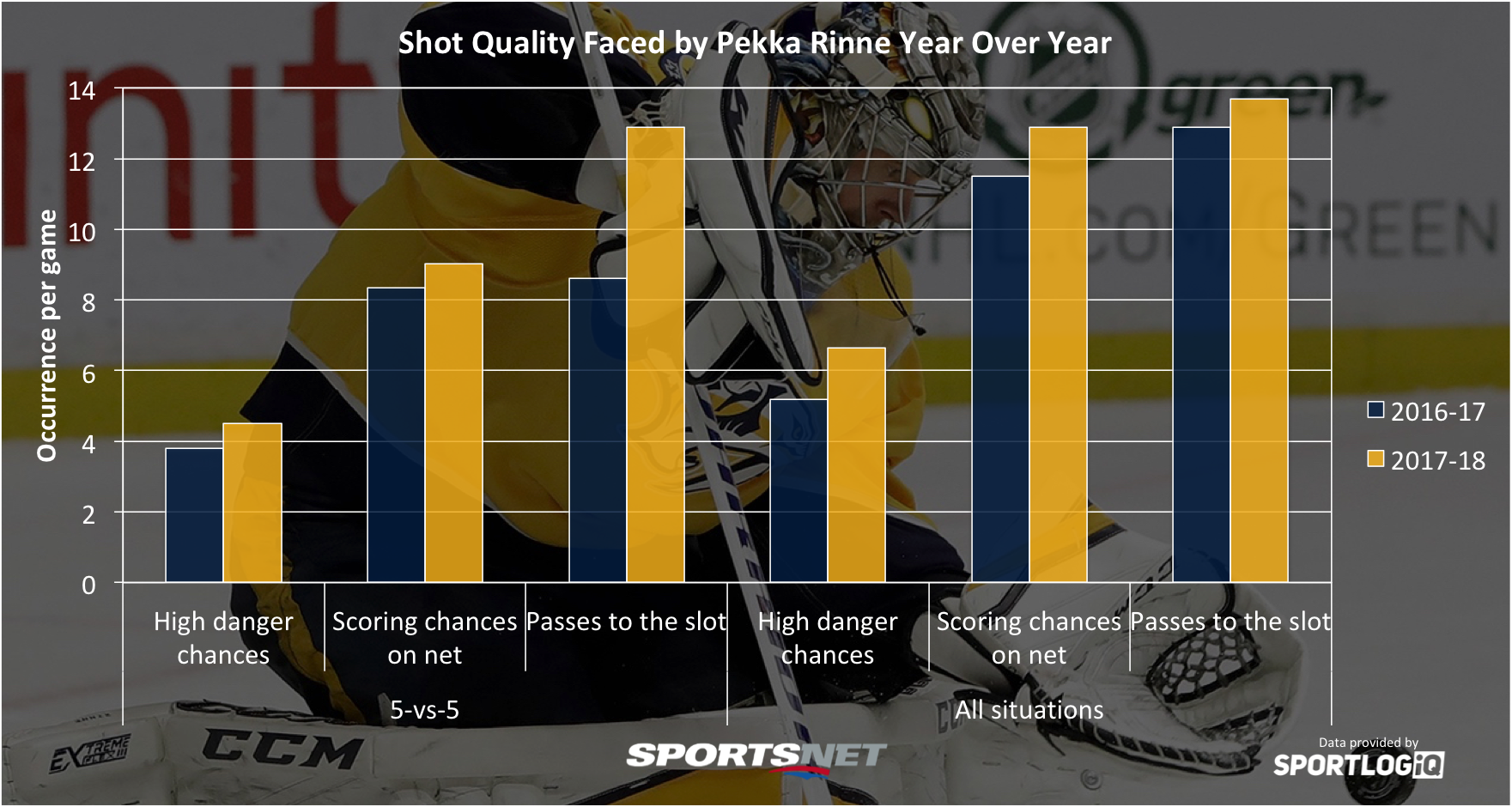 It may not seem like a lot, but the change in high danger scoring chances Rinne is facing each game have increased enough to take the Predators from a top-5 team defensively to between 15th and 20th. The extreme increase in passes to the slot should, in theory, be especially difficult for a large goalie who has struggled with positioning in the past like Rinne.
And yet Rinne is running away with the league lead in stopping shots. A big reason why he has been able to manage that extra pre-shot movement is he's giving up fewer rebounds, with a league-leading 41.5 per cent of shots that produce no rebound at all, and a league-leading 46 per cent of perimeter shots that don't provide any follow-up chances.
That rebound control limits second-chance opportunities for opponents, and especially with the perimeter shots, it means Rinne is keeping most of those chances that aren't dangerous from becoming so.
Of the rebounds Rinne does allow, 42.2 per cent end up in the high danger area, but 95.1 per cent are recovered by either Rinne, who is the fifth most effective goaltender in the NHL at recovering loose pucks off rebounds, or his teammates.
In terms of raw performance, Rinne dwarfs his peers this season, which is easy to see when you compare him to other Vezina contenders.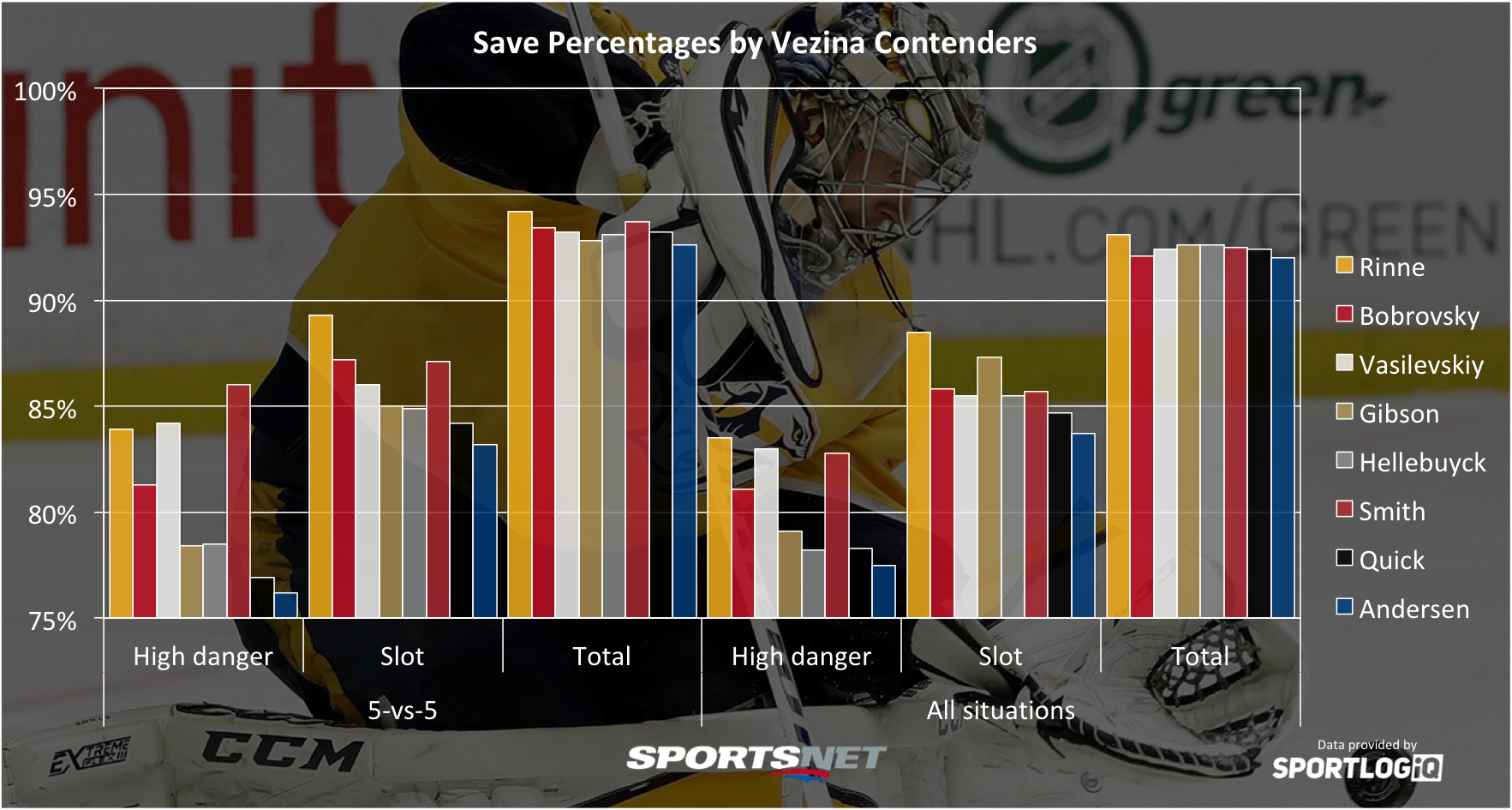 There's only one major save percentage category that Rinne doesn't hold the league lead in this season: high danger save percentage at 5-vs-5, where Mike Smith and Andrei Vasilevskiy lead.
It's not just about raw saves either, Rinne also leads the league in quality starts with 35, and quality start percentage at 68.6 per cent – he's only had three really bad starts (games with a save percentage below .850) all season. That's half as many bad starts as Vasilevsky or Smith and one-third as many as Bobrovsky.
So not only is Rinne giving the best overall performance of any goaltender this season, he's doing so more consistently than anyone, too.
At 35 years old and with a history of being league average or a bit below since 2013, it's probably not very likely that Rinne will repeat the season he's having, but for a single season award that doesn't matter at all.
He is the runaway favourite for the Vezina Trophy.