For the past two weeks, Andrew Hammond of the Ottawa Senators has taken the NHL by storm.
In seven starts this season, the 27-year-old White Rock, B.C., native is 6-0-1 with a remarkable .957 save percentage, 1.35 goals-against average and two shutouts. He hasn't allowed more than two goals in any game, was recently named first star of the week and has helped the Senators climb back into the playoff race in the Eastern Conference.
If you're still unfamiliar with Hammond, here's what you need to know about the streaking Sens netminder.
Age: 27
Catches: Left
Height: 6-foot-1
Weight: 216 pounds
Hometown: White Rock, B.C.
Drafted: Signed with Sens as undrafted free agent in 2013
Contract status: $720,000 salary. Set to become a RFA at end of season.
He had an unconventional road to the NHL
While most North American NHL goalies are developed in the Canadian Hockey League, Hammond never played major junior. Instead, after two seasons of Junior A in the British Columbia Hockey League, he elected to attend Bowling Green State University in Ohio. He spent four seasons there before signing a two-year entry level deal with Ottawa in March 2013.
He spent the 2013-14 season and the start of the 2014-15 campaign with the Binghamton Senators before being recalled in February after Craig Anderson injured his hand. When Robin Lehner went down with an upper-body injury, Hammond took the reins and hasn't looked back.
He has a great helmet and nickname
Not only is Hammond in the midst of a near-perfect start to his NHL career, but he also sports one of the best nicknames and helmets in the league. His nickname is "Hamburglar" – yes, like the McDonald's character – because a former college teammate said he was notorious for "for eating up pucks."
He pays homage to that little burger and bun thief on his goalie mask.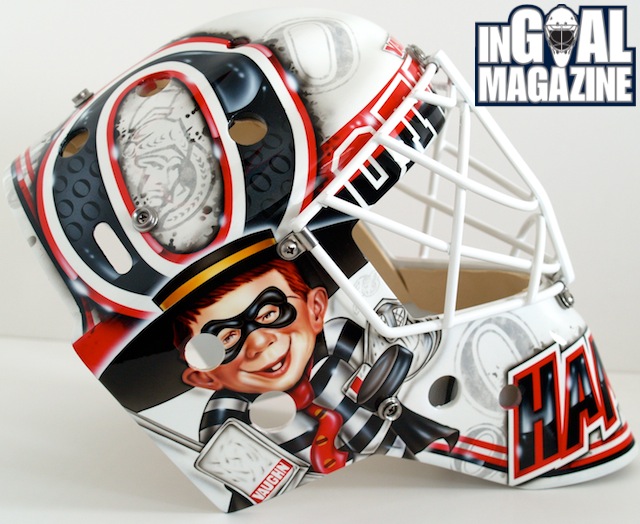 He comes from a great hockey factory
As mentioned above, Hammond didn't have your standard journey to the NHL. The Vernon Vipers are a Junior A team out of the BCHL, but the organization has produced some serious NHL talent. Hammond went 48-29-2 in two seasons with the Vipers from 2007-2009, joining a list of alumni that includes current NHLers Mike Santorelli and Aaron Volpatti, former NHLers Dave "Tiger" Williams, Murray Baron, Rod Pelley, Bill Lindsay, Dallas Drake, plus current Detroit Red Wings GM Ken Holland.
Even former MLB outfielder Nyjer Morgan played for the Vipers.
He has never played this well at any level
Prior to his eight appearances this season with the Sens, Hammond's best save percentage over the course of a full season was .917 in 29 games during his final year of college. His best GAA was 2.30 in 43 games with the Vipers in 2008-09. Obviously he wasn't facing top competition in those seasons, which makes what he's doing in the NHL all the more impressive.
He's lucky he was a younger brother
In this 2011 Q & A while Hammond was still in college, he goes into detail about why he looked up to fellow goalie Jordan Sigalet – currently the goaltending coach for the Calgary Flames – and how his older brother helped shape him into the player he is today.
He needs a new phone!