Hockey fans are soon going to be familiar with the name "Auston Matthews."
The American hockey prodigy is currently projected to go No. 1 in the 2016 NHL Draft, has been honing skills with the U.S. National Development Program in Ann Arbor, Mich., and is expected to make a decision in the next few weeks on whether to attend college or play major junior in the fall.
Matthews is a skilled, two-way centre who uses his size and strength to protect the puck in the offensive zone, while also priding himself on being difficult to go up against in his own end.
Here's what you need to know about the future hockey superstar:
Age: 17
Position: Centre
Shoots: Left
Height: 6-foot-2
Weight: 194 pounds
From: Scottsdale, Ariz.
Contract status: Eligible for 2016 NHL Draft
He's the next, next, next one…
While 2015 was all about McDavid and Eichel, 2016 will be the year of Matthews. Of course projections could change over the next year, but as of right now Matthews is projected to be the No. 1 pick in the 2016 NHL Draft.
"If he was in this year's draft he'd be right up there and talked about in the same breath with [McDavid and Eichel]," NHL Director of Central Scouting Dan Marr recently told NHL.com. "The thing about Auston is, game in and game out for two years now, it's been the same thing. He only knows one speed and that's full speed, and he does it at practice and game situations."
He was two days too young for the 2015 draft…
Matthews was born on Sept. 17, 1997 but the cut-off date for the draft each year is Sept. 15, so he missed out by a mere 48 hours. If he was eligible for the 2015 draft, the consensus among scouts is that he would be a guaranteed top-five pick and likely would've gone third overall. His favourite team growing up was the Coyotes, which happen to hold the No. 3 pick this year. Oh the irony.
He can join a quality group of his countrymen…
If Matthews does in fact go No. 1 next year, he would be the seventh player from the United States to hold that honour and the first since Erik Johnson and Patrick Kane went back-to-back in 2006 and 2007, respectively. Americans taken first overall: Brian Lawton (1983), Mike Modano (1988), Bryan Berard (1995), Rick DiPietro (2000), Erik Johnson (2006), Patrick Kane (2007).
He is highly coveted in both college and junior…
"The bidding and pushing is fierce on Auston Matthews," Damien Cox said during a Hockey Night in Canada broadcast back in March. Matthews' CHL rights belong to the Western Hockey League's Everett Silvertips after they drafted him 57th overall in the WHL Bantam Draft in 2012. Meanwhile, Matthews is also considering attending elite hockey programs at Boston University, Boston College, Michigan, North Dakota, Wisconsin and the University of Denver.
He has an impressive international resume…
In 60 games with the U.S. National Under-18 Team this season he had 55 goals, 62 assists for 117 points and only 30 penalty minutes. Matthews has been teammates with 2015 draftees Eichel, Noah Hanifin, Zach Werenski plus Detroit Red Wings prospect Dylan Larkin as part of the USNTDP. Some of his notable accomplishments while representing Team USA include: He helped lead Team USA to gold at the U18s in 2014, made an appearance at the 2015 world juniors, recently won another gold medal at the 2015 U18 worlds while leading the tournament in scoring and being named MVP.
He made a bit of history this year…
Matthews played an exhibition game with Team USA at the World Championship against Austria this year becoming the first player to suit up at the worlds before reaching draft eligibility. Fans should get used to seeing Matthews in a Team USA jersey as he'll be a staple at the next world juniors, future World Cups, World Championships and maybe even Olympics (fingers crossed).
He is half Mexican…
Matthews' father is from California and his mother is from Mexico. He would join a short list of NHL players with a Mexican heritage, including current NHLers Scott Gomez of the New Jersey Devils and San Jose Sharks forward Matthew Nieto.
He is part of a new wave of hockey talent…
To date it has been virtually unheard of for someone from Arizona to make it to the NHL. The last player to do it, technically, was Sean Couturier. The Philadelphia Flyers centre was born in Arizona but raised in Bathurst, N.B., and represents Canada at international tournaments. Matthews is among the wave of young American hockey players from the southwestern United States.
Back in March, Damien Cox wrote: "Since 1992, the registration of hockey players in the Pacific, Rocky Mountain (Arizona, Colorado, Texas) and southeastern U.S. has increased by 240 percent, more than half of that has come over the past 10 years. In the same time period, there have been NHL teams added in Florida, Dallas, Phoenix, Denver, Anaheim, San Jose and Nashville, joining the Los Angeles Kings, whose acquisition of Wayne Gretzky in 1988 undoubtedly accelerated interest in the sport in virgin territories."
He's a life-long Coyotes fan whose favourite players are still active…
Growing up in Arizona, Matthews' began attending Coyotes games when he was two years old. His two favourite players were Shane Doan and Daniel Briere. In some ways, Matthews is a combination of his two hockey idols. He possesses skill, soft hands and finesse like Briere while also being able to outmuscle opposing players with his big frame like Doan.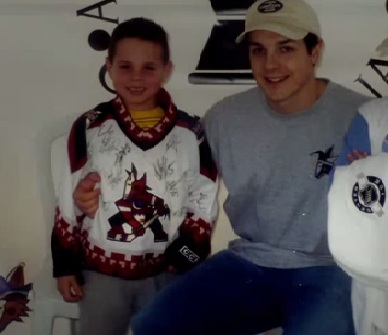 (Matthews seen here as a kid with Briere. Image from FOX Sports Arizona)
His uncle was in the NFL…
Athletics clearly run in his family as his uncle, Wes Matthews, played for the Miami Dolphins in 1966 where he finished the season with one catch for 20 yards.
He shares a birthday with The Great 8…
You know who else was born on Sept. 17 and ended up being a first overall pick? Alex Ovechkin — he of five Maurice "Rocket" Richard Trophies and three (soon-to-be four?) Hart Trophies. While Matthews' birth date means we have to wait another year to see which NHL team picks him, it might be a good omen, if you believe in that kind of stuff.
His name is Auston, not Austin…
While it might still be uncommon for athletes from the southwestern United States to excel at hockey, spelling your name A-U-S-T-O-N is far more uncommon. According to Wikipedia, the only two other notable Austons are: Former CFL/NFL defensive end Auston English and Irish polo player Auston Rotheram who competed at the 1908 Summer Olympics. That's it!
His cliché interview answers game is already super strong…
Yet to drop any "gotta get pucks in deep" on camera that we know of, he's still well on his way to elite hockey interviewee status.