Choosing Team Canada, Team USA or Team Sweden for the 2016 World Cup of Hockey comes with its own challenges, but they are less about projecting talent.
It's not "Can this player play at the World Cup level?" It's more like, "Which players from this large pool of World Cup-ready players will I choose to fill my roster?"
For Edmonton general manager Peter Chiarelli, who along with Chicago GM Stan Bowman is co-GM of the U-24 Team North America, it's a whole different task.
---
Watch: World Cup of Hockey Roster Announcement | March 2 at 4 p.m. ET on Sportsnet
---
"You're still projecting on some of these players," said Chiarelli, who has come to like the challenge of building this team of players who will be 23 years of age on Sept. 1, 2016.
"It's a cross between pro scouting and amateur scouting, because these players change way more than 25- or 26-year-olds," Chiarelli said. "An older player can have a lull in his game, but you know what you're going to get. These guys, their swings are huge. It's actually been kind of cool in our meetings, because there's always a guy whose game is taking off.
"Like (Shayne) Gostisbehere. We had him on our radar when he was in the minors. Since he's been up, he's just taken off."
Gostisbehere, the Philadelphia defenceman who has blasted onto the NHL scene with a 13-game point streak, provides an excellent example of the issues facing the men putting together the first ever Young Guns team to compete at one of these events.
They need some experience on this 23-man roster, a term that is relative when dealing with players this young. But, for instance, Sean Couturier and Ryan Nugent-Hopkins could be Chiarelli's only 300-game NHL players. That experience is valuable, especially you're going to also have a centre like Connor McDavid, who could have just 45 games, or Dylan Larkin and Jack Eichel with just one season under their belts.
So Gostisbehere also provides a good example of an inexperienced player who appears to be very good offensively. But at this level there's no room for one-trick ponies.
"He's a real good power-play guy, but can he defend? He sure has a big shot," assessed Chiarelli. "We've been watching his defending, but to carry a specialty player — which he was at the start of the year — in a short tournament, is a tough task. He's still a young kid learning his way in the league."
While Nugent-Hopkins' broken hand will give others a chance to take a run at his job, Noah Hanifin is causing Chiarelli and his scouts to revisit Carolina.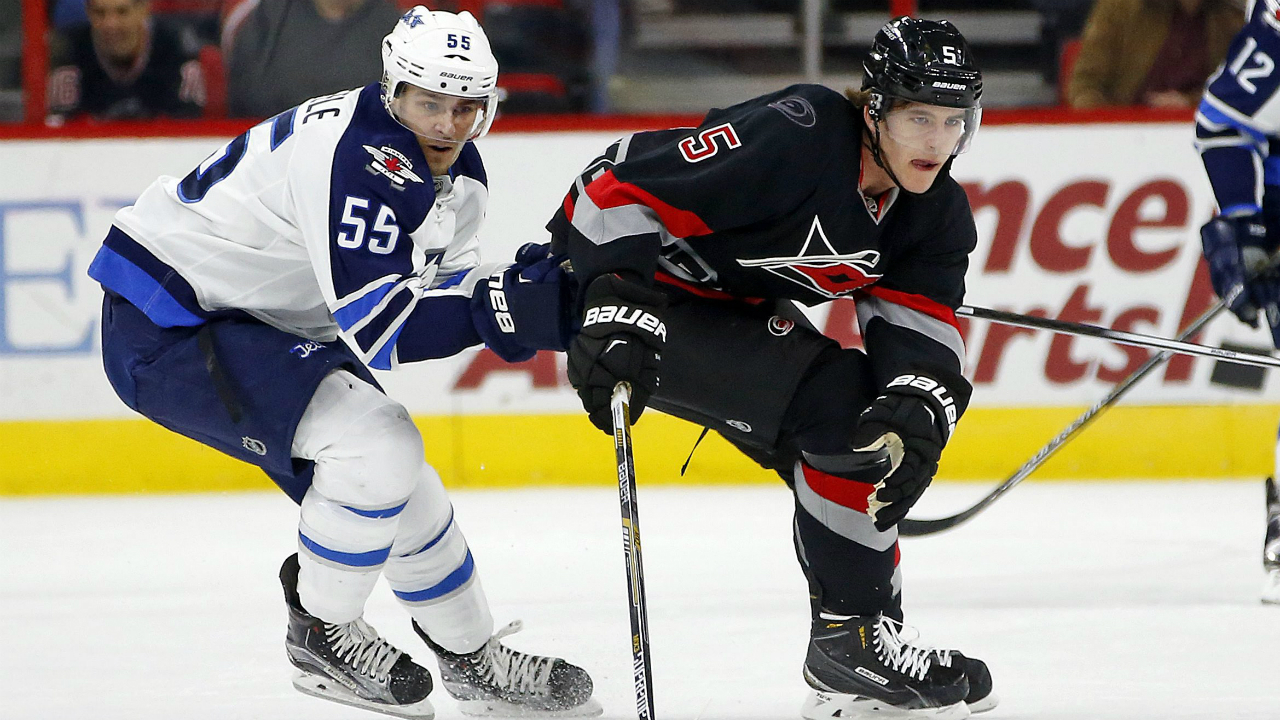 Carolina Hurricanes' Noah Hanifin (5) controls the puck in front of Winnipeg Jets' Mark Scheifele (55) during the second period of an NHL hockey game, Tuesday, Feb. 16, 2016, in Raleigh, N.C. (AP Photo/Karl B DeBlaker)
"He's a young D-man we're going have to project on," Chiarelli said. "He's right in the discussion, but one of the issues is, like all young defencemen he plays some sheltered minutes. That's how you bring along your young defencemen. We all shelter them when we can. So this is a challenge for us, sorting through all the minutes these guys play."
Like the other World Cup GMs, Chiarelli and Bowman will have to submit a list of 16 players named to the Team North America roster on March 1. The remaining seven spots must be decided upon in June.
Chiarelli would not divulge his early roster, but since last we spoke his goaltending has solidified. Both John Gibson (Anaheim) and Connor Hellebuyck (Winnipeg) have provided a large enough NHL sample size to allow the GMs to rest easy.
"Those two guys, it makes it easier on us when we know they've got those games under their belts," he admits. "Not having to watch them in the American League and judge their game, to see if it's ready for World Cup play."
And like every one of these all-star rosters, they'll have to convert some centres to the wing.
Here is my projection for the Team North America roster, with an asterisk beside the 16 players we expect to be named on March 1:
Roster
Line 1: *Johnny Gaudreau – *Connor McDavid – *Dylan Larkin
Line 2: *Brandon Saad – *Sean Monahan – *Nathan MacKinnon
Line 3: Jonathan Huberdeau – *Ryan Nugent-Hopkins – *Jack Eichel
Line 4: Alex Galchenyuk – *Sean Couturier – Max Domi
Extra:  Mark Scheifele
1st Pair: *Morgan Rielly – *Aaron Ekblad
2nd Pair: Ryan Murray – *Seth Jones
3rd Pair: *Jacob Trouba – *Cody Ceci
Extra:      Colton Parayko
Starter:  *John Gibson
Backup: *Connor Hellebuyck
Resrve:      Matt Murray