Complete.
That's the one word you'd use to accurately describe Jake Bean, who led all WHL defencemen in goals this season and was just as reliable in his own end.
It was unthinkable he'd be considered a shoo-in to go in the first round of this year's NHL Draft, especially after he went unclaimed in the WHL Draft two years ago. But since then, he's done nothing but impress.
Here's a deeper look at the 2016 NHL prospect.
Age on June 26: 18
Current Team: Calgary Hitmen (WHL)
Position: Left Defence
Shoots: Left
Height: 6-foot-1
Weight: 170 pounds
From: Calgary
Twitter: @JakeBean_2
NHL Central Scouting Rank (North America): 15th
Jeff Marek's Take: Offensive defenceman with a great snap/wrist shot which he can change the angle on with ease. His defensive game will come in time.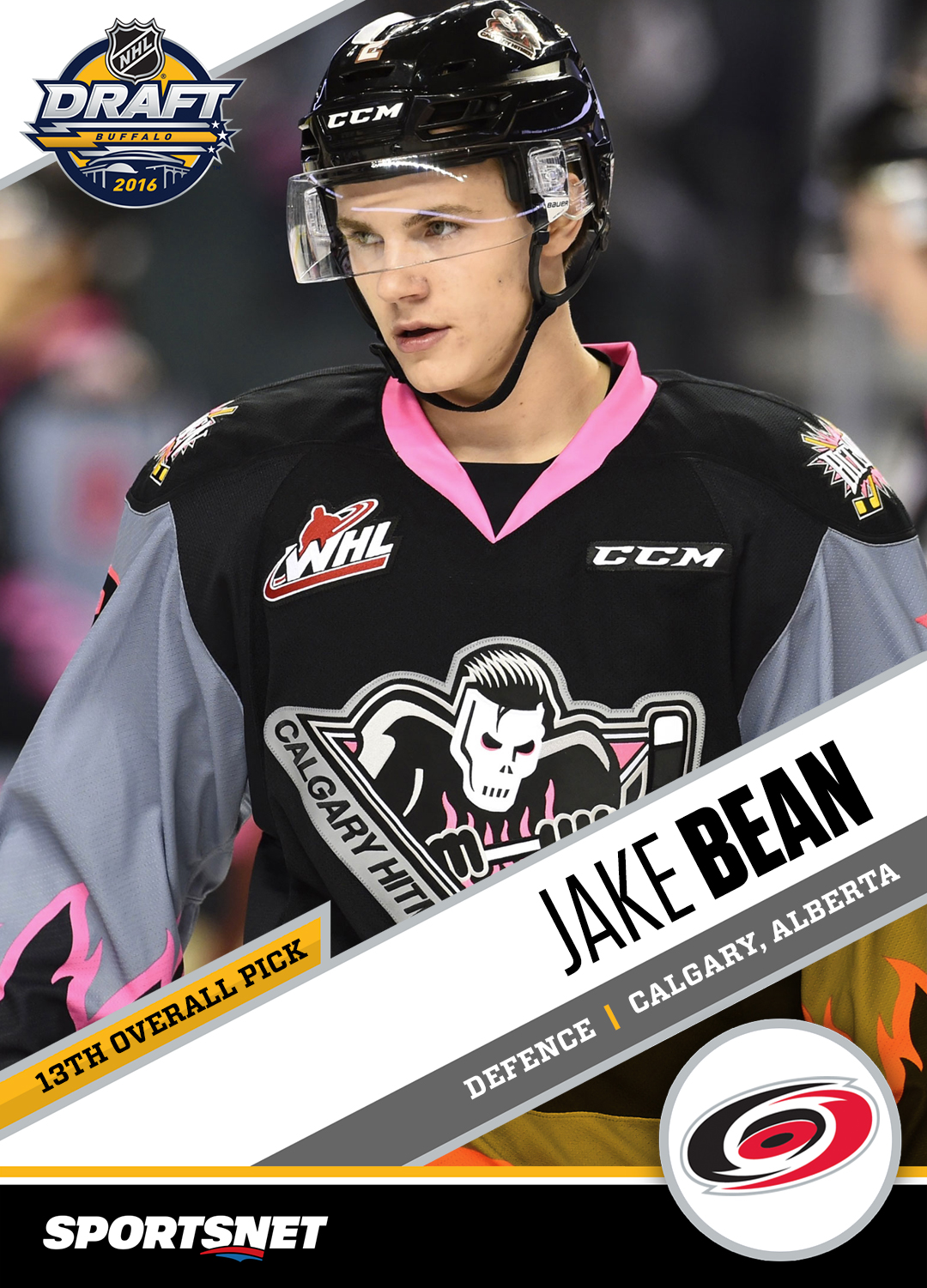 He's got plenty of offensive upside
According to eliteprospects.com, Bean is "a shifty and intelligent defenceman that plays with panache and poise."
Futureconsiderations.ca describes him as "a slick, pass-first, puck-moving blue-liner who is absolutely deadly in transition."
It's easy to see why Bean was able to finish sixth among WHL defencemen in scoring, posting a league-leading 23 goals and adding 40 assists in 68 games.
He's a character player
When Bean wasn't drafted into the WHL in 2014, he could've wilted. Instead, he made a bold decision to try out in his hometown of Calgary — a tough market to break into.
You can see in the video at the top of this post that Bean is a man who carries himself with confidence. That attribute is particularly attractive to NHL teams.
He had a disappointing end to his World U-18 bid
Bean was selected to play at the Ivan Hlinka World Under-18 tournament, but a broken foot deprived him of the opportunity.
He's a power-play specialist
If you're wondering why a skinny six-foot defenceman is rated as highly as he is, looking at his power-play production might give you a clue.
Bean led WHL defencemen with 12 power-play goals this past season. Only five blueliners had more assists with the man-advantage than his 21.
This kid has vision, patience with the puck, great hockey sense and a hard and accurate shot.
"Over the summer, he really worked hard at developing a good shot and made that an asset," Calgary Hitmen coach Mark French told the Calgary Herald in January.
"The things that he can do with the puck are pretty incredible," added Bean's defence partner, Travis Sanheim. "It sometimes amazes me when he's out there and the things he can do offensively. He's a pretty gifted player and he's going to make a pretty good pro."