Coming into the season, Jakob Chychrun was the consensus top-rated defenceman in the 2016 draft class.
The two-way defender has an elite skill set, NHL pedigree, and isn't afraid to throw his body around.
Here's everything you need to know about the blueliner, who should land in the first half of the opening round of the draft.
Age on June 24: 18
From: Boca Raton, Florida
Current Team: Sarnia Sting, OHL
Position: Defence
Shoots: Left
Height: 6-foot-2
Weight: 205 pounds
Twitter account: @j_chychrun7
NHL Central Scouting Rank (North American): 4th
Jeff Marek's Take: Complete defenceman who has battled injuries which caused his draft stock to fall. Great size, physical strength and solid skating lead many to believe his upside is still huge.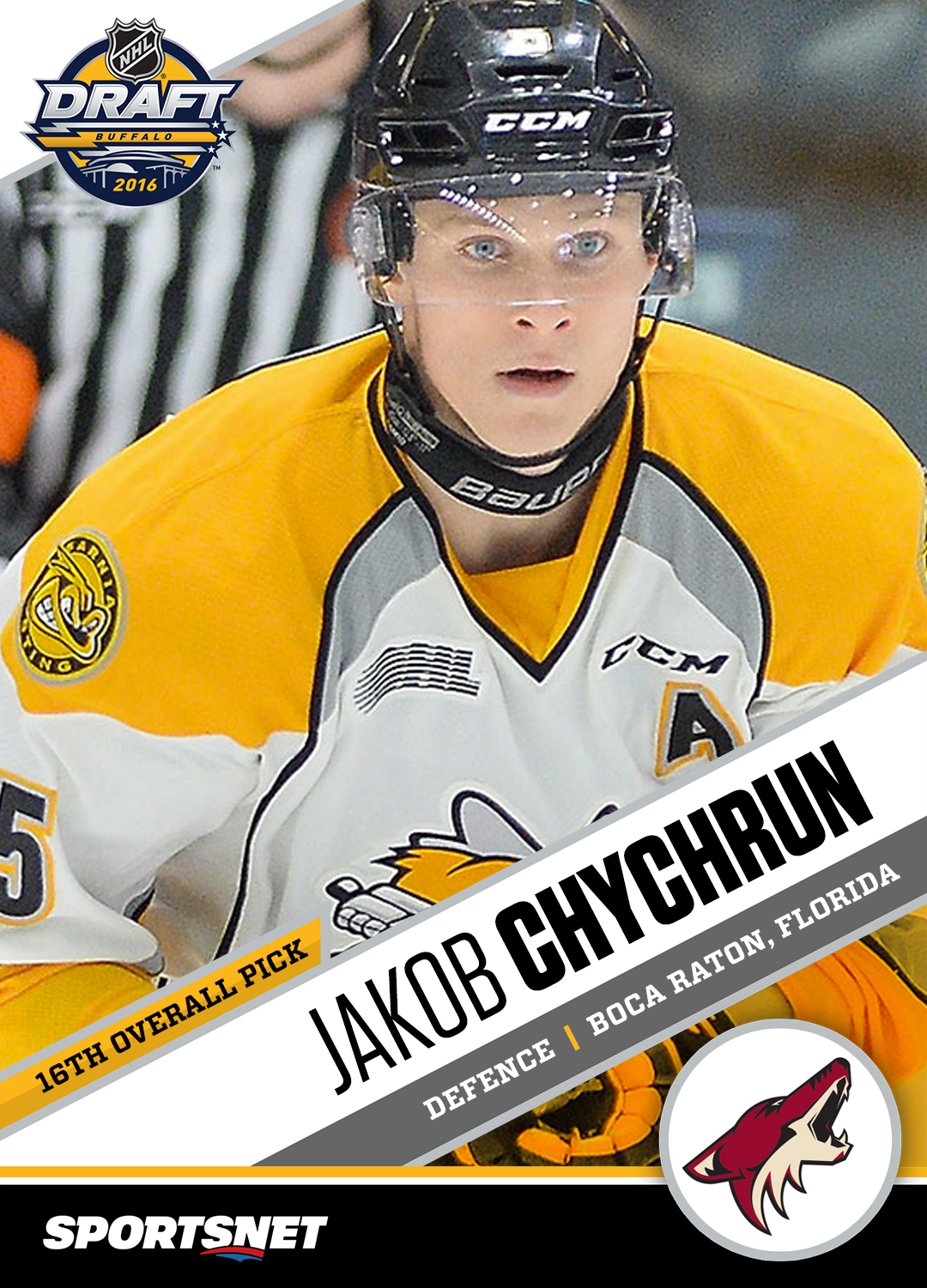 A well-rounded player:
The Boca Raton, Fla., native (not exactly a hockey hot bed. Believe me, I've spent a lot time there. Good place for food.) with Canadian citizenship is a complete defenceman that is rarely out of position in his own zone.
He combines that with size, strength, and hockey sense. Chychrun is a high-quality skater who is effective in transition and his potent shot, vision, and awareness stood out this past season with Sarnia.
As an alternate captain for the Sting, he recorded 11 goals and 38 assists in 62 games before producing at an even higher clip in the post-season, scoring two goals and six assists in seven playoff games.
He came into the Sting organization full of hype, as he was taken first overall in the 2014 OHL Priority Selection, and didn't disappoint in his first junior season. He ranked second in scoring among rookie defencemen and landed on the first all-rookie team and third all-star team, despite a shoulder injury.
One of his best attributes that should be applicable to the pro level is his ability to create shots on net.
He finished third among OHL defencemen in shots on goal this season, which led all draft-eligible players at his position, and according to SB Nation's Pension Plan Puppets, his shot total even surpassed some of the draft's top forwards including Alex Nylander and Matthew Tkachuk.
He has the family bloodlines
Old-school scouting types are typically fond of players who grew up in hockey families.
Chychrun fits the mould as his father, Jeff, played 262 career NHL games as a defenceman with the Phladelphia Flyers, Los Angeles Kings, Pittsburgh Penguins and Edmonton Oilers in the late 1980s and early 1990s.
The 18-year-old is also the nephew of long-time NHLer Luke Richardson, who was selected in the top-10 by the Toronto Maple Leafs (over Joe Sakic) in the 1987 NHL Draft. Richardson amassed over 1,400 career NHL games with six different teams.
Compares favourably to the other defencemen in the class:
Similar to London's Olli Juolevi and Windsor's Mikhail Sergachev, Chychrun is a multi-dimensional defenceman that can skate, make the first past out of the zone, and play a responsible game defensively.
"Chychrun, in a sense, held them off, but it's a really tight, close bunch because each of them brings something that definitely translates to the pro game and the NHL," Central Scouting's David Gregory told NHL.com. "It was almost a pick-your-favourite-flavour type of thing. If you're able to pick any one of these defencemen in the early part of the draft you'll be happy."
Chychrun is a bit more physical than the aforementioned prospects. He has an active stick and can comfortably play in all situations without being a liability.
Bounced around as a kid:
As mentioned above, Chychrun grew up in Florida and began playing hockey there with the Juniors Everblades and the Florida Jr. Panthers. When he was 13, he also joined a hockey organization in Detroit, Little Caesars hockey organization, in which he played his major bantam season. At the same time, he still lived and practiced in Florida while travelling to Michigan on the weekends to play.
Sounds like a bit of an inconvenient commute. But that wasn't the end of them.
When he was 15, USA Hockey put in a rule that required 15-year-old players to receive a special exemption to play junior hockey. He applied for one but was denied so he moved to Toronto to play his minor midget season with the Toronto Jr. Canadiens.