He's the son of a Stanley Cup winning 1,000-point NHLer, the product of Minnesota's hockey-loving state, and a sharp-shooting, goal-scoring stud.
Here's a closer look at 2016 NHL prospect Kieffer Bellows.
Age on June 24: 18
Current Team: U.S. National Development Team (USHL)
Position: Left Wing
Shoots: Left
Height: 6-foot
Weight: 195 pounds
From: Edina, MN
Twitter: @BellowsKieffer
NHL Central Scouting Rank (North America): 10th
Jeff Marek's Take: Hits hard, but wouldn't call him punishing. Competes hard and plays a simple game.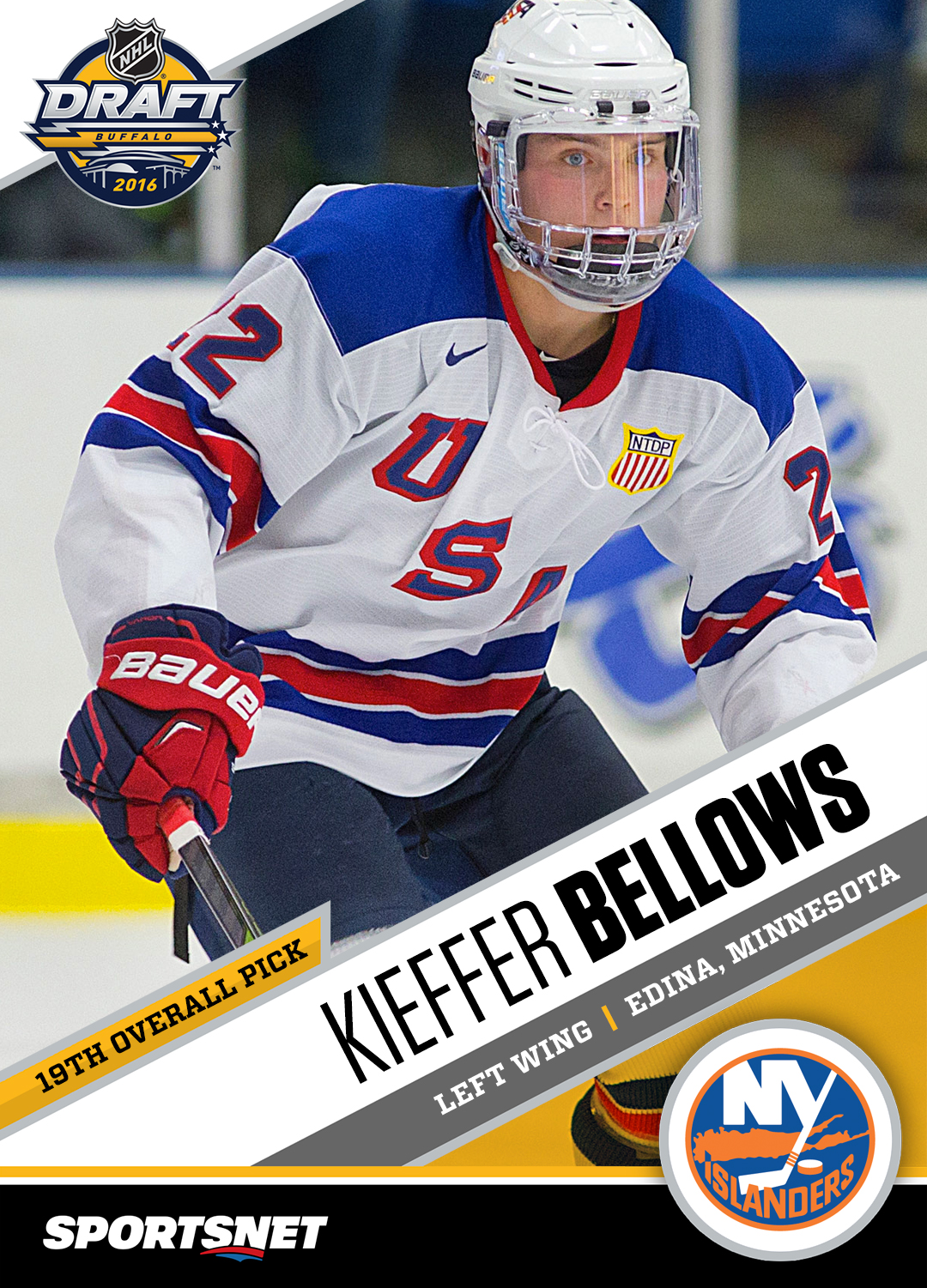 Welcome to the snipe show
This kid can shoot the puck with the best of them. His vision, shifty moves, and determination put him in a position to pull the trigger — and the result is often deadly.
Sportsnet's Damien Cox referred to Bellows as "a pure shooter who loves to score and can play with an edge."
Eliteprospects.com calls him "a skilled power forward who can dominate the game."
Put it all together, and you can see why Bellows has been so successful at every level.
He's coming off his best campaign yet, leading the U.S. National Development Team in goals (50) and power-play goals (12) while adding 31 assists for 81 points in 62 games. He also added 101 penalty minutes, which lends credibility to that 'playing with an edge' assertion.
He's a coachable player
It's been a steady progression for Bellows, who won a state championship with his high school in 2014.
Playing with the Sioux Falls Stampede of the USHL, Bellows racked up 33 goals and 19 assists in 58 games on his way to collecting rookie of the year honours in 2015. He then helped the team win a USHL championship.
What Stampede coach Cary Eades said about the winger is exactly what NHL teams want to hear:
"One of the things that sets him apart is that he is coachable," Eades told David Hahn of hockeysfuture.com. "He soaks everything up and then applies that to his game."
That's likely to make Bellows a standout at Boston University, where he'll play alongside longtime linemate Clayton Keller.
He's received international acclaim
As part of a bronze-medal win this year, Bellows registered five goals and three assists in seven games at the World Under-18 tournament in Grand Forks, ND.
He's his father's son
The apple doesn't fall far from the tree in the Bellows household.
Father Brian, the second overall pick in the 1982 draft, played over 1,700 NHL games — most of them with the now-defunct Minnesota North Stars. He scored 1,022 points over the course of his career and won a Stanley Cup with the Montreal Canadiens in 1993.
"[My dad] means everything to me," Kieffer told The Hockey News. "He comes to all my games. He's something special; he's my best friend."
He's a can't-miss prospect
Bellows is the real deal and a sure bet to play in the NHL someday. The versatility in his game suggests he can play a top-six position, but also be a competitive checker.
NHL central scouting lists him as the 10th-best North American prospect at this year's draft. When you look at the complete package, you can see why.