He hails from Mississauga, Ont., where he and his two brothers honed their hockey skills alongside the Strome brothers. And he might just be the fastest skater available in this year's draft. Here's all you need to know about 2016 NHL prospect Michael McLeod.
Age on June 24: 18
Current Team: Mississauga Steelheads
Position: Centre
Shoots: Right
Height: 6-foot-2
Weight: 187 pounds
From: Mississauga, Ont.
Twitter: @mikey97mcleod
NHL Central Scouting Rank (North America): 13th
Jeff Marek's Take: The speedster loves making things happen by crashing in through the front door. Has a good shot but doesn't seem to use it often enough.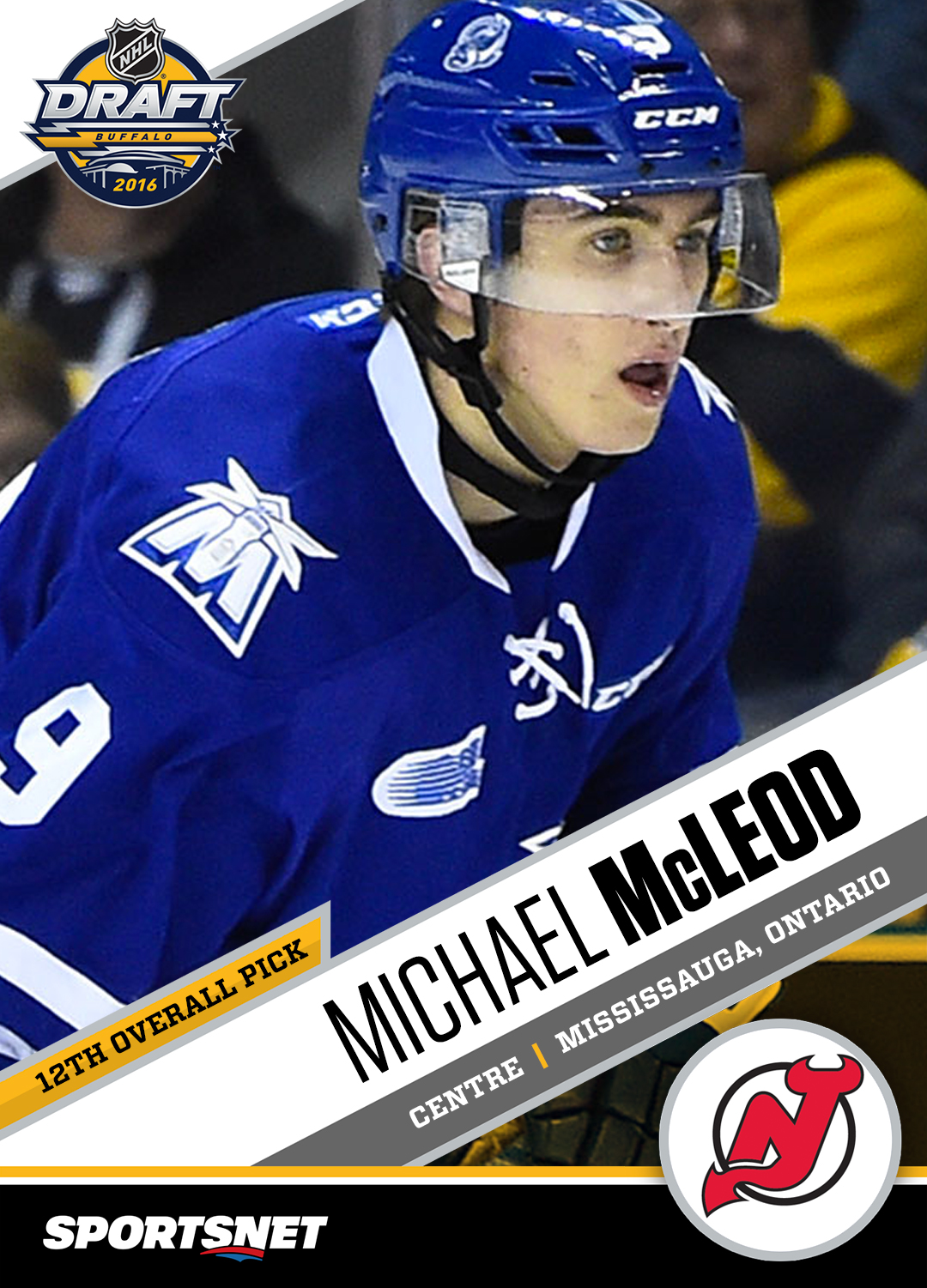 BIG AND COMPETITIVE
He's got size. And according to this report from eliteprospects.com, he knows how to use it.
He's been billed as hard to play against, extremely competitive and highly skilled. Put the whole package together and you end up with a player who'll remind you of Anaheim Ducks' centre Ryan Kesler.
NEED FOR SPEED
McLeod's been referred to as the fastest player in the OHL for good reason. It's not often you see a player with his size motoring around like this:
Sportsnet's Damien Cox wrote in December that it might take some time for McLeod's hands to catch up to his feet. But in finishing with 21 goals, 40 assists and 61 points in 57 games for Mississauga this season, it would appear his skills are developing quickly.
IT'S A FAMILY AFFAIR
Hockey runs deep in the McLeod family.
Older brother Matt just finished his freshman season at Canisius College, where he serves as a defensive defenceman. And younger brother Ryan is a highly touted 16-year-old prospect who just finished his rookie season with the Steelheads, collecting seven goals and 13 assists in 62 games.
The McLeod brothers also grew up with Matt (Hamilton Bulldogs, OHL), Ryan (New York Islanders) and Dylan Strome (Arizona Coyotes).
"To say the families are close is an understatement," wrote Jane Gerster in the Toronto Star in January of 2014. "They are intertwined to the extent that the six boys have been occasional teammates, long-time classmates, driveway shinny partners, unofficial coaches and constant best friends."
At the competitive level, both Mike and Ryan McLeod played Midget 'AAA' alongside Matt Strome with the Toronto Marlboros.
FINISHING STRONG
McLeod more than doubled his scoring production in the OHL this season over last.
He was admittedly nervous when NHL scouts started showing up at games earlier this season.
"As the year went on, they're there every night. You just learn to deal with it and not think about it." McLeod told Dave Shoalts of the Globe and Mail.
McLeod finished the year strong with three goals and seven assists in Mississauga's seven-game loss to the Barrie Colts in Round 1 of the OHL playoffs. And he had two goals and two assists in seven games with Team Canada at this year's IIHF U18 World Championship in Grand Forks, ND.