Patrik Laine might be the closest thing to Alex Ovechkin since the Russian superstar broke into the league more than a decade ago.
Laine, one of the most promising prospects to come out of Finland in a quarter century, is an offensive juggernaut guaranteed to be one of the first players off the board on June 24.
He has the size, speed, shot and hockey sense to make an immediate impact in the NHL.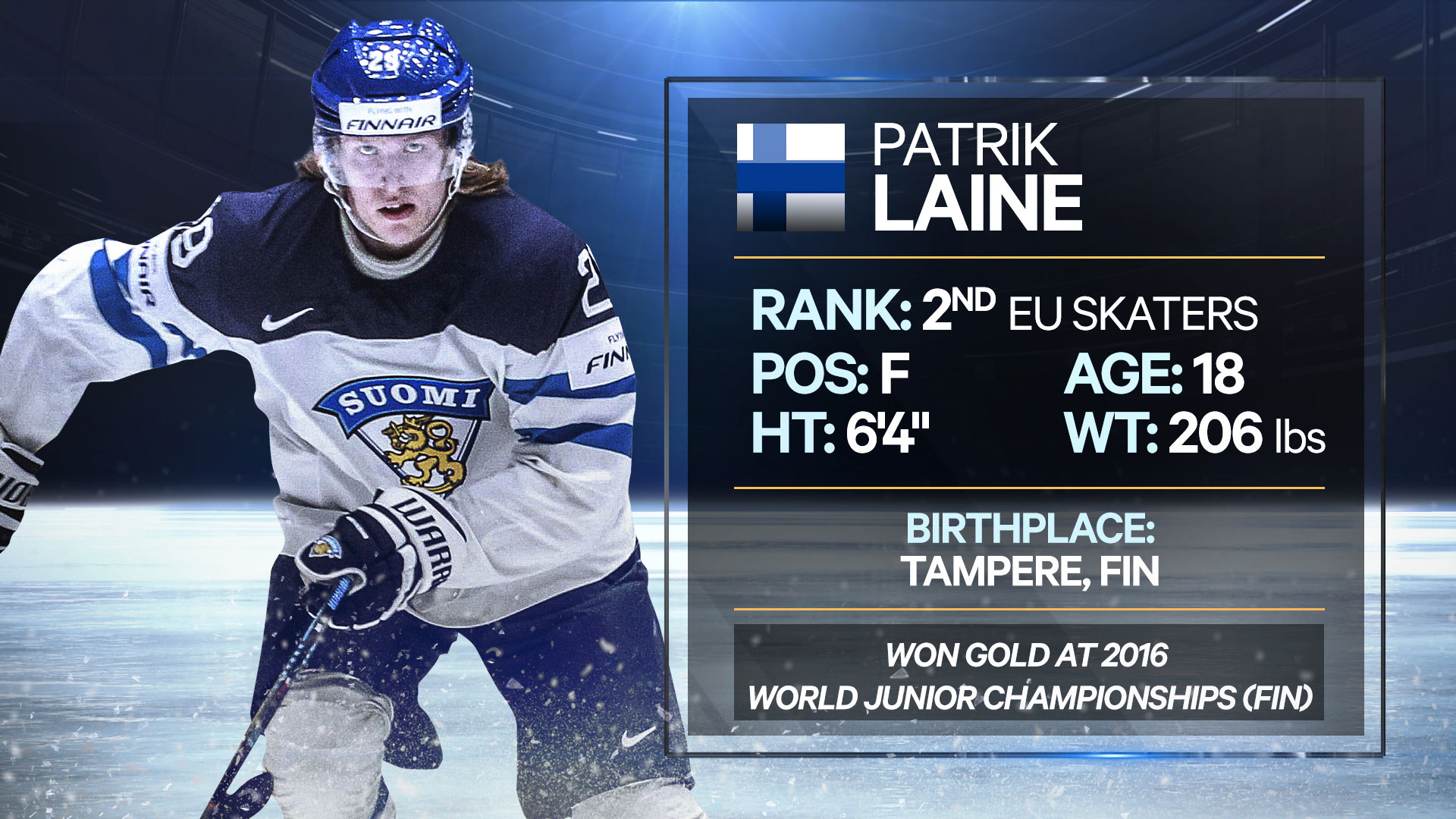 "Laine is a player with great offensive instincts and a nose for the net," NHL Director of European Scouting Goran Stubb told NHL.com in December. "He is not only a sniper, he's also a very effective playmaker and passer who knows his defensive duties. He has matured both on and off the ice."
Here's what you need to know about the Finnish winger:
Age on June 24: 18
From: Tampere, Finland
Current Team: Tappara Tampere
Position: Left Winger
Shoots: Right
Height: 6-foot-4
Weight: 206 pounds
Twitter account: @PatrikLaine29
NHL Central Scouting Rank (European): 2nd
Jeff Marek's Take: When the play sets up in the offensive zone there is nobody better in the draft. Dynamic goal scorer.
Playing in Team Finland garb helped raise his draft stock…
At the beginning of the season, Laine was projected by most to be a top-10 pick — Damien Cox had him ranked as the No. 4 prospect in October — but there wasn't necessarily huge buzz around his name. His stock progressively improved throughout the season, however, and following tremendous performances at the world juniors and World Championships he was essentially locked in at No. 2 behind Auston Matthews.
Laine registered seven goals, six assists in seven games and was named a WJC tournament all-star en route to winning a gold medal with Finland. He then proved his mettle against stiffer competition at the World Championships in May. He finished with 12 points in 10 games, tied for the tournament lead in goals with seven and was named tournament MVP.
Despite his excellent individual performance throughout the tournament, Finland fell short to Canada in the gold medal game. Laine was devastated and it resulted in this heartbreaking moment captured by Pavel Golovkin of The Associated Press.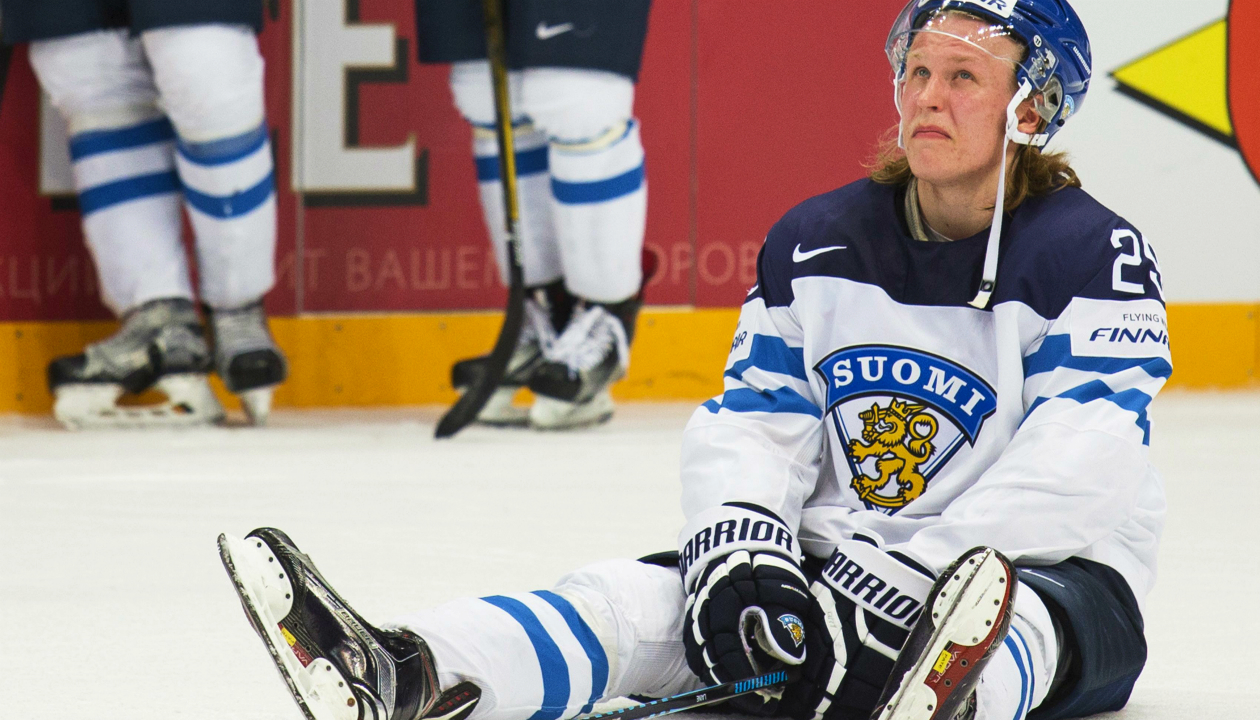 Laine is the type of player that lays it all on the line when he's out there.
He won the Jari Kurri Trophy…
In addition to all the acclaim he received during international play, Laine was solid for his club team Tappara Tampere. He finished third on the team in goals (17) and fifth in points (33) in 46 regular season games but took his game to a new level in the playoffs. He led them to a Liiga championship in April where he registered a playoff-high 10 goals in 18 games and earned the Jari Kurri Trophy, which is the Finnish equivalent of the Conn Smythe.
(This compilation video says nine goals, but he did score 10 in the playoffs)
He's drawing comparisons to the Great 8…
It's somewhat of a faux pas to compare anyone to Alex Ovechkin unless it's truly warranted. Ovechkin has more goals and points than any player since making his NHL debut in 2005. In fact, his 525 goals during that time is so far ahead of the pack the next best mark is Jarome Iginla's 361 tallies. Still, people keep mentioning Laine in the same breath as the Washington Capitals sniper and for some very obvious reasons.
Although he doesn't throw his body around quite as often as Ovie, Laine does play a physical game and they've got a similar body type. Being a right-handed shot that plays on the left side, his excellent one-timer is often on display. Not to mention his laser-quick release is very much Ovechkin-like. Check out this snipe job.
Laine's favourite player as a kid was Ovechkin so it's quite poetic he's the player considered most similar to No. 8 to come along in the last decade. During a Finland-Russia World Championship game, Ovechkin hammered Laine along the boards. After the game Laine was quoted as jokingly saying, "Yeah, I won't wash this jersey ever because he hit me."
His Draft Lottery day interview was legendary…
During the 2016 NHL Draft Lottery broadcast, Daren Millard conducted a FaceTime interview with Laine and it quickly became the stuff of legend.
"As somebody who's been in this business for almost 25 years, that is top three strangest interviews. Out of respect for somebody I'm forgetting, I'll say top three. Otherwise, I'd go straight to No. 1 as one of the strangest conversations I've ever had with an athlete," Millard said during a live taping of the Tape II Tape podcast on Sportsnet 590 The Fan. "He marches to the beat of his own drum."
In fairness to Laine it was 3 a.m. in Finland at the time of the interview but check it out for yourself.
He has the Jets and GM Kevin Cheveldayoff thrilled…
Originally in the No. 6 slot, the Winnipeg Jets leapfrogged the Flames, Blue Jackets, Canucks and Oilers to win the No. 2 pick during the NHL Draft Lottery. Presuming the Maple Leafs do what's expected of them and select Auston Matthews with the first pick, this leaves the Jets free to take Laine. The thought of a right-handed, goal-scoring winger from Finland donning a Jets uniform is something Winnipeg fans have yearned for since the days of Teemu Selanne in the mid-'90s.
"I thought we struck it rich," Jets GM Kevin Cheveldayoff told Hockey Central at Noon on Sportsnet 590 The Fan. "The emotion of having the opportunity to draft second for us was fantastic. We're really excited about that opportunity."
Jets centre Mark Scheifele added: "He's pretty unbelievable. He's obviously young, and sometimes you can tell that, but his skill level [and] his shot is outrageous. He skates really well. You can tell he's going to be a very special player. I know if we end up getting him, he'll definitely be a huge improvement to our team. He'll fit in well for sure."
LAINE THINKS LAINE SHOULD GO NO. 1
There's no questioning the confidence of this 18-year-old kid. In an interview with Sportsnet's Kristina Rutherford at the combine, Laine didn't even let the full question get asked before he answered.
'If you were an NHL GM and you had to draft…'
"Me," Laine says. "Me."
After Matthews was the consensus No. 1 overall pick for more than a year, it was surprising to see Laine come up and challenge him in the last few months. Still, most onlookers agree that what will keep Matthews ahead of Laine on the draft day order is the fact Matthews plays the highly desired centre position, while Laine is a winger.