Aaron Ekblad, Connor McDavid, Auston Matthews…Nolan Patrick?
The 2017 NHL Draft is drawing near and for the first time in many years there is some question as to who will be picked first overall on June 23 in Chicago.
The favourite to go No. 1 remains Nolan Patrick, centre for the WHL's Brandon Wheat Kings, who has held that distinction for more than a year. A couple players have challenged that ranking ever since, but Patrick heads into the end of the season as the top-ranked player in 2017.
A Winnipeg native, Patrick has spent the past three seasons in the WHL, although this season he was slowed by injuries, which has been the main knock against him. In 33 games with the Wheat Kings in 2016-17, Patrick scored 20 goals and 46 points, but he missed Brandon's quick four-game playoff exit with another injury.
Here's what you need to know about Patrick…
Team: Brandon Wheat Kings
From: Winnipeg, Man.
Height: 6-foot-3
Weight: 203 pounds
Position: Centre
Twitter: @nolan_patrick19
HIS ONLY FULL WHL SEASON WAS A HUGE ONE
Patrick played 72 regular season games in 2015-16 and finished fifth in WHL scoring with 41 goals and 102 points, which were much higher totals than the first two forwards from that league taken in the 2016 NHL Draft, Brett Howden (64 points, 27th overall) and Sam Steel (70 points, 30th overall).
Taking it a step further, Patrick was an integral part of Brandon's run through the 2016 WHL playoffs. The Wheat Kings lost just five games in four rounds as they cruised to a league championship and a Memorial Cup berth and with 30 points in 21 games, the 17-year-old Patrick earned playoff MVP honours.
He wasn't as productive in the 2016 Memorial Cup, posting just one assist in three losses. But that tournament is generally a place where older players shine, so that slowdown in production shouldn't be viewed as a knock on the then-17-year-old.
The year before, in 2014-15, Patrick scored 30 goals and 56 points in 55 games and was named WHL Rookie of the Year.
This season, however, was a little less impressive…
HOW WILL INJURIES IMPACT HIS DRAFT STOCK?
To begin, if Patrick does fall out of the top spot in the draft, don't expect him to drop too far in the order. In fact, if he doesn't go No. 1, odds are he'll go No. 2.
But in his draft year, Patrick missed a few big events, from Canada's summer world junior camp, to December's World Junior Championship and Brandon's short playoff life. He missed the summer camp because of surgery he had for a sports hernia in mid-July and although he was back for the start of the WHL season, he played just five games (scoring eight points) before he was out again with an upper-body injury. That injury forced Patrick out of the WJC and he didn't get back in Brandon's lineup until mid-January.
Meanwhile, Nico Hischier was turning heads with a terrific WJC and by finishing top 10 in QMJHL scoring. Patrick played just 33 regular season games for the Wheat Kings and his point-per-game total dropped slightly from 1.42 in 2015-16 to 1.39 in 2016-17. That may not seem large, but for a top-ranked prospect, it's a little odd.
How much will his injuries affect him on draft day?
"Nolan's situation is part of the game and for NHL clubs it's a talking point in draft deliberations," said Dan Marr, director of NHL Central Scouting. "And from many recent discussions with NHL personnel it will have absolutely no negative implications or bearing on Nolan's draft status."
The Hockey News' Ryan Kennedy moved Hischier past Patrick as the top-ranked prospect in the 2017 Draft, largely because of the injuries, but also because of the tremendously productive season from the Swiss forward. One executive told Kennedy that Patrick "has been a bit underwhelming."
The best recent example of a high-ranked prospect who had his draft season derailed by injury is Alex Galchenyuk, who was limited to just two games with the Sarnia Sting in 2011-12 after sustaining a knee injury. At the end of the season, Galchenyuk finished fourth on Central Scouting's Rankings, and ultimately landed with the Montreal Canadiens, who chose him third overall.
With Patrick, though, it's not just a one-season thing. Injuries have followed him through his teenage years. Ever since he started playing bantam hockey at age 13, Patrick has played more than 75 per cent of his team's games just twice, and the full 100 per cent just once — the 2015-16 season with Brandon.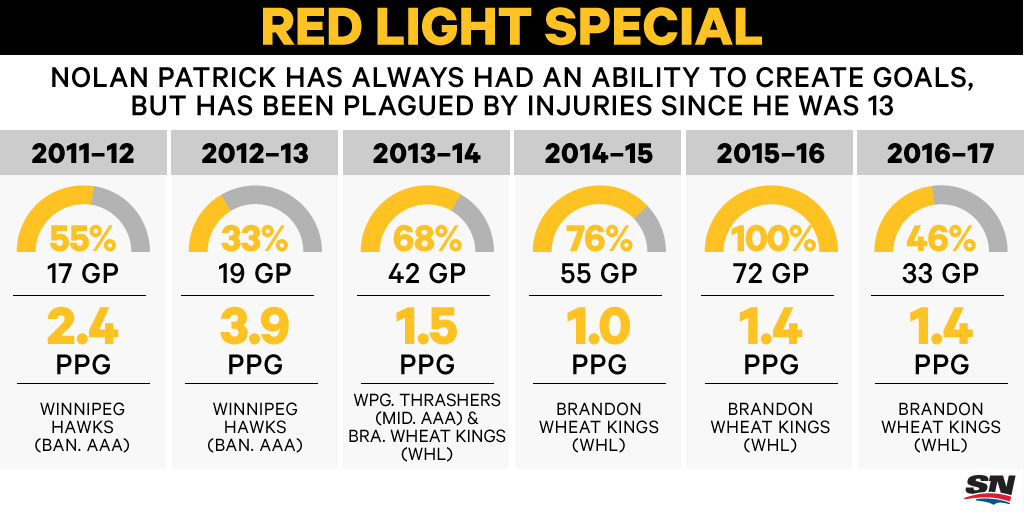 HE'LL BE THE THIRD MEMBER OF HIS FAMILY DRAFTED INTO THE NHL
NHL blood runs in the Patrick family. Nolan's father, Steve, was picked 20th overall by the Buffalo Sabres in the 1980 draft also out of the Brandon Wheat Kings program. A right winger, Steve went on to play 250 NHL games with Buffalo, the Rangers and Quebec, scoring 40 goals and 108 points.
Nolan's uncle, James, was picked ninth overall by the New York Rangers in the 1981 draft and he went on to have a long, fruitful NHL career. A defenceman, James played 21 seasons and 1,280 games with the Rangers, Whalers, Flames and Sabres, but never won a Stanley Cup.
"You can't compare it now to when I was drafted," Steve Patrick told Sportsnet's Damien Cox. "Back then, my buddy Dave McDonald, whose dad was Ab McDonald and had played in the NHL, called me and said he'd heard on the radio that I had been drafted by Buffalo. That's how I found out.
"If Nolan is drafted, we'll be extremely proud. If he's first overall, it won't make us any prouder."
And Nolan isn't the only member of the current generation of Patricks to be heavily into hockey. His older sister, Madison, plays at the University of British Columbia and his younger sister, Amy, plays bantam in Winnipeg.
"He didn't get any more attention than the girls. Nolan was a funny little player at eight. I certainly didn't look at him and think he's gonna be a special player," Steve Patrick told Cox. "But he always saw the ice well and even when he was little he could pass the puck. He was a smaller kid and he sometimes played up a year, so I thought he had to be little sneakier to hold on to the puck.
"Plus, he had an older sister who could throw him in a snowbank, so he had to figure a way to keep the puck from her."
Beyond that, the Patricks have many other athletes in the family. Patrick's grandfather, Stephen, played in the CFL and his mother, Carrie, played volleyball for Team Canada.
THREE PLAYERS HE WATCHES CLOSELY: NICKLAS BACKSTROM, ANZE KOPITAR, JAMIE BENN
Patrick isn't the kind of player who will wow you with his speed, as does Connor McDavid, or someone who we'd expect to jump right into the NHL with a 40-goal season, as did Auston Matthews. He's not a highlight-reel player and prides himself on a 200-foot game, so it's interesting to hear him say the closely watches Backstrom, Kopitar and Benn (video at the top of this page).
Think about it, those three players each bring something different to the table. Benn is the goal-scoring power forward, Backstrom is the slick playmaker, and Kopitar the defensively responsible Selke candidate.
Patrick is noted as a cerebral player, and it's a trait he's been recognized for since he was a kid. In Kristina Rutherford's Big Read on Patrick (see here) she writes about the first NHL game Patrick ever attended at age five and how he remembers being curious about plays and players. "I always watched more closely than the other kids," he said. And having his dad and uncle as sounding boards certainly helped.
So when you consider that, his choice of three players to watch screams of a player highly interested in becoming as well-rounded as he can.
HOW DID HE DO HEAD-TO-HEAD AGAINST NICO HISCHIER?
Because of his injuries, Patrick missed out on some of the biggest events of a draft-eligible player's season but he did play in the Sherwin-Williams Top Prospects Game. He captained Team Cherry to a 7-5 win over Team Orr, which was captained by Hischier.
Hischier earned star of the game for his team, scoring a goal and two assists and winning half of his faceoffs. Patrick earned two assists and won 12 of 16 draws.
HE'S NOT TOO SHY TO FIGHT
Remember when Connor McDavid dropped the gloves in the OHL during his draft year and broke his hand? Many people were left wondering why a player with such talent would risk an injury by fighting. Well, Patrick has had at least one fight in each of his WHL seasons, and in fact got two of them this season.
And he's able to hold his own. Here's his 2015-16 tilt against Caleb Fantillo.
WAS ALMOST ELIGIBLE FOR 2016 NHL DRAFT
One of the story lines around Auston Matthews last draft was that his September 17 birthday was two days past the cut-off for eligibility in the 2015 NHL Draft. McDavid-Matthews-Eichel would have made for one heck of a top three.
Patrick finds himself in a similar position. With a September 19 birthday, he was born four days too late to be eligible for the 2016 NHL Draft. How about a top three of Matthews, Patrick and Patrik Laine?
[relatedlinks]