Fresh off a heartbreaking loss to Team USA at the 2018 Olympic Games in Pyeongchang, Team Canada is turning its attention to 2022 in Beijing, where the Canadians will get their chance at a do-over after their silver-medal finish. And when they do, there's a fair chance young Daryl Watts will be a key part of that redemption campaign.
Just 18 years old, the Toronto native is coming off one of the most dominant seasons in NCAA history, leading the country in scoring in her debut season for Boston College.
After piling up an absurd 42 goals and 82 points in just 38 games this season, Watts earned the 2018 Patty Kazmaier Award as the top player in women's college hockey, becoming the only first-year player to ever claim the honour.
Not that it came as a surprise, though, given the slew of records she broke on her way to the top.
Watts' goal and point totals now rank as the most ever posted by a Hockey East rookie, and tie the best single-season sums ever put up by any Hockey East player. Her 42 goals also put her level with four-time Olympian Julie Chu, who posted a similar total as a first-year skater back in 2002-03, sitting alone as the best rookie goal-scorer in NCAA history until now.
One week removed from being named college hockey's best, Watts caught up with Sportsnet.ca to talk growing up in Toronto, finding success in Boston and what it would mean to represent her country at the Olympics.
Sportsnet: First of all, congratulations on the phenomenal season. What has the past week been like since winning the 2018 Patty Kazmaier Award?
Daryl Watts: The last week has been really cool. Winning the Patty Kaz was a really humbling experience — very, very cool and exciting. I'm still kind of in shock that I won the award, but once again, it's just been a very humbling experience.
SN: Take us back to the beginning — what was your experience like starting out in Toronto before you went over to the United States?
Watts: I initially started playing hockey with my brother — we played house league in Toronto. I played boy's hockey until I was in eighth grade and then transitioned to girl's hockey. Then I played in the [Lower Lakes Female Hockey League], then the [Provincial Women's Hockey League] and then I came here.
SN: What do you think about the resources available for young girls starting out in hockey in Toronto? Are you happy with the current system?
Watts: I think it's set up really well. I think Toronto has probably one of the best, if not the best, kinds of programmed hockey leagues, all the way up to the PWHL for girls, in the entire world. It's just because there are so many girls that play in Ontario, so naturally it has one of the most competitive leagues at pretty much all ages. I think that's really important in helping develop hockey players.
SN: Who was someone that inspired you as a player when you were coming up in Toronto?
Watts: When I was younger I obviously looked up to Mats Sundin, because he was a Toronto Maple Leaf. And then, obviously, Sidney Crosby — he's my biggest role model. As I switched into girl's hockey and started to become more aware of girl's hockey, Marie-Philip Poulin. She's probably my biggest role model now, because she's obviously just so amazing, and such a big presence off the ice.
SN: When did you know that you wanted to make the jump to the NCAA?
Watts: When I was playing boy's hockey, I didn't even know that girls could do anything in hockey. And then when I switched to girl's hockey, I realized, 'Okay, there's the Olympics, I can go to college for this.' Then schools started to recruit me. So that's when I realized, 'Oh okay, this is where I'm going to go.'
SN: You just finished up your first year in the NCAA — how did you find the transition into college hockey? What was that adjustment like for you?
Watts: The first couple of games, I realized that the pace of the game in college was way faster, the girls were just way stronger. So I had to make a couple of adjustments and I think I finally figured it out right before Christmas break. You learn that you just need to release the puck quicker, make passes quicker, just speed everything up. It took a little bit to adjust to that.
SN: Tell me about your teammates — how did this team and this specific group of players contribute to all the success you had this year?
Watts: They're the best teammates I've ever had — it's really a family environment where we all care about each other, we're all there for each other. Obviously we see each other every single day, during the season and even now in the off-season because we're all best friends.
(That relationship) off the ice, I think that's why we have so much success on the ice, because it translates. And on the ice, these are the most skilled and talented teammates I've ever had, so it really made it easy to have individual success because I've had such amazing, supportive teammates helping me.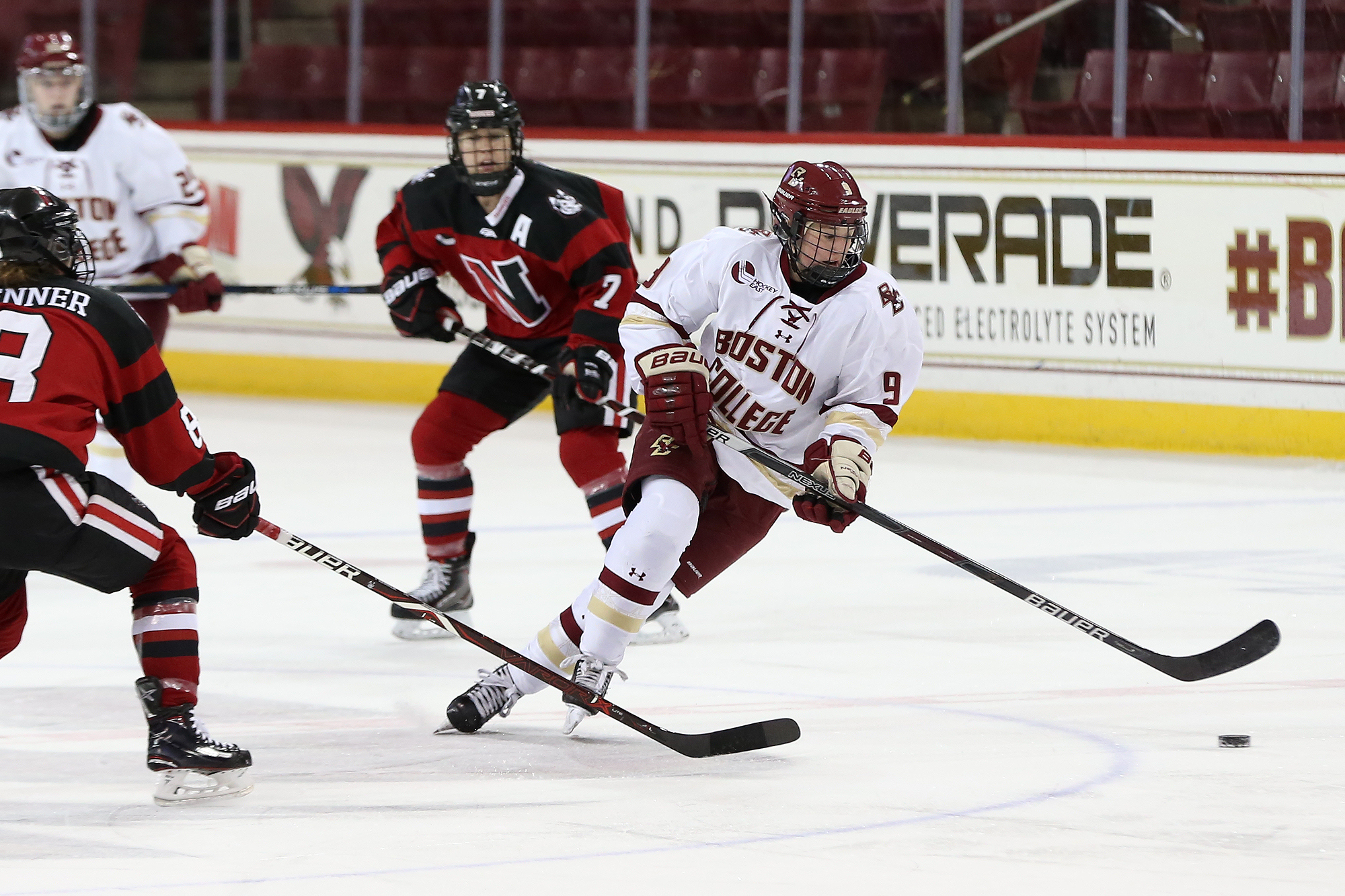 SN: We just saw Canada and the U.S. go down to the wire at the Olympics, where Canada fell just short. You've been a part of some of those Canada–U.S.A. battles at the youth level — what does that rivalry with the U.S. mean to you?
Watts: The rivalry is everything. Canada versus the U.S. — it's really, like, why we play. Actually no, I take that back. But I just mean, playing the U.S. is just the most exciting game. They're so good, they always give us such a hard battle. It's just so back and forth, and it's so much fun.
SN: What were your thoughts on that gold medal game and how it ended?
Watts: I thought it was such a tough game. I was so sad, as a Canadian, for them to lose. It's really tough to lose in a shootout so that was kind of hard. But that was a great game.
SN: With the numbers you've put up and your stock rising as it is, the Olympics could be in your future — what would being part of an Olympic team mean to you?
Watts: If I'm lucky enough to make an Olympic team in the future, that would be everything. The Olympics is, I think, the biggest achievement in women's sports. To become an Olympian and win a gold medal — I think that's the highest recognition and reward, so that would be so amazing.
I think that's something that all girls in hockey strive for. That would be unbelievable.
SN: How do you feel about the growth of women's hockey and how things have progressed in recent years?
Watts: I think the growth has been really great. I think more and more girls are joining women's hockey at a younger age, so that will obviously help so much with that progress and making the game more competitive. So I think that's huge. I hope that it will continue to grow, and I'm sure it will.
SN: With this historic season in the books and now the 2018 Patty Kazmaier, people are starting to talk about you as the next big name in Canadian hockey — how do you feel about that?
Watts: Entering the season I didn't have any expectations personally for me. I'm really just trying to help Boston College win a national championship. It's really nice to hear people saying that but, at the end of the day, people will think on that sort of thing and I'm just really not focused on that. I'm just focusing on my Boston College team, and team success.