Sportsnet will have CWHL action this Saturday at the Toronto Furies visit the Montreal Canadiennes. Before that game, I wanted to get to know one of the players getting ready for the matchup.
She played her college hockey with the Clarkson Golden Knights and she is currently a rookie defender in the CWHL with the Toronto Furies. Let's get to know Renata Fast!
When did you start playing hockey?
I started playing when I was nine years old in atom.
That's older than a lot of high-level hockey players start.
Yeah I started a little bit later because nobody in my family plays hockey; I'm the only one. I started because of a best friend down the road. I didn't really have too much of an issue transitioning. I've always skated so that helped. I kind of picked it up pretty quickly. I played for the Burlington organization growing up every year.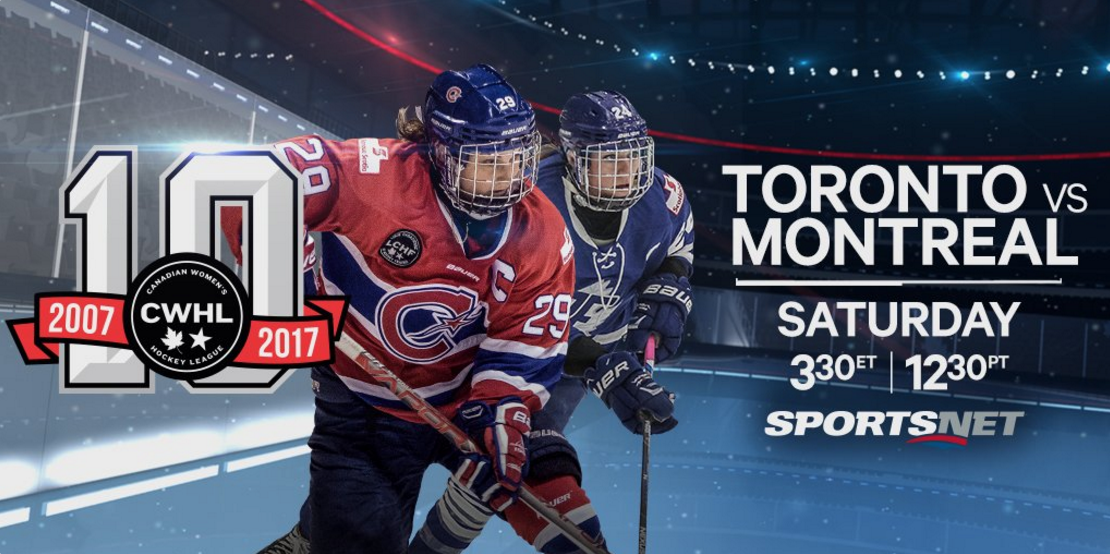 Your nicknames are "Fast" and "Poodle". Fast I get. Why Poodle?
When I got to university, my teammates were all about nicknames and they couldn't come up with one for me. They didn't want to call me "Fast"; they wanted something a little more unique. I wore a T-shirt one day that said "Renoot" on the back of it. That was what the girls that I used to play soccer with called me. So they started calling me "Renoodle", and then it turned into "Renoodle the Poodle", and then it went to "Poodle". It doesn't really correlate to anything to do with my name but "Poodle", yeah.
Did you ever have a dog?
I did have a dog. I had a little Coton de Tulear; a little eight-pound white puppy. Lexus.
Do you live in Toronto now?
No I actually live in Burlington.
What's your favourite thing about Burlington?
I think the waterfront; Spencer Smith Park. It's a super nice area down there. Quiet and relaxing. Nice walks down by the water, so I think that's the best part of the city.
What's your favourite non-Burlington city?
I really like Boston. Boston has a nice feel to it. I've always loved Boston any time I've visited it.
Boston seems to have that effect on a lot of people. I always go "Yeah, I don't know, I just like the feel." What is it?
We were actually just there last weekend so I think there's a lot of students walking around. I don't know. It's a city, it has a lot of history to it.
You play for the Toronto Furies obviously. What's your favourite thing about Toronto?
I think just the whole network of all the cities surrounding it, like the Greater Toronto Area. You gotta love the downtown core but it extends so much further than just downtown. There's so much to do around the area, so much to see, and so many different areas so yeah, that's what I love about Toronto.
What was your favourite goal you scored or favourite athletic moment as a kid?
I think from minor hockey one of my biggest memories was my third year ever playing hockey, my team actually won the provincial championships and the league championships. We had like the longest winning streak ever. I can't think of a specific goal but I can when I'm a little bit older — actually just last year in the NCAA Top Eight matchup. I scored a goal in the first 10 seconds of the game and that ended up being the only goal scored in that game. It allowed us to get into the Frozen Four so I think that was one of the biggest goals for me personally.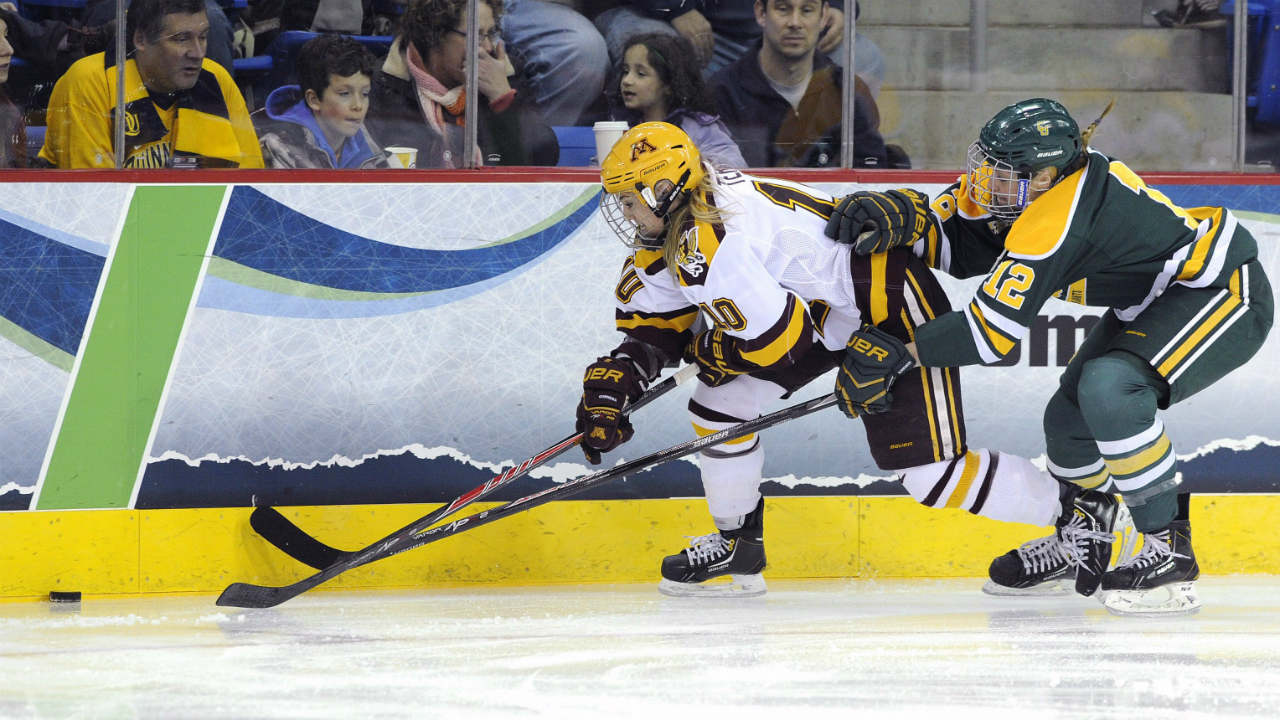 When and where did you sign your first autograph?
It was this year during one of my first games in the CWHL. I walked out of our team dressing room and I was shocked to just be swarmed by a whole bunch of kids waiting outside of our locker room to see us and to get our autographs. It was such a cool moment. Now every time when we go out after our games, whether we win or whether we lost, I'm so excited to meet the kids. They're the next generation so it's so cool to see how excited they are and happy they are to have watched us.
What's something a kid has said to you at the arena?
I think just when a kid goes to you after a game and says "I love watching you play." That's one of the most inspiring things that I've heard. The fact that they notice you out on the ice and they're taking note of what you're doing out there and they want to play like you. For a young kid to notice your game and kind of be intrigued by your game is a cool moment because you know that they're still developing their game and hopefully you made an impression on them that they want to follow in your path.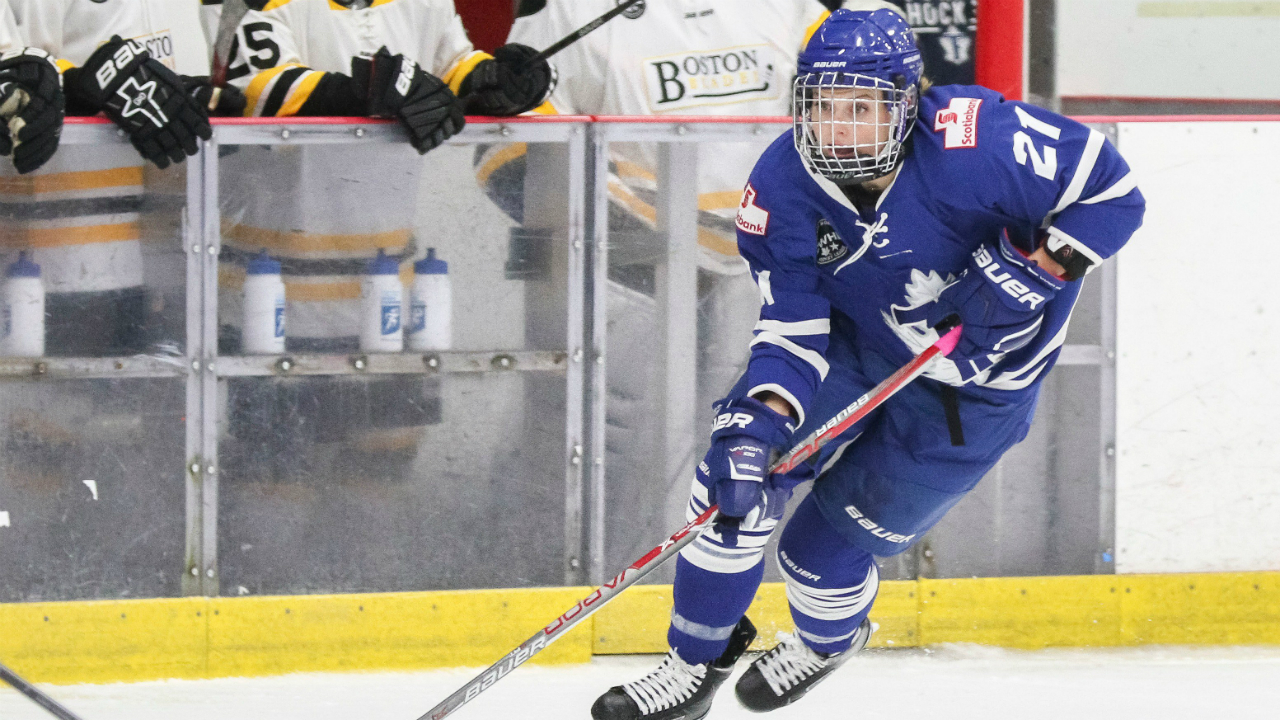 Did you collect hockey cards?
No I didn't really.
Do you have your own hockey card?
No I don't, not that I know of.
Oh the CWHL has to get on that.
I haven't seen one. Maybe there's one out there!
On the CWHL website it says you hope to become an entrepreneur. If you could open your own business, what kind of a business would it be?
This is a tough one because I lovebthe idea of being an entrepreneur and finding ideas is a tough one. A cool business would be a mix of strength and conditioning and an on-ice hockey type of business to develop young kids' skills.
Your profile also says the hardest part about being a female hockey player is the stigma associated with women's athletics. I haven't quite heard it put that way before. Can you elaborate?
I just think that when people think of women in sport they don't think that we're as talented or that it means so much or that we're feminine by any means. That's kind of frustrating because I think that the top female hockey player trains just as hard as the top male hockey player. We're never going to be playing the same way; it's just the way our genetics are made up. I think it's kind of frustrating when you hear other people comparing women in their sport against men in their sport because we don't have the same bodies. The games are different, whether it's women's tennis, men's tennis or women's hockey, men's hockey. The game is different. I think that's kind of what is a little bit frustrating – the comparison and the rep that women's sports gets.
Do you think there should be hitting or body checking in women's hockey?
I think there is room for it. I think if females are taught – if it was incorporated in the game at a younger age and women were taught how to hit the same way men are, or taught how to avoid hits. It could be incorporated. For right now, since female hockey players aren't taught how to do it properly, it makes sense that's it's out of the game because we don't have to have our head up being expecting to be hit right now. If it was to just be thrown into the game immediately I don't think it would work very well. It would have to be incorporated at a lower level and make its way up. But I definitely think the game is physical and we can handle it, it's just it hasn't been taught to us and it's not the nature of the game right now, so people wouldn't be expecting those hits right now. I do think it's a physical game whether body-checking is allowed or not.
Have you ever played with Hayley Wickenheiser?
I've played with her at camps, Hockey Canada camps and stuff like that.
What was it like meeting her?
It was pretty awesome to meet her. Growing up, you've always heard the name Hayley Wickenheiser, you're always watching her on TV, she was the face of women's hockey. The moment when I got to meet her and was in the same dressing room as her was a surreal moment; to meet someone that inspired you growing up. It was a pretty cool moment, that's for sure, to play alongside such a great hockey player.
She's getting in the Hall of Fame, right?
She must.
What was great when Wickenheiser retired is all the Hall of Fame talk, people were talking about her like she's a slam dunk, because she is. She should be.
Yeah.
Do you think it's possible that one day you could end up in the Hall of Fame?
Being inducted into the Hall of Fame is a major accomplishment and the highest recognition to receive in sport. Only the best of the best deserve it. Being inducted into the Hall of Fame comes long after one's retirement so for me right now I'm concentrating on getting better every day and not looking too far into the future.
Your player profile says your most embarrassing fashion crime is you used to wear Crocs. I guess the question is, how dare you?
OK I haven't worn them in a long time! When I was a kid I was so excited because I was the first one in my elementary school to have crocs. Me and my best friend who I was talking about who introduced me to hockey, we were the first ones in our public school to have them. We felt like we were just the coolest kids walking into school with those on.
How were they received?
At first people liked them but I couldn't imagine now, oh my gosh. Those are the worst!
It's weird. One day they were OK and the next they were like demonized. 
Yeah, I don't know if they were ever OK.
This is super important. Is a hot dog a sandwich?
No, I would not consider a hot dog a sandwich at all.
You are correct. Why though?
Because when I think of a sandwich I think of like cold cuts that you get from the butcher with turkey or ham with a little bit of lettuce, tomato on there on like toast or something – not toast, but like a loaf of bread and not… a hot dog on a bun? That just doesn't cut it.
You're absolutely right. Team Not-A-Sandwich.
If you could play with anybody in the CWHL who's not on the Furies, who would it be?
I'd have to go with Poulin. I've played with her before and – wow. Such an incredible player. She finds you all over the ice. It doesn't matter where you're hiding out there, Poulin will find you. And such an amazing person so that's definitely someone I'd play with. Incredible.
Why should the Canadiennes worry about the Furies?
I think because we were coming off of a good weekend in Boston and we're all pretty determined. We've been practising hard, we've been working hard off the ice, on the ice, and I think we're coming here and ready to make a statement. We swept the series the last time we played them and I think we're ready to prove that it wasn't a fluke by any means. We're a very talented team and very capable of competing with those top teams.