With his sunny disposition, a sincere smile that peeks through his legendary moustache and an unbridled passion for grassroots hockey — not to mention a 16-year NHL career that earned him a spot in the Hockey Hall of Fame — you couldn't ask for a better ambassador for Canada's favourite sport than Lanny McDonald.
The former Calgary Flames captain and Toronto Maple Leafs fan favourite will be on hand during Scotiabank Hockey Day in Canada this upcoming weekend in Corner Brook, N.L., along with Cassie Campbell-Pascall and NHL alumni Darcy Tucker, Wendel Clark, Mark Napier, Glenn Healy and Bryan Trottier, plus McDonald's former Colorado Rockies coach, Don Cherry, among others.
McDonald's first Hockey Day was back in 2011 in Whitehorse, Yukon, and ever since that experience it has become a tradition he looks forward to every year.
"They have been so much fun," says the 1983 Bill Masterton Memorial Trophy recipient. "What a great opportunity to meet people all the way across Canada and the support Scotiabank has given these communities. Regardless of what age you are, it's a family affair is what it is."
Celebrating heroes of the game, Sportsnet and Scotiabank unite to bring a 4-day hockey festival to Swift Current, Sask., and a 12-hour national NHL broadcast to Canadian fans coast-to-coast on Feb. 9.
Sportsnet recently caught up with McDonald to chat about Hockey Day 2018, the current edition of the Flames, NHLers not being at the Olympics, his memories of the late Johnny Bower and more.
When you're at these types of events you meet fans that maybe weren't even alive to see you play, yet they come up to you and recognize you and want to talk about hockey. What's that like?
It's fabulous. I kind of have a saying: "If they quit asking for an autograph or quit asking hockey questions then you know you're in trouble." It has been so much fun and so rewarding to be able to go back regardless of where that is. We've been all across the country. Kamloops down to Halifax, back to Peterborough, up to Lloydminster, Whitehorse, and every one is different in different ways. But it's still such a great celebration of the game.
You just listed a bunch of cities that get quite cold this time of year and Corner Brook is no different. Being out in the elements must add to the atmosphere on a Hockey Day, no?
I think it does. When you think about grassroots hockey — and Scotiabank has done such a great job in supporting hockey all across Canada — everywhere you go when you're on an outdoor rink or you're skating with kids of all ages, that's pretty cool.
It'll be an awesome time. Never been to Corner Brook. Been to St. John's many times and I look forward to meeting all the people.
You're always busy during Hockey Day week. What are some of the more rewarding activities you enjoy participating in?
We do hockey clinics with the kids. We do autograph sessions. We do school visits and I really enjoy the school visits because you can talk to an entire school and you can talk about not only team effort but we talk a lot about non-bullying, treating people with respect, treating people the way you would like to be treated regardless of colour of hair, colour of skin, colour of your eyes, and don't make fun of other people. Pay-it-forward, pass-it-on concepts.
Celebrate Our Community. Celebrate Our Game.
You live in the Calgary area, so you must keep a close eye on the Flames. What do you think about this version of the team?
They're on a bit of a hot streak right now. We were out with some alumni guys about a month ago and we all said the same thing. They were winning one, losing one, winning two, losing one. They needed to get on a roll where they go five or six games in a row. That's the only way you can kind of claw your way back into a good position, and right now it's looking a whole lot better.
Glen Gulutzan had a bit of a meltdown at practice recently, but the team hasn't lost since. When a coach does something like that, what can it do for a team?
You have to be very calculated. You have to know your team, know where the breaking point is, and I thought he did a great job because they were in that kind of win-one-lose-one mode without a sense of urgency and I think that more than anything is what he was going to get across. "This can't wait for tomorrow. This has to start today whether it's in practice or in the game." He obviously got their attention.
Ever thrown a stick in frustration?
I don't think I ever have and I'm not sure I could do a better job throwing it without throwing my arm or back out, but it was a good launch.
What's the best coach meltdown you've ever witnessed in your playing days?
We had some fun times with Don Cherry in Colorado. He blew a few gaskets from time to time. We were so bad in Colorado I think we probably played on his patience as much as we possibly could and I don't blame him for blowing up a few times.
The Flames and Jaromir Jagr are in a bit of a tough spot at the moment. How tough is it for a player nearing the end of his career knowing you might not have it like you used to?
It's interesting. When you first come into the league you're fighting for any type of ice time you can possibly get. Then you start to get your confidence, then you're on a roll. And then at the end of your career it comes back to the same thing as when you started out. You're fighting for that ice time and believing in your own mind and body that you can help and make a difference regardless of whether that's a regular shift or when the coach taps you on the back you know you can go out there and hopefully give it everything you've got to try and push the team over the top.
It's a tough challenge, especially in a case where you're like Jaromir Jagr who has given so much to the game and his numbers. Next to Gretzky no one comes close.
One player not struggling for ice time is Johnny Gaudreau. He's one of the smaller players in the league, too. You played with a young Theo Fleury at the end of your career. I imagine playing in the NHL was quite different for smaller players back then. How much different is today's game for smaller players?
The obstruction, the hooking and holding, that was so prevalent all the way though the '70s and '80s. If you were a smaller player that takes its toll, a wear-and-tear on your body in an 80- or 82-game schedule and especially in the playoffs where those first two series — you talk about winner take all, it's winner take all.
You look at a guy like Johnny Gaudreau who has unbelievable hands and speed. You look at a player like Mitch Marner in Toronto, who is in my opinion very similar. They fly around out there, they've got great hands, great vision, and the speed of the game today — not that we weren't fast — but the speed of the game was nothing compared to where it is now and those guys can be stars for a long time. And it's fun to not only be a fan but to watch guys with great talent excel.
Every team needs those skill guys obviously but a little grit never hurt and Matthew Tkachuk is quickly becoming one of the peskiest players in the league. What are your thoughts on him as a player?
Well, the apple doesn't fall far from the tree [laughs]. You look at how Keith Tkachuk played his entire career. He played on the edge. Matthew and even his younger brother [Brady], when you look at the world juniors, he plays with that same kind of intensity. Those guys are a rare breed, but on a team that has great young stars like [Sean] Monahan and Gaudreau, there's room for a player like that to make his mark.
Who were some players from your day that could always get under your skin?
You go all the way back to the Oilers and they had a guy, Esa Tikkanen — oh my god, you wanted to kill him. He was always there. Claude Lemieux from the Montreal Canadiens. Those kind of guys drove you crazy, but if they were the guy on your team… you loved that guy.
Not in the same category but a little different category was Tiger Williams. You loved to have him as a teammate, but you hated having to play against him. Those guys did whatever it took to find a way to win.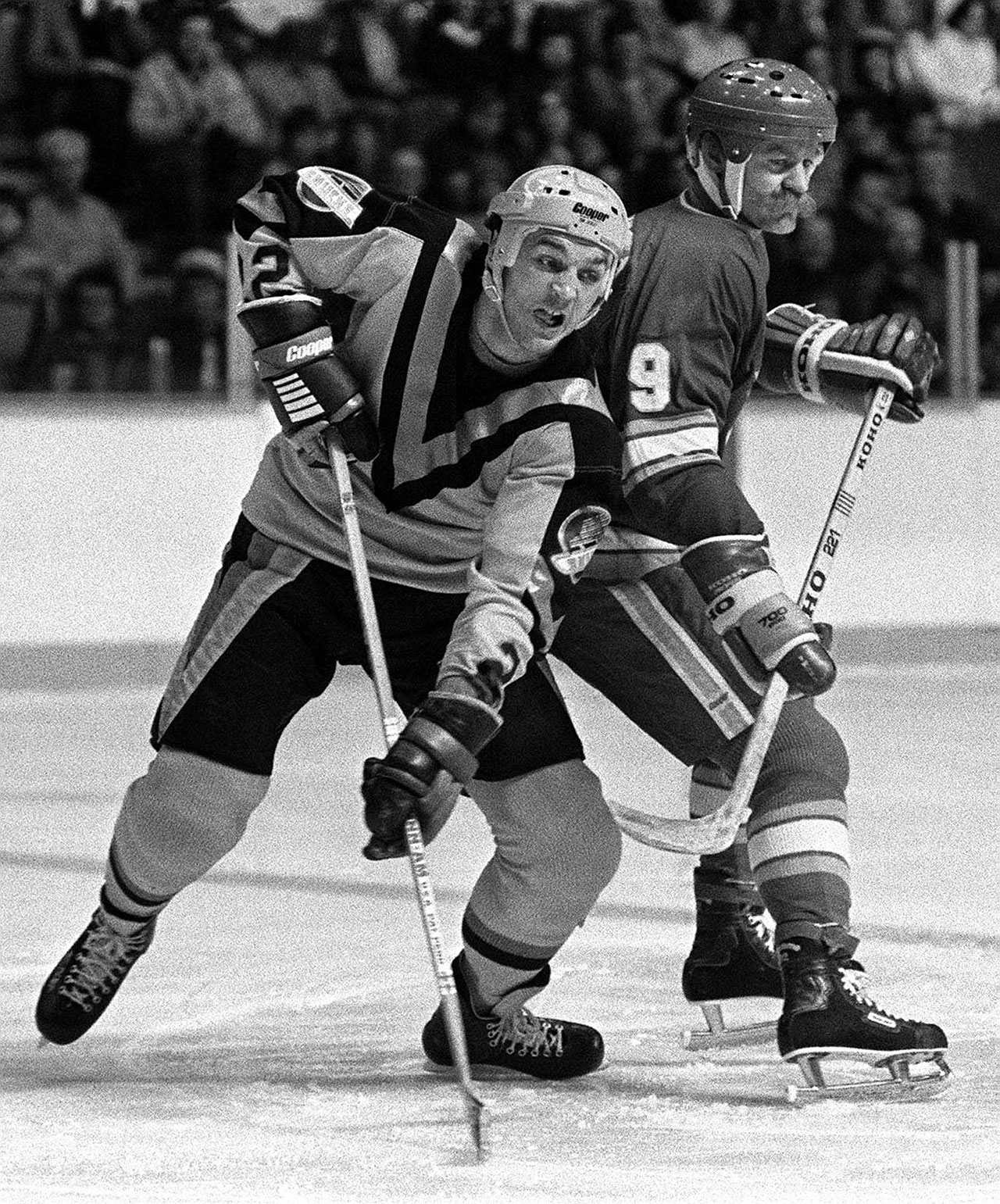 If time machines existed and you could play on a line with two current players, who would they be?
If I could play on a line with Connor McDavid and Sidney Crosby… [laughs] that would kind of be a dream come true, wouldn't it?
How many goals would you have buried with those two as linemates?
Surely to god I could've tapped in nine or 10, wouldn't you think? [laughs]
Live stream over 300 marquee regular season games, regional matchups for the Edmonton Oilers, Calgary Flames, Vancouver Canucks and Toronto Maple Leafs, and the entire 2018 Stanley Cup Playoffs.
A lot is made of the Canada-U.S rivalry and talent development on both sides of the border. Are you surprised at the growth of the game in the United States and should Canadian fans be worried America is going to pass them as hockey's superpower?
All you need to do is look at the draft the last couple of years — the amount of American players that have been drafted in the first couple rounds — and it tells you how far they've come.
Take the phone conversation we're having right now. I'm in Salt Lake City coaching Team Montana bantams. It's so much fun to see young people love the game and love their friendships as much as these kids still do.
I think when you look around the world at places like Sweden and Finland, their world juniors and how far they've come. The Czechs are always there, the Russians are always there, but it's cool to see the rivalry that Canada and the U.S. have and hopefully always will, which will keep each other on their toes. And does it really matter who ends up having the most players drafted or playing in the league as long as they keep developing great young people and players?
Good point. What's this Team Montana you're coaching, though?
It's Team Montana bantams. My grandson is on the team. They asked if I wouldn't mind coaching them. I absolutely love it. Our kids play hard, they play fair. We only play four tournaments a year. Throughout the year they play on their own club teams and come together [for the tournaments], and we try to mould them into a team.
There's one prerequisite to playing on the team. The week before each tournament they have to send in their marks, and they all know if they have failing grades they can't play that weekend. It's teaching them not only about the game but it's teaching them rules and responsibility and making sure they're working hard not only on the ice but in school as well.
What position does your grandson play?
He's a left winger. Thank goodness he's not a goaltender because people shoot at you when you're in goal [laughs], but he's a good young man along with great teammates.
That's awesome. Maybe there's a few future Olympians on the team. I'm curious to get your thoughts on the upcoming Olympic hockey tournament. No NHLers this time.
Being a hockey fan, I'm like a tremendous percentage of the people and love to see best on best especially at the Olympics. But having said that, there's so many players that would never have the opportunity to represent their country. Maybe at the world championships, maybe at the world juniors, but you're representing them at the Olympics and that opportunity may never come again so you soak it up and give it your very best shot. And who knows? This competition this year should be wide open.
As you know, Johnny Bower recently passed. You two just missed one another playing for the Maple Leafs but you got to know him over the years. I'd love to hear your thoughts on what made him so beloved.
First of all, Johnny as a Hall of Famer — he's the true definition of what a Hall of Famer should be all about. The way he treated people at every event that he was ever at was great inspiration, and he really set the benchmark for everyone else. The guy was unbelievable.
I was lucky enough to be at the Tim Hortons opening at the Hockey Hall of Fame [at Brookfield Place in downtown Toronto this past September] and we had Johnny there — at 93 years old he's taking pictures with all the people. How he treated people with that infectious smile he had and the amount of time he had for everyone was absolutely a life lesson, and to me that's the true meaning of what a Hall of Famer should be all about. What a legacy he left for the rest of the hockey world to follow.