Hockey fans from all over were given a chance to win a Grand Prize of an all-new 2019 RAM 1500, $25,000 in cash and a six-month subscription to Sportsnet NOW in our free playoff pool, presented by RAM. With the Stanley Cup Playoffs behind us, the official final results are in and the winner is Michael Thompson from Whitby, Ont.
Poolies got to pick teams for Rounds 1 and 2 of the Stanley Cup Playoffs and Michael says he sat outside of the top-200 overall heading into the conference final. At the start of Round 3, players had to choose a team to lock into for Rounds 3 and 4, so Michael decided to load up on players from the Washington Capitals and Vegas Golden Knights, to extremely positive results.
Here's what his final roster looked like: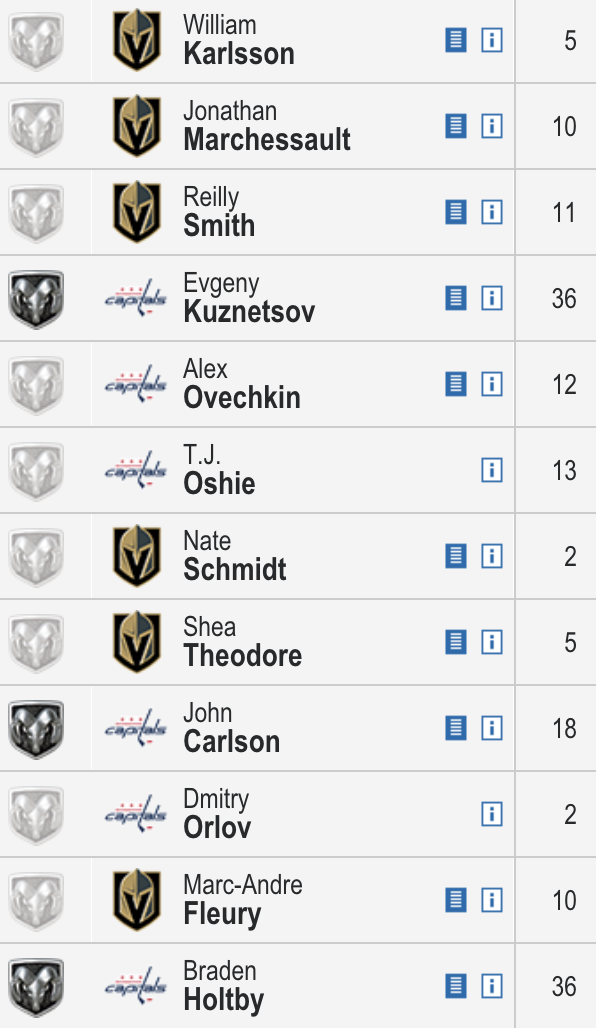 Michael finished with a total of 360 points, finishing in a three-way tie that he won via tie-breaker, which was given to the team that scored the most points in Rounds 3 and 4 combined.
He talked to Sportsnet on Tuesday afternoon about his favourite NHL team and player, his strategy for picking his teams early on, how he settled on the roster that ultimately won him a great grand prize, and what he plans on doing with his winnings.
Q: Which is your favourite NHL team?
Born a Leafs fan, still a Leafs fan, but actually, not lying, I like the Washington Capitals. Ovi was my favourite player as soon as he entered the league.
Q: Why did Ovechkin become your favourite player?
When he came in people were choosing either Crosby or Ovi. I like goal scorers. How fast he gets his shot off has always impressed me.
Q: Why'd you settle on Washington-Vegas players for your final roster? Did you pick the Capitals because they're your favourite team?
No actually. I don't like picking my teams or betting on my teams, I'm superstitious that way. But I was 200-something (in the rankings) and thought everyone was going to pick Winnipeg and Tampa Bay because they were the favourites so I went with Vegas and Washington.
Q: What was your strategy for picking your rosters throughout the playoffs?
Early on I chose value picks. I saw Pavelski and Couture were only worth two points and I know those guys were heating up at end of year, and I chose Guentzel because I know he played with Crosby and he was two points I think, too. I tried to find the three-point goalies to try and save space there.
Q: Do you remember if you struggled with any of your final picks?
Actually, originally I didn't have Ovechkin in my lineup, I had Backstrom instead, but then I found out Backstrom was hurt for the first couple games so I changed him for Ovi.
I had Byfuglien in my West D because I thought he'd score more points than any Vegas defenceman even if he didn't make the final, but changed my mind. For Vegas, the only line I really liked was the top line so I picked everyone off of it.
And Kuzy, I wanted a star and I thought he'd get more points than Ovechkin.
Q: What are your plans for the cash prize and truck?
I've never had a car this nice before so definitely I'll take it for a spin. I'll admire it a bit when I first sit in it — I've looked it up and there's a lot of cool things about it.
With the money I'm definitely saving some of it. Possibly move out — I'm still at home so I'll possibly move out with my girlfriend with some of this money.
And we'll go on a nice trip, might be landing on Italy. I've never been outside of North America.