A quick mix of the things we gleaned from the week of hockey, serious and less so, and rolling four lines deep.
1. A few thoughts on the Jonathan Drouin–Mikhail Sergachev trade:
• I bet Montreal's swap of a conditional second-rounder for a conditional sixth-rounder never materializes, which is a small bonus for the Habs. When you examine the Lightning's blue line depth chart (and consider there's a chance Jason Garrison gets moved or bought out), Sergachev should have little issue cracking the top six this season. As long as he's healthy, he'll play 40 games in Tampa next season. (Although, to be honest, that might not be the best thing for his personal development.)
• I heard a few comments about how Drouin could grow into a No. 1 or No. 2 centreman, not unlike Tyler Seguin when he moved from Boston to Dallas. I seriously doubt it. His speed and offensive gifts are best suited to the wing. Drouin's face-off win percentage in 2016-17 was 43.6. Alex Galchenyuk has struggled in the dot as well, and that's one reason why the franchise is hesitant to crown him a centre.
• Drouin's six-year deal means his contract carries an average annual value of $1 million more per season than captain and best forward Max Pacioretty. In actual salary, Drouin — a one-time 20-goal scorer — will earn $1.5 million more than Pacioretty in 2017-18. Patches has five 30-goal, 60-point seasons in La belle province and is now the third-highest-paid Habs forward. He'll be the fourth-highest-paid forward if they don't move Tomas Plekanec and bring back Alexander Radulov.
• Marc Bergevin has spent his best trade chip and has yet to land a centre. Could Sergachev have gotten him Matt Duchene? Would fans even rather have Duchene over Drouin? Ryan Nugent-Hopkins' name keeps coming up. Does Montreal overpay for Martin Hanzal in free agency? Take a run at Joe Thornton?
• I believe Carey Price came in so high with his initial ask because he'd rather wait and see how much scoring Bergevin can add this summer before he commits. The pitiful run support in that Rangers series must've driven him nuts. Price's extension is the elephant in the Montreal negotiating room.
• Easy to say Montreal won the trade: Drouin is an NHLer we know is good; Sergachev is a prospect we believe will be good. But think about this from Steve Yzerman's chair. Drouin's RFA negotiation was bound to be ugly. Tampa got Nikita Kucherov — a guy who likely got Hart votes — to sign for a $4.77-million cap hit as an RFA last fall. Drouin would have to slide in lower than that to balance the books. This one felt similar to Ryan Johansen in Columbus. He was never going to cash in with the team that drafted him, so he was dealt for a very reasonable return.
• The agents of RFAs Ondrej Palat and Tyler Johnson are probably licking their chops now that Drouin got $5.5 million times six. Again, Yzerman will try to keep those deals under the Kucherov bar. That said, Kucherov is soooo underpaid for what he can do.
[relatedlinks]
2. Hard to blame the Ottawa Senators for asking Dion Phaneuf to waive his no-movement clause, but I think it's great Phaneuf said no. This is a guy who just came off the longest playoff run of his 12-year career. If you don't like no-move clauses, don't sign a guy to one or trade for a guy with one. I wouldn't move my family to help make business easier for a massive franchise either.
Sens GM Pierre Dorion said he's still debating whether to protect three or four defencemen. He should protect four. The Senators have a top four so solid they stretched the two-time champs to overtime in Game 7 — and all four were dealing with injuries. They need to keep that foursome in tact. Marc Methot and Cody Ceci are too valuable as players and trade chips to let one go for free.
This means exposing some decent forwards, but would Vegas take Bobby Ryan at $7.25 million per year? Probably not. It would be sad to lose Zack Smith or Jean-Gabriel Pageau, but not Ceci or Methot sad. For what it's worth (nothing), here's my protection list:
3. With some of those sticky player no-movement clauses creating obstacles for their clubs ahead of the expansion draft—not just in the case of Phaneuf but with veterans like Kevin Bieksa and Marc Staal as well—I wonder if we'll see fewer and fewer NMCs handed out by front offices going forward.
The NHL would prefer to balance its conferences, and the buzz around Seattle has picked up again. It's not farfetched to imagine another expansion team joining within the next decade.
For example, does the team that signs Kevin Shattenkirk this summer for six or seven years sweeten the pot with a NMC? Or do front offices take into account the possibility of that clause causing havoc with the next expansion draft?
A lot of talk about clauses. Our updated #Clause Rankings:

1.No Movement Clause
2.Santa Claus
3.Subordinate Clauses
4.No Trade Clause

— Vegas Golden Knights (@GoldenKnights) June 13, 2017
4. Had a chance to speak with former Toronto Blue Jays catcher J.P. Arencibia this week. He flew to Canada the morning after attending Game 6 of the Stanley Cup Final in Nashville to play in Jose Bautista's golf tournament.
The retired ball player says playoff hockey is "100 per cent" more exciting than the World Series.
"Listen. The game within the game is important. If you know baseball and all the little things that are happening within the game, it's entertaining to watch. Not everyone knows the game that well," Arencibia says.
"But if you watch hockey, it's fun regardless if you know the game or not. It's so aggressive. It's so fast. These guys are unbelievable athletes. It's tough to beat the playoff atmosphere. Sunday was pretty special in Nashville."
Arencibia's Twitter feed had been flush with Predators tweets this month. He's close with captain Mike Fisher and James Neal.
"Me and Fish have been friends for a while. He used to come to a lot of the games, then when I lived in Nashville we'd golf together. We were members at the same golf club. He's a phenomenal human being, and I like to be around good people. He's one of them. So is James. I met James through Fisher. It all happened organically," explains Arencibia, who now lives in L.A., where he does some radio and TV appearances but mostly takes it easy.
"There's some things I have in the works now, some other business stuff I'm looking into. It's all good. Honestly, I'm thankful I had a good enough career that I don't have to rush into anything and I'm kinda just seeing where the chips fall."
So, was Arencibia joining in on the "Ref! You! Suck!" chant after Colton Sissons' controversial no-goal?
"That's part of the game," he says. "Umpires, refs, everywhere you go, they're going to make mistakes. The Predators had a lot of opportunities, and unfortunately they weren't able to capitalize on them. Pittsburgh's good, man. They're a really good team. It was tough to go and see them lose, but I was just happy I got to make a Stanley Cup game."
5. A flap was made about P.K. Subban's minty breath not being made available to the media prior to Game 6 of the Stanley Cup Final in Nashville. They're muzzling an outspoken star! was the immediate reaction.
During locker cleanout day, Subban was asked by Preds beat reporter Adam Vingan if anything unexpected happened this season and stuck up for the Predators' public relations staff.
"Unexpected would have been a few days ago when I guess there was a lot of talk about me not doing media. I never thought at any point this year that I'd be getting flak for not being available for media, but that's sort of a misunderstanding," Subban told the scrum.
"That's actually kind of my fault. I was supposed to do media the day before the game, and I didn't skate so I completely forgot about it and left the rink, and then everybody made a big deal like they were trying to — I mean, I haven't done media on a game day the whole playoffs, so I knew I wasn't going to do it the next day. But maybe the upsetting part is seeing our media guys take flak for something that really they didn't do at all."
6. Peyton Manning sent Sidney Crosby a congratulatory text message after he hoisted his third Cup.
"I thought that was pretty cool. Didn't realize he followed hockey that much," Crosby told reporters at the Penguins' locker cleanout.
Anyone else want access to the top-secret Elite Athlete Rolodex?
Everybody into the pool!
7. Florida Panthers GM Dale Tallon told Prime Time Sports this week that he's had "healthy discussions" with the agent for impending UFA Jaromir Jagr but will wait to decide on the 45-year-old's future in Sunrise until after Wednesday's expansion draft.
With all the change taking place in Florida this summer, it's time to thank Jagr for his service but let him sign elsewhere. The living legend needs to be on the power play and entrenched in the top six to make an impact, and there are too many young forwards who need that ice time.
Dale Tallon on Boughner hiring: It's a great fit for our young players
June 12 2017
8. With an average audience of 11.5 million, Game 6 of the 2017 Stanley Cup Final was the most-watched Cup Final game since Game 6 of the 2013 Final (Chicago vs. Boston; 12.2 million).
By comparison, the NBA's title-clinching game drew 24.5 million viewers, making it the most-watched Game 5 of any NBA Finals since the Bulls-Jazz series in 1998.
9. This is wonderfully gross. Zach Werenski (and Nick Foligno) are presented with Werenski face shot T-shirts.
and one for his captain, of course pic.twitter.com/zSSdJc7zg9

— ColumbusBlueJackets (@BlueJacketsNHL) June 15, 2017
10. Fans crowned the 1984-85 Edmonton Oilers as the greatest team of all time. Grant Fuhr told me that wasn't even the best Oilers team of all time.
"It was good Oilers team, but I thought our '87-88 team was maybe a better team. We had more talent. We were a little deeper through our lines. We added Kent Nilsson that year. Kenny Linseman was there that year. Our defence was solid all the way through; we had seven or eight guys that could play. We were just deeper," says Fuhr, who believes his Oilers could candle today's Penguins. "We would've been all right. I liked our teams back then against anyone."
Fuhr sees a parallel between the Marc-Andre Fleury and Matt Murray situation in Pittsburgh and his relationship with Andy Moog.
"It's all part of being teammates. You treat your partner well. He's there to support you; you're there to support him. I think they did a fabulous job of it," Fuhr says.
"Andy and I were similar in that way. Either one of us could play. It's just I got luckier to play more in playoffs. It's hard. Andy was a great goalie, so it's a hard situation. At the same time, you know he's a great teammate because he's there to support you."
He also relates to Pekka Rinne's nightmare showing at PPG Paints Arena. For Fuhr, he just couldn't win in Hartford.
"I have no idea why. It was one of those weird things. It just seemed to be a tough building for me," he explains. "Sometimes there's buildings you have a hard time in. Hartford for me seemed to be a tough place to play in. My first couple of years I had a hard time in Boston, just because it was different. As you go through the years, you always find a building you have a tougher time in for some reason.
11. Fuhr was glued to the playoffs this spring. His Twitter fingers got busy when referee Kevin Pollock was too quick with the whistle and robbed a goal from the Preds in Game 6.
"The official was in the wrong position. He should've been closer to the net where he could see what was going on. They made a mistake there," Fuhr says.
"You hope that the right calls are made, but it doesn't always happen. The game moves fast. Sometimes if an official is caught flat-footed he misses something."
12. Fellow Oilers alumnus Mike Krushelnyski loves talking about '84-85, but he's not sure they're the best ever, either.
"I scored 88 points and I was fourth in team scoring. Gretzky had 208, Jari, Coff, Mess, Glenny Anderson… just a stacked team. I was just fortunate to be part of it. I learned a lot that year. I learned about how to win. I'm very proud to be part of that team. But the Islanders won four [Cups] in a row. Montreal had five in a row. How do you pick one season out of a career?" Krushelnyski says.
"At first it was sheer raw energy that persevered and worked through it and won it. When I got there, in '84-85, it was a learning process. Just do your job. If every one of us does our job, we don't need heroics — even though we got heroics out of Fuhrsy. If everybody does their job, we win."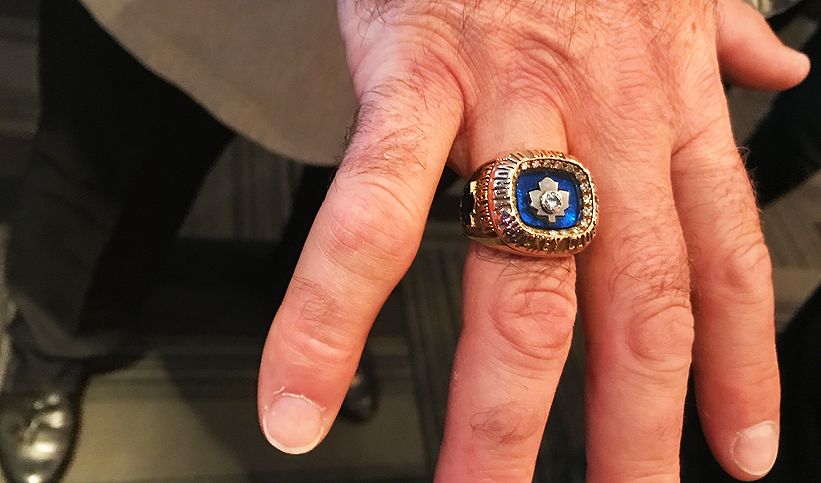 (Fox photo)
---
Krushelnyski, 57, has a Stanley Cup ring for every finger (no thumb), but when I caught up with him at the Joe Carter Golf Classic in Toronto, he was wearing another chunky bauble instead.
"This is a division ring I got here in Toronto. [Former Maple Leafs governor] Mr. [Steve] Stavro was kind enough to give us those in '93. So when I'm in Toronto, I'm wearing this. Awesome, isn't it? Mr. Stavro is very kind," says Krushelnyski, who loves the trajectory of the Leafs.
He believes the current regime's handling of the media pressure is particularly impressive.
"Ron Wilson was on the right track. He just went too overboard," Krushelnyski says. "The coaching staff now controls the media. It's looking promising now. They're on the right track. I had them pegged to be on the brink, and they got in. Next year I expect them to be in the playoffs. After that they should be winning a round or two, until they win it all."