A quick mix of the things we gleaned from the week of hockey, serious and less so, and rolling four lines deep.
1. Six years after he coached Canada to 2010 Olympic glory, Mike Babcock opened the door of his summer home and welcomed a reporter to sit down and watch Sidney Crosby's golden goal and the 67 minutes and 40 seconds of thrilling hockey that led up to it.
"Exactly what you'd expect," says NHL insider Craig Custance. "He was very intense."
Custance wrote hockey for ESPN at the time, and the day he arrived at the Babcocks' place in the summer of 2016, his outlet had just released its 2016-17 pre-season power rankings.
The Toronto Maple Leafs, who had just won the draft lottery and Auston Matthews, were expected to finish 30th. The worst.
"Look at this. I am aware of this," said Babcock, who had read the article. Then he laughed.
"I know what the perception of this team is. But it's wrong. Just watch. Just watch this team."
As Custance relived that Canada vs. USA classic on the winning coach's television — an informative afternoon that would fuel one chapter of his excellent new book, Behind the Bench: Inside the Mind of Hockey's Greatest Coaches — Babcock was the one scribbling notes on a pad.
"Stop. Rewind. Let's watch that again. Great. I got a clip," Babcock would bark.
It was a sunny summer afternoon on the lake, and Babcock was devising plans for Team Canada's 2016 World Cup squad that fall. (That team would do OK, too.)
"He's not using this session for an interview. He's using it as a chance to get better as a coach. That, to me, is Mike Babcock," Custance says.
The coach showed the author his text-message history with the Maple Leafs assistant coaches; they'd been brainstorming what the team's slogan should be for the upcoming season.
"His first text went out at five in the morning. He's just in this nonstop, relentless pursuit of getting better."
As the two men watched this good, old hockey game, Babcock made it clear that he missed having access and interacting with elite players on a great stage. His Red Wings of recent years had dwindled to early-round playoff fodder, and Toronto hit rock bottom in Year 1 on the new job.
"He basically said it wouldn't be long until the Leafs were going to be there. He would have another crack at that [championship stage]," Custance recalls. "This is at a time when I was working for ESPN and we had them dead-last in the league. So this is a confident guy."
I have a theory on the 2017-18 Leafs: Babcock is purposely trying to keep them all on edge. The extended tryouts for Calle Rosen and Andreas Borgman, the flip-flopping of Eric Fehr and Dominic Moore, the line demotion of Mitch Marner, the trade for a second backup goalie, the sour post-game criticism of a 6-1 first-place team … it's all a calculated effort to keep everyone on their toes.
Custance does see a mini parallel to Canada's 2010 Olympic squad.
"They lose to the Americans early on [in the preliminary round]. It was a team that was getting better as the tournament progressed. There was a goalie change form Martin Brodeur to Roberto Luongo. There was a constant search to find Sidney Crosby linemates," Custance says. "We're talking about a very small window, but it was intentional.
"On some level, that's how he's approaching this Leafs season. You don't want to peak on Oct. 18. He's going to be tinkering and trying to find combinations. He loves the phrase 'You got to be comfortable being uncomfortable.' Well, he's trying to make them uncomfortable, to push them to their limits. He wants the best version of the Leafs to happen in the spring, not in October, and I think we're seeing that."
2. John Tortorella is the coach who let his guard down the most during the replay—to Custance's surprise.
Friend Mike Sullivan, who sat in on the session, called Torts one of hockey's most misunderstood people.
"You've seen it. He can be combative. He can be short with the media. We got into that," Custance says. "In our conversations, he was the opposite. He opened up. I got to see a side to him I've never seen."
In addition to his own life story, Tortorella detailed his coaching philosophies and bristled when Custance compared his style to Mike Keenan's or Bob Hartley's.
"John was like, 'Don't do that. I'm my own guy. I'm my own person. I coach things my own way.'
"Torts very consciously uses conflict to develop a team and develop players," Custance explains. "He's trying to push players beyond limits they don't realize they can get beyond."
Tortorella is a different man on a sunny July morning talking hockey with his pal Sullivan than he is after a winter blowout in New York.
"Look, you guys see me five minutes after a loss," Tortorella told Custance.
But it's not just us media. During his first season in Columbus, general manager Jarmo Kekalainen pulled Torts aside and said, "I can't be around you after a loss."
The GM needed to wait a day to speak with his own coach.
"Oh. I thought I'd gotten better," Tortorella recalled. "I was surprised to hear that from my GM."
Custance called up Brad Richards for insight.
If guys can't air it out with him in the open and get over it, they ended up getting shipped out, Richards explained. Torts needs his troops to fight through conflict. He has no patience for percolating problems.
"He'd rather it explode and get it out in the open on Monday because there's going to be another issue on Tuesday," Custance says.
"I would've been one of those guys who got shipped out. I'm not a guy who could MF my coach back and forth in a dressing room."
3. Joel Quenneville was Custance's most reluctant subject for the book, only agreeing to the exercise when he understood his chapter could be more about the Blackhawks and their Game 6 victory over the Philadelphia Flyers in the 2010 Stanley Cup Final and less about Q himself.
They begin watching the game, and Q turns to the author: "Hey, let's fast-forward to the part Jonathan Toews gets hurt."
"I have no idea what you're talking about," Custance replies. "We didn't know Jonathan Toews got hurt in that game."
"Oh, yeah. Johnny gets hurt."
During one of the Flyers' goals, Toews injures his knee and it goes completely undetected.
"The rest of the game I'm only putting him out for shifts as a decoy so the Flyers don't know how injured he is," Quenneville reveals, three championship rings after the fact. "I don't know if he would've been able to play Game 7."
"I had no idea. And I covered that game," Custance says. "They win in overtime on this awful goal by Patrick Kane. How different does history look if Jonathan Toes doesn't play a Game 7?"
As good a reporter as Toews is a faker, Custance followed up with Patrick Sharp — who visited Toews in the summer of 2010 and saw that his captain was still limping — and depth centre John Madden, whom Q tapped for extra draws toward the end of Game 6.
"I did think it was weird I was getting all these extra face-offs," Madden chuckled. "I thought maybe Joel thought I was playing well, so he kept putting game out there."
Custance shared more gems, but if you like nerding out on this stuff like me, just go buy his book and support good hockey writing. You won't regret it.
4. Back to Babcock for a second. In addition to Crosby, he uses Henrik Zetterberg as a video example for Leafs centremen on how to do things The Right Way.
"I understand why Mike would do that," Babcock's Detroit Red Wings successor, Jeff Blashill, said Wednesday.
"When [Zetterberg] is your teammate, it's so much more powerful to see it every day. What you can't show in clips is how hard he works in practice, how he pays attention to detail every day. The completeness of his game totally rubs off.
"There's lots of players in this league who score points but don't ever win. We've got one of the best winners, certainly of this generation, and our guys get to learn from him every day."
Zetterberg is 37. He's led the Red Wings in scoring the past three seasons, and last year it wasn't even close. He already has four goals this month and is a good bet to be the most productive Wing again.
If he were Canadian or the voters were Swedish, would Zetterberg have been named to the NHL's 100 Greatest Players list released last winter? I wonder.
"The way his brain works, it's like a computer. He doesn't do anything that's not calculated. You watch his feet. You watch the pace he plays at. With age, it's hard to keep up with it," observes Morgan Rielly, who's been matched head-to-head with Z many a time.
"The way he thinks the game, it's almost like he can play the game blindfolded. He knows where everybody is. He's still the smartest player on the ice every time he's out there. The way he's able to create room for his linemates. He likes to pass on his backhand, which is tough to do. Not many guys do it as well as he can."
Rielly tries to cut down Zetterberg's space because he views Zetterberg as a pass-first centre, but once he passes, he goes and finds space of his own to get the puck back.
5. Rielly calls Dylan Larkin "one of the fastest guys in the league."
But in 2016-17, speed wasn't enough.
Larkin embodied the sophomore slump. His goals and assists both dropped heavy. He plummeted from a plus-11 to a minus-28. The struggles weighed on the kid.
"I thought I had everything figured out," Larkin says. "I didn't."
Representing Team USA at his third world championships and taking on a national-team leadership role was "awesome," he says. It helped that Blashill was the country's coach.
"Last year was a hard year for him. Some of that was certainly my fault. I needed to make sure he became the complete player that's going to make him a great player in this league. Some of that didn't show up. Most of these guys get to learn that in the American League," Blashill says.
"He's got a burning, burning desire to be a great hockey player. That's his best asset."
Larkin excelled overseas, boosting his confidence heading into the summer. Now, Blashill has him killing penalties as well as working power plays.
"With my speed, I can break up plays and get down the ice and maybe even create offence," Larkin says.
He started on the wing, but now the 21-year-old has a better handle on what it takes to be a complete NHL centreman.
"You have to make your linemates better. You have to battle every face-off, every play. If you're not ready to play, you put everyone else in a tough spot," Larkin explains.
"When I'm in the defensive zone, I'm not thinking about offence as much. I'm thinking about keeping the puck out of our net. That calmness in the defensive zone has helped me a ton."
He has seven points through seven games and is a plus player again.
Teammate Tomas Tatar puts it succinctly: "He learned how to play better. He's playing the right way now."
6. Toronto's Frederik Andersen was amped up heading into Tuesday's revenge match in Washington.
I asked the goalie to break down Alex Ovechkin's shot, seeing as how he got familiar with it last April.
"Unpredictable. He just rips it so hard," Andersen says.
"I don't want to take credit away from him, but I think sometimes it's going so hard, maybe not even he knows where it's going. It's going so fast, you really try to anticipate where he's shooting. It's a tough release too because he's got that big curve, and he can shoot it from any position.
"I've seen that goal earlier this year where he spun around with a turnaround slap shot [and beat Carey Price]. Pretty impressive, yeah. But so tough to read. And then he's got that power."
Andersen read Ovie's shot well enough for a shutout.
7. Here's a pretty cool field trip if you're a hockey-loving kid from Denmark.
Andersen hosted a bantam team from Rodovre, the Mighty Bulls, on Monday to watch the Leafs practice. The goaltender got to go on a similar excursion when he was a young Dane.
"You go out in the community to earn money or do a job for a team sponsor who will help you out," Andersen explained. "You earn the right to come over."
Sell candy bars, raffle tickets, do odd jobs … whatever it takes to pay your fare.
"It's a great tradition we have in my hometown. When you're 15 or 16, you save up and take a trip to North America, usually to Toronto or a big hockey city in Canada," Andersen said.
"We went to Columbus to play two games at Nationwide Arena against local kids and saw the Blue Jackets beat the Sharks 4-1 and then get beat 6-0 by Detroit. Babs might have been the coach for Detroit then. Kind of funny when you think about it."
Andersen said once Frans Nielsen, now 33, made the New York Islanders, the rest of Denmark — himself included — began to believe they could make the NHL too. He says Copenhagen and Herning's hosting of the 2018 IIHF World Championship will do wonders for youth hockey in his homeland.
8. Montreal Canadiens wunderkind Victor Mete found himself in an odd position Saturday as he dressed in red to battle his favourite childhood team.
"You can't miss that the Leafs are doing good this year, especially being from Toronto. All my friends are excited for them, like, 'Wow, this team could maybe win the Cup in the next five years.'"
Mete, 19, grew up a Mats Sundin fan in Woodbridge, Ont., and became friends with the Leafs' Mitch Marner when the two were seven-year-old minor hockey players. They won a Memorial Cup together in 2016 with London. Mete said his parents felt a little funny switching their allegiances to the Habs.
"As long as I've known them, they've been Toronto fans," Marner said, "so it's pretty funny seeing them in a different jersey."
9. Mike Green is second among all defencemen in points (eight in seven games) at age 32. He's a right shot in a contract year, and if the Red Wings fall far enough out of the Atlantic race by February, he's a prime rental candidate.
I heard one analyst say Green would never be traded within division. Remember, Ken Holland rented a productive Thomas Vanek to Atlantic-rival Florida at the 2017 deadline. When you're selling, you just go for the best return available.
Blashill says Green endured "a feeling-out process" after he left Washington and came to Detroit as a free agent.
"He's a great, great skater. He's 32 years old, he went home in the summer and got a skating instructor all summer. That's the type of commitment it takes to be an elite athlete, and he's got that type of care level," Blashill says. "He works extremely hard every day."
10. I mentioned the new Stanley Cup–inspired art installation outside the Maple Leafs dressing room in a column on Leafs Nation this week.
I was looking through the wires at the names engraved on the replica Cup plates, and for four of Toronto's Cup winners, the Leafs had the mascot's name engraved on the trophy: Stafford Smythe (Conn's 11-year-old son) in 1932, Hugh Smythe (Conn's other son, and later a team doctor) in 1942, and Kerry Day (son of Hap Day) in 1945, 1948 and 1949.
Carlton the Bear, will you be etched in silver for all eternity?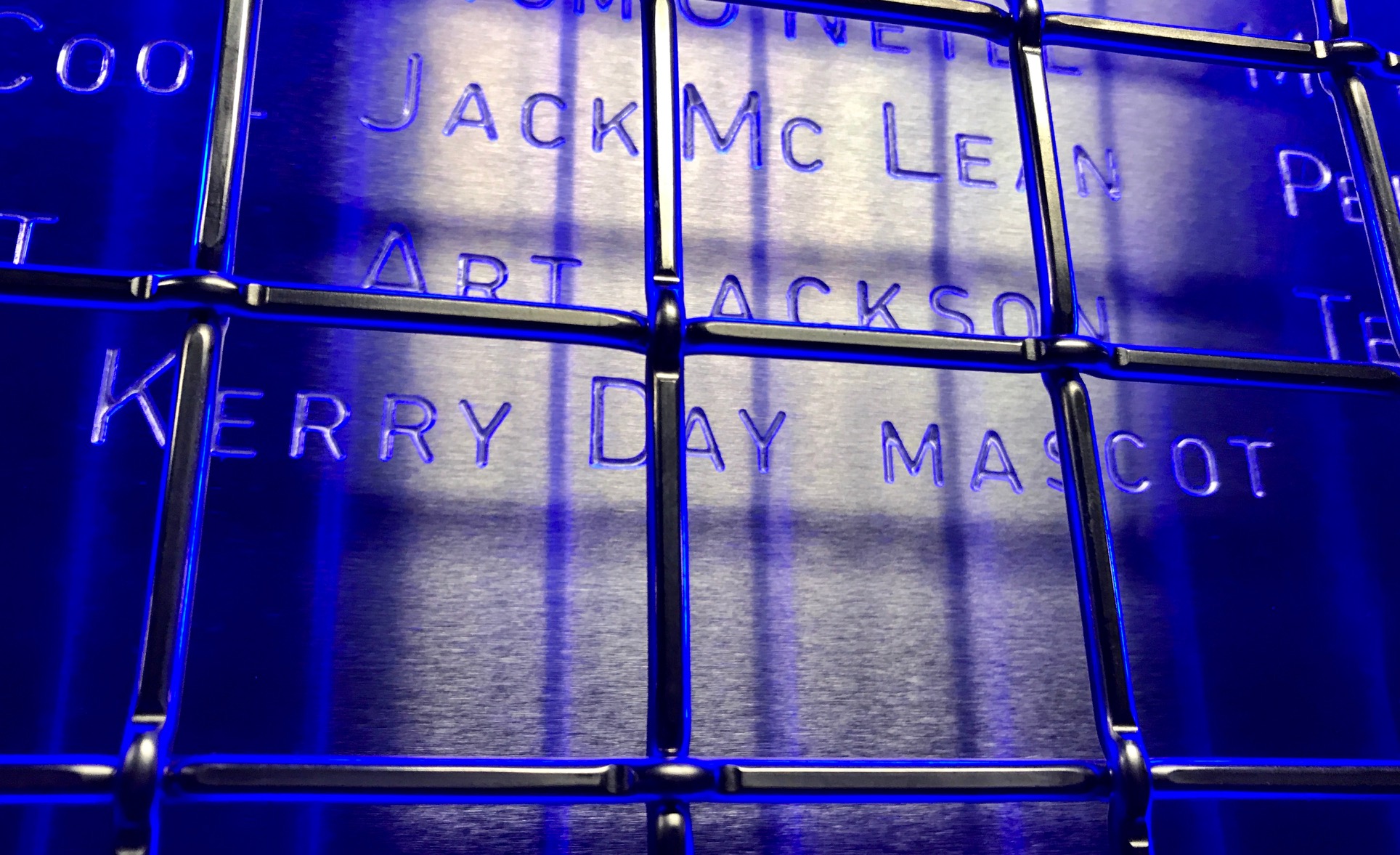 11. In light of Todd McLellan's public calling out of "superstar" players on his slumping Oilers, I asked Custance if he thought McLellan was equipped to deal with a player of Connor McDavid's magnitude.
"Todd's certainly a people person. He's intelligent. When I talked to him, he'd won a world championship with Canada, and that was the year Sid entered the Triple Gold Club. That's why I wanted to do that game," Custance said.
"Here's the iconic player of his generation. The Penguins got eliminated early, yet he went over to Prague to play in this tournament that, in the U.S., we don't realize how big a deal this is to these guys.
"Todd wasn't the Oilers coach yet, but I know he had conversations with Sidney Crosby about how to approach Connor McDavid. Todd's a smart guy by asking Sid how to handle Connor, and I think he'll be fine."
12. A ton of hockey folks chimed in eloquently on the life and death of Gord Downie.
I liked Blashill's comments.
The American coach fell in love with The Tragically Hip while playing college hockey in the early '90s ("They were huge in our locker room") and still keeps a list of Downie's tunes on his iPhone.
"The one thing that was neat as they went through their final tour is seeing the impact Gord had on a lot of people's lives. It's a huge reminder," Blashill said.
"The impact you have on people is the biggest mark you're going to leave in this life, and he left a helluva mark."