A quick mix of the things we gleaned from the week of hockey, serious and less so, and rolling four lines deep.
1. Calgary Flames GM Brad Treliving's enlightening comment Thursday that the NHL Expansion Draft will be less a formation of a well-rounded team and more "an accumulation of assets" pushed me to redraft my mock Knights from March. So did some standout playoff showings.
Here's a fresh mock draft, with an emphasis on scooping assets (who really needs four goalies?) that Vegas can later spin into trades for futures or to fill holes in its lineup with better talent. Of course, we expect some roster tweaks or waived no-move clauses (cough, Marc-Andre Fleury, cough) between now and the draft, plus some stay-away deals.
The fact I have Sami Vatanen down here as the pick from Anaheim makes me wonder if the Ducks trade him within the next eight days. Same with New York and Antti Raanta, a bargain of a backup. Ottawa might try to swing a deal to keep Marc Methot away from George McPhee, Washington should try to steer him away from Nate Schmidt, and there are other cases similar. Intriguing times.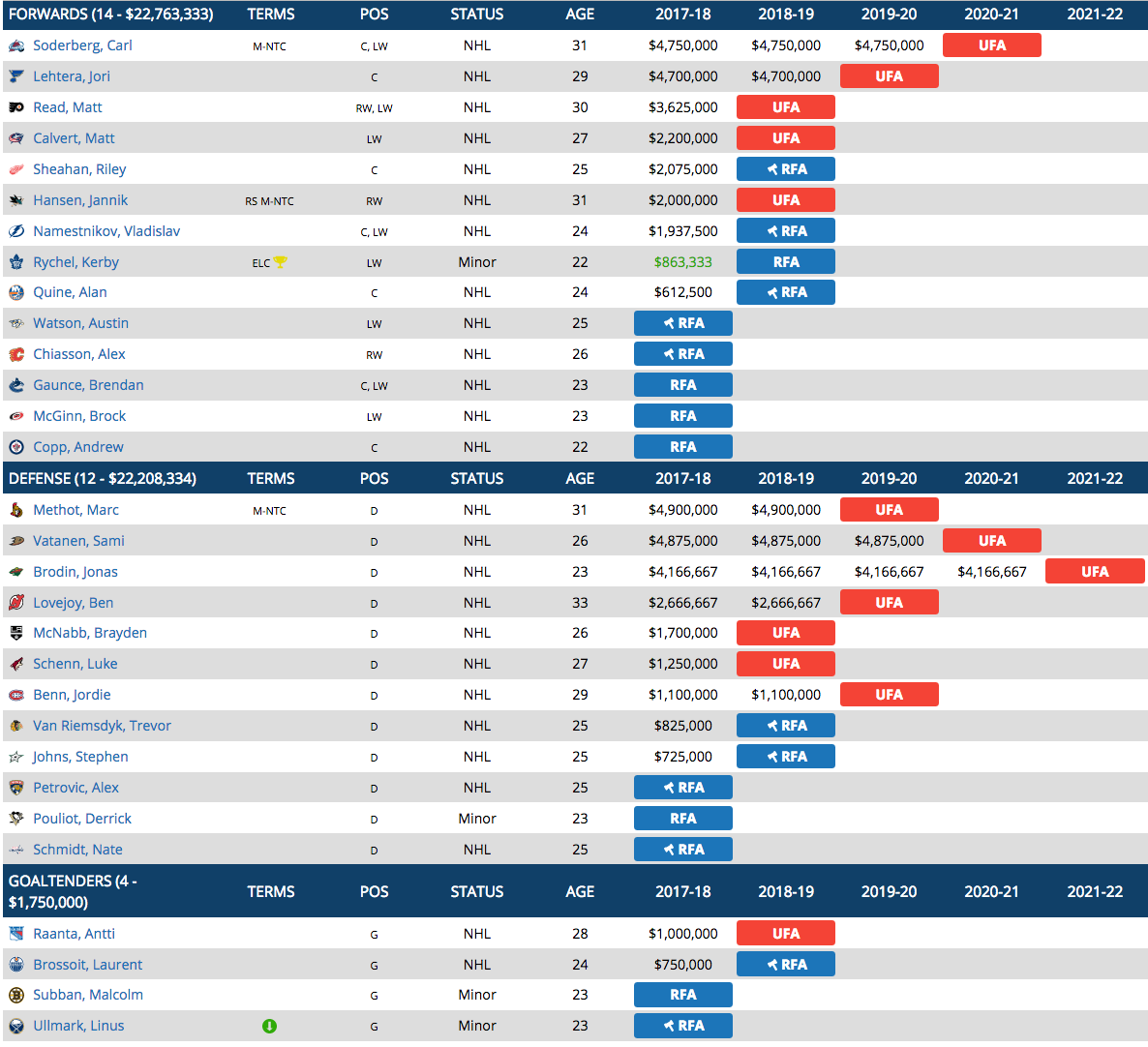 2. I had a good chat with Dominic Moore about his uniquely awesome fundraiser Smashfest this week, but we slipped into some hockey talk.
Moore again finds himself in the familiar position of being impending unrestricted free agent. Despite his age — he'll be 37 when the puck drops in October — the penalty-killing, faceoff-winning depth centre would improve most teams' bottom six.
When I looked at the UFAs Vegas might call during their exclusive 72-hour negotiating window, which begins June 18, the names of Moore and fellow Bruin Drew Stafford popped to mind.
"I am still a Boston Bruin at the moment," Moore reminded. "At the same time, for guys who would get that call, there is a lot of excitement about being part of an inaugural season for a new franchise. It's pretty cool to feel like you're at the start of something. Anyone can recognize the enthusiasm that will surround that team. For those who do end up on a franchise like that, I think it's a great opportunity."
This got me thinking that there are probably a number of players that won't take offence to being left off their current team's protection lists and would actually welcome a fresh start in Vegas.
Moore said he wants to re-sign in Boston, where he scored 11 goals (his highest total in six years) and played an important role in returning the Bruins to the post-season after a two-year hiatus.
He's skated on 10 different NHL teams, including four of the Original Six. Pure speculation: I could see Toronto trying to bring back Moore to take over the Brian Boyle role if he's on the market July 1.
What's so great about being a Bruin?
"The leadership group they have there is unique. [Zdeno] Chara was a pleasure to get to know this year. A true pro. Amazing guy, amazing work ethic, a great leader. And people in Canada know Bergy and Marchy well — the two-way players they are. To have players like that, leaders who are all-around players — that was great to be part of," Moore said.
"There's great potential in Boston. I'd like to be back, but we'll see. We'll talk in the next couple of weeks. With the expansion draft, we'll see how things shake out there. You want to make sure for both sides that it's a good fit."
3. Moore's contract lengths in the past decade: two years, one year, one year, two years, one year, two years, one year. Yeesh.
"It's not easy," he sighed. "If you ask most players, they'd like more secure contracts for a number of years and build a home somewhere. At the same time, I relish the opportunity to prove myself. I've always been that way.
"I have no problem continuing to prove myself. But every summer you have to figure out where you're going to be. Even the simple logistics of moving, it's never easy. People don't necessarily appreciate that part of the job."
Moore was awarded the Bill Masterton Memorial Trophy for perseverance and dedication to hockey back in 2014. If he keeps going, he might be in line for a second one down the road.
4. Moore likes to stay active and began cross-training shortly after the Bruins were eliminated by the Senators. Tennis is integral to his off-season fitness (same for Tuukka Rask). He rallies at a high level with people at the Harvard University tennis squad.
"It's incredibly complementary to hockey. A lot of people don't realize that," he explained.
"All the lateral movement, the stops and starts, core rotation, hand-eye, similar systems in terms of anaerobic and aerobic — they're actually incredibly compatible sports. I play at a high enough level, and it's a great workout, so I play as often I can in the summer."
Moore's big summer vacation will be a trip to Wimbledon. I asked his thoughts on the struggling Novak Djokovic.
"He was invincible not that long ago. It shows how small the margins are in all sports. If you lose that little bit of edge, things can catch up quick. You always have to be progressing," Moore said.
"He's brought on Andre Agassi to help him now — that's the right thing. You have to find new things and keep moving forward. If you don't, you start to fall behind. As a hockey player, that's part of the game too."
Dominic Moore setting up for another smashing success
June 07 2017
5. After four years of dues-paying as an assistant GM with the Los Angeles Kings, Rob Blake has dived headfirst into his new role as The Man in California.
Blake had two critical restricted free agents to lock up this summer — Tyler Toffoli, 25, and Tanner Pearson, 24 — and he's done so well in advance of June 30. Toffoli (three years at $4.6 million per) and Pearson (four years at $3.75 million) are both locked in at good rates for prime years. Neither contract has the trade protection attached to Anze Kopitar and Dustin Brown.
We also like that Blake staggered the expiration of these deals, so the members of That 70s Line don't come asking for big raises all in one summer, which is a challenge facing Tampa with its important young forwards now.
Blake also has his mitts in Evander Kane's potential trade out of Buffalo, and we imagine he'll consider Ilya Kovalchuk too.
Dean Lombardi deserves plenty of credit for constructing a two-time champion, but we're eager to see what a fresh face like Blake can pull off here.
6. Even with Toffoli and Pearson signed, the list of restricted free agents, especially in terms of forwards, is one to salivate over.
With quality centremen so rarely hitting the UFA market, the possibility of RFAs like Leon Draisaitl, Ryan Johansen, Mikael Granlund, Evgeny Kuznetsov, Tyler Johnson and Bo Horvat lingering without a contract for 2017-18 can spark dreams of an offer sheet.
But…
"The reality is, they seldom work," Treliving told Boomer in the Morning during his great interview Thursday. "They become inflationary tools. The team is going to re-sign the player anyhow."
And of course…
"There's some stink that comes with doing one of those," he said. "If you're prepared to go into that marketplace, realize what happens: You've now left yourself vulnerable to be a target."
Fun fact: The last GM to submit an offer sheet was Treliving's predecessor in Calgary, Jay Feaster, whose offer to Ryan O'Reilly was matched by the Avalanche in 2013.
Feaster was fired later that year and hasn't got another GM gig since. (He's the Lightning's VP of community hockey development.)
All that said, I found it interesting that Treliving envisions a future when offer sheets do become more popular. Last summer's Steven Stamkos last-minute extension reinforced a cold, hard fact: Fewer and fewer high-end players are reaching unrestricted free agency in their prime, and this may eventually compel a GM to use the offer sheet as a last resort.
(Brief aside: Treliving sounds noticeably more comfortable now that his extension is taken care of. He's even dropping one-liners.)
7. Speaking of RFAs, Minnesota Wild beat reporter Michael Russo reported this week that management has yet to begin negotiations with stud forwards Granlund and Nino Niederreiter, who are both coming off career seasons.
Further, the Wild have taken calls from teams interested in Niederreiter and Charlie Coyle, plus their young defencemen.
Even if Minnesota, as expected, protects three defencemen in the expansion draft, one of Jonas Brodin, Matt Dumba or Marco Scandella will be exposed. So does this prompt a trade before June 21?
"We've talked to other teams," Brent Flahr, the Wild's senior vice president of hockey operations, told Russo on Wednesday.
"If we want to move players, we can certainly move players, but at the same time, we're hoping maybe we can get something done with Vegas. We'd obviously have to pay a price of some kind [to make a trade with Vegas], but the reality is we're going to lose a player [to expansion]. We have to figure out what's best for us, not only next year but moving forward.
"You'd just rather lose a player than make a bad trade."
Said hockey fans polled outside of Minnesota: "We'd rather see a bad trade."
8. Nashville's embracing of the spirit of the Stanley Cup Final is well documented. The cheapest single-seat nosebleeder for Game 6 is selling for $1,289 US on StubHub; front-row tickets are going for as much as $9,999. That's $13,429 Canadian.
But the look on Jake Guentzel's face when he's brought unwanted catfish is priceless:
A Nashville restaurant served Pittsburgh Penguins forward Jake Guentzel a catfish pic.twitter.com/JqSy42rd5l

— Gino Hard (@Ginohard_) June 8, 2017
9. It's that time of year again. KHL teams have reportedly contacted Washington RFAs Dmitry Orlov and Kuznetsov, as well as Montreal defenceman Nikita Nesterov.
These vague threats to return to Russia don't seem to concern Capitals GM Brian MacLellan and Nesterov's agent:
With Alexander Radulov, Vladimir Sobotka and now Ilya Kovalchuk (maybe) coming from the KHL to the NHL, and the Russian league dealing with financial issues and contraction, the leverage of the world's second-best pro league appears to be at its weakest in years.
10. Karl Subban may be a father of three fresh-breathed professional hockey players but he's also an educator, motivational speaker and soon-to-be-published author.
He dropped a nice summation on the three stages of good parenting during an interview on Sportsnet 590 The Fan Friday: "Clear the way, pave the way, and get out of the way."
P. K. Subban's dad: Tussle with Crosby just competitive juices flowing on the ice
June 09 2017
Reminds me of something he said the day I met Karl, a warm soul. I had torn my ACL and was limping around in a brace. This prompted him to reveal the three signs your hockey career is burning out. "First the knee goes, then the money goes, then she goes," he quipped.
Karl was asked on-air Friday about watching Sidney Crosby knuckle his son's head into the ice repeatedly in Game 5.
"People don't know this, but when we were in Sochi, P.K. was Sid's best friend and the other way around," Karl said.
"The competitive juices are flowing on the ice, and people love drinking it."
11. During the Ottawa Senators' semifinal series, I asked a few defencemen about the impact of coach Marc Crawford. They all raved about him.
This is a Cup-winning head coach playing an associate role.
Curious about Crawford's take on his first season back in the NHL after being behind a Swiss bench and wondering if he may have ambitions for the vacant head gigs, I asked the Senators to speak with him but was denied.
I did ask Guy Boucher about his relationship with Crawford, and he was effusive.
"I knew I needed a staff around me that I could trust, a staff around me that had experience, and a staff that would balance itself out in terms of emotions, and I knew I wanted Marc. I was lucky enough that the organization let me hire him, and I was lucky enough for him to say yes," Boucher said.
"I always buy in to the person first, and I knew that the type of person I wanted to be around, but also the fact he had won at the NHL level. He had been at the World Cup. He'd been at the world championships. He'd been at the Olympics. He had done it all. And I think for our players that was really important. I really felt this group needed as much experience as it could to accelerate the process of growing and to help me at the same time and complement my weaknesses and the things that I don't do as well. And also somebody that would let me be who I am.
"Emotional people understand each other, and what I like about Marc is we're the same in that respect. We can go really high. We can go really low. And that's great because then when I'm asking somebody how they feel about something, how they've dealt with things in the past, well, I know that it's in the same type of approach as I have, so it has a lot of value to me."
What stood out most of all, though, is Boucher noting the value of a commanding voice, one with the resume to back it up. (Which is also why Hall of Famer Phil Housley is a prime candidate to graduate from his assistant role in Nashville.)
"I wanted somebody that would take care of the defencemen, that was strong enough to do so, that had the experience. Because, obviously, Erik Karlsson and [Dion] Phaneuf," Boucher went on, "they'd seen a lot before, and they needed somebody strong, and that's what Marc is — experienced, strong, and extremely humble at the same time and very bright. He's done an unbelievable job with the group."
No question Boucher wants Crawford to stay, but after seeing how his D group handled the Bruins, Rangers and Penguins, will he get interviews elsewhere?
12. A prediction: Ryan Ellis' health is a concern, Pekka Rinne is the second-best goalie in the series, and Crosby is wide awake, so… on Sunday, the Pittsburgh Penguins will become the first repeat champion of the cap era without ever hoisting the Stanley Cup on home ice, and Crosby will claim back-to-back Conn Smythe trophies.