TORONTO — There's an old story Capt. (N) Jason Boyd likes to tell about former teammate and friend, Sgt. (Ret'd) Rob Sneath. It was 2004, during the NHL's season-nullifying lockout, and a few out-of-work big-leaguers had embarked on a Canadian tour, taking on local teams in exhibition games to pass the time.
That squad, which featured names like Dominik Hasek, Marty Turco and Matt Cooke, was swinging through Halifax, N.S., and had heard the local Canadian Armed Forces team — led by Sneath and Boyd — was something of a military hockey dynasty. Deemed a worthy-enough opponent for a mellow contest in front of the local fans, they reached out and set up a game. It began how most assumed it would.
"You know, they got off to a bit of a lead on us right away — I think it was about 4–0," Boyd recalls.
But once the home squad got their bearings, the ice began to tilt in their favour.
"We started playing pretty well. We came back and tied them — it was 6–6, the final score, so we went into an overtime."
Over a couple of post-game locker-room beverages, Boyd got the inside scoop on what was being said on the opposing bench during that comeback and heading into the extra frame.
"Those guys started looking at each other on the bench saying, 'Guys, we can't lose this game. We're the NHL.' … And you could tell they really started pouring it on, and the game changed."
Celebrate Our Community. Celebrate Our Game.
The NHLers flipped the switch, their pride on the line.
"About 30 seconds into overtime we came down, took a shot off Turco, and he fired a three-line pass to Matt Cooke, who went in and scored."
Even with the narrow loss, it was a statement performance for the Armed Forces squad, and for its brightest star: Rob Sneath, No. 27.
"They had no expectation that we would give them a game like that, and Rob was a big part of that," said Boyd. "He scored one, he made a couple really nice plays to set up some other ones, controlled the play, and made some big shutdowns on some of their top guys."
Sneath was so impressive, in fact, that the locked-out NHLers asked him to join them. He suited up alongside some of the sport's best as they continued their tour around the country.
Of course, no one familiar with Sneath's decades-long dominance on the ice was surprised at the invite. In truth, this was just another drop in the bucket for Sneath — another impressive performance in a career that was never short on them.
Inducted into the CAF Sports Hall of Fame just a month before his passing in 2017 following a long battle with cancer, Sneath was an absolute force during his 24 years with the Armed Forces. Regarded as hands down the best to ever take the ice in Canadian military hockey, Sneath earned appearances in 21 straight Canadian Forces National Hockey Championships between the late '80s and early 2000s.
His athletic abilities nearly spilled out from the military environment into wider sports culture on multiple occasions, the first coming in 1992 when the then-27-year-old got a shot to try out for the Philadelphia Flyers. Sneath stuck around throughout training camp, impressing enough to nearly earn an AHL deal before the club ultimately decided it wasn't going to work out.
Master Warrant Officer Paul MacQueen first met Sneath in 1994, a year before the two teamed up to win the first — and only — national title for CFB Esquimalt, where Rogers Hometown Hockey touches down this weekend. Looking back fondly on Sneath's calm, collected on-ice presence, MacQueen says what struck him most about No. 27's impact on that title run was actually the captain's poise and leadership off the ice.
"We cleaned up, rolled right through the tournament, didn't lose a game," MacQueen remembers. "And it's kind a testament to the kind of guy Rob was: Out of his own pocket, prior to the tournament — he had been there so many times before and he knew what kind of team we had — he went out on his own dime and bought 'CF National Champions '94-95' T-shirts and hats. Before the tournament. Like he knew. And [he'd been told], 'We'll give you the money back for them if you win. If you lose, you're paying for that out of your own pocket.' But he knew.
"It's funny — we win and we get the trophy, all this kind of stuff. We're in the room, we're drinking beer…. And he pulls the boxes out and starts throwing the hats and T-shirts around the room to the boys."
"He was a prince among men," says Master Warrant Officer Wade Sutton, a CAF Sports Hall of Famer in his own right, and also a close friend and linemate of Sneath's later in his life. "He lived life to its fullest; he didn't sweat the small stuff. He was special, and you'd feel it when you were around him."
So otherworldly was Sneath at that '95 national tournament that a representative of the Canadian Olympic team, watching from the stands in Calgary, Alta. — where both that tournament and the Canadian national team were based — offered the smooth-skating defender a chance to try out for the Olympic squad. With the team already formed and only a handful of spots available for the taking, the international opportunity didn't pan out. It did, however, reinforce for all those outside the Armed Forces a truth that those inside already knew: that Sneath was on a level all to himself when it came to the all-time military hockey greats.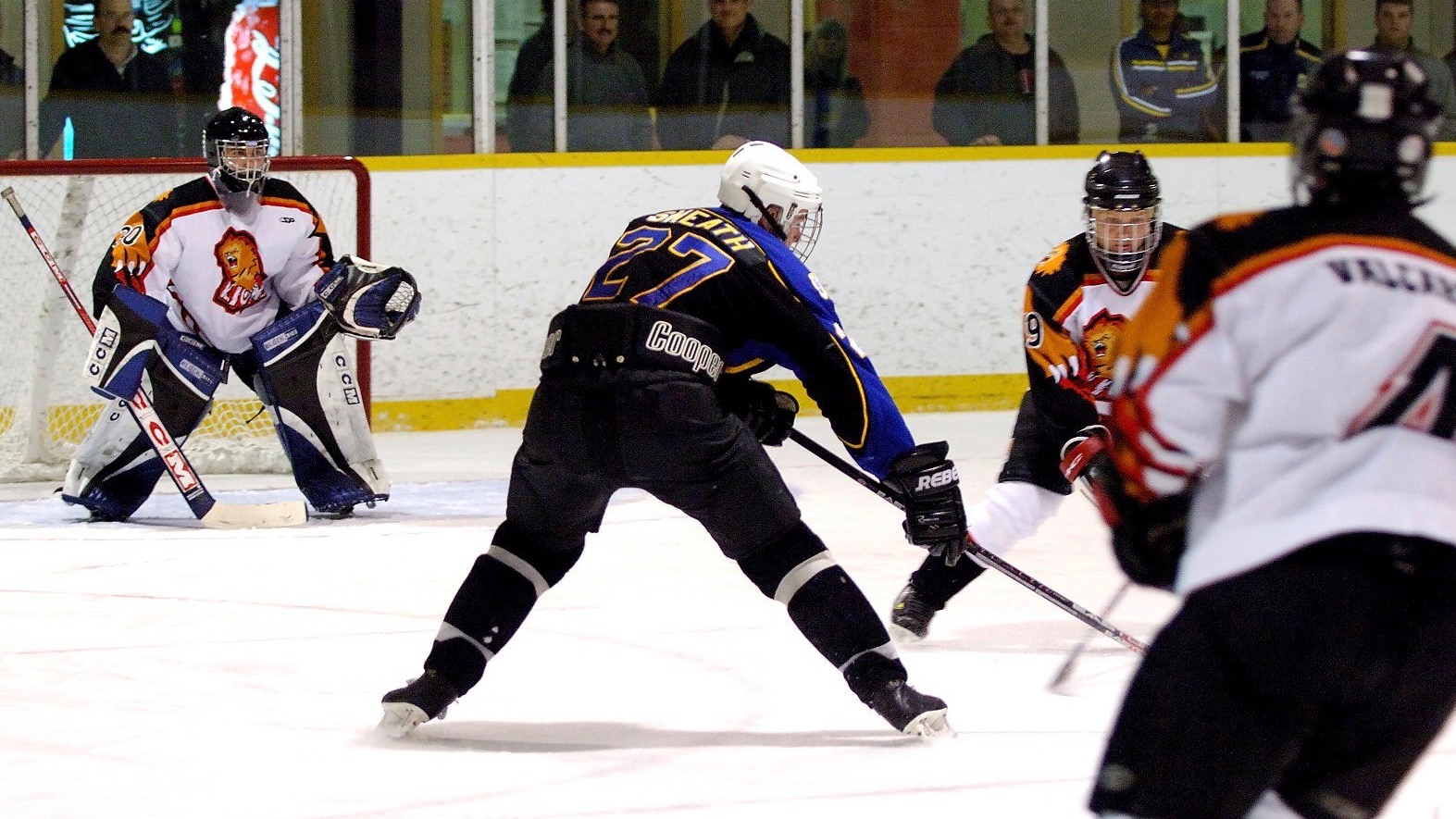 Long ago dubbed the Wayne Gretzky of Canadian military hockey, Sneath actually shares a hometown with the Great One — Brantford, Ont. Joining the Navy at 18, he eventually landed in Esquimalt as a Boatswain, and suited up for a junior-B club in town, in between sailing out to sea to finish his training.
Sneath enjoyed his fair share of early success in the military-hockey world as he transitioned through different roles — as a PERI and then an Aircraft Structures Tech — and different bases. But it was in Shearwater, N.S., around 1999, that his hockey legacy took on a historic tint, as he, Boyd, and Sutton combined for an eight-year run that saw them win everything in sight.
"As a player, his reputation on the ice preceded him. I got to witness over eight years so many different things that he did. Composed — that was Rob," Boyd says. "He was a big-game player. When we needed a goal or a big play, it was always Rob stepping up to do it. And he wasn't one of those guys that, when we were down in a game, [would say] 'Jump on my back, boys, I'm going to carry you to the finish line.' He would just elevate his play to an extent that made everyone else around him elevate their play."
A couple decades of doing just that wound up elevating not only the various iterations of rosters he played on, but military hockey in general.
"Rob really put military hockey on the map. And he did so much to further the sport and do so much with it while he was part of it," Boyd says.
The legacy that has lived on in his absence is evidence enough of that fact: a sports award named after him; a minor hockey tournament founded in his honour; and his jersey raised to the rafters of the Shearwater Arena.
"On the east coast, on the base teams there, and on our base teams, there's never been another 27," says MacQueen.