With the New York Rangers in a bit of a tailspin, and the Metropolitan Division full of solid teams vying for playoff spots, it becomes tougher for them every game to get back into wild card contention.
They're currently only three points out of a playoff spot, so it's not like it's impossible, but there are hard questions the Rangers need to ask this season, the biggest one being: is it worthwhile to expend assets to make the playoffs if it's extremely unlikely you can make a run?
The Rangers have been a mark of Eastern Conference consistency for years now, making the playoffs for seven straight seasons, and 11 of the past 12 since the 2004-05 lockout. But with that success comes an aging core and diminished ability to restock from the prospect pool.
The Rangers have found some gems in the draft, such as Brady Skjei and J.T. Miller, but they haven't graduated a player since the 2013 draft, and before last season hadn't picked in the first round since 2012.
With all that in mind, it must be tempting for the Rangers to sell off some of their players who are on expiring deals, and two that could generate a lot of interest are Rick Nash and Michael Grabner.
Nash has had a pretty underwhelming run in New York overall, with one amazing half season in 2012-13, and another great one in 2014-15, surrounded by three seasons where he failed to crack 40 points and missed tons of games. This season he's once again on pace for about 39 points.
Grabner, meanwhile, has had two of his best seasons since signing with the Rangers, scoring 27 goals last year, and 21 already this year.
Using the player ranking project I worked on over the summer, we can see that these two right wingers have very different styles of play over the past three seasons.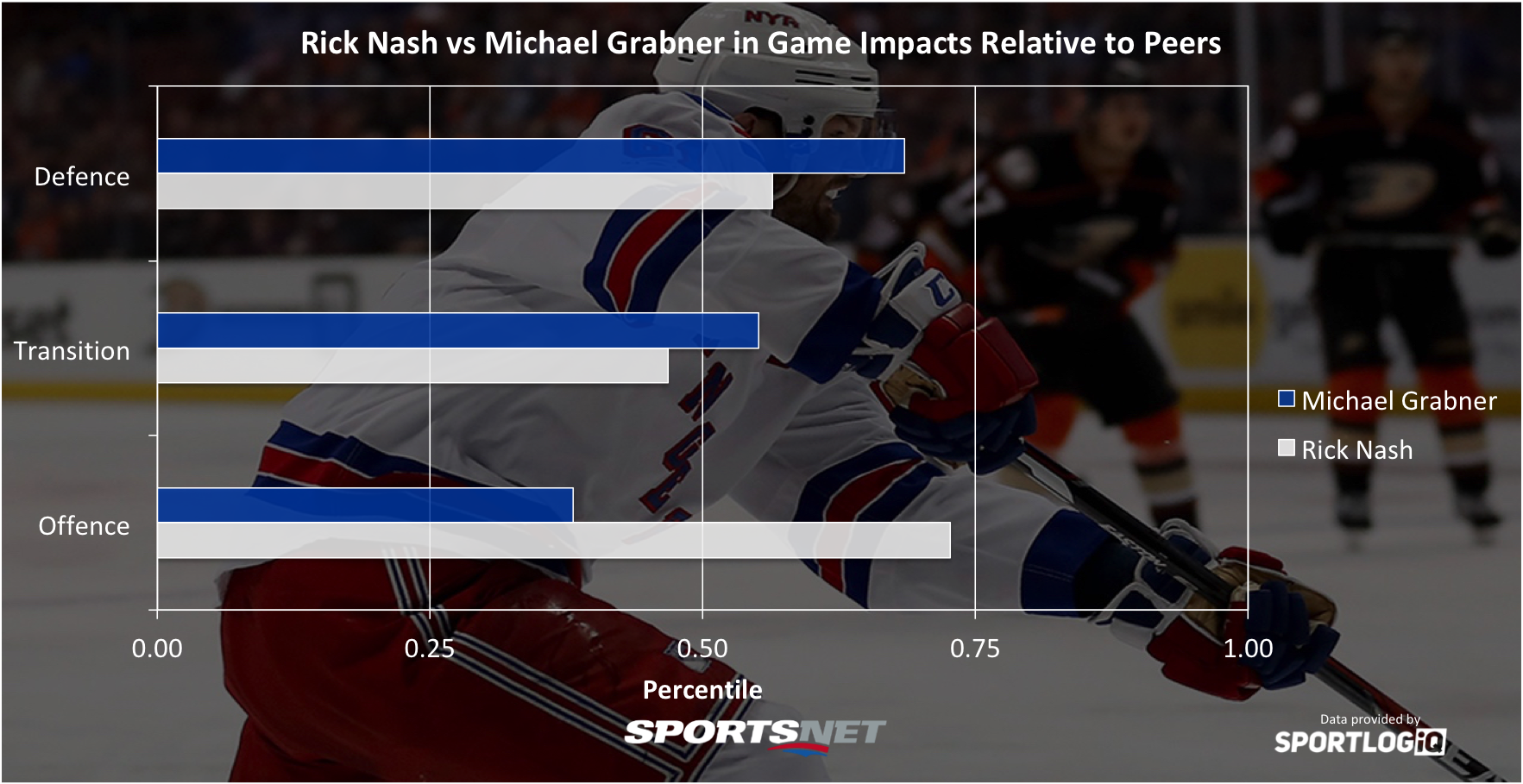 Grabner is better defensively and in transition, while Nash creates way more offence, approaching first line-level talent still, which is a bit surprising given his point production.
Given that offence is a much more important component of a winger's game than the other two areas, Nash ranked as the 25th-best right winger of the 70 who made the time on ice cutoffs, whereas Grabner ranked 51st.
That's the past though, and while it might be a better predictor of long-term success, if you're buying a rental for this season you want to know which player could help you more immediately.
That's especially true when Nash has a cap hit of $7.8 million, and Grabner is extremely affordable at $1.65 million.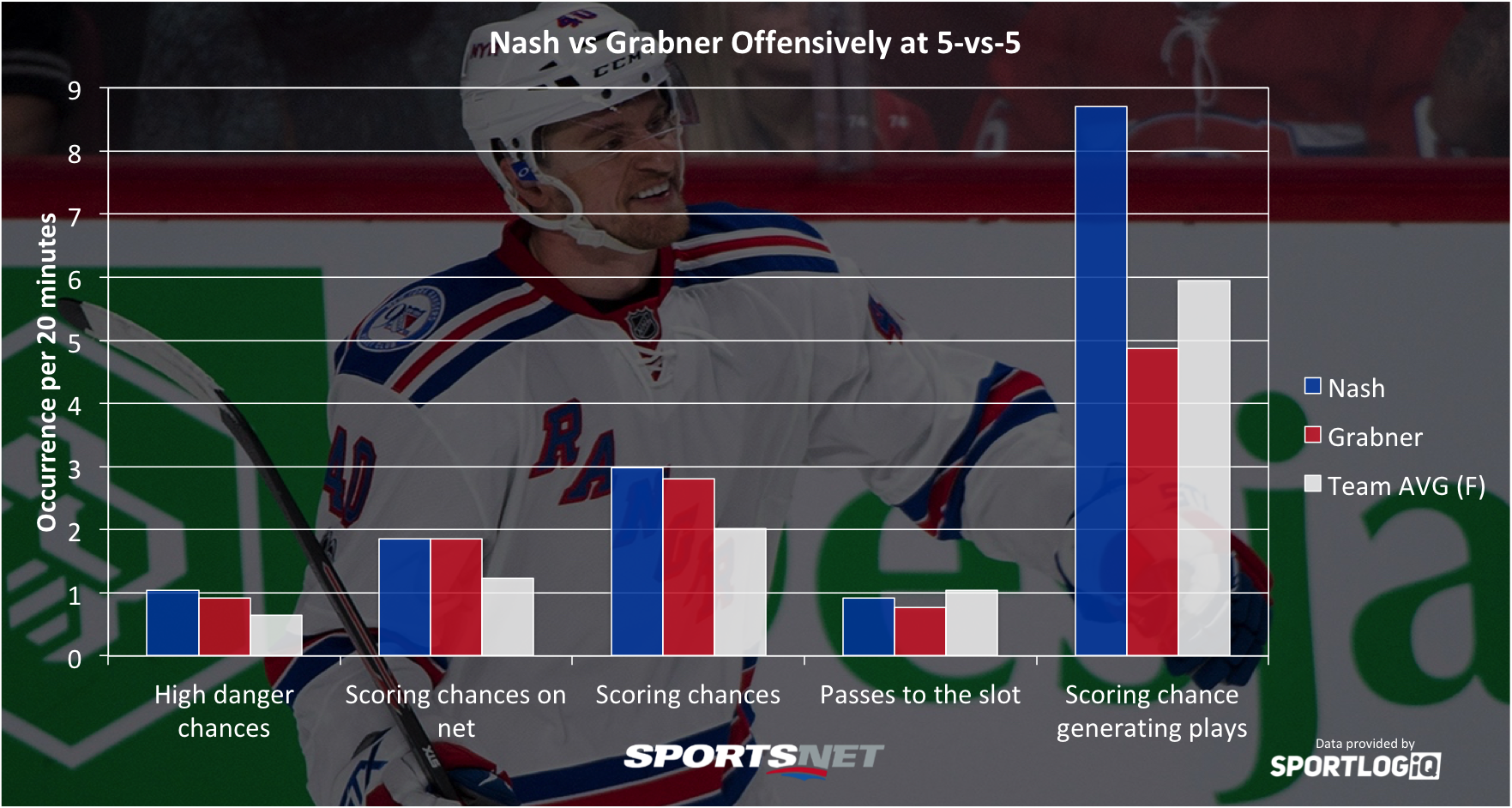 When it comes to shooting, despite Nash putting up more actual shots, the two are close to even in scoring chance production. Grabner, as you might expect, shoots more off the rush than Nash, which drives his high shooting percentage, while Nash creates more off the forecheck, cycle, and shoots more often following a pass, meaning his attempts have more pre-shot movement.
Neither are great at penetrating the slot with passes, but in terms of creating scoring chances for teammates, Nash dwarfs Grabner by nearly double. The points haven't been there for Nash this year, but the underlying play that creates goals has remained stellar.
Looking at their on-ice differentials this season, Nash has been absolutely dominant in high danger chances, and the Rangers allow fewer while he's on the ice than with any other forward. Only Pavel Buchnevich and Chris Kreider have driven more high danger chances for the team than Nash.
That gives Nash the best differential on the team in high danger chances, and he remains strong in Corsi as well, but the Rangers' team shooting and save percentages while he's on the ice are killing both his production and his goal differential.
Grabner, meanwhile, is a little below average in both high danger chances and shot attempts, but has been the beneficiary of amazing percentages. While Grabner is on the ice, the Rangers are scoring on 8.18 per cent of their shots on goal, compared to just 6.67 per cent for Nash. The goalies have been even better for Grabner, stopping 94.75 per cent of the shots against while he's on the ice, whereas Nash is only getting 91.55 per cent goaltending.
Ultimately, Grabner is a depth player who can score in bunches, both at even strength and shorthanded, mostly due to his incredible skating. He won't put teams over the top, but if one is looking for a depth player who can help the penalty kill and contribute some goals without being a major negative defensive impact at even strength, he would be a fantastic value add at his cap hit.
If a team is looking for help in their top-six forwards, needing a winger who can drive play and exert some control over scoring chances, Nash is who they'll want to target. You won't likely get the 40-goal Rick Nash that everyone remembers, some of his speed is gone and he doesn't finish as often, but he's still an excellent player, and he will get his linemates to produce more.