That distant mistress.
Hockey. Victory.
Episode 3 of Road to the Winter Classic finds the Montreal Canadiens, once cruising atop the NHL, caught in a Christmastime tumble, their losses stacking up like a Jenga game yet to begin.
Winter Classic Live: Latest news, videos, social content
In a raw and harsh chirp from Jason Chimera, the Washington role player brings the Habs down another peg.
"You got a good start. That's fine. That's all," Chimera barks. "You're getting f—–' cocky. Who do you think you are?"
Then the bald journeyman goes out and scores, sealing Montreal's sixth consecutive loss. Truth be told, the Boston Bruins haven't exactly been on fire, either.
Mercifully, the Christmas break does offer respite and family fun as the injuries, suspensions and struggles of these two historic rivals are documented en route to their New Year's showdown. Watch the full episode in the video player above.

---
Need to catch up on 'Road to the Winter Classic' episodes?
Watch Episode 1 here // Watch Episode 2 here
---
How did he miss from that angle?
Episode 3 opens at breakfast. A few Canadiens are watching the previous night's highlights, featuring their loss to the Dallas Stars. P.K. Subban wants the channel flipped, but it doesn't happen.
Cool to see Subban and Dale Weise give it up for opponent Jason Spezza's "sick" shot-fake snipe (watch below), and the show's first laugh comes when Subban ribs his teammate about dinging both posts on a wide-open chance.
"How many goals do you got, bud?" Weise, an 11-goal guy, snaps at Subban. "Shut the f— up."
Subban has one on the year.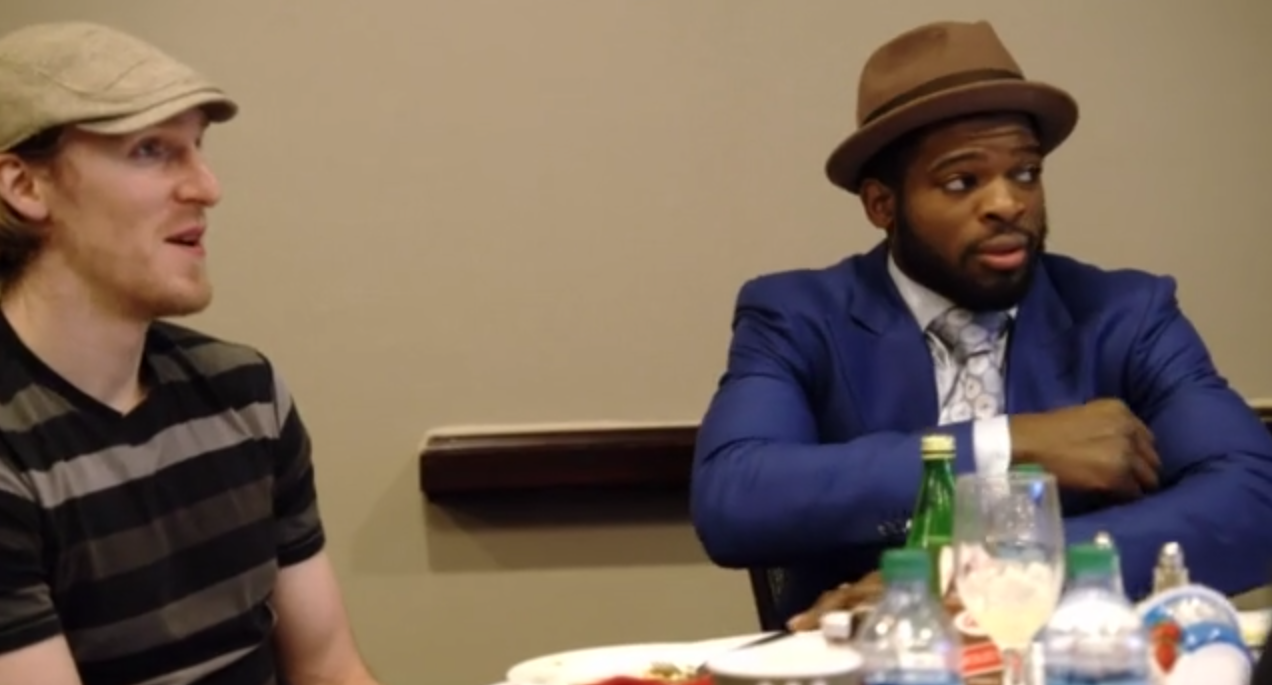 Spotting a good deal
In what feels like an Epix-setup piece, Bruins teammates David Krejci and Torey Krug go Christmas shopping for their pets. Hey, these two guys both own dogs! Let's film them at a pet store!
The guys have worn the same uniform for four seasons now, but their stilted dialogue gives the viewer the impression that this is the first time they've ever chatted with each other about their animals.
Krejci is hunting for a sweater for his Maltese, Diggles, while Krug is looking to treat his English bulldog, Fenway, "the most popular dog in the neighbourhood."
"Why'd you name him Fenway?" Krejci asks, sarcasm-free.
Rough.
Who's going to straighten out Ryan Reaves?
For my money, the strength of the Road to the Winter Classic series has always been the in-game candor caught when players and coaches forget or don't care that they're mic'd up.
During the Bruins' match versus the St. Louis Blues, we see coach Claude Julien take a passive-aggressive tack with officials after 224-pound agitator Ryan Reaves takes swipes at Zdeno Chara and Brad Marchand.
"Reaves is f—–' whacking our best players," Julien tells the ref, keeping his cool. "So I don't know if you want our guys giving him the message or…"
"We know who he is," the ref asserts. "We know what's going on."
Cut to NESN play-by-play man Jack Edwards — a one of a kind — singing "We Wish You a Merry Christmas" as Reaves and Boston tough guy Tyler Randell drop the gloves.
A unit in freefall
"There's no mystery in who they're missing," narrator Bill Camp says during another slow-motion montage of sour Habs faces and dim lights.
For the third episode in a row, Carey Price is nowhere to be seen—and not really mentioned. One has to think Epix would've loved to document the MVP's recovery from injury, but the Canadiens probably kiboshed the idea.
And with Montreal goals suddenly at a premium, the losses mount.
We're not even halfway through the NHL season, so it's interesting to hear Julien actually cite the Habs' score during a second-intermission speech to the Bruins.
"Montreal's losing 2-1. We win a game, maybe we move up. That's what's at stake here," the coach encourages. "Don't be the weak link."
Zdeno Chara delivers wisdom in small packages
"That's what this game is all about: winning," says the gargantuan captain. "You win and everybody's happy."
Live from Dorchester, it's Christmas Eve!
Jimmy Hayes welcomes the cameras into the family home for a big holiday bash, featuring the entire Hayes extended family, thick South Boston accents, dice games, and red cups all around.
Hayes introduces us to all his uncles and cousins, then starts ripping on cousin Casey's hair: "He's got some deadly locks this year. Those are luscious this year."
But once Jimmy and brother Kevin, who plays for the Rangers, get to arguing who's better at bowling, bro, the scene feels ripped straight from Saturday Night Live's old "Boston Teens" recurring sketch.
Incredible. Fast forward to 27:30 of the episode at the top of this story now.

Subban family Christmas
Meanwhile, in Toronto, all three NHL-drafted Subban boys return home for the holidays.
Lugging a Santa-sized selection of gifts, P.K. arrives to see his nephew rocking a Bruins sweater.
No good.
But the little man wins over Uncle P.K. by revealing that he's wearing a Canadiens T-shirt underneath and that Montreal is really his favourite team.
"Don't tell Uncle Malcolm that," P.K. teases. "Smart kid. He gets it."