Every Canadian Rob Suggitt met in the last month was jealous of him and his journey.
Thirty days before the conclusion of the 2014–15 NHL season, the hockey superfan set out from his home in Edmonton to watch 30 games in 30 cities in 30 nights—a self-funded adventure that has raised $42,800 for Make-A-Wish Canada (donate here!).
We caught up with Suggitt at Game 30 Saturday night at the Air Canada Centre and fired 30 questions his way.
1. You're the first person to do this, right?
In Canada. There's a guy in Tampa that did it in '07. It broke my heart because I had been planning this trip for 10 years. He did it very quietly. I've never met him, and most people never ask that question or look it up. So I've been treated like this is the first time it's ever been done. It's definitely the first time it's been done with a charity element.
2. Best meal?
Philly cheesesteak. In Philly.
3. Worst travel experience?
Friday. I was in Montreal and the stopover was here [in Toronto] to go to Columbus. My plane was in the gate but it had to be brought back for maintenance. I landed in Columbus at 5 p.m. for a 7 p.m. game. Closest call.
4. Best travel experience?
Most were pretty good. The best are the car rides. I did 27 flights and two car rides. The car rides had no angst because you know you're gonna get there.
5. Greatest mascot interaction?
Sharkie in San Jose. I was feeling a little bit down, and he knew about it. He came over to visit me, gave me a big hug and lifted my spirits. I was exhausted. It was Game 20 and I was sick with food poisoning. Just feeling wiped out. But honestly that mascot lifted me up.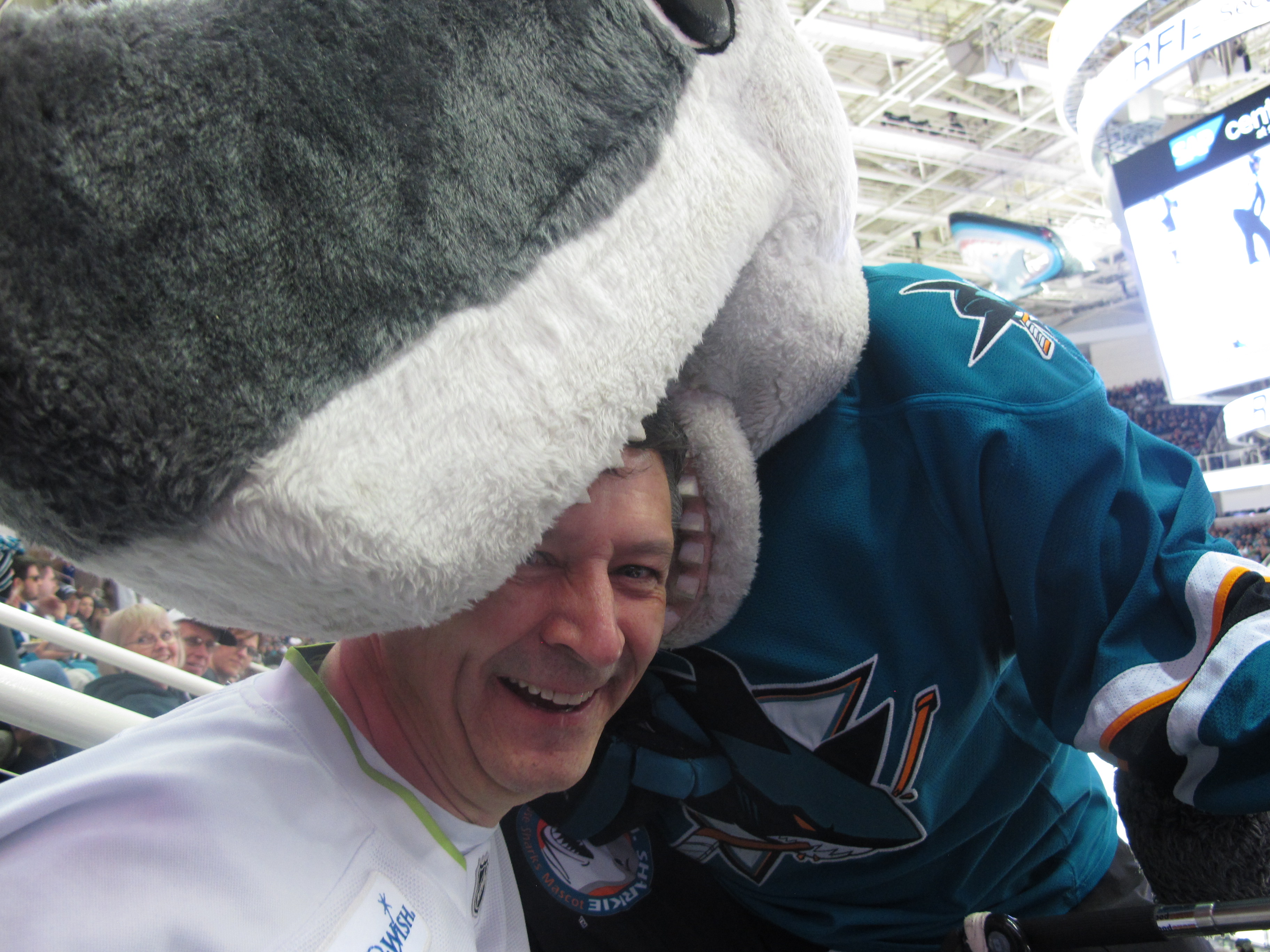 6. Best performance by an individual player?
I never saw a hat trick. I'd have to say Nick Backstrom impressed me most. I saw Washington play about four times, three on the road. He's the most underrated player in hockey.
7. Best celebrity encounter?
Phil Esposito in Tampa Bay. I admired what he did in his career and what he did in 1972 for Canada with his speech. So meeting Phil was great.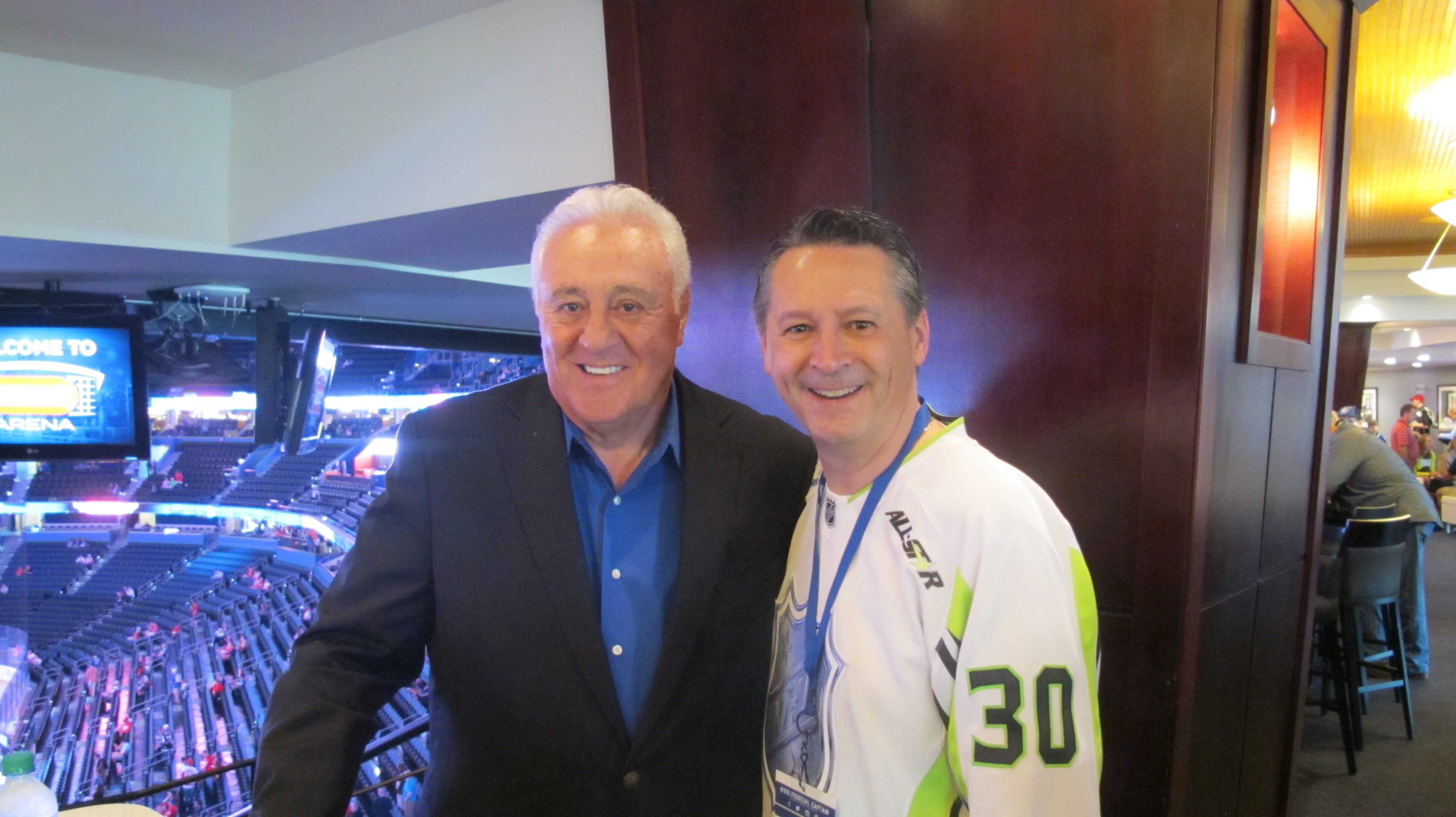 8. The ultimate royal treatment?
Washington, for sure. They brought me to the game two hours before. I watched the players warm up with the soccer ball, saw the pre-game skate. I got a chance to watch the third period in the owner's suite. Met the owner of the Washington Capitals, Ted Leonsis. They're just hockey fans there—a great experience.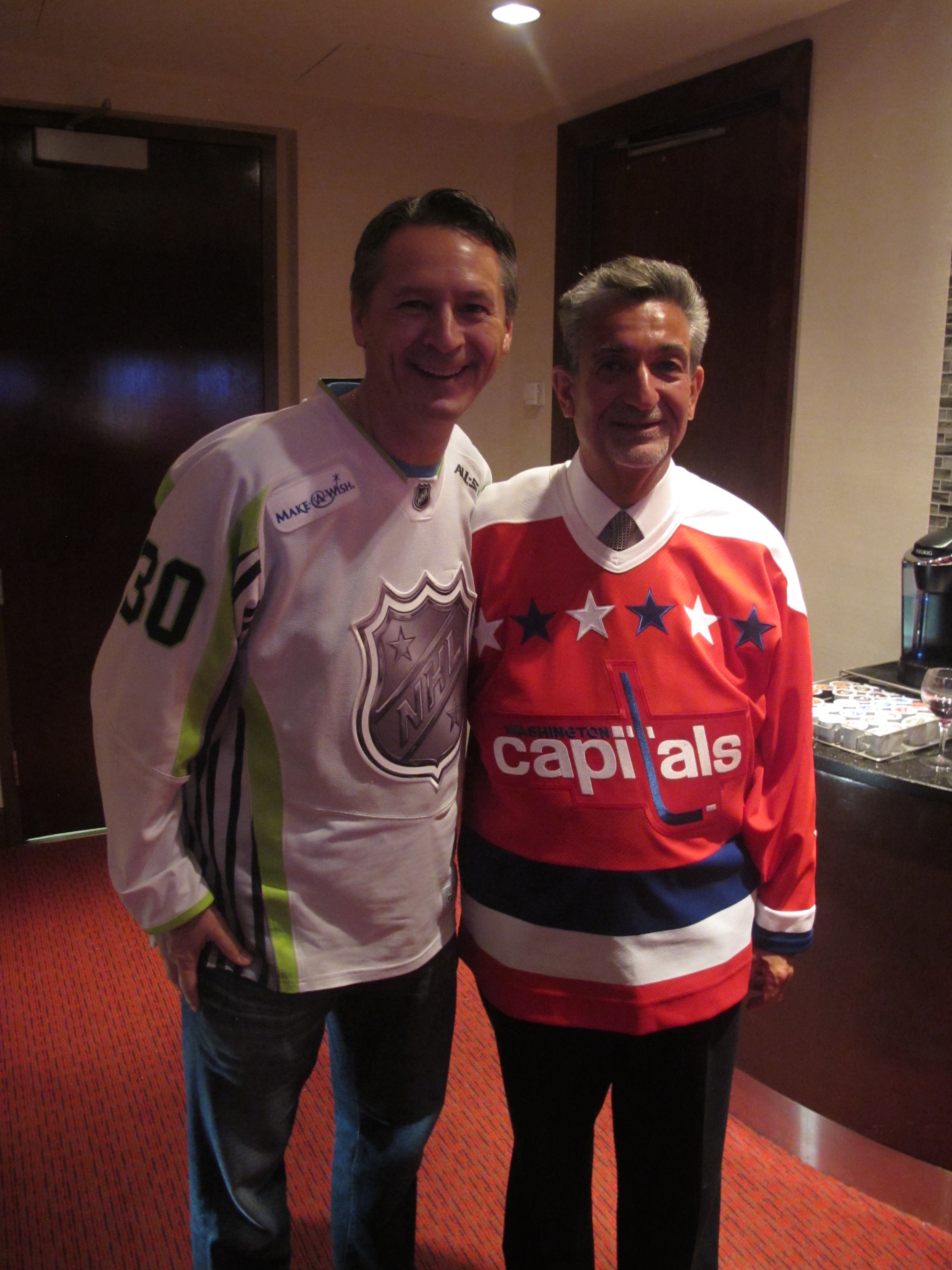 9. Most interesting discovery about Make-A-Wish?
How well known it is everywhere. I know it's well-known in Canada, but when I wear this jersey and it has a Make-A-Wish badge on it, it's universally recognized. I never have to explain to anyone what it is. I thought it might have 95-percent brand recognition; it's 100 percent.
10. Best night in terms of pure game play?
Ottawa last week. Ottawa had been needing to win their games. It was 3–0 after nine minutes, Washington tied it up, and Kyle Turris scored a beauty in overtime to win it. The fans went crazy.
11. Most impressive rink?
Madison Square Garden. The billion dollars they spent on that arena shows. It's beautiful.
12. Best beer?
Molson Canadian. Tastes best in Canada.
13. What does your family think of this?
My family loves it. They're so supportive of me taking this trip. Their support has helped me get through.
14. Best view?
I try to get between the blue lines, between rows 18 to 22. I like a slightly higher vantage point than ice level, and I've had that for two thirds of my games.
15. Which rink's history struck you the most?
Joe Louis Arena, absolutely. It's been around a while, and they've kept it mostly the same. I know they're moving into a new facility in a year and a half, but that one has most of its history intact.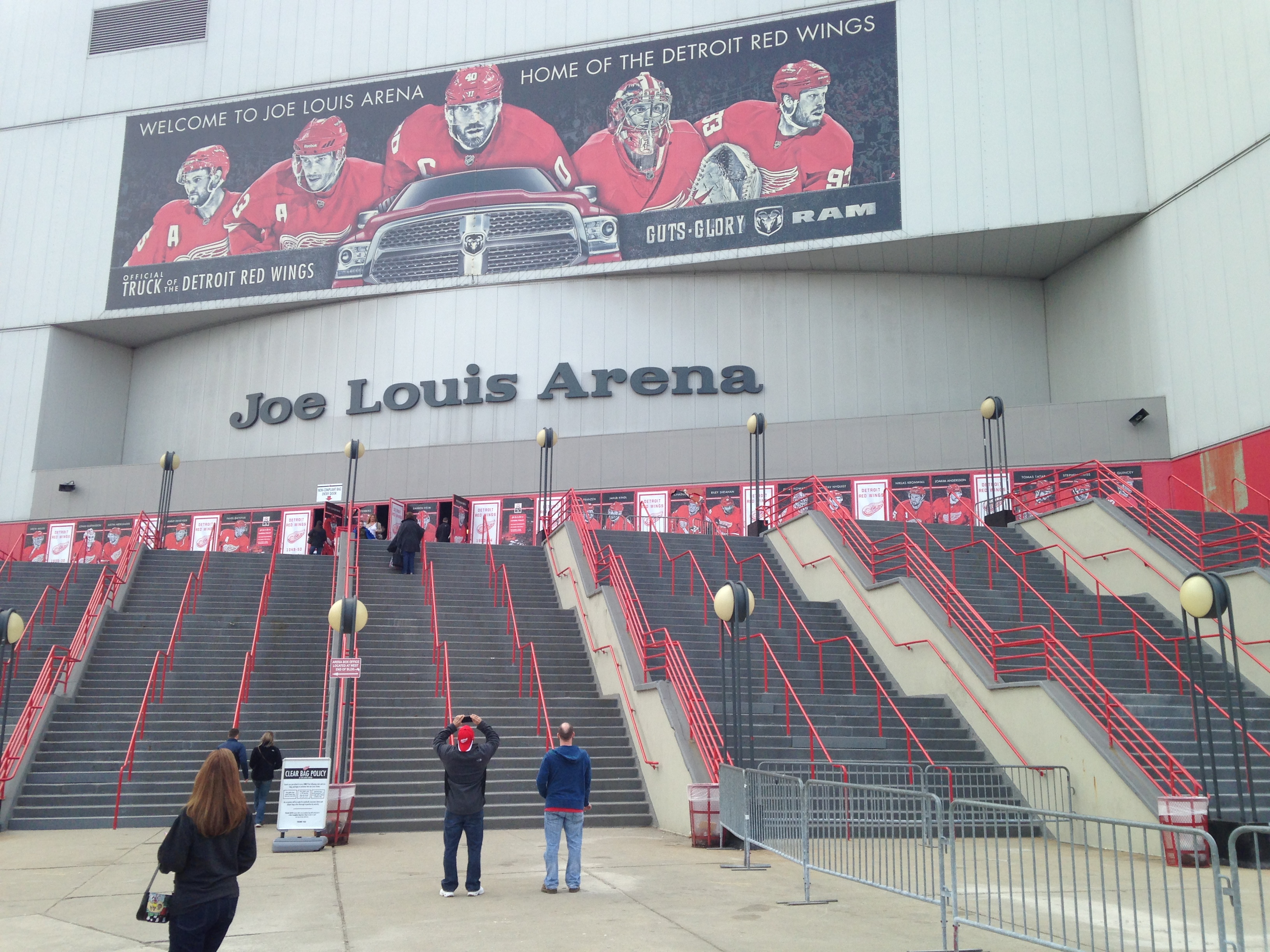 16. Tightest game?
In New York, they were playing Chicago, and unfortunately for the home team, Chicago beat them 1–0. But that was a tightly played hockey game, like a playoff game.
17. Kindest stranger you met?
Coolest guy was in Winnipeg. He got ahold of me two weeks before the trip. He heard about it. I didn't pre-buy most of my tickets; I usually just walked up to the box office. One ticket is usually easy to get. But he contacted me in advance and he took me to the game.
18. Most homesick?
The last five days. It's been a long trip. You miss family, miss home. While you're excited about the trip, you start to get excited about getting past the travel and sleeping in your own bed soon.
19. Longest day?
I had to go from L.A. to Ottawa—3,000 kilometres. I couldn't avoid it in my schedule. So I had a layover in Philadelphia for three hours. I left at a red-eye at midnight just after the Anaheim game, and I arrived at my hotel at 2 p.m. Fourteen hours of travel.
20. Best game presentation—music, scoreboard, intermission entertainment?
Tampa Bay surprised me. They do a really good job with that stuff.
21. Best non-hockey experience?
Arizona, for sure. The Glendale area is a really cool district.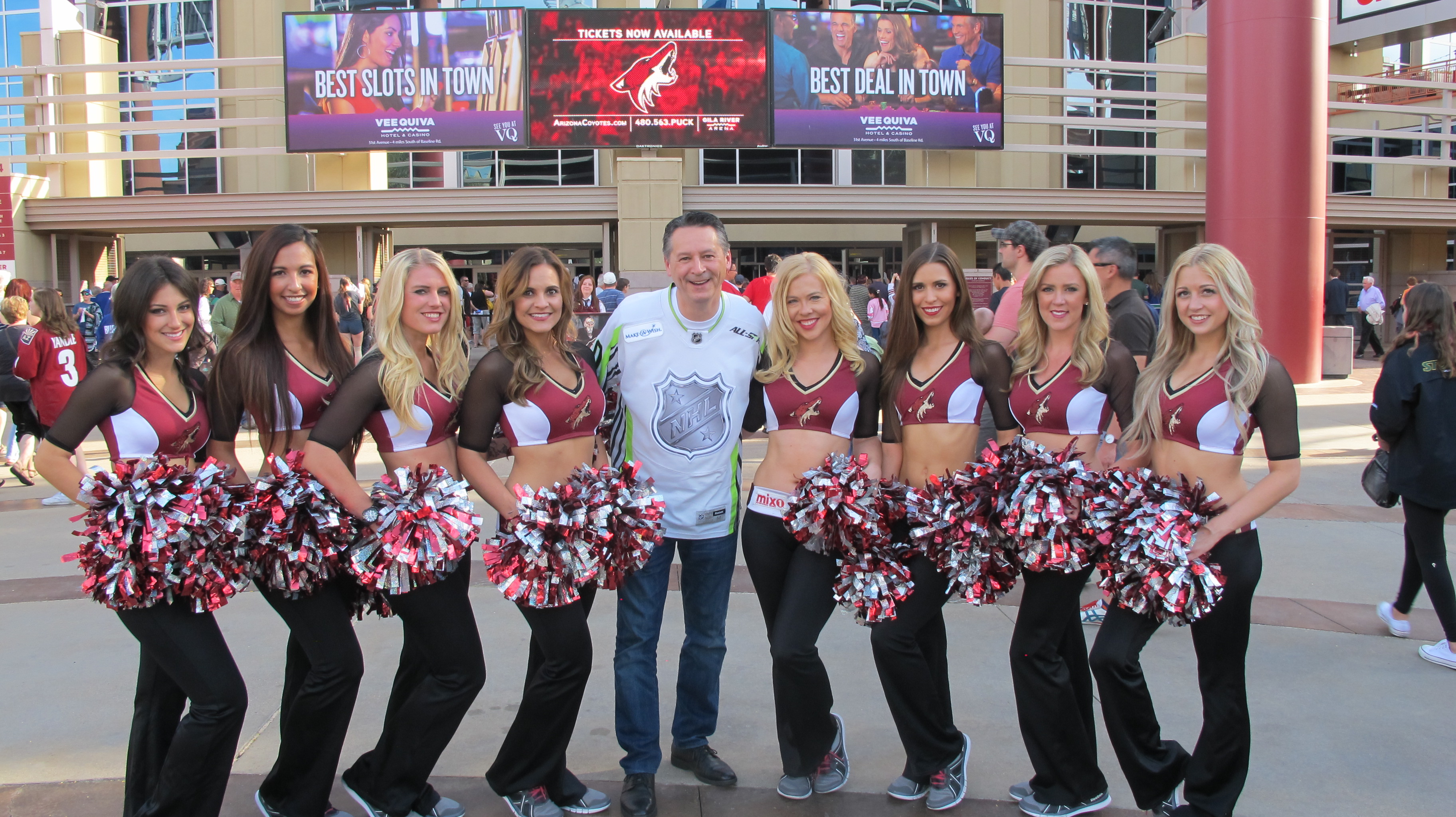 And Columbus has a really neat arena district. You get there an hour and a half before the game, and there's places to eat and drink.
22. Cleanest city?
Toronto is up there. Columbus is really clean. I'd give the nod to every Canadian city. American cities are good in their own way, but what we have is a bit cleaner and safer—a notch above.
23. Sketchiest experience?
I don't know if I should say. I had a sketchy experience in Minnesota but not because of [the Wild]. I took a subway and I had to walk eight blocks from the subway to my hotel downtown, and it was an eight-block scary walk.
24. Best keepsake?
The NHL gave me a tour of their situation room and NHL offices in Toronto, and they gave me a solid-silver NHL puck. It just blew me away. I also got five jerseys from five teams.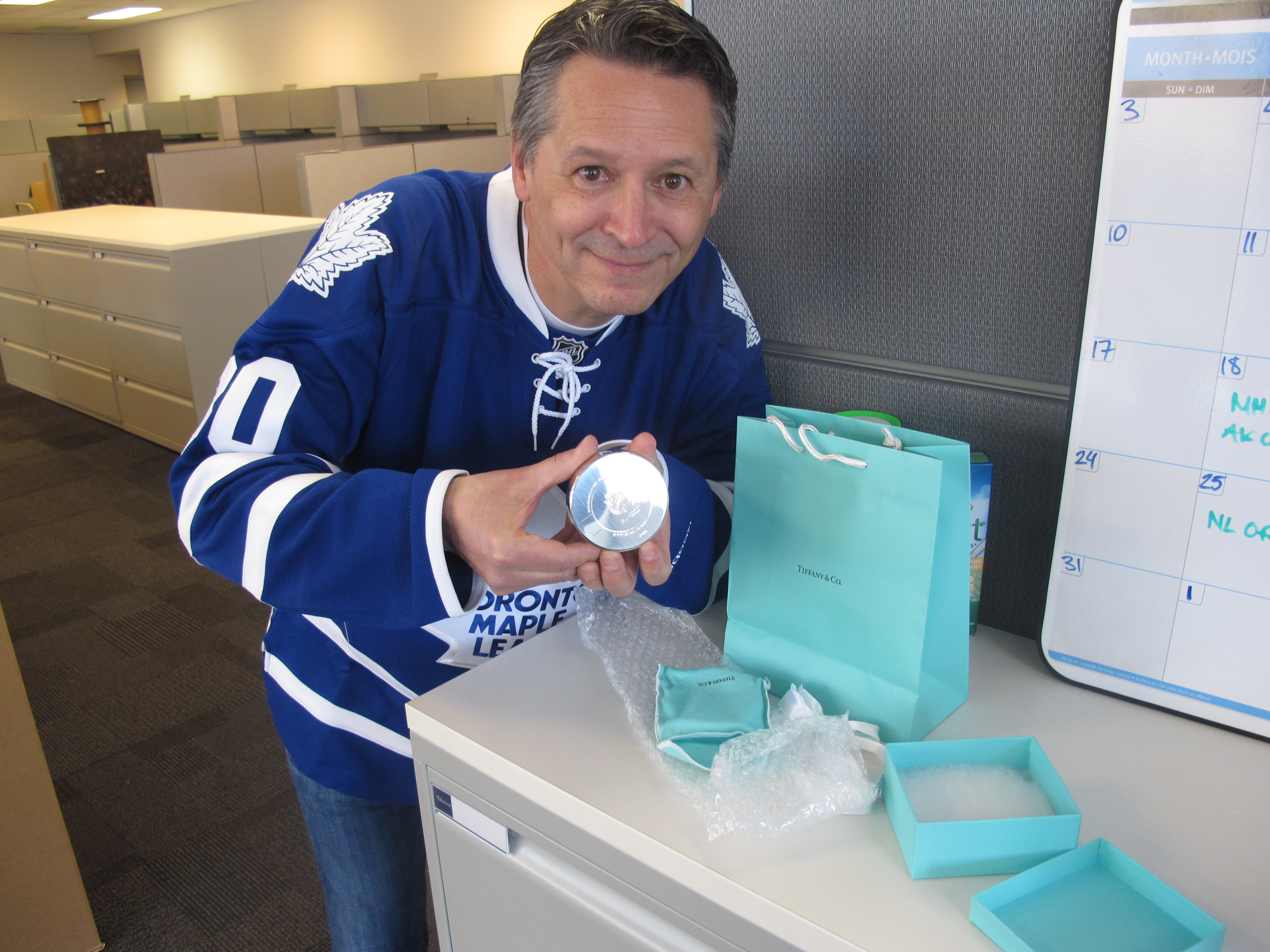 25. How many times did you wash your "30 games, 30 nights" jersey?
I've washed it three times.
26. Best hotel?
I've been staying at the Sheraton 23 out of 30 stays. It's been great.
27. Most star-struck?
Brendan Shanahan. I met him at the morning skate [Saturday], and I'm a big fan of his. Loved him when he played for Detroit. Bob Cole, too! I listened to Bob Cole in the '70s, and seeing him at the morning skate, I was thrilled.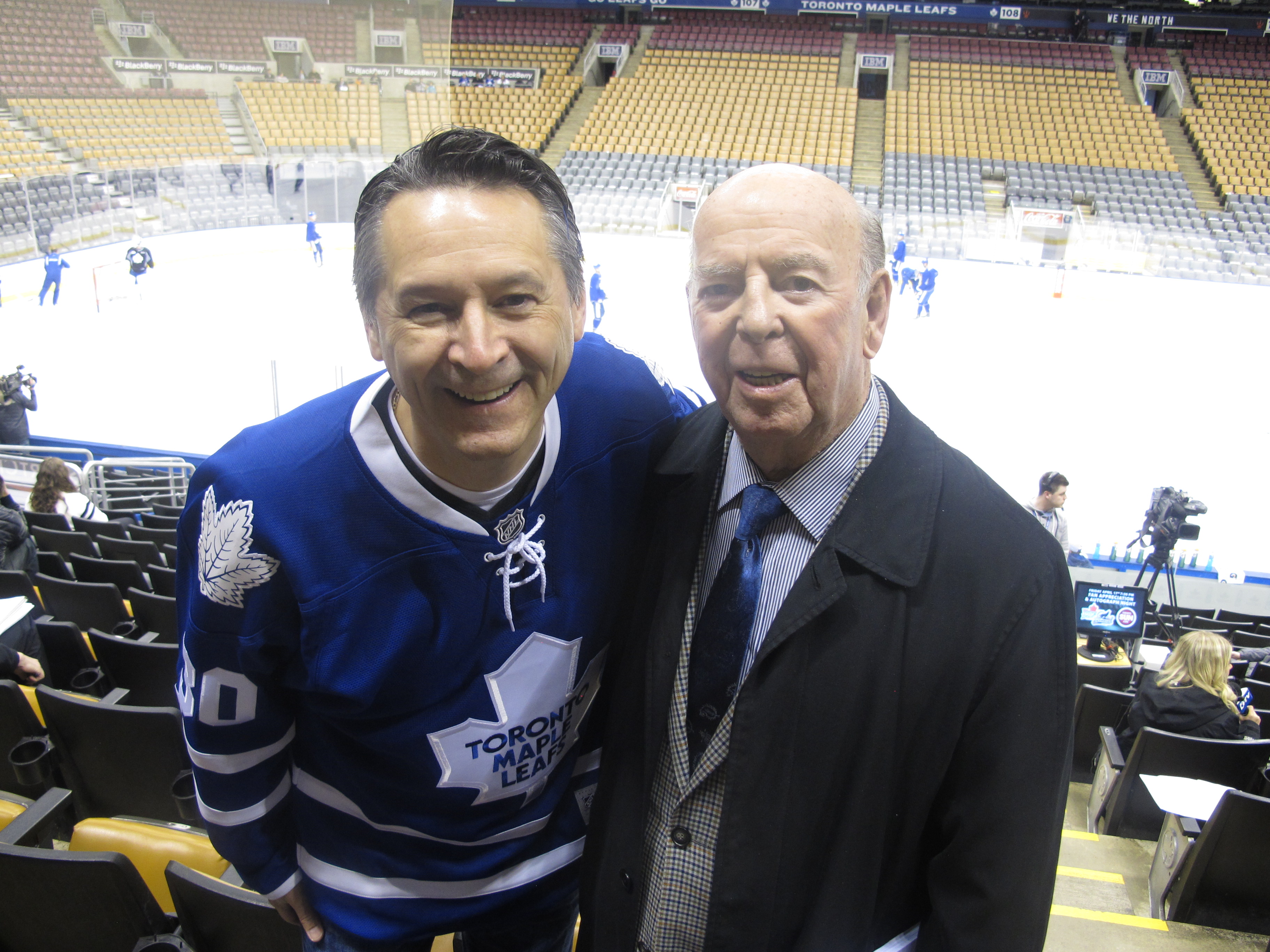 29. Best interview?
Oh, this one. So relaxing.
30. Well played. Stanley Cup prediction?
I'll give you a couple. Anaheim or Nashville coming out of the West, and New York [Rangers] or Montreal out of the East. I think Ottawa has a good chance, though. And in the West, I wouldn't want to face Winnipeg.
(All photos via Rob Suggitt's excellent blog.)