Mitch Marner, after a spectacular performance in the recent Memorial Cup, will be thrust into the spotlight at the training camp of the Toronto Maple Leafs next fall.
All eyes will be upon Marner, except those that will be focussed on Auston Matthews, who everyone believes will be the Leafs' top pick at the NHL draft this month and the first selection overall.
It's been so long since the Leafs have had such high-profile teenagers – Wendel Clark in '85? Kenny Jonsson in '94? (maybe Luke Schenn in '08) – that it's difficult to imagine exactly what Marner and Matthews (presumably) will be facing. In the age of social media and Leafs TV, they will be dealing with a level of scrutiny that high Leaf picks have never had to deal with before.
At least they'll have a kindred soul in the organization, somebody who has some idea of what they'll be experiencing.
Most important, Brendan Shanahan, now the president of the Leafs, knows what it's like to fall right on your face as a highly-touted rookie, and what happens next. He knows what it's like to be a healthy scratch as a rookie after being the second overall pick of the draft, in his case in 1987.
"Glen Wesley went third, I went second, and he had by far the better rookie season," recalls Shanahan with a chuckle.
Shanahan, of course, served his hockey apprenticeship in the relative quiet of East Rutherford, New Jersey, where players don't face the scrutiny they do in Toronto. It was a different world off the ice back then, financially and otherwise, but on the ice the challenges were similar.
"I was a player that probably was done with the OHL, but not quite ready for the NHL," he recalls, echoing the situation that Marner will face next fall. "The best place for me would have been the AHL. I just hadn't grown into my body. I was probably 205, maybe 210, but I was built like a boy.
"My size was probably the reason Lou (Lamoriello) kept me up. I wasn't quick enough, and couldn't think quick enough to be a good player. But my size kept me from getting really hurt."
Shanahan would score only seven goals in 65 games in that rookie season. But he figured out a way to matter.
"What I started to do was fight. I couldn't contribute offensively. After a couple of months on the fourth line, there was this game in L.A. Jay Wells turned around and chopped me, he shook his gloves off, I shook off mine, and I had one of my first NHL fights," says Shanahan.
"I did well, but more important than that, when guys came in between periods they were thrilled with me. I felt I had done something for my team.
"So the next game it was Rick Tocchet, then Wayne Van Dorp. If figured if I can't contribute on the scoreboard, I could play a physical style. Back then, that meant fights found you. If you didn't stare at your skates, you were meeting someone else's eyes."
Shanahan, needless to say, doesn't want Marner or even the much bigger Matthews to contemplate following in his footsteps, matching his 11 fights as a freshman. Nor does he anticipate they will struggle as badly as he did as a rookie.
But becoming a fighter out of desperation did ultimately lead to the role that would ultimately take Shanahan to the Hall of Fame.
"The start of my second year I did the exact same thing," he says. "At one point, Lou pulled me aside. I was generally being called a bust by that point, playing on the fourth line. He said, 'I respect what you're doing, but we didn't draft you second overall to just do this.'
"In the first 40 games I think I had 10 points. Then Mark Johnson, the left winger on the first line, he got hurt, and the coach asked if I had ever played left wing. I lied, and said 'yeah, sure I have.'
"I became the left winger who kept the flies off Patrik Sundstrom and John MacLean."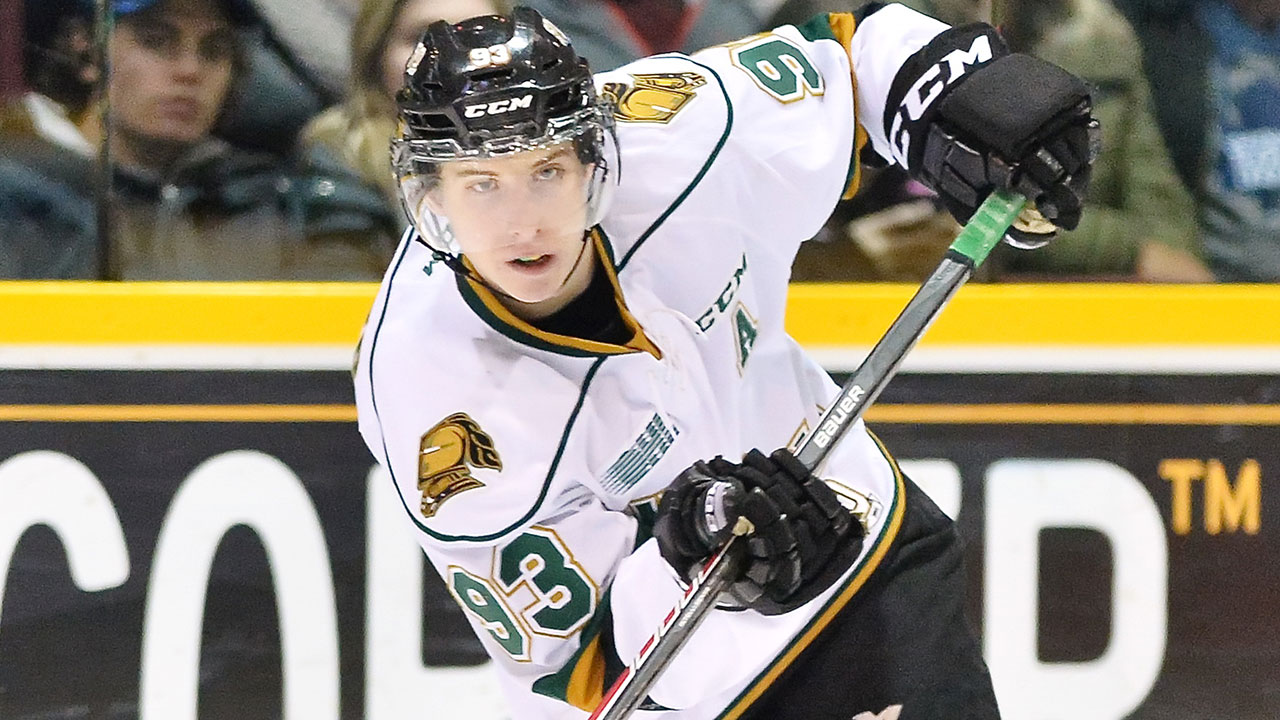 So there's a moral of the story here, right?
"I did what I had to do in 1987 to keep a job," says Shanahan. "Players sometimes have to do things they weren't asked to do in junior but might help carve out a niche of success as a pro hockey player.
"I think of a guy like Dan Cleary, 13th pick overall. One day he decided, 'I'll be a checker. I'll be on the ice as a checker in the final minute of the Stanley Cup final.'" says Shanahan.
"The worst thing is not to learn another skill, not to learn how to kill a penalty, to become a great faceoff person, to become someone upon whom your coach can rely."
In case you're thinking Shanahan is going to be in the ears of Marner, Matthews or William Nylander in the fall, boring the crap out of them with his stories about how it used to be back in the day, that's not going to happen. His job is to oversee the Leaf organization, to be mindful of the big picture, not to be tight with the rookies.
"I don't think my job is to have that connection," he says. "The stuff I'm saying Mike (Babcock) knows, Lou knows. I don't have that much contact with the players.
"But organizationally, when leaders think along these lines, it permeates throughout that organization. It's supposed to be hard, it's not supposed to be easy, and if it was easy everybody would be doing it.
"So if you draft somebody and they can't do it right away, ask yourself what they need."
So assume if Marner comes out of the gate with one point in 10 games, or Matthews is a healthy scratch for a game or two in November, don't expect there to be the smell of panic coming out of the president's office.
The prez knows what it's like to be called a first round flop. He survived it, figured it out, and flourished.