In the five-part series, "What to Expect When You're Expanding," executives who helmed year one NHL expansion franchises in Atlanta, Anaheim, Nashville, Minnesota and Columbus share their stories from those early seasons—in part to show Vegas Golden Knights GM George McPhee just how good he and his team have it.
If you missed it, find part one—on Cliff Fletcher's Atlanta Flames—here.
Don't try to tell Jack Ferreira there's no talent available in NHL expansion drafts. And don't try to tell him that there's talent that gets missed.
Ferreira was twice the original GM of an NHL franchise. Ferreira headed the San Jose Sharks when they came into the league in 1991. Two years later he was overseeing the building of the Mighty Ducks of Anaheim.
"It's different circumstances now that Vegas will have at the expansion draft in June," Ferreira says. "There will be a lot more players available than there with the Sharks and the Ducks."
That should be heartening to Vegas GM George McPhee.
San Jose was, to be polite, a struggle. Being blunt, it was a debacle.
The Gund brothers, George and Gordon, were owners of the Minnesota North Stars and wanted to relocate the franchise to the Bay Area. When the league pushed back, a convoluted compromise was reached.
First, the Stars would be sold to a consortium headed by Howard Baldwin and Norman Green. Then the league would award an expansion team to the Gunds. Thereafter, however, the Gunds' team would have the ability to sift through the Stars' organization and claim some of their former players in what was labelled "a dispersal draft." And finally, the two franchises would be able to draft players left off the protected lists submitted by other established teams.
For the Sharks, life in the NHL started messy and got messier as it went along. They posted 17-58-5 record in their inaugural season, finishing more than 40 points out of the playoffs and 31 behind the quasi-expansion North Stars. Their leading scorer was rookie Pat Falloon, a weight-control-challenged 18-year-old who was the team's only 20-goal scorer. Their back-up goalie, Jarmo Myllys, went 3-18-1 with a GAA of 5.09. Look at that team in any direction and it's an ugly picture. Ferreira was pink-slipped that spring.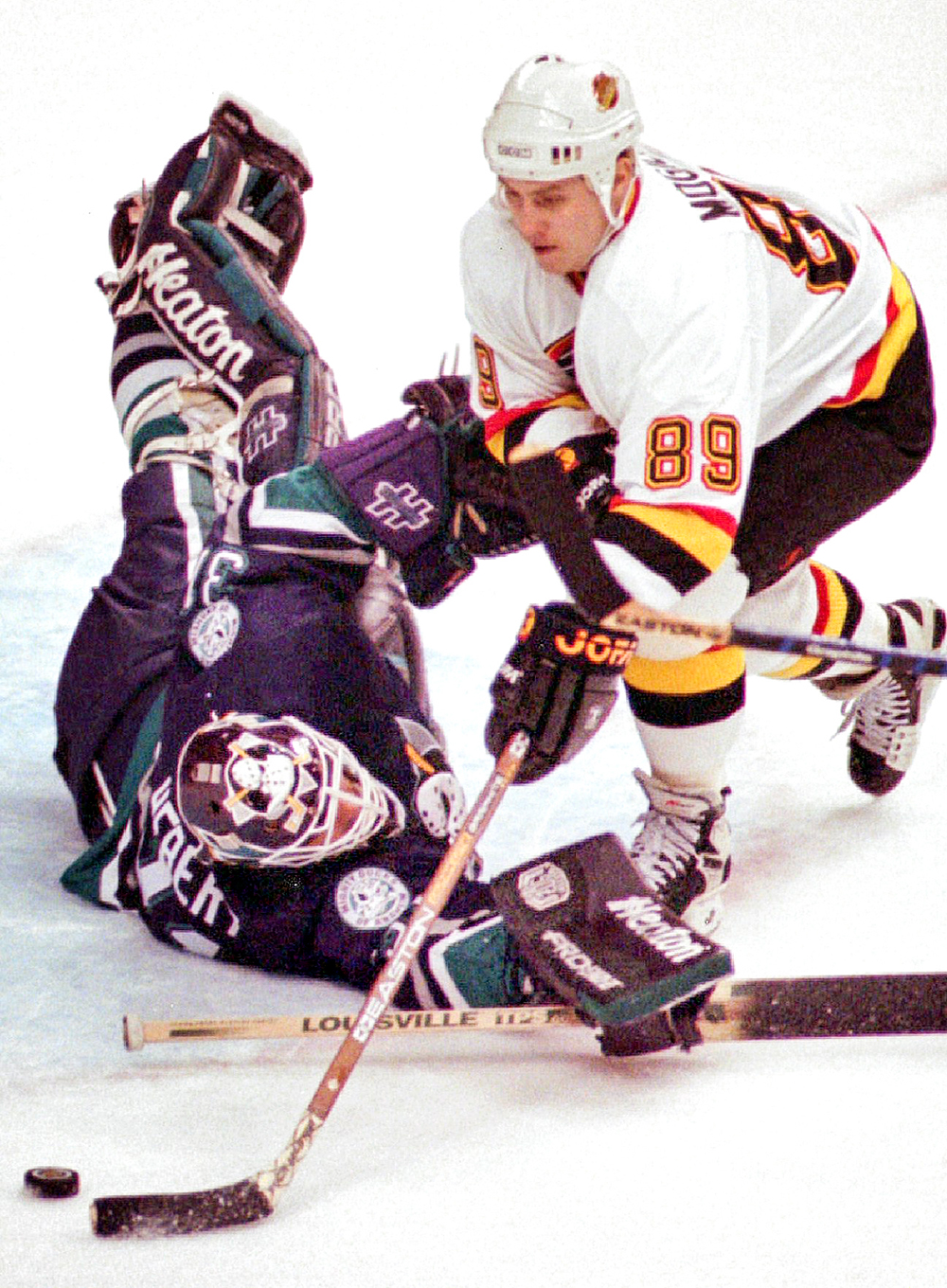 Hard to believe but Ferreira managed to miss the worst of it in San Jose. In Year Two, the Sharks won only 11 games all season. At one point they lost 17 consecutive games.
Ferreira drew on the tough lessons from San Jose when he took the job in Anaheim, where it seemed like he'd been set up to fail once again.
"I got the Ducks job on March 23, 1993," he recalls. "At that point, the regular season was already over. So I didn't even bother doing any pro scouting. What was the point?"
Despite the late start, Ferreira, who now works as an advisor in the LA Kings organization, knew the league from his time in San Jose and, prior to that, as an executive with the Rangers. Though he had only a skeleton staff, no more than six scouts including a part-timer, Ferreira had confidence in his group's ability to put together both expansion and entry drafts.
The Sharks came into the league the same year as the Florida Panthers, and the Panthers owned the first pick in the expansion draft. Ferreira gathered his crew in his hotel room in Quebec City and went through mock drafts with former Quebec Nordiques scout Pierre Gauthier and Paul Fenton making the picks alternating with the Panthers.
"Florida wound up taking a different approach than we did," says Fenton, a forward on the original Sharks team who had just retired and gone to work for Ferreira as a scout in Anaheim. "They wound up taking on some established players with bigger contracts, some veterans. We looked at getting some younger guys who had some upside and [potential for] growth."
On his second try at the expansion draft, Ferreira had a vision for a team that wouldn't repeat San Jose's mistakes. "We needed a team identity," he says. "You're going to get a veteran, but you're going to get a vet than nobody wants. We looked for older players who fit the identity. We were going to be a big, aggressive team. Maybe the other guys were going to have more physical skill than us but we weren't going to be physically intimidated. An expansion team gets no respect from [the established clubs]. They'll take liberties with you. I learned in San Jose that you can't have that. It just makes losing that much worse and it's really hard on the team as a whole."
Says Paul Fenton: "We had drafted a couple of young players like Steven King and Tim Sweeney, so we wanted to give them some physical support to make us better, especially on the road."
Just one glance at the Mighty Ducks' haul from the expansion draft and Ferreira's philosophy of deterrence is as unambiguous as Todd Ewan's and Stu Grimson's PIM totals in Anaheim's first season: 272 and 199 respectively.
Ferreira says a lot of gamesmanship was involved around the expansion draft. Just one example: Hartford GM Brian Burke tried a bait and switch when he talked with Ferreira in the run-up. "[Burke] had put his protected list out there and left off [defenceman] Randy Ladouceur," Ferreira says. "I told him that I was looking at taking Ladouceur and he said, 'Don't bother. He's retiring.' I took Randy anyway and he ended up being a good player for us for three seasons. That's just Brian Burke."
Like Cliff Fletcher in Atlanta, Ferreira knew that skill in his lineup was going to have to come through the entry draft. In their first year, with the fourth-overall pick, Ferreira and the Ducks landed Paul Kariya, who, at age 20, would score 50 goals and become the face of the franchise. Top picks in the mid-'90s landed the Ducks serviceable NHLers—Oleg Tverdovsky, Chad Kilger, Ruslan Salei—but no stars.
In the short run, however, the Ducks management team knew that they could only be as good as their goaltending. The Panthers went with a proven goalie and likely the biggest name among all available players regardless of position: John Vanbiesbrouck, who had been the Rangers' No. 1 the previous season but had been usurped in the team's long-term plans by Mike Richter.
Ferreira knew the pick was coming—it was the obvious play. He had St Louis's back-up, Guy Hebert, on his radar. "That was all Jack, having been a goaltender and recognizing what Guy had to offer," Fenton says.
"[Blues No. 1 goalie] Curtis Joseph had got injured, and so I saw Guy in five straight games," Ferreira says. "He wasn't as well-known as Vanbiesbrouck, but he was our key player in the first seasons."
In that first year, Hebert played in 52 games and posted a 2.83 GAA and a .909 save percentage—not quite on pace with Vanbiesbrouck's numbers in Florida (57 games, 2.53 and .924) but certainly around the league median or better. Both the Mighty Ducks and the Panthers won 33 games that season, although a tie would tip Anaheim's way when you consider the Western Conference was the stronger side of the table.
But even if you don't put too much stock in the competitive balance, the Mighty Ducks were light years ahead of the Sharks in their launch.
Both Florida and Anaheim had to open the expansion draft by taking three unprotected goaltenders. Vanbiesbouck carried the Panthers to the Stanley Cup Final three years later, and with their later picks, Florida took Mark Fitzgerald and Darren Puppa. The Mighty Ducks took Hebert, Glenn Healy (who was dealt to the Rangers) and Ron Tugnutt.
It's easy to look at that list and presume that both incoming teams hit home runs. But history shows an immense missed opportunity.
"Buffalo had protected Grant Fuhr and left exposed a goalie they'd picked up in a trade with Chicago—this guy that nobody had seen much or liked," Ferreira says. "That was Dominik Hasek. So, I like to think that we did a good job with Guy and other things that we did. Did we miss one? Sure. But you can't look back and say, 'What if?'"
Of course, Hasek's career is unlike almost anybody else's in NHL history: Until his late 20s, he didn't look like even an NHL backup. Afterwards he emerged as one of the greatest who ever played the game.
"Players can get missed," Ferreira says. "Maybe people think it's less likely now than it was then. Maybe it's true. But if Dominik Hasek gets missed—not just by us and Florida but by Chicago who had him and Buffalo who had him and other teams in the league that could have had him for almost nothing—then anything can happen."