"Iggy!"
It was the call heard 'round the hockey world, and it certainly rang out loud and clear through the television set in the common area of my school residence in Karlstad, Sweden.
I was a Canadian watching the home team from a visitors bench nine time zones and more than 7,000 kilometres away, a stew of nerves and nausea and a touch of homesickness simmering in my stomach, rising and falling with every up-ice rush, shot and save during the gold-medal matchup between Canada and the United States on the final day of the Vancouver 2010 Olympic Games.
I had been doing my part for patriotism throughout those Games, laying the groundwork among my new international friends (and temporary international hockey foes) for a Canadian hockey victory in Vancouver. I had become friends with a few American classmates in the early days of my six months studying abroad, but on this night we sat at opposite ends of the room separated by Swedes, Germans, Latvians, Dutch and several others perched on couches, chairs and tables who were curious to experience this much-talked-about Canada-U.S. rivalry we'd been fuelling all week.
I can still feel the thud of dread when I recall Zach Parise's game-tying goal with 24 seconds left, just as I can still hear the "U-S-A!" chants from my star-spangled American frenemies as they paraded out to the balcony in celebration of a 2–2 game.
The red and white heart I'd been happily wearing on my sleeve during the days leading up to this game was now wedged firmly in my throat as I silently, anxiously (and probably neurotically) awaited overtime. I pictured my fellow Canadians back home doing the same, a nation united in nausea.
[snippet id=3457799]
And then, just over seven minutes into extra time, it happened. Sidney Crosby broke into the U.S. zone, fired a shot that ricocheted off American netminder Ryan Miller and into the corner, then retrieved his own rebound before sending a quick pass up the boards to linemate Jarome Iginla.
That's when we all heard it: "Iggy!"
Iginla was being hauled down to the ice by U.S. defenceman Ryan Suter but still managed to respond to Crosby's urgent call with a perfect pass. A narrow gap between Miller's pads was all that was needed for the puck to find its way to the back of the net and into its final resting place in our nation's history.
Crosby's arms went up and so did mine as I launched myself off my perch on the couch and into my fellow Canadians' arms — just as I knew countless Canucks back home were doing in that very moment. Crosby struck gold, and our national game was ours once again.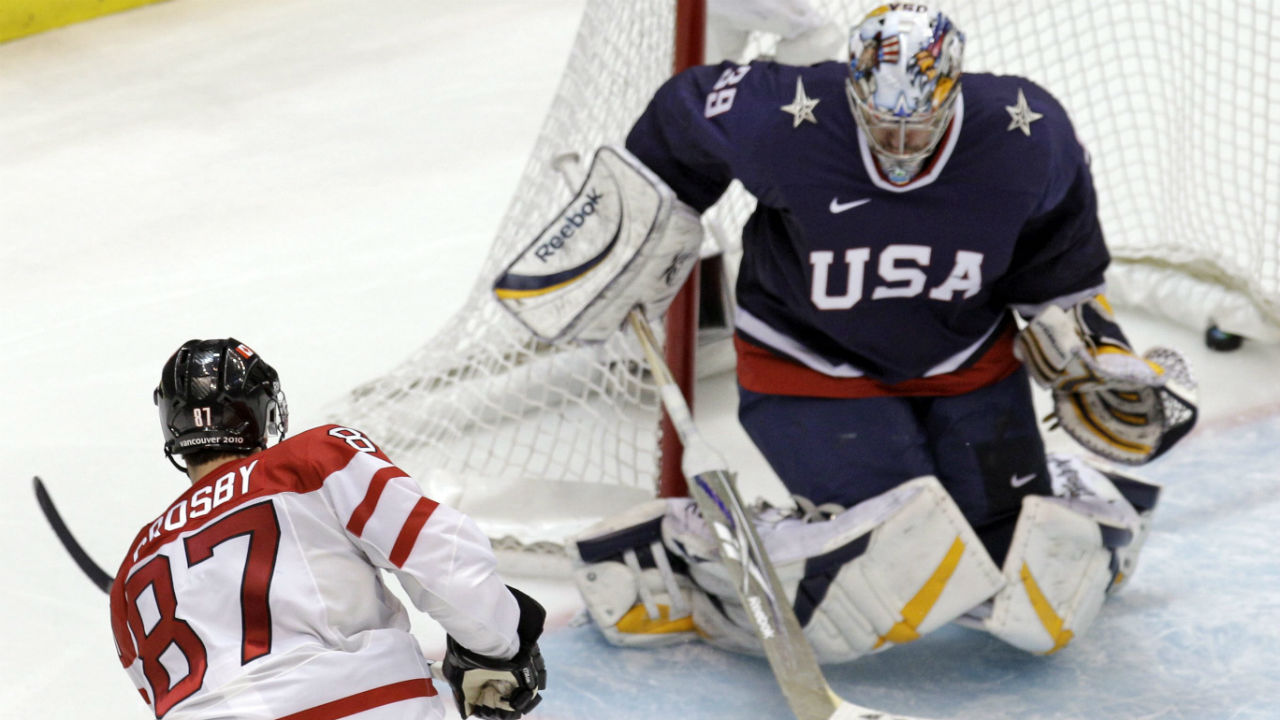 Every Canadian has their own story about that game, that moment — where they were, what they felt and how they celebrated.
In a recent survey conducted as part of The Canada Project, Canadians were asked to pick our country's most iconic sports moment. The official, crowd-sourced answer will be revealed on CityTV on Canada Day, but had I been asked I wouldn't have had to think hard about my own.
[sidebar]
There are many other Canadian triumphs that have united us, whether it's on the ice (Paul Henderson's Summit Series–clinching goal in 1972, Mario Lemieux's game-winner against the USSR at the 1987 Canada Cup), the baseball field (Joe Carter's blast in 1993), the track (Donovan Bailey's record-breaking run to claim gold in the men's 100-metre dash at the 1996 Olympic Games in Atlanta will always be an important part of our nation's history) or the soccer field (Christine Sinclair and Canada's women's team have made huge strides for the sport in our country).
But as for the most iconic moment, it has to be hockey — and it has to be Sid.
In the seven years since those Games, the golden goal has been celebrated, examined and reflected on several times over.
In the same Canada 150 survey, Canadians voted Crosby as "the best athlete of the 21st century." Here's the breakdown: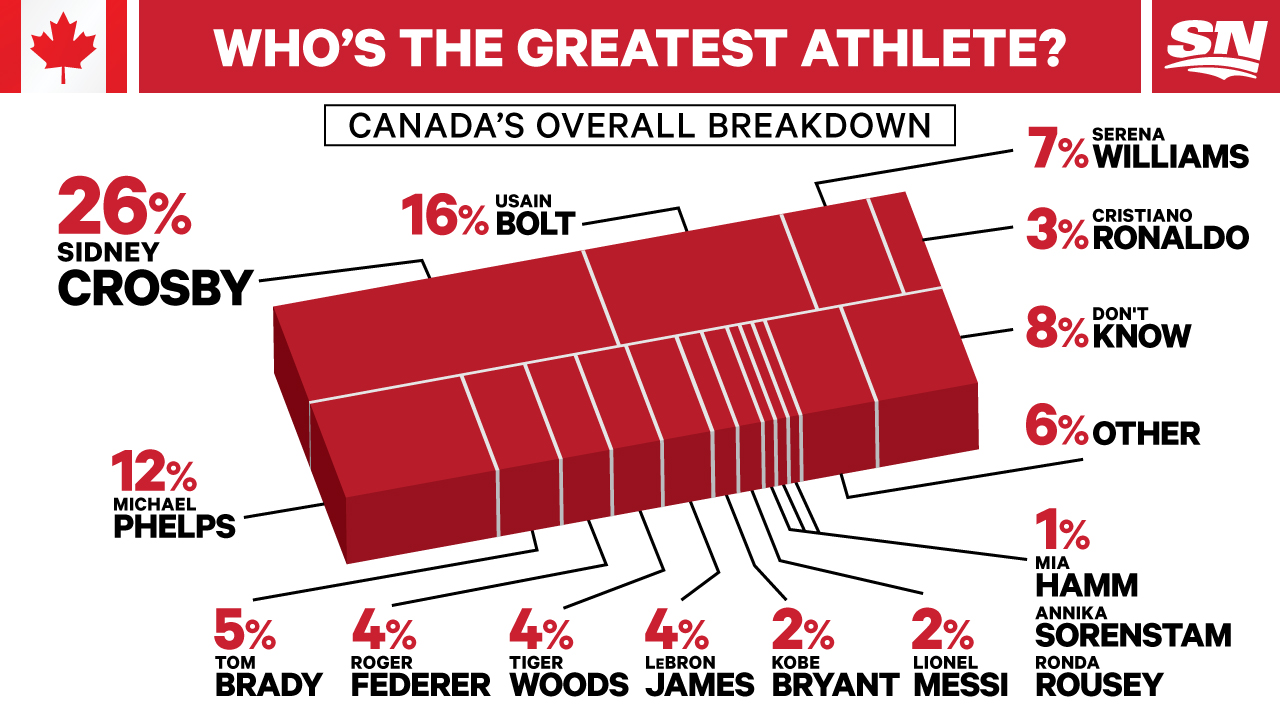 Of course it was Crosby. The Kid from Cole Harbour, N.S., had already etched his name in hockey history by being the youngest player to captain his team to the Stanley Cup less than a year earlier, and he would go on to win two more Stanley Cups (and counting?) with the Penguins. He's the greatest player of the past decade — personifying what we, as Canadians, want in a hockey player and a leader, both in the NHL and on the national team — and will go down as one of the greatest ever, not far behind The Great One himself.
Canada had won Olympic gold in men's hockey eight years prior at the 2002 Olympic Winter Games (with a little help from the Lucky Loonie, of course) and we would win it once again during the Sochi 2014 Games with Crosby wearing the C.
But the Vancouver Games were something special — they belonged to the home team, with Canadian athletes in every sport there paving the way for the men's hockey finale on Feb. 28, including the women's hockey team, which had won gold over Team USA just three days prior.
Canada won 27 medals during Vancouver 2010, the most in our nation's Winter Olympic history, with Crosby's goal earning the host country its 14th gold. That solidified Canada's position at the top of the medal table and surpassed the previous record of 13 golds at a single Games, a record shared by the Soviet Union (1976) and Norway (2002).
[relatedlinks]
Like Henderson's miraculous Summit Series goal almost four decades earlier, Crosby's golden goal has become an important part in our hockey history, the kind of event to earn "Where were you when…" status. The game itself is the most-watched televised event in Canadian history, with 26.5 million people in this country tuning in at some point — and none who watched came away disappointed by the finish. And that's what makes it such an iconic Canadian moment, with the home-ice element pushing it to the highest honour.
The golden goal brought us joy, allowed us bragging rights in one of our greatest sporting rivalries, and closed the book on a magical 17 days in Vancouver. The game united Canucks in every corner of the country—and across the globe—in our anticipation and anxiety, our nerves and our nausea, and in our jovial, anthem-singing celebration that carried on for days.
We cheered then and we reminisce now, raising the moment to the rafters in our red and white hearts.
Want to know Canada's pick for most iconic sports moment? Tune in to Breakfast Television on CityTV at 7:00 a.m. EST on Canada Day.