TORONTO — They were turning people away at the door.
Thirty NHL players, one tennis pro, and a room full of hockey lovers packed Steam Whistle Brewery Thursday night for Smashfest IV — a ping-pong tournament, a fund-raiser, and one heck of a party.
As creator Dominic Moore puts it, the evening was "a ton of fun for everyone involved."
It also taught me a few things. Here are 21 of them.
1. Smashfest's founder, host and head talent scout Moore, promised a "surprise guest," and delivered with table tennis star Milos Raonic, whom he met at Wimbledon two years ago. Raonic threw himself into the spirit of the event and could be seen rallying with fans late into the night long after the formal tournament had wrapped up and most attendees had cleared out.
2. The event's rapid growth is impressive. The first three Smashfests have raised more than $270,000 for concussion and rare cancers research. The original Smashfest brought in $20,000 in 2012, and that figure has increased over the years.
3. Moore has gone to great lengths to not only make Smashfest fun, but mean something.
Dr. Alan Venook of University California, San Francisco, diagnosed Moore's late wife Katie with a rare form of liver cancer. Venook and Moore have remained close friends and together created this initiative for UCSF to collaborate with Toronto's Princess Margaret Hospital on the treatment and research of other rare cancers.
Smashfest will be making a significant donation to the effort.
"Cancer research is a team sport," says Venook, who flew in for Smashfest. Without the ping-pong money, he explains, a formal collaboration between two of the leading rare-cancer hospitals would not be possible.
4. Vancouver's Alex Burrows, 2014's Smashfest runner-up, believes teammate and Canucks backup Jacob Markstrom can be a No. 1 goaltender in the NHL.
"Why not? He's got the size. Goalies are just getting bigger and bigger and bigger these days. It's the new trend," Burrows told me. "He's one of those guys who's 6'6″. He's working with Rollie Melanson, one of the best goalie coaches. There's no reason why he can't be a No. 1 going forward."
5. Mayor John Tory took a break from talking about the possibility of permanent HOV lanes in Toronto to take in some ping-pong.
6. Wayne Gretzky has been a big advisor to Raonic, especially when it comes to his career off the court.
Raonic says the two have a special relationship that began when he reached out to the Great One in 2011 to arrange a dinner. Gretzky was on hand at Raonic's match against Roger Federer earlier this year in Indian Wells, Calif.
The best advice Gretzky has given him?
"Believe nothing of what you hear and half of what you see."
7. Ping-pong is not only big in NHL dressing rooms, but on the ATP World Tour as well, according to Raonic.
"Daniel Nestor is up there," Raonic says of the guys with some small-court skills. "And he's got the trash talk to back it up."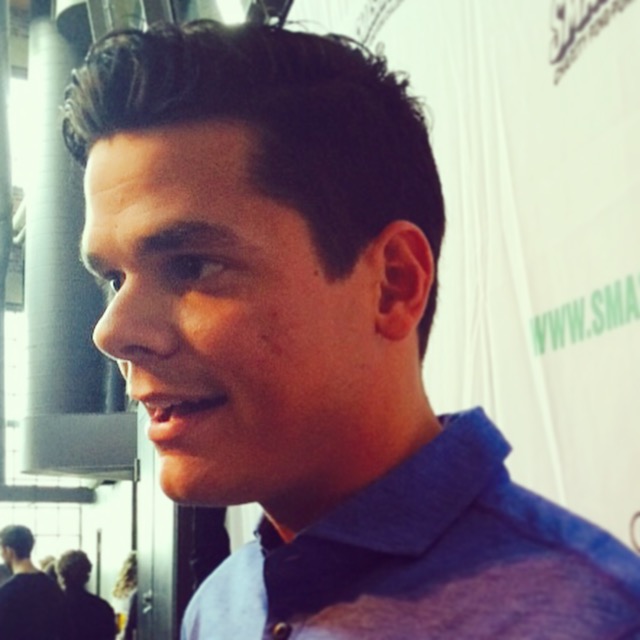 8. Diehard Toronto Blue Jays fan Logan Couture believes his ball club is underachieving now, but will still sneak into the playoffs.
"They're a game over .500—that's not good enough for what they have. They need a little bit more pitching, someone in the bullpen, but their offence is fun to watch. [Josh] Donaldson has been terrific," says Couture, who's attended three Jays games this summer. His dad sent him to two games in Detroit as a birthday gift, and the Jays lost both.
"The Yankees are good. I think the Jays will make the playoffs, but maybe in a wild-card spot."

9. Toronto Maple Leafs forward Peter Holland is stoked to be reuniting with his friend Taylor Beck.
"It's crazy. I always tell people hockey is a small world," Holland says. "To have a guy I played four years with in junior in Guelph back on the same team is pretty cool. The second he was traded, I texted him right away and told him I was excited.
"We really clicked in junior. He was great to give the puck to. He had a nose for the net. I played against him all the time in minor hockey, too, and he was tough to defend. So it'll be interesting to see if we can rekindle that [chemistry] this year."
Beck hasn't bothered prodding his buddy for intel on the Leafs dressing room or game plans, though.
"The only questions he's asked me is recommendations on where to live and what I do with my Canadian phone plan," Holland laughs.
10. The CN Tower — just as lit-up as some of the Smashfest participants (hey-oh!) — makes for a pretty incredible summer-night backdrop for the games. Here's ringer Stephane Veilleux warming up before attempting to win for the third consecutive year: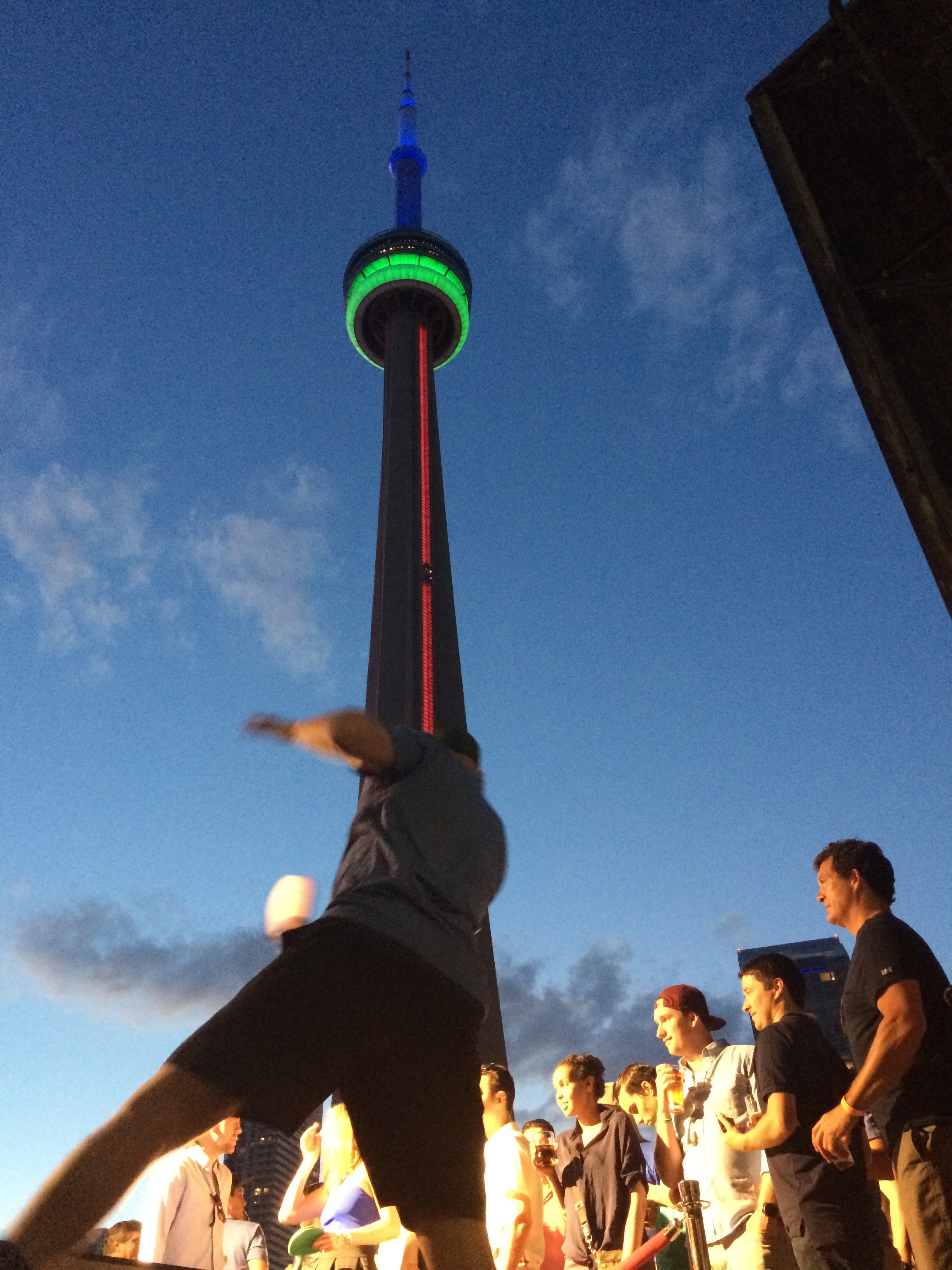 11. Because Eric Lindros hasn't played regularly since he retired, he has adopted a rather unique pre-Smashfest practice routine.
"I think training for this is more like going up north, grabbing a flyswatter and hitting black flies," says Lindros.
12. Winnipeg Jets goaltender Michael Hutchinson, however, took his practice a little more seriously:
13. The silent auction featured autographed, game-worn sweaters from stars such as Alex Ovechkin and Steven Stamkos. But my personal favourite item was this signed photograph of Rudy!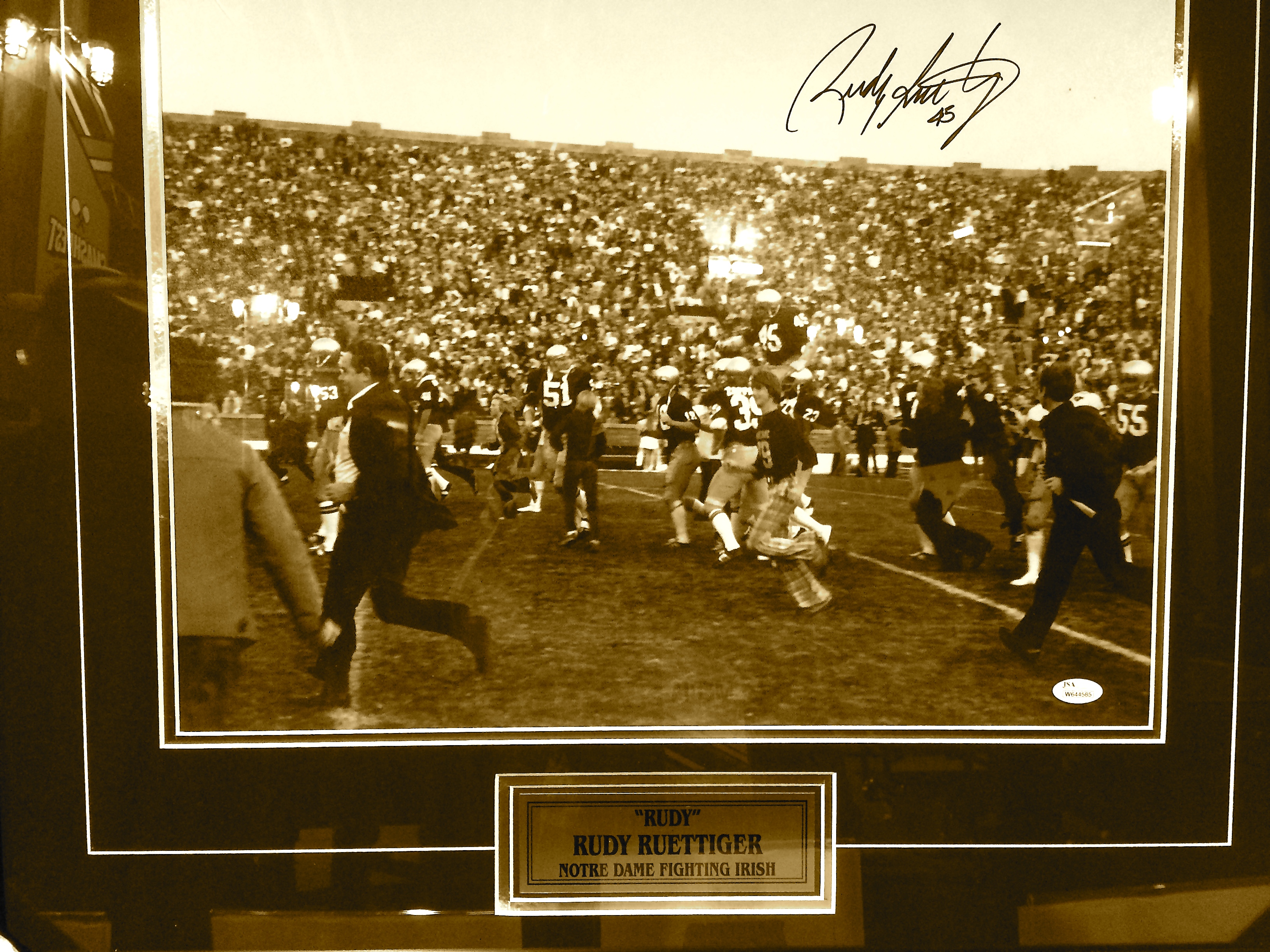 14. Holy crap Kevin Klein. More of this, please. Whatever it is.
15. It turns out Sportsnet's own Christine Simpson is a star in a movie she can't stomach.
Simpson played morning-show host Donna Evans in the 2010 horror flick Saw 3D. Christine attended the premiere at Grauman's Chinese Theatre but found the film a little too aggressive to watch. The next game she worked, Ovechkin came by and told her he recognized her from the silver screen.
It's never too late to discover something new about a colleague.
16. Like Couture, new Oilers goalie Cam Talbot is a big Blue Jays fan. He figures they need some consistency and one more arm before next Friday's trade deadline to make the post-season.
"Their bats are great. They just need one more guy for their starting rotation and they'll be set," Talbot says. "They seem to be a little bit streaky, but if they can get more consistent they'll be there."
17. Tyler Seguin is happy to let his off-season roommate, Michael Del Zotto, do all the cooking in the house.
"I'm Italian, so I got my cooking skills from my family, of course," Del Zotto says.
During the lockout, Del Zotto was playing in Switzerland and was forced to prepare his own meals, so he borrowed some recipes form his mom and discovered he had some kitchen skills.
"Any time I ask [Seguin] what he wants for dinner, he always says ribs," says Del Zotto. (He won't share the recipe.)
This is the second summer the duo — "the last two single guys in the NHL," Seguin alerts — have spent living, training and bonding together in Toronto.
18. Moore raised the stakes for this year's tournament, establishing league-wide rankings based on how the NHLers finished.
"Smashfest IV will be the most competitive Smashfest yet in order to crown a league-wide champion," he accurately predicted.
19. A new champ lives! Before play began, top contender Burrows said he'd heard legend of Dallas Stars winger Patrick Eaves' skills, tipping the Smashfest newcomer as one to watch.
Sure enough, Eaves bested Burrows in the semis and defending champ Veilleux in the final to seize the belt.
20. As the night winds creeps into the wee hours, ping tends to give way to another, messier versions of pong.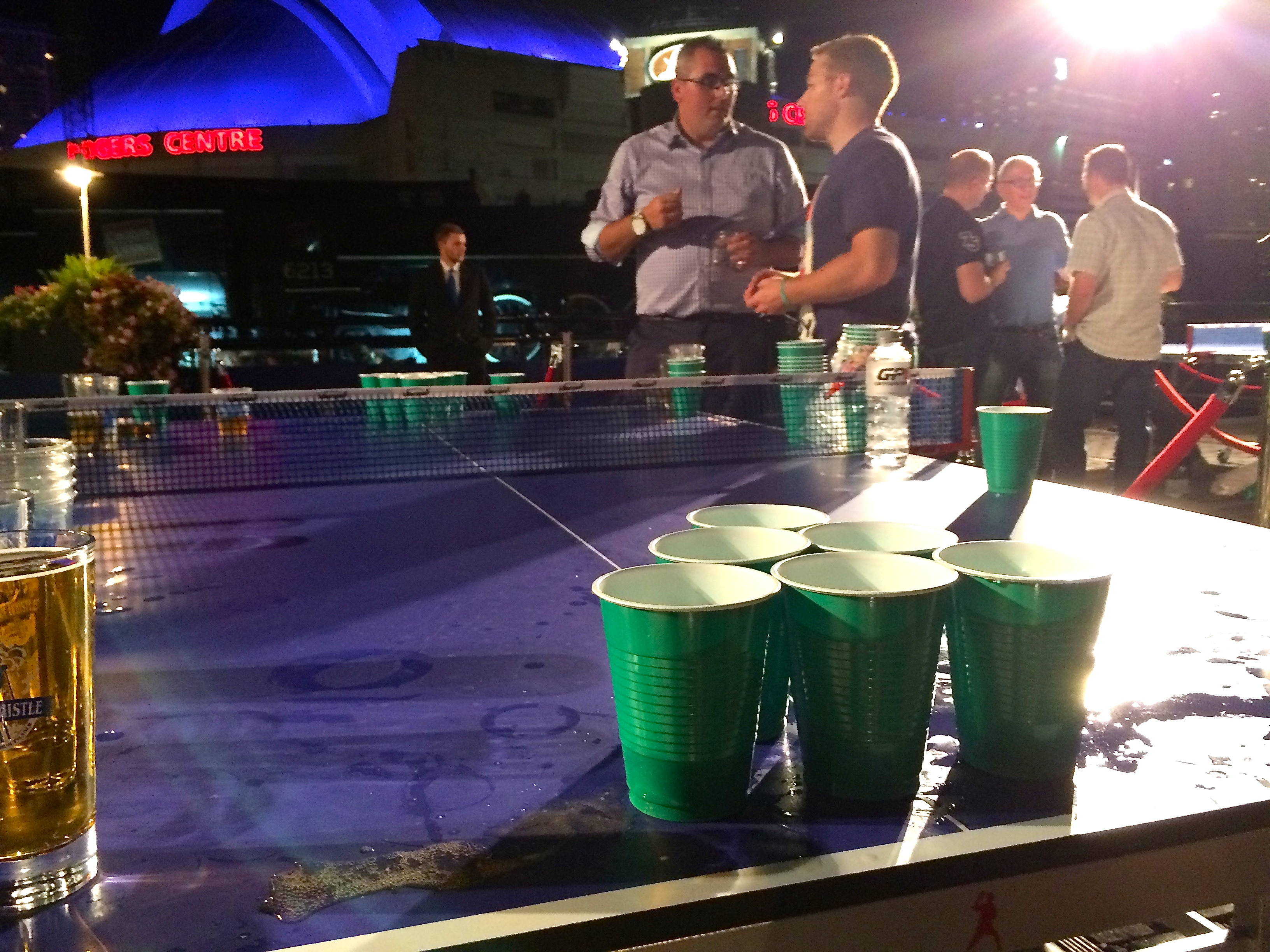 21. On Friday morning, Moore met Dr. Venook for breakfast to discuss how he could further help research for rare cancers.
Venook is overwhelmed by how dedicated the Rangers player is to the cause. So many athletes have the power to do good beyond their arena. But not all do.
"It's amazing when they stand for something," Venook told me. "He wants to make a difference. He means business.
"He's as serious about this as he is taking a faceoff in the last minute of a Stanley Cup game."