There has been great anticipation for this draft because of two names in particular. The first is Rasmus Dahlin, the Swedish defenceman whose all-around game and offensive creativity has teams envisioning a future anchor on their blue line. The other is Andrei Svechnikov, the gifted Russian forward who, like Dahlin, has captured the imagination of scouts worldwide for the past two years.
Over the course of this season, Jeff Marek and I will collaborate to bring you Sportsnet's Top-31 ranked players for the 2018 NHL Draft. The start of the NHL season brings us the start of our journey to Dallas, hosts of this year's process.
1.) Rasmus Dahlin, D, 6-foot-2, 183 pounds (Frolunda, SHL): Possesses every element necessary to become a top-pairing NHL defenceman. Don't be surprised if he goes wire-to-wire in this spot.
2.) Andrei Svechnikov, RW, 6-foot-2, 187 pounds (Barrie Colts, OHL): Barrie head coach Dale Hawerchuk should augment an already solid offensive game. Svechnikov has the ability to impact each shift in a variety of ways.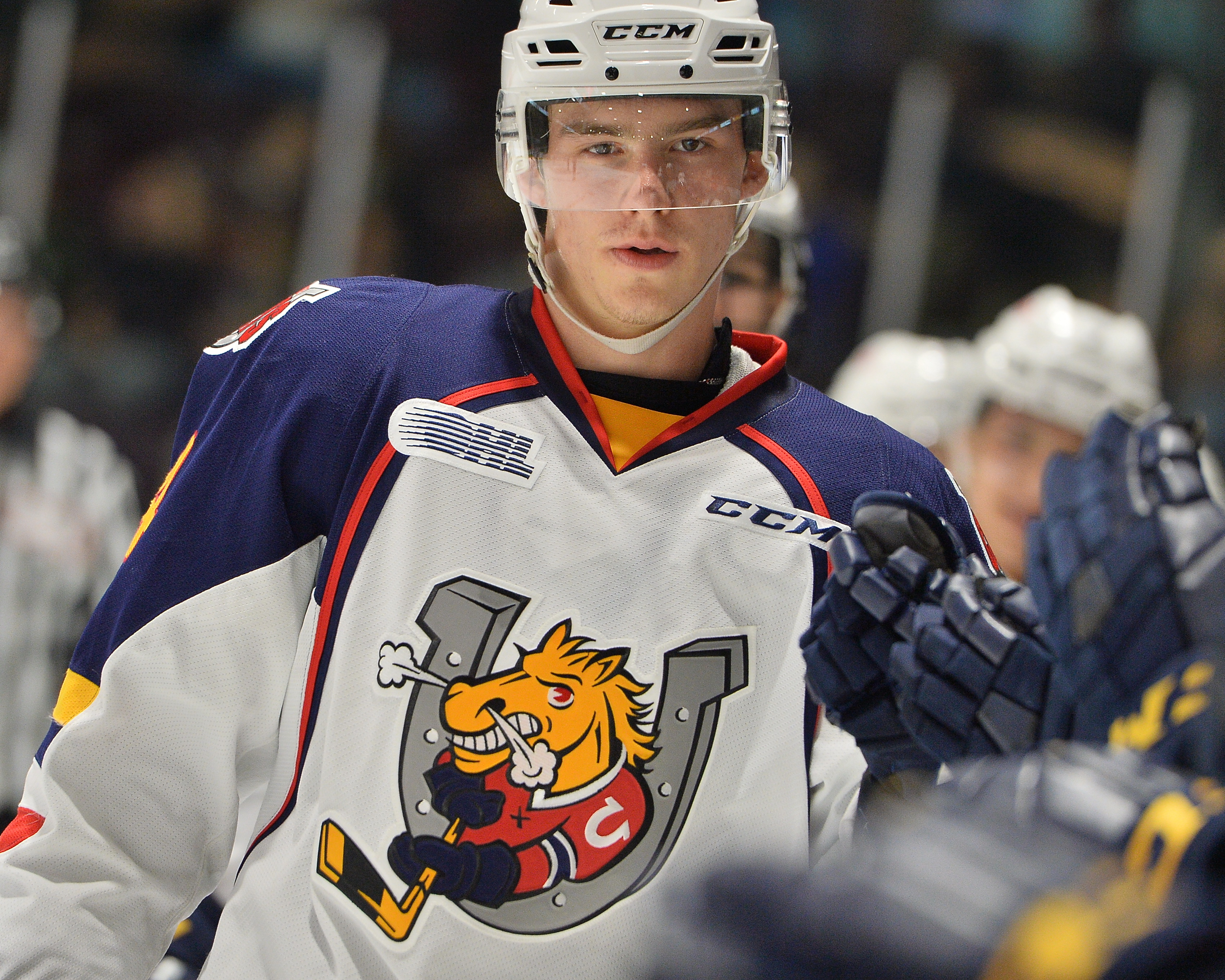 3.) Adam Boqvist, D, 5-foot-11, 170 pounds (Brynas, SHL): Think new-age defenceman with solid ability to defend. Was consistently up in the rush at the Ivan Hlinka. Possesses the rare wicked wrist shot from the point.
4.) Brady Tkachuk, C, 6-foot-3, 194 pounds (Boston University, NCAA): The pain-in-the-butt comparisons to brother Matthew are legit, and so is the assertion he'll end up going higher than his brother.
5.) Quinn Hughes, D, 5-foot-9, 168 pounds (U. of Michigan, NCAA): Was a top player with the USNTDP as an underage last season. Early indications are he's taken another step forward as he moves to play for the maize and blue.
6.) Filip Zadina, RW, 6-foot-1, 192 pounds (Halifax Mooseheads): A late birthday, Zadina hopes to follow the success of Timo Meier, Nik Ehlers, Nico Hischier and Jakub Voracek: all successful, top-10 NHL first round picks as imports playing in Halifax. He's a shooter with a complete game suited to playing the off-wing.
7.) Jack McBain, C, 6-foot-3, 196 pounds (Toronto Junior Canadiens, OJHL): Another in the recent run of sons of former NHLers, McBain is intent on taking the increasingly popular route of staying in Tier II before moving to the NCAA for the 2018-19 season. Would benefit greatly from a step-up in competition this season.
8.) Joel Farabee, LW, 6-foot, 165 pounds (USNTDP): Fine skater with excellent vision. Has risen steadily since the U-18's in April. Has two older brothers playing collegiately, and has thrived as a result of sibling competition.
9.) Rasmus Kupari, C, 5-foot-11, 163 pounds (Karpat, Liiga): Highly skilled, soft hands, top-six forward material. Inconsistent production and effort are reasons for concern.
10.) Jared McIsaac, D, 6-foot-1, 194 pounds (Halifax Mooseheads, QMJHL): The second overall pick in the 2016 QMJHL draft continues to add to an already impressive resume as Canada's most consistent blueliner on the Ivan Hlinka gold medal-winning team.
11.) Joe Veleno, C, 6-foot-1, 194 pounds (Saint John Sea Dogs, QMJHL): Made significant strides at the 2017 Mastercard Memorial Cup, which carried over into the Ivan Hlinka. After two seasons in a support role, Veleno will be the go-to option this season in Saint John.
12.) Oliver Wahlstrom, RW, 6-foot-1, 198 pounds (USNDTP): Got a look with the US under-20 program in the summer, and wasn't quite at that level. It's only one game, but his chemistry with Farabee was undeniable in the All-American Prospects Game, showing he can elevate his game playing with high-end players.
13.) Bode Wilde, D, 6-foot-2, 197 pounds (USNTDP): Big right-shot defenceman with offensive upside. Committed to Michigan for 2018-19. Left his hometown Montreal for Michigan at age 12 and has not looked back.
14.) Ty Smith, D, 5-foot-10, 174 pounds (Spokane Chiefs, WHL): Another smallish, puck-moving defenceman whose skating is amongst the best in this draft class
15.) Ryan Merkley, D, 5-foot-11, 170 pounds (Guelph Storm, OHL): If an all-out offensive defenceman is on your wish-list, look no further. Playing for George Burnett in Guelph can only help shore up his game in his own-end.
[relatedlinks]
16.) Ryan McLeod, C, 6-foot-2, 190 pounds (Mississauga Steelheads, OHL): Had a great second half and 2017 playoffs. Has benefitted from multiple looks from scouts garnered by previous high-end Mississauga talent.
17.) Jett Woo, D, 6-foot, 200 pounds (Moose Jaw Warriors, WHL): A throwback in terms of his ability to step up and make big hits in open ice, Woo also skates well and isn't afraid to take risks offensively.
18.) Mattias Samuelsson, D, 6-foot-4, 217 pounds (USNTDP): Has been around the game his whole life and who knows when he'll stop growing. Defence-first mentality will serve him well.
19.) Akil Thomas, C, 5-foot-11, 170 pounds (Niagara Ice Dogs, OHL): A big enigma in this draft, performed well at the Ivan Hlinka. Should be a go-to on a Niagara team that is young, fast and exciting. Does he project better at centre or on the wing?
20.) Evan Bouchard, D, 6-foot-2, 181 pounds (London Knights, OHL): Doesn't dazzle with any particular element in his game, but does a lot of things well playing for a coach who consistently churns out top-notch NHLers.
[snippet ID = 3322139]
21.) Isac Lundestrom, C/LW, 6-foot-1, 185 pounds (Lulea, SHL): A solid understanding of the two-way game from the centre ice position will make him a serviceable pick. Offensive upside is in question and could determine whether or not he'll be a top-six or middle-six forward at the next level.
22.) Jesperi Kotkaniemi, C, 6-foot-2, 190 pounds (Assat, Liiga): Somewhat similar to Max Comtois at this point last year, scouts are trying to determine whether or not he is a skilled power forward or a power forward with skill.
23.) Barrett Hayton, C, 6-foot-1, 185 pounds (Sault Ste. Marie Greyhounds, OHL): Since the start of scouting season, he has definitely moved the metre. Hayton was one of Canada's top players at the Ivan Hlinka due largely to his versatility.
24.) Allan McShane, C, 5-foot-11, 190 pounds (Oshawa Generals, OHL): The main piece in the return for Anthony Cirelli from Erie, McShane was injured for the Ivan Hlinka and missing that event set him back from a scouting perspective.
25.) Benoit-Olivier Groulx, C, 6-foot-1, 190 pounds (Halifax Mooseheads, QMJHL): Has bite to his game, likely acquired watching his dad's teams in Gatineau while growing-up. An honest player with high hockey IQ.
26.) Dmitri Zavgorodny, C, 5-foot-9, 161 pounds (Rimouski Oceanic, QMJHL): Fits today's game in that he makes skilled plays quickly in tight spaces. May struggle at the onset in adjusting his game to North America.
27.) Rasmus Sandin, D, 5-foot-11, 190 pounds (Rogle, SHL): Generated plenty of interest playing with Boqvist during the Ivan Hlinka. Likely better suited to playing in his age group in order to play more and log important minutes.
28.) Xavier Bouchard, D, 6-foot-3, 190 pounds (Baie-Comeau Drakkar, QMJHL): Another son of a coach, Bouchard had an impressive rookie season on a young Drakkar team. Highly competitive with good size, Bouchard is a throwback with an understated all-around game.
29.) K'Andre Miller, D, 6-foot-3, 206 pounds (USNTDP): Converted to defence in high school and is still learning the position. He's raw, but can skate and make a good first pass.
30.) Serron Noel, RW, 6-foot-5, 201 pounds (Oshawa Generals, OHL): A physical specimen that can skate. Served notice at the 2017 U-17's. Surprised some by making the Ivan Hlinka team and is off to a torrid start in Oshawa.
31.) Anderson MacDonald, LW, 6-foot-2, 205 pounds (Moncton Wildcats, QMJHL): Scored 29 goals for a mediocre Sherbrooke team last season, but is now the centrepiece of a Moncton rebuild where he should continue to get plenty of high-leverage ice-time.