The playoff race has really started to heat up, with teams snatching up playoff berths almost every night this week.
There are still plenty up for grabs, though. Here's how the post-season picture is looking on a Good Friday filled with good hockey.
EASTERN CONFERENCE
If the season ended today…
(A1) vs.
(WC2)
(M1) vs.
(WC1)
(A2) vs.
(A3)
(M2) vs.
(M3)
Here's what the Eastern Conference standings look like today:
Who's in?
It was only a matter of time until the Toronto Maple Leafs and Washington Capitals clinched a playoff berth. The two clubs have been barrelling toward the post-season for much of 2017-18, and they both finally made it official thanks to plenty of help from their rivals.
The Capitals were able to clinch their fourth straight playoff berth with Wednesday's overtime win against the New York Rangers AND the Devils' loss to the Penguins on Thursday. The Maple Leafs, meanwhile, didn't even have to set foot on the ice to punch their playoff ticket on Thursday thanks to their good friends, the Ottawa Senators, who did all the work with their overtime victory versus the Florida Panthers.
Thursday's biggest game featured the Atlantic's two biggest contenders, as the Boston Bruins and Tampa Bay Lightning faced off with the division's top spot up for grabs. The Bruins came out victorious after a rough 60 minutes, making us dream of a playoff series between these two teams. If that does happen, it won't be in the first round. For now, the Bruins and Lightning swap potential Round 1 opponents, with Boston set up to host the New Jersey Devils and the Lightning taking on Toronto—for now, anyway.
Friday's clinching scenarios
There are no Eastern Conference clinching scenarios for Friday. This race is still too tight to call.
What did I miss?
After having their remarkable 10-game winning streak snapped by the St. Louis Blues last week, the Columbus Blue Jackets are back on track thanks to two high-scoring Western Canada victories. They'll go for three when they meet the lottery-bound Vancouver Canucks on Saturday. A Blue Jackets win and a Penguins loss would see Columbus leapfrog Crosby's crew for second in the Metropolitan. Though, because the Hockey Gods love a good rivalry, the two teams would still be facing off against each other in Round 1.
The Florida Panthers' playoff hopes, meanwhile, are all but lost after two straight losses, though the Devils' loss on Thursday keeps them a little bit hopeful. (That's your cue, Lloyd Christmas.)
Fun fact:
Not a fun fact, so much as a fun goal—especially for Capitals fans.
WESTERN CONFERENCE
If the season ended today:
(C1) vs.
(WC2)
(P1) vs.
(WC1)
(C2) vs.
(C3)
(P2) vs.
(P3)
Here's what the Western Conference standings look like today: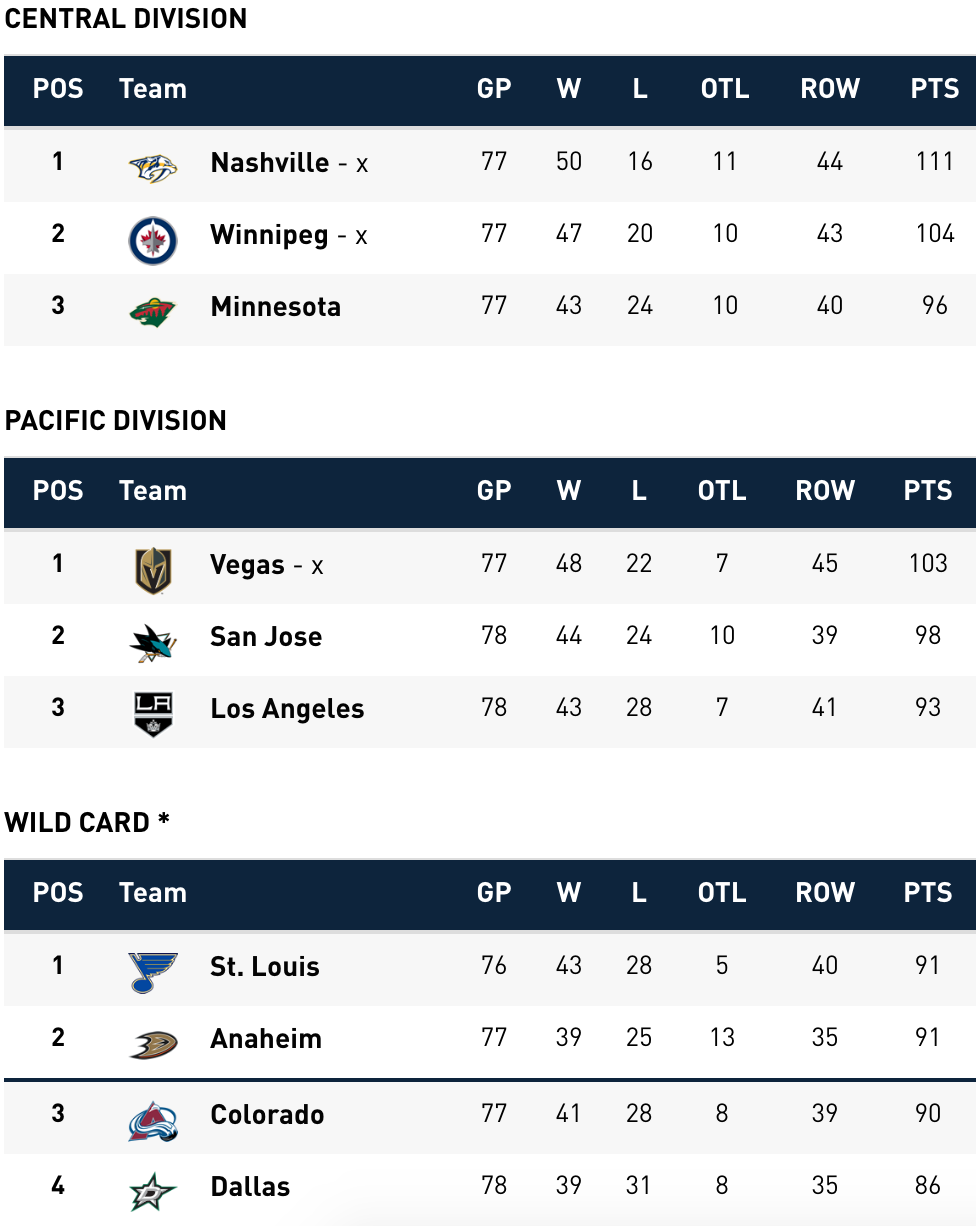 Who's in?
No new teams have clinched since the NHL's newest team clinched earlier this week. Still just Vegas, Winnipeg, and Nashville with the X.
Friday's clinching scenarios
The San Jose Sharks have the night off, and something tells us they'll be watching hockey…
Start rooting for the Kings and Blackhawks now, Sharks fans.
What did I miss?
As if we needed a reminder, the Predators added to their dominance with back-to-back Western Conference wins against the Wild and Sharks earlier this week, while the Kings also have two straight wins this week before heading into an important matchup against the Ducks on Friday night.
The Colorado Avalanche picked the wrong time to lose two consecutive games, but they've got a shot at jumping back into wild card position with a win over the Chicago Blackhawks on Friday. This one will be going down the wire.
Fun fact: