We have another busy 12-game schedule in the NHL on Thursday night, with a ton of great games either previewing a potential post-season series, or that will change the look of the wild-card races on Friday morning.
Today, we focus in on the elite Tampa Bay Lightning in the East, and in the West, we examine just how the Dallas Stars' best players have performed since CEO Jim Lites called them out with his expletive-filled comments in December.
EASTERN CONFERENCE
If the regular season ended today…
(A1) Tampa Bay vs. (WC2) Columbus
(A2) Boston vs. (A3) Toronto
(M1) Washington vs. (WC1) Carolina
(M2) NY Islanders vs. (M3) Pittsburgh
Team in focus: Tampa Bay Lightning
With eight games left in their season, the Lightning need six wins to set a new NHL record and eclipse the 1995-96 Detroit Red Wings, who won 62 times. But whether or not the Lightning care enough about that to not rest their biggest players a little more often in the final few games remains to be seen — after all, the ultimate goal is the Stanley Cup, and those Red Wings were bounced in the conference final.
The dominance of the Lightning has almost been taken for granted this season, glossed over for more glamorous markets or tighter playoff races. Since 1985-86, only those '95-96 Red Wings clinched faster than the Lightning. But of course, winning the Presidents' Trophy doesn't guarantee playoff success. In the salary cap era, the regular season winner has won the Cup just twice, and only one of those followed a full 82-game season.
Here's how the Lightning stack up in some key statistics to past Presidents' Trophy winners (league rank in brackets):
| Presidents' Trophy winner | GF/G | GA/G | SF/G | SA/G | PP% | PK% | Playoff result |
| --- | --- | --- | --- | --- | --- | --- | --- |
| Detroit Red Wings (2006) | 3.67 (2nd) | 2.51 (3rd) | 34.1 (1st) | 26.6 (3rd) | 22.1 (1st) | 85.5 (3rd) | Lost in Round 1 |
| Buffalo Sabres (2007) | 3.63 (1st) | 2.90 (13th) | 29.5 (15th) | 31.0 (23rd) | 17.4 (17th) | 81.3 (20th) | Lost in Conf. Final |
| Detroit Red Wings (2008) | 3.07 (3rd) | 2.18 (1st) | 34.4 (1st) | 23.5 (1st) | 20.7 (1st) | 84.0 (8th) | Won Stanley Cup |
| San Jose Sharks (2009) | 3.06 (8th) | 2.43 (3rd) | 33.2 (3rd) | 27.2 (1st) | 24.2 (3rd) | 83.3 (5th) | Lost in Round 1 |
| Washington Capitals (2010) | 3.82 (1st) | 2.77 (16th) | 32.8 (3rd) | 30.9 (18th) | 25.2 (1st) | 78.8 (25th) | Lost in Round 1 |
| Vancouver Canucks (2011) | 3.15 (1st) | 2.20 (1st) | 32.0 (6th) | 30.1 (12th) | 24.3 (1st) | 85.6 (3rd) | Lost in Cup Final |
| Vancouver Canucks (2012) | 2.94 (6th) | 2.33 (4th) | 31.5 (8th) | 30.8 (21st) | 19.8 (4th) | 86.0 (6th) | Lost in Round 1 |
| Chicago Blackhawks (2013)* | 3.10 (2nd) | 2.02 (2nd) | 31.1 (5th) | 26.2 (4th) | 16.7 (19th) | 87.2 (3rd) | Won Stanley Cup |
| Boston Bruins (2014) | 3.15 (3rd) | 2.09 (2nd) | 31.9 (5th) | 29.1 (12th) | 21.7 (3rd) | 83.7 (8th) | Lost in Round 2 |
| NY Rangers (2015) | 3.02 (3rd) | 2.28 (3rd) | 31.5 (6th) | 29.5 (14th) | 16.8 (21st) | 84.3 (6th) | Lost in Conf. Final |
| Washington Capitals (2016) | 3.02 (2nd) | 2.33 (2nd) | 30.6 (7th) | 28.4 (6th) | 21.9 (5th) | 85.2 (2nd) | Lost in Round 2 |
| Washington Capitals (2017) | 3.18 (3rd) | 2.16 (1st) | 30.4 (13th) | 27.8 (4th) | 23.1 (4th) | 83.8 (7th) | Lost in Round 2 |
| Nashville Predators (2018) | 3.18 (8th) | 2.49 (2nd) | 32.2 (15th) | 32.4 (21st) | 21.2 (12th) | 81.9 (6th) | Lost in Round 2 |
| Tampa Bay Lightning (2019) | 3.86 (1st) | 2.62 (4th) | 32.3 (14th) | 32.4 (22nd) | 29.3 (1st) | 85.7 (1st) | N/A |
*denotes lockout-shortened, 48-game season
It'll be hard not to pick the Lightning in your bracket this spring and they will head into the playoffs as heavy favourites. But, if the numbers stand, a Tampa Bay championship would buck at least a couple trends.
First, the Presidents' Trophy winner has averaged more shots against than shots for twice in this era — the 2007 Buffalo Sabres and last year's Nashville Predators. That Sabres team was all about offence and though they got to the conference final, the team lost two of its top four scorers in Daniel Briere and Chris Drury that summer. They allowed the exact same amount of goals against the year after being the top regular season team, but lost 53 goals for and were left exposed, falling out of the playoffs completely.
Last year's Predators had almost the same shot splits as the 2018-19 Lightning and were buoyed by Pekka Rinne's Vezina season, much like Tampa Bay is enjoying from Andrei Vasilevskiy right now. Nashville was ultimately beaten by a better offensive team in Winnipeg as Rinne's play slipped in Round 2.
You might scoff and suggest that Tampa Bay is much better offensively than any other team and that advantage will trump everything else come playoff time. That might end up being true (especially if Vasilevskiy doesn't have any hiccups). Tampa Bay averages .28 more goals per game than any other NHL team, a difference bettered only by the 2009-10 Washington Capitals (0.55). That team had the 18th-best defence and were ejected in the first round by Jaroslav Halak and the Montreal Canadiens.
The other is that Tampa Bay would be the first Cup winner of the cap era to not make a trade around the deadline season. That's a sign of how well put together this team is though, because looking at the depth chart, just what would they have upgraded on?
Here's what the Eastern Conference standings look like today:


What'd I miss?: Yesterday, Andrew Berkshire took a look into Toronto's recent struggles and found there was no major underlying issue. On Wednesday, the Leafs took on soft-touch Buffalo with Garret Sparks in net, who had just caused a firestorm in the fan base over the weekend by calling out his team's effort level following a 6-2 loss to Ottawa he was also in net for. Everybody stepped up against the Sabres. The stars John Tavares, Auston Matthews and Mitch Marner all had big goals, while Sparks did his job making 22 save for a must-have 4-2 win.
It moves the Leafs just four points back of Boston for home-ice advantage in Round 1, but the Boston Bruins still have a game in hand. Toronto's next four games are all against non-playoff teams.
Fun fact: More on Vasilevskiy: In Wednesday's win against Washington, he stopped a franchise-record 54 shots and became just the 11th different goalie since 1955-56 to record multiple victories with at least 48 saves in a single season.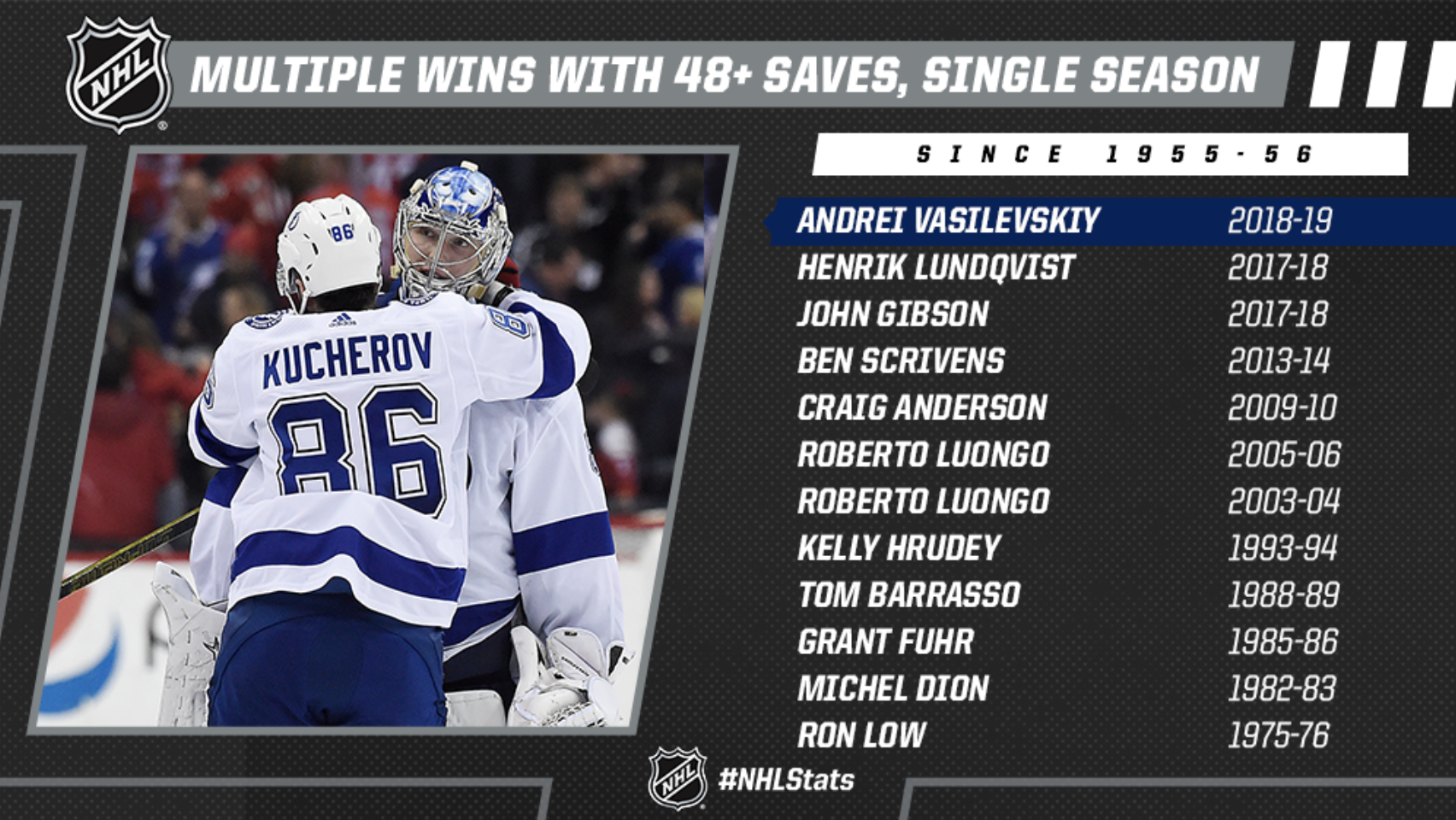 Game to watch: Tampa Bay at Carolina
The Canes are just two points back of Pittsburgh for third in the Metro (with two games in hand) and four back of the Islanders for second (with one game in hand). On one hand, Hurricanes play the league's best team on Thursday, but at least they catch Tampa Bay on the second half of a back-to-back and will face Louis Domingue. Meantime, the Penguins head on the road to meet Nashville, who seem to be turning a corner on a solid three-game winning streak.
[snippet ID=3322139]
WESTERN CONFERENCE
If the regular season ended today…
(P1) Calgary vs. (WC2) Arizona
(P2) San Jose vs. (P3) Vegas
(C1) Winnipeg vs. (WC1) Dallas
(C2) Nashville vs. (C3) St. Louis
Team in focus: Dallas Stars
With a 7-2-1 record in their past 10 games, the Stars have a five-point playoff cushion now and coming off a 4-2 win over Florida in which they reunited the top line of Tyler Seguin, Alexander Radulov and Jamie Benn at points.
A quietly strong defensive team, Dallas ranks 18th on the season in shots against per game, but according to Natural Stat Trick, are seventh-best at preventing high-danger opportunities. This has helped both Anton Khudobin and Ben Bishop put together tremendous seasons and combine for the best five-on-five save percentage in the NHL at .935.
The offence has been an issue though. Their lack of depth is comparable to what's going on in Colorado, but they also don't have a superstar like Nathan MacKinnon taking a run at 100 points. The Stars' 2.53 goals per game average is 29th in the NHL and it's not getting better over this stretch — since March 1 they're averaging 2.55 goals a game.
If you recall, this was the problem CEO Jim Lites highlighted when he called out his best players in December. So, with the playoffs a likely outcome at this point, we decided to look at how Dallas' top scorers have performed since being put on notice Dec. 28.
| PLAYER | GP | G | A | PTS |
| --- | --- | --- | --- | --- |
| Tyler Seguin | 35 | 16 | 21 | 37 |
| Alexander Radulov | 33 | 13 | 18 | 31 |
| John Klingberg | 35 | 5 | 20 | 25 |
| Jamie Benn | 32 | 12 | 9 | 21 |
| Radek Faksa | 34 | 7 | 6 | 13 |
| Roope Hintz | 35 | 7 | 6 | 13 |
Benn actually struggled through much of the past two-plus months, but has turned it on of late with six goals just this month. His production has to be banked on for Dallas to have any hope of pulling off an upset.
But one interesting development lately has been the ascension of Roope Hintz, who has spent time alongside Seguin and Radulov, but was also recently "promoted" off the wing to the second line centre role. He has six goals and seven points in his past 11 games.
Monty also said Hintz centering second line is a promotion and no matter who he plays with he's driving play and this way Stars will have two centers that can drive play with Seguin and Hintz

— Sean Shapiro (@seanshapiro) March 19, 2019
Here's what the Western Conference standings look like today: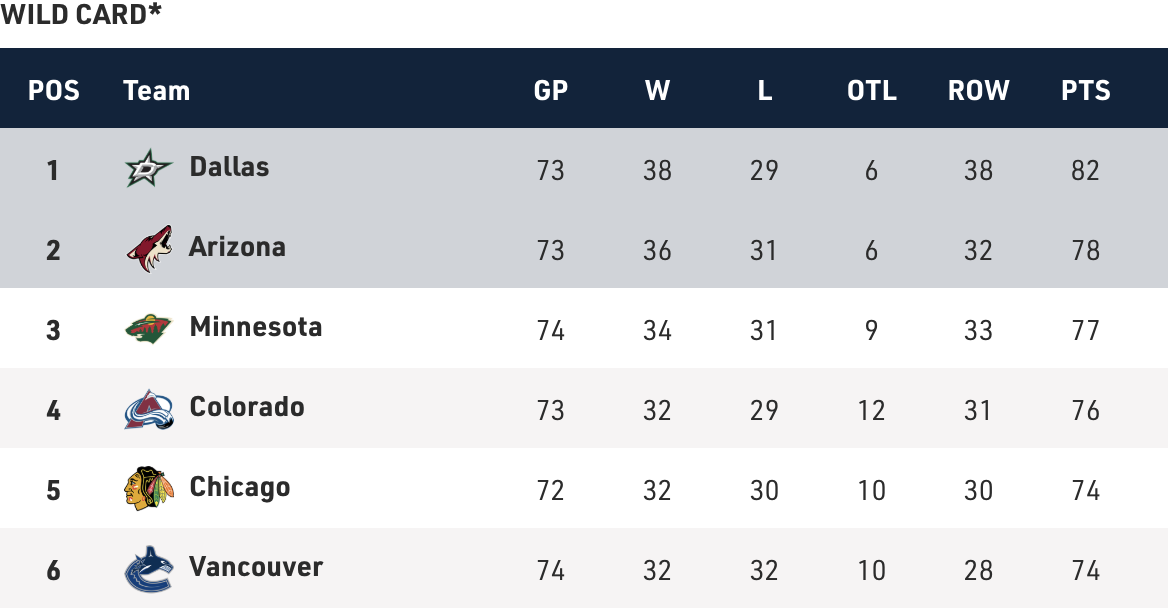 What'd I miss?: The Vancouver Canucks are doing their best to stay in the playoff race. A 7-4 win against Ottawa on Wednesday night moved them to within just four points of a playoff spot, though Arizona has a game in hand. The Canucks would also have to leap over four teams to do it, which is much easier said than done in a league where you can earn a point by losing. The good news? Six of their last eight games are at home where the Canucks are 17-13-5. The bad news? Six of their remaining games are against playoff teams, starting against Calgary Saturday night.
Fun fact: In Winnipeg's 3-0 win over Anaheim, Mark Scheifele scored goal No. 35 and point No. 80 on the season, becoming the fourth player in Thrashers/Jets history to record multiple 80-point seasons with the franchise. The Jets' win also gave them their 20th road win of the season, equalling their franchise record. Winnipeg will have a chance to set a new record Thursday night in Vegas.
Game to watch: Colorado at Dallas
These teams met in the same place two weeks ago, with the Stars coming out on top 4-0. The playoff pinch is squeezing the Avs a little more these days, as they sit just two points back of a spot with nine games remaining. Keep an eye on who starts for the Avalanche: Varlamov has been the better option most of the season, but Philipp Grubauer has a .963 save percentage this month and has three shutouts in his past six starts.
[relatedlinks]