TORONTO – In a quiet visitors' dressing room, Kari Lehtonen slunk angry in full equipment long after Mitch Marner beat him for the shootout winner and told Finnish reporter Sami Hoffren in his native language that he'd already shattered his goalie sticks to pieces.
Devin Shore, an Ajax, Ont., native, had an Air Canada Centre suite full of family and friends decked out in green rooting for the Stars and had helped set up one of the visitors' four unanswered goals that swung a wild game from 0-2 to 4-2 in their favour.
Prior to puck drop, Shore said he'd be lying if his annual trip home didn't feel "extra special." Post-game, his enthusiasm was sapped. His eyes were red.
"It stings," Shore said, twice.
Tyler Seguin, another local NHL product, was a torrential force, firing a game-high six shots, scoring one dogged unassisted goal and orchestrating two others in the 6-5 shootout loss. His answers, too, were clipped and pointed.
Asked if there was a mental boost to be gathered from the Dallas Stars' mostly dominant performance against the Toronto Maple Leafs, a team of top-six NHL calibre, Seguin threw a question back at the reporter.
"Where was it last night [in Montreal] against a team that didn't have that calibre?" Seguin said.
That will be focus of a conversation among the Stars' heavy-legged leadership group as they tug the weight of an increasingly desperate playoff push and a five-losses-in-six-games slump to Ottawa Friday and Winnipeg Sunday.
Head coach Ken Hitchcock sees it as his job to make his overtaxed troops feel comfortable being uncomfortable during the Stars' Great Canadian Tour of Disappointment.
"You've got to get them to enjoy it and not get overwhelmed by it, because sometimes it reaches a very high emotional stage on the ice, and you end up playing too busy. To me, it's slowing down your head so you can slow down your hands," Hitchcock explains.
"Right now, you're fighting and scratching and overplaying guys to try to get as much as you can. You're looking for every little advantage you can find."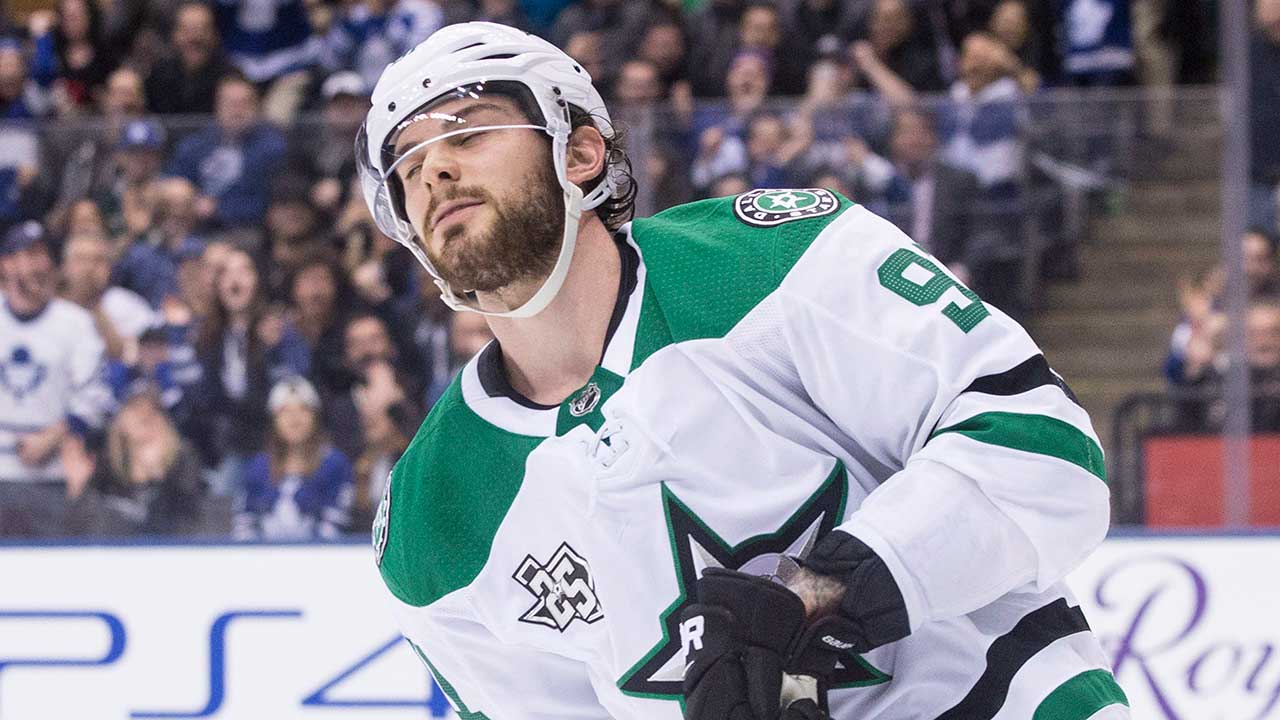 Yet disadvantages keep presenting themselves at every turn, and the Stars — by coach's admission — have found themselves peeking over their shoulder at Anaheim, Calgary and St. Louis, three pursuers within four points of swiping their wild-card berth.
Oh, to catch the falling Stars.
Reliable defender Marc Methot tore open his left hand blocking a hard puck Tuesday in Montreal and won't see action "for a while," Hitchcock says.
No. 1 goaltender and major summer signing Ben Bishop (knee) hasn't played since March 5, forcing veteran backup Lehtonen to carry the load during a critical stretch. Playing both halves of this week's back-to-back, Lehtonen fumbled a dump-in four minutes into Wednesday's loss and sent the Stars chasing.
"He's like the rest of our team — he's running on fumes right now. We've got to build up his energy because he has to play some more," says Hitchcock, loathe to hand the reins to third-stringer Mike McKenna.
McKenna, 34, hasn't won multiple NHL games since 2008-09. The journeyman's last big-league appearance was in 2014-15 for Arizona. He let in five goals that night and wasn't used again.
"We don't have any choice right now," Hitchcock added. "Ben's not ready to play. Kari's gotta be the guy. He has to get back up, just like the rest of our team."
The dangers of not having last change on the road have allowed opposing coaches to zero in on shutting down the Stars' all-world top trio of Seguin, Jamie Benn and Alexander Radulov.
Hitchcock spread around his weaponry Wednesday, putting Radulov with the now-underwhelming Jason Spezza, and Dallas's offence erupted for its biggest offensive output in more than five weeks. Bonus: Five different Dallas forwards scored. That's a rarity.
"We've had one line where all three guys have had incredible years, but we have to make some decisions," explained Hitchcock. "I don't think you can win on the road in the National Hockey League at this time of year with one line."
As for hoping for more production from forwards 4 through 12?
"You are what you are right now," Hitchcock said. "You've got to live with that. You can't live in the dream world. This isn't the right time. That's August, September."
Livestream every single game of the 2018 Stanley Cup Playoffs—blackout free—plus the Toronto Blue Jays, key Raptors & NBA Playoffs matchups and the 100th Mastercard Memorial Cup, all in one subscription.
To a man, there was no silver lining to be gleaned from digging out of a hole, or a possession game won, or the 4-on-3 chances with an overtime power play that came painfully close but never bore fruit.
Spezza, Shore, Seguin, Lehtonen — they all believe they let a winnable game slip out of their hands, again.
It was a point lost, in the final 16 seconds no less, not a point gained. A critical point they needed, and one meaningless to Toronto, was left on the board.
"We came back and won the hockey game about three times, but we ran out of gas back-to-back. It's tough. I felt for the players," said Hitchcock, opting to cajole rather than scold.
The Stars have 11 games remaining to get healthy, get better and, above all, get results.
"We're not dead yet," Hitchcock said.